Today we'd like to introduce you to Patrick Erlandson.
Hi Patrick, thanks for joining us today. We'd love for you to start by introducing yourself.
I first discovered the horror and prevalence of human trafficking while working with USA for UNHCR in Los Angeles which led me on a course of discovery which brought me to join the Long Beach Human Trafficking Task Force in about 2011 where I became the head of the prevention sub-committee. I began creating educational events for the Long Beach community in collaboration with organizations, survivors and government agencies. This led to the leadership of Men Standing Against Trafficking (MSAT) in Long Beach. In 2018, I determined the two areas of prevention I wanted to focus on – culture and the influences of film and all the arts in shaping cultural norms and values, and fatherhood as the overlooked source of vulnerability but conversely protection for children and the most vulnerable members of society – so often the target of exploiters. I reached out to the Harbor Area YWCA which I had been working with on human trafficking awareness programs for years to partner in forming the See it End it Film & Arts Festival.
Our first live event was held at the historic Warner Grand Theatre in San Pedro which was a 2-day event with 2 dozen films, musical performances and dance as well as visual art in partnership with MS Galleries of San Pedro. This was a first of its kind art and film event around the increasingly threatening issue of human exploitation as practiced through labor trafficking and sex trafficking of children and those made vulnerability by lack of documented status, displacement by war and disasters, those in poverty and in homes that are dysfunctional or weakened by incarceration of a parent, fatherlessness, and those in the foster care system. We held our 2nd See it End it Festival online due to the outbreak and lockdown response of Covid 19. We are currently preparing for our 3rd event as a hybrid in-person festival with a global virtual event in 2023. In addition to previous attention paid to labor, sex and various other forms of trafficking, this will include a focus on human trafficking in indigenous populations and survivor experiences and created films and artwork. We are working to include the production of short human trafficking films in film school curriculums as well as the inclusion of this issue within the spectrum of art courses around Southern California. Another area of attention is providing a support platform for school human trafficking clubs to foster more peer to peer awareness raising.
After the launch of See it End it I founded Father-Con as a way to address the growing problem of fatherlessness in creating vulnerability that attracts predators and exploiters to children and to highlight the significance of fathers in child development and safer communities. I was deeply disturbed by learning how many men suffered silently – sexual abuse as children that influenced a lifetime of choices and damaged relationships and brought harm to children as those men pushed through life unhealed. My belief is we are losing many, many good men to the ubiquitous con of pornography and social encouragement to self-gratification at the expense of others which feeds the need for victims of human trafficking. Bringing awareness of the unique threats to children and families brought on by social media as well as revealing the links between pornography and human trafficking are an important part of my work. I joined the board of Artists for Change founded by Julia Verdin who has helped nudge many people to take trafficking seriously through her films, especially Angie: Lost Girls which Father-Con recently screened at the LOOK Theater in Downey on July 27th of this year. Julia was on the panel along with law enforcement representative Ray Brecini, Donald Williams III who founded the DAD Project, Tera Hilliard CEO of Forgotten Children, and human trafficking survivor Maui Chacon. I will continue this hybrid of See it End it and Father-con utilizing film and panel presentations on various topics relevant to keeping children and families safe in this digital world of unprecedented access to children and forces that disrupt families. We are working on the 2nd and 3rd of these film screenings at LOOK theater for September and November on the themes of cyber safety and foster care.
We are currently preparing now for our 4th Father-Con conference which will be held on February 11 with Fr. Gregory Boyle as keynote speaker. Father-Con conferences include workshops and training on about 20 topics relevant to fathers, families and prevention of trafficking, over 40 resource organizations and agencies, a presentation of the Heart of the Father award, music and lunch. It is an event to inform, inspire and ignite action.
I have been married since 1982 to my Japanese wife, Machiko, and have two grown daughters. I continue to teach ESL as a tutor to primarily adults and children from Asian countries. I have been inspired and driven by my faith that we are a human family not of our own design but having been given life and the ability to choose to love by God. The support of my very faithful and forgiving wife has enabled the work that I devote myself to succeed. My daughters are a daily inspiration and reminder of how important this work is.
Alright, so let's dig a little deeper into the story – has it been an easy path overall and if not, what were the challenges you've had to overcome?
For a long time, human trafficking was seen as a "women's issue" and there were very few men engaged in standing against this exploitation. Over the past five years, the persistence of all the men working hard, standing up against the rising justification to indulge in using others for self-benefit, began to bear fruit. When I led Men Standing Against Trafficking, one purpose was to demonstrate to the girls in the motel where a young women was killed by her trafficker not long before that not all men are customers. We stood for them. I got a message from a trafficking survivor in Canada seeing a picture posted on Facebook of our stand on the street corner, which said, I had no idea there were men who cared. It has been a challenge to get more men to see that what we do has serious consequences.
We are surrounded by messages of entitlement, that everyone is doing it, that taking what we are entitled to is our right, that girls in the back seats are happy letting men take what they want. It is a challenge to get men to be the heroes they can be, they are needed to be. Men who have bought the con that they are not necessary – to their children, their spouse, their community. It is a challenge to give men who have been abused as children the space to see their goodness and rise above their shame and fear they may too become an abuser. It is a challenge to get sponsors and donors to prioritize prevention which is less quantifiable than funding a shelter or program for at-risk youth, all of which need support and are invaluable in response to the tragic loss of innocence and physical and mental harm of being trafficked.
I believe wholeheartedly in the prevention of men becoming the demand and children and the vulnerable from being victimized. Covid made some challenges such as funding for the upcoming 2023 film festival and outreach projects a little more challenging but opened up channels of communication with a wide range of experts to participate in events. WE are also now looking for a venue for the 3rd hybrid. See it End it Film & Arts Festival.
Appreciate you sharing that. What else should we know about what you do?
I am an educator by trade, teaching ESL to students in California, Japan, Korea and Taiwan primarily. But the work I am committed to come hell or high water is preventing parents from discovering their daughter or son has been lured or coerced into being sexually exploited and abused repeatedly resulting in generational trauma and lives derailed. I have pursued this through community awareness and educational events, speaking to groups large and small, joining the board of Artists 4 Change and appealing to the entertainment industry to turn their talents and creativity to serving those at risk. I have used my platforms of Father-Con and See it End it Film & Arts Festival – to highlight our potential and responsibility to delegitimize sexual self-indulgence at that expense of those being victimized; to shine a light on labor trafficking and the fear inflicted on those undocumented and threatened by greedy men and women; to open the eyes of parents and communities to the tools of traffickers and predators who utilize social media and web platforms to groom and manipulate the vulnerable; to help men see the self-harm inflicted on themselves by checking out when they can do so much good through checking in for their kids, as mentors, foster parents and friends. I love seeing the power of art speak to the souls of men and women with a message of possibility that as we see, we can act and there can be an end to the enslavement of those who but for the grace of God, could be me or you. I have been given a vision of informing, inspiring and igniting those in our communities to prioritize healing, creating spaces and opportunities for action to result from awareness. I listen, constantly learn and encourage hope that we are made for better.
How do you define success?
Positively impacting your environment, people around you, and yourself by application of your highest values. In my work success is reaching critical mass with awareness of and understanding of the contemporary threats to children and adults through the exploitation of sex or labor and encouraging the establishment of appreciation and valuing fatherhood in child and community development. Within five years, my goal is to have Father-Con holding national and international events as well as providing supportive training for men to heal and assume more responsibility in foster care and mentoring.
Contact Info: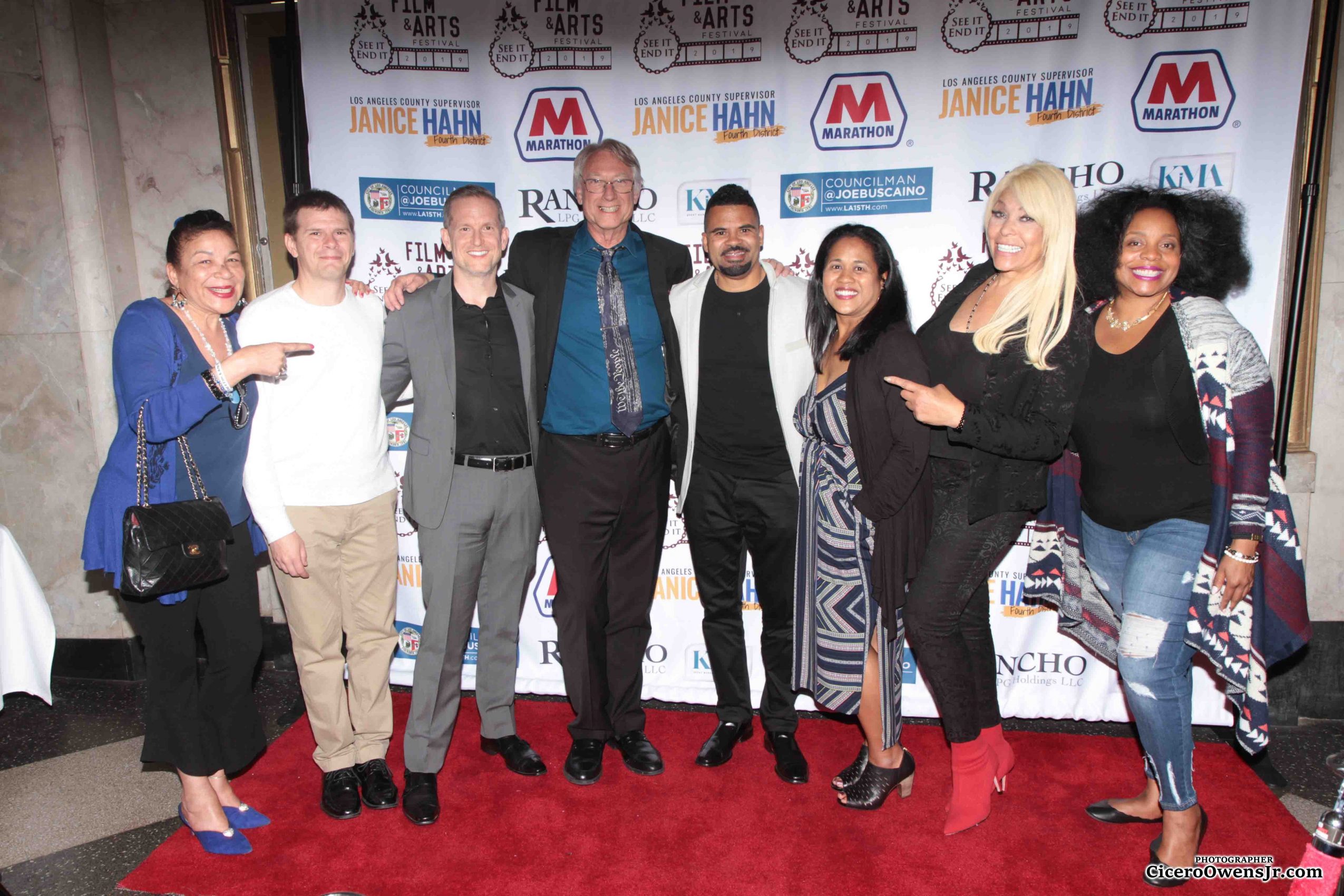 Suggest a Story:
 VoyageLA is built on recommendations from the community; it's how we uncover hidden gems, so if you or someone you know deserves recognition please let us know 
here.