Today we'd like to introduce you to Matt Vaught.
Hi Matt, we'd love for you to start by introducing yourself.
I was born and raised in Orange County, CA. And from as far back as I could remember, I was immersed in the 90's local music scene. My uncle, BC Vaught (original drummer of (hed) p.e., and replacement drummer for Breaking Benjamin), was my absolute idol. And because of him, the drum life chose ME. Being around the likes of the many famous musicians I was introduced to, I knew two things at a very early age: I was going to grow up to be a rock star; and I was going to be covered in tattoos.
At 11 years old, though, the life of a rockstar from my perspective was sex, drugs, and violence. And at that age, I fell into a crowd of like-minded individuals and had my first encounters with each. For me, there were instant repercussions and I was forced to leave the school I was going to, and start somewhere new. Where, shortly after, I joined the first of many bands that I would play in. And a cycle began.
I was also very uncomfortable in my own skin and obsessed with marking my body. I would draw on myself with pens, and brand myself with paper clips and a lighter. I got my first tattoo at 15 years old, in a house. Thank God I didn't catch anything, and it actually didn't turn out horrible. But this definitely birthed a new addiction for me. And once I was legally allowed to get tattooed in a shop, my eyes were then opened to the second coolest job in the world… Tattoo Artist. But I was a musician, not an artist, so it just wasn't in the cards (or so I thought).
To fast forward is to skip a plethora of life-shaping events, that lifestyle that I was in love with began to incorporate crime fairly quickly. And I found myself incarcerated in California's infamous prison system at the age of 20. It was an entirely different world, with entirely different rules and horrific consequences for breaking those rules. My immersion in this new world was severely traumatic, and I searched for escape through any means.
One form of escape that I found, was drawing. I had never really put any effort into drawing before and was under the impression that if I had a natural talent for it, it would have shown already. Therefore, in my mind, I "couldn't draw." But I began to anyways. It wasn't until around 2 years into my sentence, that I believed I actually COULD draw! When I was told that by Chris Towler. A man, and artist, that I looked up to and respected, who then became my first mentor.
That day, the course of my life changed. Before that, all I had was a dream of being a rockstar that was doused by a four years prison sentence. I had no prospect of what I was going to do when I paroled. No life skills or job skills. The future was bleak and likely to include recidivism. But that day, it was like a door was opened and a new life was waiting on the other side. I was going to become a tattoo artist!
I became OBSESSED! I studied every tattoo magazine I could get my hands on, from cover to cover. Read books on how to draw, and shade. I drew every waking moment of every single day! The life that I thought wasn't possible was now within reach. With Chris' words "the only thing in this world that can hold you back is YOU" ringing in my head.
With this new objective now clear, my uncle spoke to his friend, Jeremy Hanna, co-owner of Sullen Art Collective, on my behalf. Trying to help me gain insight into the steps I would need to take to become a legitimate tattoo artist. Jeremy's tip was to "get an apprenticeship." He said something along the lines of "without an apprenticeship, he'll never be shit." And that message was heard loud and clear.
Getting an apprenticeship wasn't easy though. It was nerve-wracking enough walking into shops, fresh out of prison and asking someone to teach me how to tattoo. I was told "no" a lot! It was more than a little discouraging. But I also wasn't waiting around for someone to let me in the door. I had already started tattooing in prison with that archaic equipment we used. So I thought I really just needed to figure out how to use professional equipment.
I did start to tattoo out of the house while I was looking for an apprenticeship. Studying, reading, watching and learning from the internet and YouTube. I even learned quite a bit from Allan Rivera, owner of Renaissance Tattoo, when he would let me hang out and just watch him tattoo. And I do not recommend doing this. But for me, I couldn't let anyone or anything stand in my way. Luckily, after a little while, I was finally given the opportunity to apprentice under Hugo Mayen at Dr. Tattoo. And I wish that I could say "the rest is history."
My past relationship with substances, along with my natural disposition to want to alter the way I'm feeling, came back in a big way. On top of what I now know to be a disease called alcoholism, I was rocking an ego trip that would be more size appropriate for Tommy Lee. But I was a tattoo artist! In my mind, I had arrived.
Well, between ego and alcoholism, I burned my life to the ground. And then, dried out and built it back up, only to burn it down again. From 2013-2017 I caused more wreckage than a BP oil rig. It wasn't until I was beaten into a state of reasonableness by the life I had created (I was homeless, fresh out of jail AGAIN, hurt everyone that ever loved me, and had a daughter that I wasn't able to even meet) that I finally got sober. May 31st, 2017. A couple of days away from five years ago, as I write this, I surrendered to a program for living that will remain anonymous. And I was given a life that I once again thought to be impossible.
Sobriety had to come first for me. And so, I decided to stay out of the tattoo shop for nearly two years. I worked what we like to call "get well jobs" that I didn't particularly enjoy. But I never wanted to slip back into my old ways again.
When I was finally ready to go back to working in a shop, I once again felt the closed-off nature of the tattoo industry. Discouraged, I almost gave up and became a union pipe fitter. And the story is much more magical in long-form, but every time I was ready to call the union hall, I would get a text from my friend Kareem, owner of Newport Tattoo. At that time, I was waiting for Kareem to let me know when he could have me into his shop so that he could watch me tattoo and give my tattooing a "tune up" because I honestly wasn't good enough to work at Newport Tattoo. But Kareem was busy. And time would go by, I would lose hope, and go to call the union hall again, and Kareem would text. Each time, letting me know he's not trying to blow me off but to wait a little longer.
Finally, after about the 4th or 5th time this happened, I got a call from Hugo, my old mentor. He told me he was looking for an artist to work at his shop. And just like that, I was back! And the man who gave me my first shot at becoming a tattoo artist was the one to let me back in. And I am eternally grateful to him. From there, I completely re-dedicated myself to this lifestyle.
It didn't take long for Kareem to notice my speedy improvement and offer me a job. Which I actually turned down at first. I didn't want to bail on Hugo after he essentially brought me back to life in this industry. So I stayed at Dr. Tattoo for 15 months… And then COVID happened. Which brought with it a lot of change. It was time for me to move my business to Newport.
Shortly after my start at Newport Tattoo, I experienced one of the greatest losses of my life. Sean Dowdy, a man who wasn't my blood, but was no less of a brother to me, was killed. This news devastated me harder than any death I had experienced. It was unexpected. And the grief had me in a daze for months. I still cry over that one.
But Sean was not shy about telling me how fucking proud he was of me for completely turning my life around and getting sober, and becoming a family man with my partner Kiana, and her kids Dylan and Maverick. So, even though I was devastated, I had to push forward.
In February of 2021, I joined the growing masses on Tiktok. And I had no idea that soon, my life was going to completely change again. Although, I wasn't exactly blowing up on there just yet. In March though, I was approached by a client, Nadine, about Tiktok. She said she was a social media manager for a few different companies, and that she wanted to help me with mine. She said I had something special, and that I currently wasn't showing it. So I decided to see what she could do.
The very first video she helped me with went viral. And then it just seemed to keep happening. Before I knew it, three months had gone by and I was at 1 million followers. And all sorts of awesome opportunities followed. I have met so many amazing people. Traveled all over the country. Landed brand deals, and sponsorships. Done meet and greets with fans. Gotten recognized on vacation. Done interviews and podcasts. And I'm in the running for a couple of different TV shows… Just too much to even mention it all.
Which brings us to this interview, today.
Alright, so let's switch gears a bit and talk business. What should we know about your work?
I am an award-winning tattoo artist. I specialize in realism. I'm known for my Tiktok videos. I'm most proud of winning an award for my artwork. And what sets me apart the most from others is my story and my belief that nothing is impossible.
Can you tell us more about what you were like growing up?
I was tall and awkward.. oh and angry. I played baseball. That was my life until I discovered music. At which point, my life split in two. And then when I broke my collar bone at age 14, baseball was out, and music was 100%.
Pricing:
Half Day – $1000
Full Day – $1800
Two-Day – $3400
Contact Info:
Website: Mattvaught.com
Instagram: @Mattvaught_tattoo
Facebook: @Matt Vaught
Twitter: @tattoo_matt1
Youtube: @Tattoo_Matt
Other: Tiktok @tattoo_matt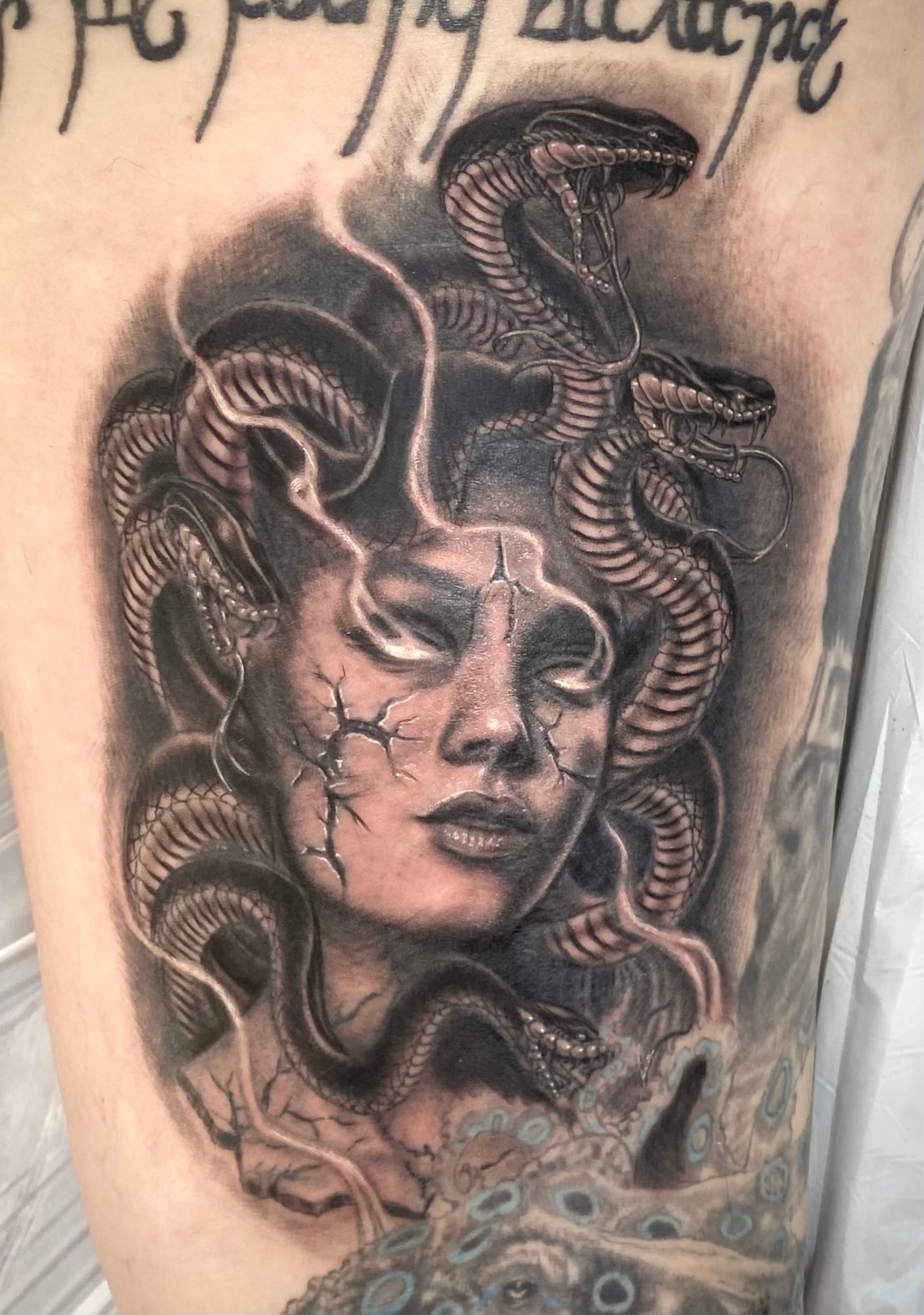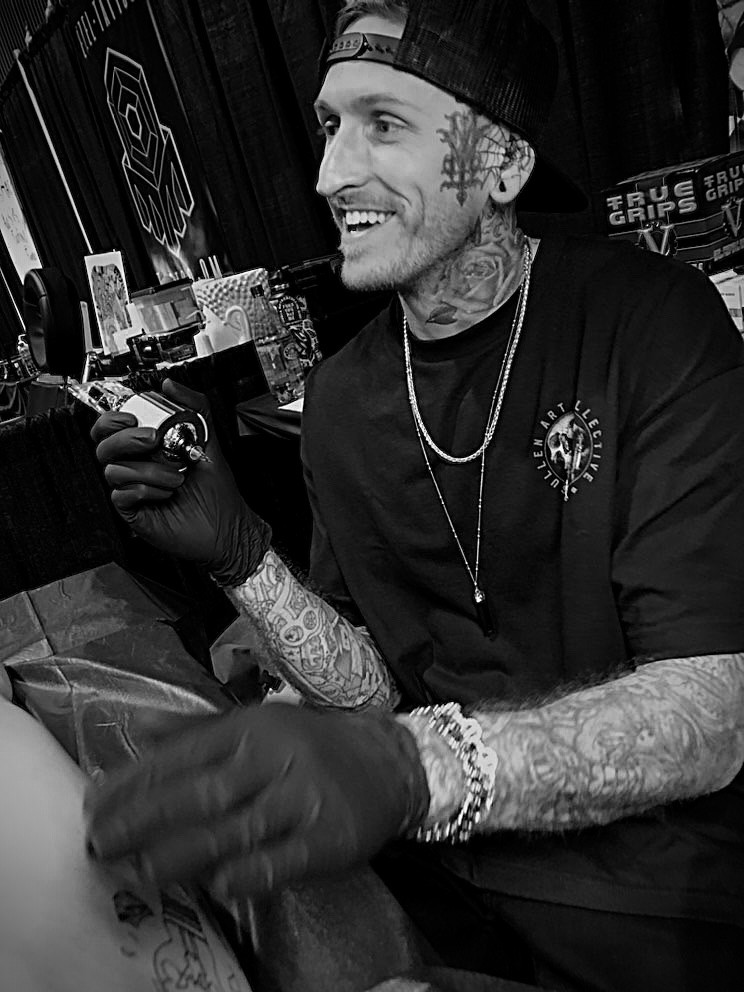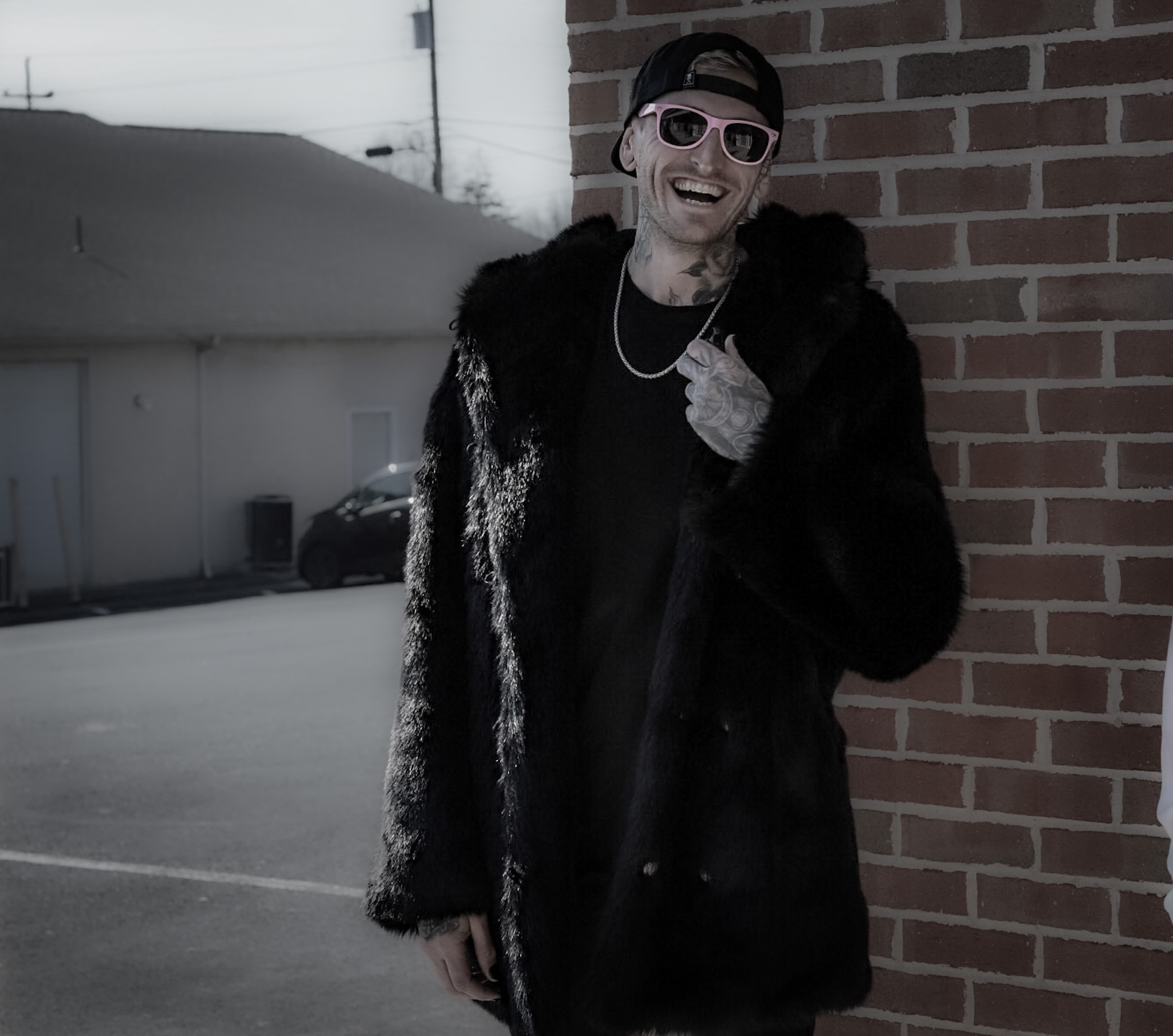 Image Credits:
Bangers_Imagery Andrew M Vogt Photography
Suggest a Story:
 VoyageLA is built on recommendations from the community; it's how we uncover hidden gems, so if you or someone you know deserves recognition please let us know 
here.