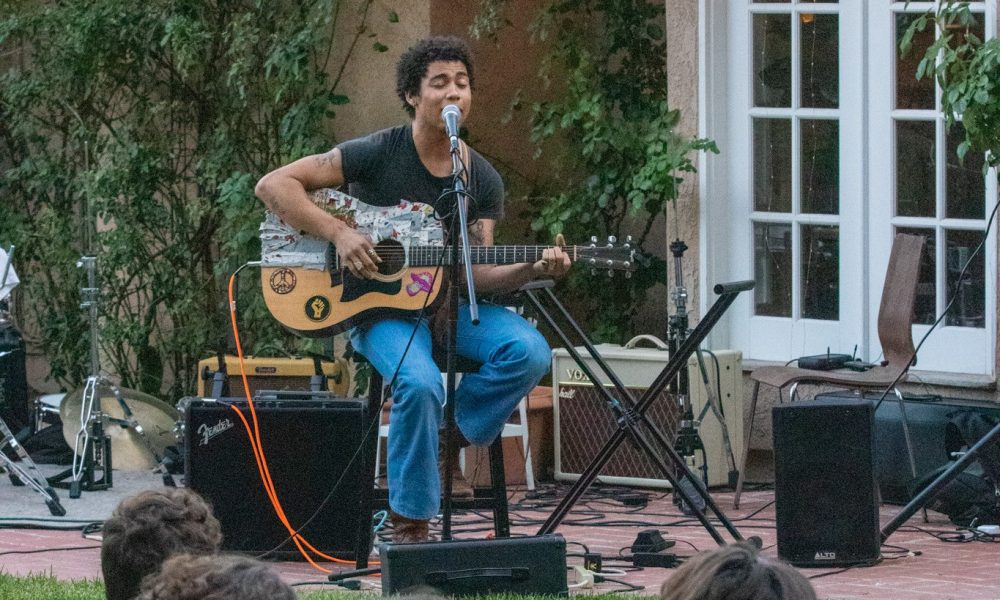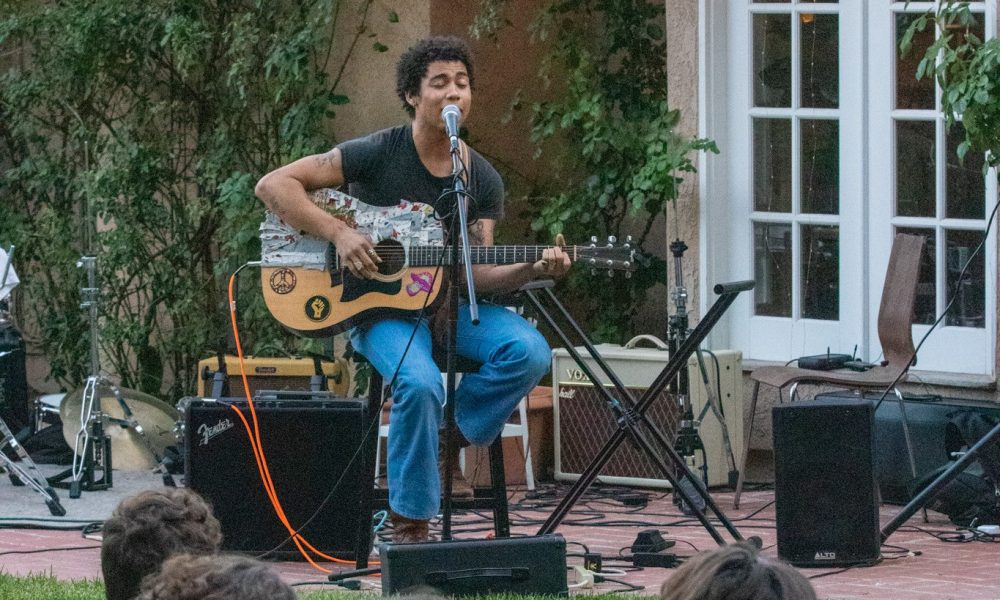 Today we'd like to introduce you to Luke Shelton.
Hi Luke, we're thrilled to have a chance to learn your story today. So, before we get into specifics, maybe you can briefly walk us through how you got to where you are today?
I started playing music in junior high school. I played percussion in the orchestra, learning all about how to read music, and playing anything from the marimba and crash cymbals, to the timpani and jingle bells… Meanwhile, outside of school I was teaching myself how to play drums and occasionally taking lessons. I soon was dreaming to get good enough to play in a rock n roll band and eventually be able to tour the world! I got real into classic rock in the 8th grade. My favorite bands were becoming the likes of Pink Floyd, The Beatles and Led Zeppelin… these bands would influence me heavily not just in music but in my entire existence. Reaching high school, I had continued to play drums everyday and furthermore expand my musical knowledge. I would spend most of my time listening to as many songs in the day that I could and trying to learn the drum parts to every song. Taking lessons at this point didn't interest me very much.
I was taking music at Champs Charter High School, but my experience was much different than it was in junior high. The teacher's method of "teaching" didn't go well with my work ethic. I didn't feel that I was learning anymore, so in the 10th grade I was looking at leaving the music program and joining the vocal choir class full time… which is what I eventually did. Around this time, I had made friends with someone who would prove to be a very important person in my life. His name was Grant Hackett, and we shared many of the same dreams and musical interests. We were both very much into Led Zeppelin and Pink Floyd. We showed each other many things and would spend most of our time jamming in my garage together after school and eventually trying to write songs. It was always me on the drums and singing with Grant on guitar. We were soon learning how to play every single song that we had wished to play together and had even booked a couple of backyard shows together. But we were soon searching for more members to join our band, and that's when we found bassist Billy Komisar and Aidan Dunn. This band would now become Vita Nova. Meanwhile, in school I was very much enjoying being in choir. I was developing my voice, and I loved my teachers.
Furthermore, I loved my classmates, and I really just had a great time singing everyday. The band was going well and we were starting write more songs and playing more house shows together. Kids enjoyed our performances but the crowds were really just there to mosh and smoke weed or drink beer, so I personally wasn't very satisfied. Things started to grow tense in the band… some of us wanted to keep moving towards something better and bigger but the others just wanted to mess around. Eventually, this band broke up and I was asked to join a new band as a drummer/ back singer. I joined with these two boys named Hayden and Steven who were very, very excellent musicians. We ended up still using the name Vita Nova and we played our first gig at a local fair in the valley. The gig went great and we were officially a band. We went on to play together for the next year and a half and recruited a new member on bass named Manolo. By this time, I had just graduated high school and wasn't planning on going to college. I wanted to commit all of my time to music and nothing else.

Outside of my band, I had been teaching myself to play guitar and bass and had started writing many of my own songs. I was also being asked to play drums for other bands and artists for various shows around LA, and I got to make many good friends and play some really fun gigs. Eventually covid hit and I was getting really into the songs I was writing by myself. Now that I was playing all instruments and singing, I started making demos on garageband of all my songs and was eventually lucky enough to started recording a few with a family friend. Since everyone was in quarantine, there were no shows to play with the band, so I was beginning to go into the studio every week to record my first four songs that are now out on all platforms. That includes (in release order): "Fictional State of Mind", "Comes Back to You", "C'mon Now", and my latest release "Frango". I played drums, guitar, piano, percussion, and vocals on all of these songs, featuring my recording engineer/ producer Bruce Witkin on bass and keyboards, along with Eugene Rice and Michael Ghadban on lead guitar and my cousin Halle Russell on background vocals. I've now since January 2021 been recording about seven more of my origami all songs with a good friend of mine Jack Slade in his home studio. I've had many more extremely talented musicians playing on these songs, words can not describe how excited I am for the release of these new singles and of the album.
We're currently in the process of getting all the songs mixed right now, but more news will be coming out soon about the release of these songs. Furthermore, I've just begun playing shows again, but now for the first time with me on guitar and singing upfront and center stage! You can catch some of these performances on my Instagram, @luketylershelton! I'm now fully focused on my own songs and getting my name out there as a solo artist. My name is Luke Tyler, and I hope to soon have a full band to back me for future performances. And I'm very, very excited to come to SF and play at the District Productions' event Aug. 21st!! See you there!
I'm sure you wouldn't say it's been obstacle free, but so far would you say the journey have been a fairly smooth road?
It hasn't been very hard for me to stay true to myself and my goals. I've never ever doubted my abilities as a songwriter and performer, and I truly look at every experience as an opportunity for growth. Every up and down has moved me forward and closer to my goals. And with this mindset I have, and with my persistence to make my dreams come true, I've been presented with so many beautiful opportunities that have helped me further my career, and I'm so very grateful for that.
Thanks for sharing that. So, maybe next you can tell us a bit more about your work?
So, as a musician I've always regarded myself more so as a singer and a drummer, that also plays guitar and sometimes bass. In that order, it's what I feel most comfortable representing myself as. I can pick things up and learn fairly quickly. I've been told by many that I have great feel and am quite a spontaneous creative. The way work with everything is very much "in the moment" whether that's on- stage, writing a song, making a demo, or recording in the studio. Most things in my mind come through all at once for how the process is going to go, and that will furthermore determine the entire product as whole. In other words, I can quickly see where I want something to go once it's started, and I won't stop until it gets to that place. I see this process at work mostly when I decide to make a demo for a song I've been writing. I'll go in my garage with usually just the vocals and guitar written. I'll record that first, then I'll start to add some bass and drums. Next, I'll maybe add some overdubs of guitar and some lead guitar. If I feel the song could use some harmonies, I'll add that in as well, then I'd move onto other percussions like clapping, snapping, shaker, tambourine, or I'll even make some new sounds of my own like playing chopsticks on a glass jar, or adding a bunch of reverb to the sound of my zippo opening and closing. Bottom line is, I do all of this in a day and gather all my ideas into this demo, and by the end of the night I'll typically have a completed demo that's ready to take into the studio for recording. This process also allows me to have a clear direction for when I get into the studio and that offers a lot of help for whoever is recording and engineering to see my vision and help elevate my ideas.
Is there any advice you'd like to share with our readers who might just be starting out?
Any advice I'd have is to stay original. You know what you like, you know what inspires you, so don't doubt your taste. Don't try to be like others out of fear that people might not enjoy your sound or what you're trying to do. You want to uphold your own authenticity and create something fresh that feels like an extension of yourself. People will always connect more with you if you're real. If you have a goal, don't stop at any costs until you reach that goal, and if you're truly doing what you love, there's nothing that can stop you. Always listen to your instincts and trust yourself and your ambition. Lead your own path and others will follow.
Contact Info:
Suggest a Story:
 VoyageLA is built on recommendations from the community; it's how we uncover hidden gems, so if you or someone you know deserves recognition please let us know 
here.