Today we'd like to introduce you to Kinsale Drake.
Hi Kinsale, can you start by introducing yourself? We'd love to learn more about how you got to where you are today?
My writing journey started as a little kid… I was a pretty shy kid for most of my childhood and I loved reading. I didn't share my writing with many people, but I would always start these grand novel ideas, like murder mysteries or fantasy stories and never finish them. I wrote short stories for fun, and then poetry. It wasn't anything where I felt an immediate click, but I enjoyed reading it. Then in high school, I read "The Round House" by Louise Erdrich and fell into the world of Native Renaissance literature. I wanted to experiment with writing more poetry, and that's when I decided to submit my work to some prizes. I didn't think too much of it, but then in my second year of submitting to the Scholastic Art and Writing Awards, I was nominated to become a National Student Poet by the President's Committee on the Arts and Humanities, the Alliance for Young Artists & Writers, and the Library of Congress. That changed my whole life because the program gave me time and space to write more and meet other young poets. I learned how to lead workshops and give readings, and after that, I kept writing and submitting my workplaces. There were some things I definitely ran headfirst into, like performing for really curated spaces. Tokenization was definitely rampant. But it did teach me how to handle readings, panels, that sort of thing. And after that, I had a bit more autonomy over what I wanted to join, what communities I wanted to share words with.
I was a First Peoples Fund Fellow, I joined a poetry group in college, and I was an inaugural Indigenous Nations Poets Fellow, but all that came from gaining confidence in my writing. And it came from the community. I think folks have this image in their head of a lone writer, curled up in an armchair and scribbling, but what has kept me writing are all these relationships I've gotten to build with other artists.
That's really what Changing Wxman Collective started off as. I wanted a space where Black, Indigenous, and POC artists could submit their work and know it would be treated with utmost care and respect. Since then, we've hosted so many lovely workshops and collaborated with local artists to bring those spaces to Los Angeles and elsewhere. It's tough to juggle sometimes, but well worth it.
Besides that work, I've been touring for my first zine, "Hummingbird Heart," which was published through Abalone Mountain Press earlier this year. I'm Diné and Abalone is totally Diné woman-run. But I say "touring" because it's just kind of reading wherever you're invited to read. It was a fun project to collaborate on with Alice Mao, who did the gorgeous art in the zine, and every event so far has felt really fulfilling. Usually, it's a lot of young artists in a space, just enjoying poetry and music and making connections. But I'm excited because I get to teach poetry or read this summer everywhere from the San Francisco Botanical Gardens to a downtown tea house.
Would you say it's been a smooth road, and if not what are some of the biggest challenges you've faced along the way?
I remember wanting to be an author; but not feeling anything clicking until — and I remember this — reading Leslie Marmon Silko and Louise Erdrich for the first time and realizing, "Oh, I can write about ancestry and stories this way… People are doing that, they have done it before." And they gave me an entire vocabulary of how to navigate the specific grief of losing an elder, for example. Or weaving certain elements into the technical practices of Indigenous poetics. There's really an entire world of "poetry ancestors," which is what Joy Harjo calls them. And there have been incredibly supportive communities, like Indigenous Nations Poets, which have helped me realize what is possible in terms of being a writer, and knowing there is space for me.
But that lack of canonical space, or representation on syllabi, is reflected in classrooms, readings, who's being published, and especially through predominantly white institutions. And it's fair to criticize the reach of representation, but in literature and other fields, it not only impacts knowledge disseminated but other little Native kids who feel constrained then to only write about this or that. I want to write about feeling sexy, my former emo era, specific and pointed grief, whatever I want… and I want other kids who want to be writers to feel that they can write about those things, too… But it's hard to deal with professors or readers pointing at stuff in your poetry and just saying, "I don't get it." And it's something just about identity. Or they'll tell us what we should and shouldn't be writing about. Workshop spaces, especially in MFA programs, can be nightmares that way. It's an immense privilege to have educational experiences and access to those spaces, but it's definitely discouraging and sometimes toxic for people who are trying to do what they love and put a lot of time and skill into crafting their work. You want to be nourished as a poet, not exhausted.
I think, recently, I've felt a slowdown in creating because of death and grieving processes, too. I lost two friends over the pandemic and it has been ridiculously difficult to shoulder grief. I mean, grief is never easy. Making art can help chip away at it, but it doesn't ever completely dissolve. It really changed me, as a person— I think I've become a lot quieter and withdrawn. But I'm trying to find my voice again, beginning with just baby steps. Writing helps.
Can you tell our readers more about what you do and what you think sets you apart from others?
I love getting weird with stuff! I've recently been trying to "weird" out my work, like turning some random free write into a villanelle or making a ton of different versions of poems. I was just in a workshop with Jane Wong, and she was teaching us how she "pickles" poems, which is her way of explaining voltas. So we were all playing around with voltas or switching up something in a poem really suddenly. It's basically a "turn." I was thinking a lot about the strawberry moon recently, but then I switched the poem so it ended on setting spray. I use setting spray every day on my face, but I've never used it in a poem! So I was like, what would it be like to "setting spray" a poem? What does that mean? How do you "setting spray" concepts you want to write about or understand more deeply? I've been really focused on having fun with writing like that recently.
I think a lot of my writing started off in a pretty serious place because I was writing from a place of grieving. But in real life, you grieve… You wake up, you do something new every day, or try to, and you go about your life the best way you know-how. You're eating different foods, you're listening to music, you'll laugh for the first time again with a friend… How can those details be brought forth and carved out in a poem? Those little joys, or moments of gratitude, are just as important.
We love surprises, fun facts and unexpected stories. Is there something you can share that might surprise us?
I'm actually working on a collection right now about Native rock and roll and poetry. I'm fascinated by music and music history. For the longest time, I wanted to write for Rolling Stone, and I actually fronted a little rock band for a bit. But I've always wanted to weave music into my work, like Hanif Abdurraqib and Joy Harjo. I really admire them. So I've been working on putting poetry to music and experimenting with rhythm and the musicality of language to pay homage to Native artists and musicians in general. I also usually collaborate with Native musicians to do that.
My dream is to front an all-Native neo-country group. But until then, I'm recovering from my emo era. I guess I'm still in it.
Pricing:
Contact Info: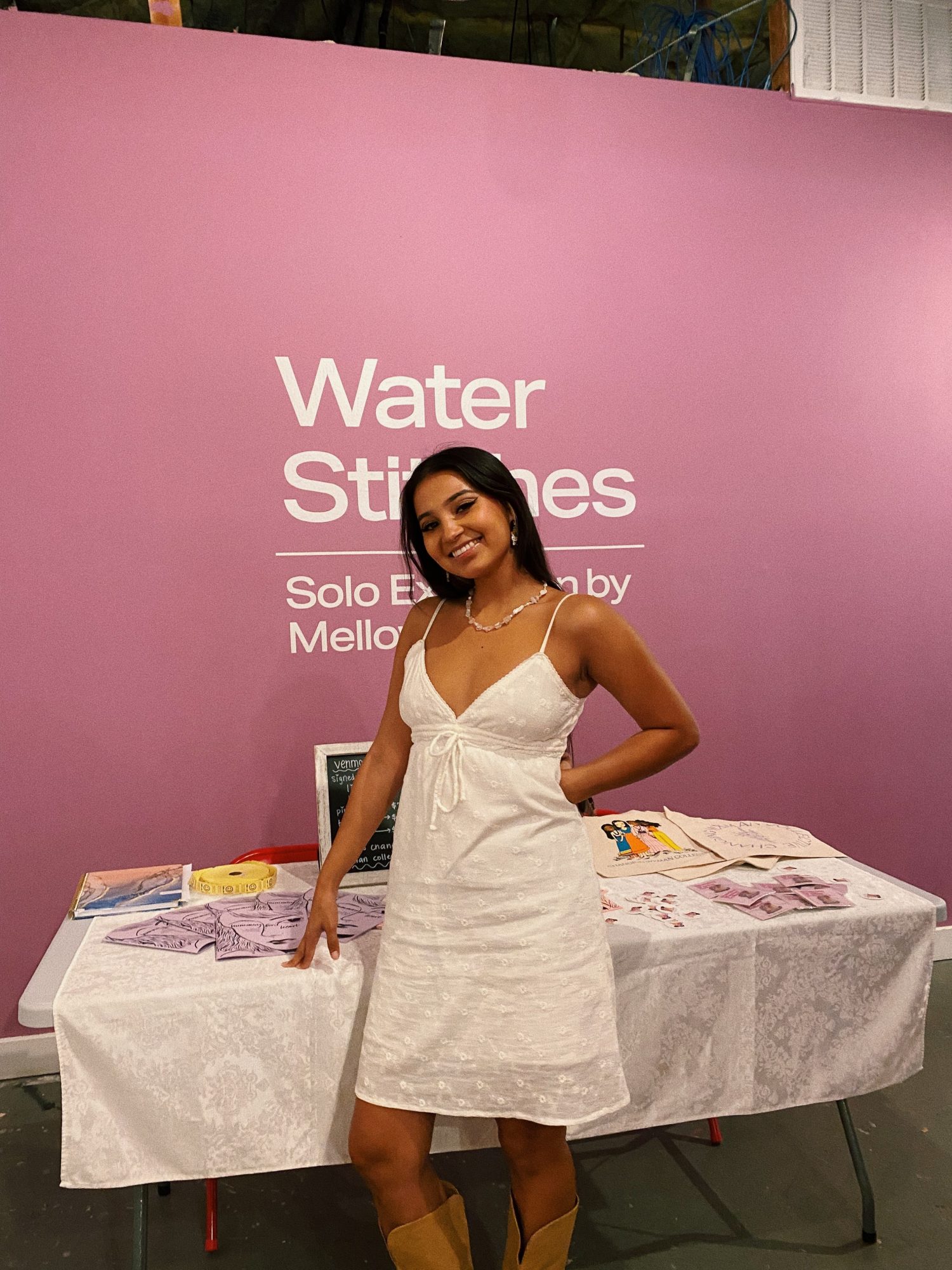 Image Credits
1. Anna Letson 2. Sheena Wahid 3. Outlast Film Camp 4. Kinsale Drake 5. Amber McCrary 6. Kinsale Drake
Suggest a Story:
 VoyageLA is built on recommendations from the community; it's how we uncover hidden gems, so if you or someone you know deserves recognition please let us know 
here.