Today we'd like to introduce you to Kawika Hoke.
Hi Kawika, can you start by introducing yourself? We'd love to learn more about how you got to where you are today?
It goes back to High School for me, we were lucky enough to have a fully functional theatre program with vocational training. I was into acting and regularly getting cast, but I found myself getting drawn to the technician booth or the ticket office. By my senior year, I was stage managing full-time and lead production design.
Feeling unchallenged by High School I graduated a semester early and auditioned for Disney Theme Parks. That was a wild ride and an eye-opening experience compared to what I experienced in the small town theatre scene.
I spent almost five years at Disney before moving to Legoland, at which time I got sick and it caused a huge shift. I couldn't perform and I fell out of the audition scene. I went and got a job as a camp counselor and then eventually found myself working in the non-profit scene.
It would be nearly eight years before I got back into the scene. I had a new skill set from my previous career shift and found a way to apply it to get my foot back in the door. I saw a trailer for a Hawaiian film "Kuleana" and contacted the Writer/Director Brian Kohne and offered to work distribution and marketing for the film. Brian took the chance on me and it's lead to me where I am now.
We all face challenges, but looking back would you describe it as a relatively smooth road?
Far from smooth, but it wouldn't be a good story if life was easy.
There's been a lot of opportunities I have turned down in the last few years because of ethical conflicts. Too many films set with exploitation wages and poor morale induced by bad management. It can be hard to say no to a job sometimes in this economy, but I'd like to be one of the last folks in Hollywood that didn't have to compromise a piece of themself or give in to the machine just to get overnight success.
COVID definitely threw us all for a loop, but from a fixer's perspective, it gave me new challenges. I gained patience and an open mind for a lot of things, but also found myself with new triggers (still wondering if some are good or bad lol).
On the bright side, I can say that because the oddities and extremes faced as a Production Coordinator these days I am constantly expanding my cabinet of crazy things I can accomplish, like: fitting a full-sized moped in a van, company move a set 3 times in a 10 hour day, scale a waterfall, puppet a 200 lbs shark head in the ocean, shop and cook for 80 people for a month
Thanks – so what else should our readers know about your work and what you're currently focused on?
I'm a Production Coordinator bridging towards UPM and Executive Producer. I'd really like to be a showrunner one day (need a few more things in my toolkit first).
I feel my specialty is the before & after of a movie. There's a lot of work in there that most people don't think about. Your crew and actors are on set for a week to a few months, but the real endurance is pre-production and post.
As a PC you get to be the Swiss Army Knife of the project. I enjoy getting to focus on the tiniest parts of the project and then handing them back to their dept heads. I'm ultimately known as the "I know a guy.." person on set. If you need a document clerk, contracts – sure I can do that, but I can also build a set, gaffer, lifeguard, puppeteer, find a new location in 30 minutes, build a set overnight, shuttle secret passage to a remote island, fight coordinate… the list gets bigger with every movie and I love it.
It definitely starts as a "Jack of all trades, master of nothing" job when you start, but after you take the long road wearing so many hats it eventually leads to being a Renaissance Man.
I'm definitely known for speaking my mind (it's definitely why I got back into podcasting). I'm usually the first person on set to question everything and point out the bad. I'm proud to say I'm someone people feel safe coming to on set, whether their problem is inconsequential or adverse.
I really want to change the way movies do business. There's a lot being overlooked in the sense of filmmaking as a business. I'm leading a program right now in Hawai'i to generate a slate of independent films to provide competitive market wages and stimulate the local economy and I'm also a part of the founding team at the Santa Clarita International Film Festival. The festival is definitely a game-changer, we intend to fix a lot of the gatekeeping in the indie scene.
I have also taken on fitting in time to be active in the Mid Term elections. I am currently working my way through interviewing over 400 candidates in the state of Hawaii.
What was your favorite childhood memory?
My grandfather would regularly check me out of school to take me to business meetings and political gatherings. He was the Rick to my childhood Morty phase.
One day, when he found out I had stage fright, he took me to a City Council meeting and had me read to the council. It really changed the way I experienced life after that. He pulled the introvert out of me and taught me how to grab life by the horns that day.
Contact Info: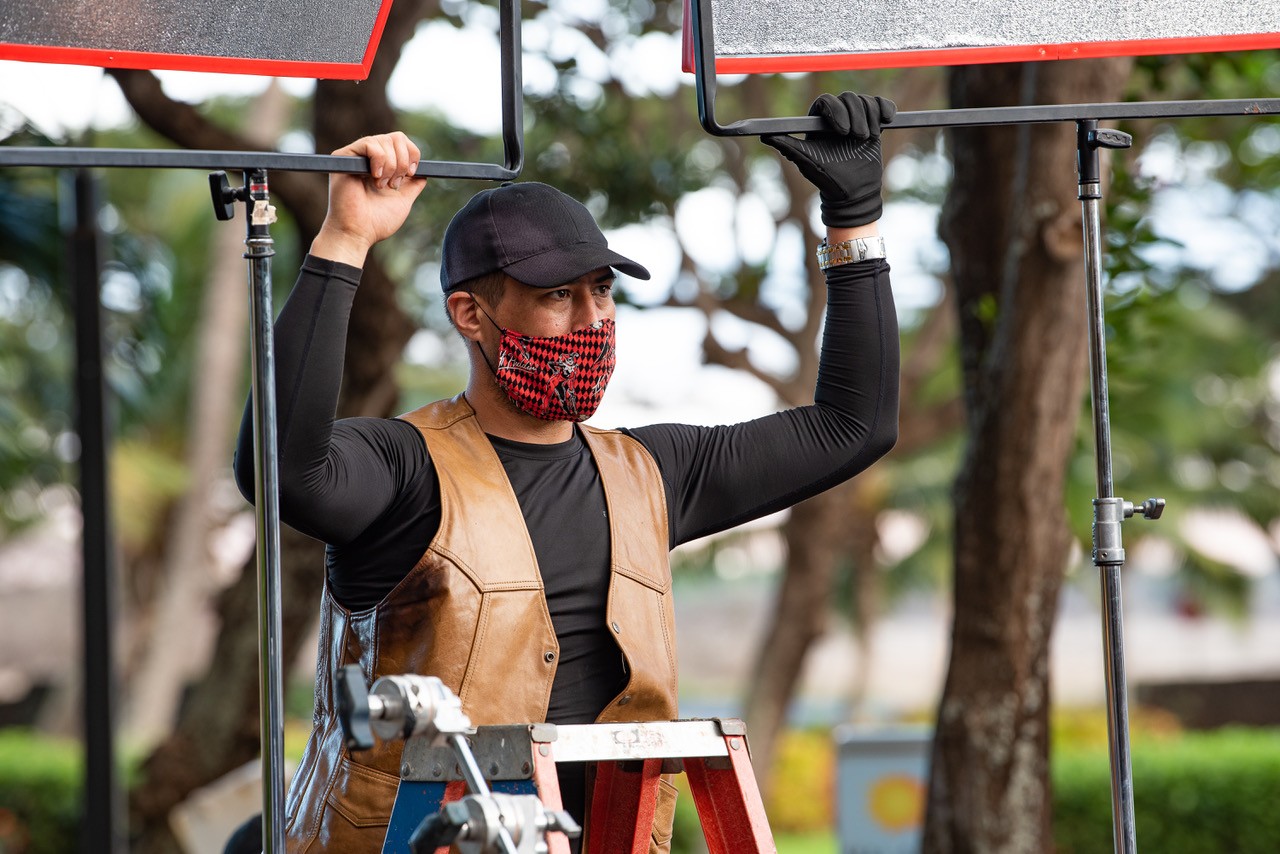 Image Credits
On-set photos by John Rodarte
Suggest a Story:
 VoyageLA is built on recommendations from the community; it's how we uncover hidden gems, so if you or someone you know deserves recognition please let us know 
here.