Today we'd like to introduce you to Kara Maldonado.
Hi Kara, please kick things off for us with an introduction to yourself and your story.
I had a successful career in real estate development management for over 25 years. The regional positions that I held in many companies aligned me with board of directors and partnerships with national non-profit organizations supporting Women's health and Domestic Violence issues.
I wanted to use my position in the housing area to help women and children in need. I left working for the Class "A" property brokers to start placement programs on Affordable Housing Projects for Women of Domestic Violence, Trafficking and Rape victims. It was a way to provide housing and rental support while the participant(s) were completing the requirements of the program.
I experienced Domestic Violence in my home as a child and I wanted to help because I knew how it felt to not have anyone to depend on. When I married my first husband who abused me emotionally. I never told anyone because I didn't realize until now that his words were considered verbal abuse. After divorcing my kid's father, I waited ten years before my second relationship. I waited for my kids to become adults.
The second relationship started out with the same verbal abuse but quickly escalated into physical abuse. I was 43 years old. I was stuck, I was lost what am I doing wrong? Why did I keep attracting those toxic relationships? If that wasn't bad enough, I had just buried my aunt (which was like a sister) who died from Pancreatic Cancer, my grandmother (who practically raised me) who died of a heart attack and my birth mom ( that I was estranged from ) all back to back.
I had to keep going on, there were many people depending on me. I didn't have time to grieve nor could I take much time off of work. I had a big development in process and let's be honest, I had to pay the bills. I was hospitalized the first time three months later when I loss consciousness at work. This is when the mystery began, it was Summer of 2012.
In 2015, it was almost three years since we had lost all 3 of them. I became very ill. After almost 18 months of doctors, specialists, blood transfusions and many tests; I was told that I had a rare blood Cancer and suffered from auto-immune. I was told my results on a Tuesday and started my treatments on that Thursday.
My body could not handle the treatments. I had been stuck in my bed for almost a year. The medications that I had been prescribed over this now three years ordeal, I counted 39 pills a day. By now, I was going on my second round. I got the news that I was going to have a grandson. I first boy in almost 12 years. I wanted to live, I wanted to see my grandson and the route I was going I wouldn't of. I started searching for holistic modalities to help me get my life back. I came across cryotherapy – a massaging technique which removes toxins through your lymphatic system with immediate results.
I had found my purpose. I conquered the Mindset part of it, I had to live meet my grandson. Now, I had to get down the stairs and out of the house. My daughter started giving my a smoothy mixed with Sea Moss supplements to give me my nutrients and strength back. I became very intentional about getting to the cryotherapy about after reading the patient reviews. Three months into my cryotherapy treatments I was no longer taking half of my medications and I had lost 30 pounds of the 100 plus pounds that I had gained from the meds, steroids, illness and just not being able to move for a year. I continued and lost a total of 89 pounds. I have an incredible amount of energy due to the removal of the toxins from my system. I went home and threw away the tote bag of pills that I was carrying around and refused the 3rd round of Chemo. I had changed my nutrition, developed an exercise regimen that I could handle and begin a holistic approach to healing myself.
I welcomed my little grandson into the family and left my corporate career to save lives by sharing my story and using the cryotherapy techniques, empowerment facilitation and nutrition programs. Today, I have been in remission and drug-free for over three years. I am more healthier now in my 50's then I was in my 40's and probably my 30's.
Alright, so let's dig a little deeper into the story – has it been an easy path overall and if not, what were the challenges you've had to overcome?
After I got through the challenge of getting sick and almost dying, I had to deal with the ugly truth that many of us struggle with. Self-worth! The reason that I allowed a lot of the abuse and toxicity to go on for so long. Yes, it's true that some of it is cultural, tribal, you're stuck in that inner-child. I considered myself an educated and accomplished women. So, what happened?
Well, self-worth doesn't discriminate and if you're not taught this has a child, it will mess you up.
I am now a certified Empowerment Facilitator coach on self-worth, self-confidence, self-love. Domestic Violence, Life with Narcissist and many more tools to help individuals with leveling up their mindset for success.
As you know, we're big fans of you and your work. For our readers who might not be as familiar what can you tell them about what you do?
I am the CEO / Founder of the Real Bodies Period LLC and an expert in pain management and permanent weight loss. I has developed an effective, holistic approach to attaining maximum health and strength. I suffered years of domestic violence, cancer, and lupus, but I never gave up hope. I was determined to find a path to heal my mind and body and my personal journey to drug-free pain management led me to cryotherapy. I eventually became a cryotherapy expert and helps women achieve optimal health through cryotherapy, weight loss programs as well as my clients' emotional well-being. I believe that emotional pain can be more painful than physical pain which often leads to low self-esteem. I am on a mission to help others achieve optimal health – internal and external and transform their life from painful to pain-free living. I am passionate about helping women achieve emotional fulfillment with my expertise and I have spent decades helping other women. I have dedicated over 20 years in the community working with National non-profit organizations supporting Women's health and Domestic Violence issues.
I shares some of my experiences in the co-authored book "Goddess Among US 2" which launched 11/11/2021. I am currently writing my entire story and a series of Wellness eBooks in 2022.
I am a recipient of the GSFE 2021 Show Up Award, Director's Finalist, 2021 Humanitarian Award, and the 2021 Women's Rock Red Blazer Award.
So maybe we end on discussing what matters most to you and why?
In this moment, what matters most to me is that people find a strong Faith foundation, Emotional well-being, Physical strength and Nutritional balance. I say this because if you're not grounded and you don't know your "Why", then nothing else feels real.
For years I allowed other's needs to come before my own until it almost killed me because I had no self-worth. I now do. I now know the importance of taking care of yourself. Self-care, self-love.
Contact Info: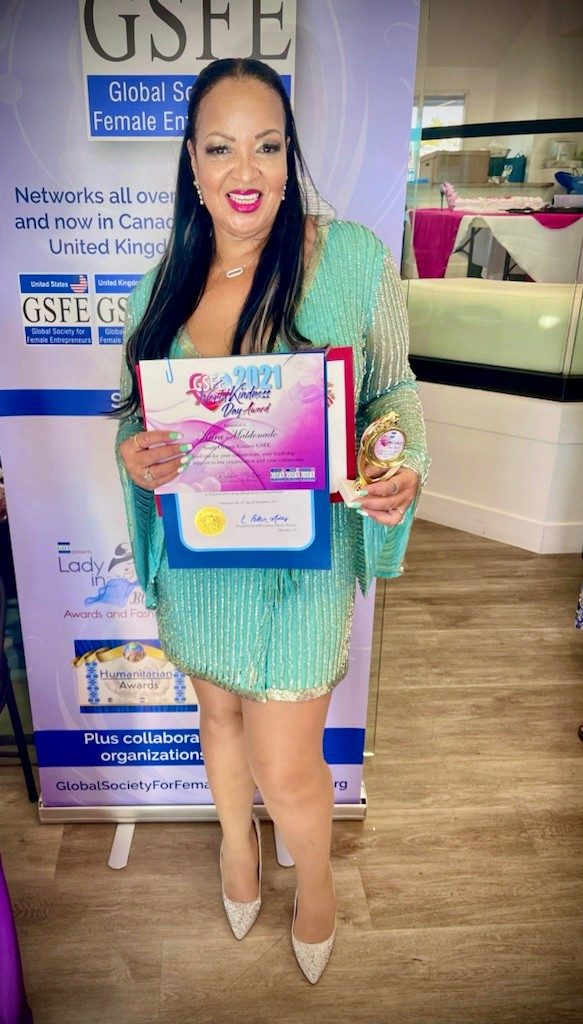 Suggest a Story:
 VoyageLA is built on recommendations from the community; it's how we uncover hidden gems, so if you or someone you know deserves recognition please let us know 
here.