Today we'd like to introduce you to Jose Tapia.
Hi Jose, can you start by introducing yourself? We'd love to learn more about how you got to where you are today?
Hello my name is Jose Tapia and i go by the name Zapatos heres my story. Growing up like many families in the ghetto it.
Growing up like many families in the ghetto it was financially hard for us due to the fact that my father took in my grandmother and two siblings. During my childhood, my father didn't make much so he basically had to take care of a family of seven with only $50 extra after bills. Even if it meant working two days straight and long hours my father did everything he could to keep food in our table and give us everything we wanted. As I started to mature I began to realize how much my parents have really been struggling for years so I promised myself that one day I would repay my parents for everything they did for my and my brothers. College wasn't for me so after HS I got a part-time job and also started selling hats out of the trunk of my car as a side hustle for extra money.
One day I saw someone that had a painted hat so I started going through Youtube videos on how to paint hats when I stumbled upon a video of a sneaker custom tutorial. I was instantly intrigued! I come from a family of very talented artists but I always knew I wasn't as good as any of them, so it was never in my plans to ever do anything art-related. Even as a kid I was that kid that would aggressively paint most of the time outside of the lines. Throughout the years I was always judged because my art or the way I painted wasn't perfect in the school system's eyes therefore it's something I stopped doing in my childhood years. Back to where all this started, I found the youtube video and I decided to paint a few pairs of my old shoes. During this time I was working at Hertz Car Rentals as a Carwash Attendant washing cars so I started wearing shoes I painted to work. I Instantly started receiving positive feedback from all my coworkers even customers that rented out cars. It came to the point that people even started asking me to paint their shoes now it was something I did for fun when I would get home from work so I wouldn't charge. The demand was so high that I had no choice but to start charging so I started charging $20-$50 dollars to paint people's shoes. It was nice side money but not something I could see myself doing full time. I ended up quitting Hertz and started working full-time on-call as a Private Chauffeur, now this was the most money I ever made in a job so I stopped painting shoes completely. I was making very good money just off tips bringing home $1000 weekly not counting my pay so in my eyes I was already set.
As a Chauffeur for the most part it involves a lot of waiting around and sitting in your car while celebrities are performing, going to events, or meetings so the idea of painting shoes came about once again. My time was very limited so I decided to only paint shoes for $100 minimum which I thought was a fair price and would be worth the little availability I had to paint them. While I waited for my clients I would paint shoes as a pass time. This time the demand got so high since I was only charging $100 and my skills had already improved that I had close to 150 pairs of shoes at home waiting to get worked on. I've always been the type of person to always show love and never say no but due to my availability, I just couldn't get to shoes fast enough. People started complaining about their shoes not getting worked on so I had to make a decision. One night after a long work day I had a talk with my coworker Carl and he told me you gotta decide what you wanna do if you really wanna do shoes go all in no second options. In 2018, I did just that I quit my job took the $10,000 I was able to save up during my two years working as a Chauffeur and started my journey. I invested every single dollar into the best equipment and materials to get me started. Now business wasn't good enough but it was enough to make it by and help with bills.
As many of you know 2019 The pandemic hit and there I was jobless with no other source of income this was it for me. Thank God I've always had very supportive parents but my father has taught us to never depend on anyone but yourself so it's hard for me to ever ask for help or handouts. I decided to reach out to many well-known public figures even community leaders from my own city for the opportunity to work together and offer my services for free just to be a part of something. Every single one of those people looked the other way and closed the door on me. Therefore one day I got up and decided I was going to make a change for my family and in this world. I had nothing else to depend on so I decided to lock myself in the restroom and I closed my eyes and I prayed to God, I prayed for the opportunity to be something big enough to be able to help my people and help make a change. Less than a week passes when I get a call from my boy Youngblaccs and he tells me they are looking for someone to do shoes for Andy Ruiz (the former first Mexican Heavy Weight Champion Of The World). I reached out to LatinBeast that is part of Andy Destroyer's team and right off the bat they liked my work and asked if I was able to come to San Diego since they needed shoes the next day. That morning I dropped everything called my friend Gerardo and in less than an hour, we were already on the road to San Diego. I picked up shoes around 10pm they gave me an idea and I rented a nearby hotel room.
What normally takes me 1-2 weeks to paint I painted in less than 8 hours overnight. I drank a Starbucks, Gatorade, Redbull and just the feeling of being given an opportunity as big as this was what kept me up all night. Little did I know that night would be what made me blow up overnight into the successful artist I am today. I received hundreds of messages from friends family and strangers telling me how proud they were of me and how much I inspired them. I have given people from the ghetto something no amount of money could ever give them hope, hope that just like me they too can make it no matter where they come from. See I believe in my heart my gift is God-given this was my destiny all along, I took a chance on myself and beat the odds that helped changed my life forever. Thanks to my art I have been given the spotlight that I now am fortunate enough to shine on the rest of my people. I now use my platform to inspire others on a daily basis with inspirational quotes or motivate whoever reaches out to me with words of encouragement. It's a beautiful feeling receiving daily messages of people telling me I inspired them to also quit their jobs and start their own businesses. Today public figures and people I always dreamed of meeting now reaching out to me for work on shoes or to offer the opportunity to work with them.
We all face challenges, but looking back would you describe it as a relatively smooth road?
It defenetly hasent been a smooth road as i have been faced with many challenges and obstacles like financial hardship, self-doubt, shortness of breath, anxiety, stress, depression, and back/neck pain.
Appreciate you sharing that. What else should we know about what you do?
I am a Sneaker Artist and I specialize in customizing sneakers for all types of people from Athletes to your average business owner that wants to display their brand in a unique way. I also get a lot of requests to do shoes for kids' special-themed parties and even memorial shoes of people that have passed away that I offer to people with a special acrylic case and electric candles they can display in their homes.
Do you have any advice for those looking to network or find a mentor?
Definitely networking networking networking! I can't stress this enough I always mentor people about doing this, like they say your network is your networth! Networking alone has gotten me into doors and working with people no degree could of. Also never be afraid to ask for advice. My DMs are always open for any small business owner that would like advice on what it takes to start a business or just any questions in general. Those who follow me know how humble and genuine I am when it comes to things like this. I have always been the person to help others win even if it means I'm losing in the process thanks to this I am in the position I am today 🙏
Pricing:
Due to the high demand, I only do $250-$500 minimum orders (shoes included)
Contact Info: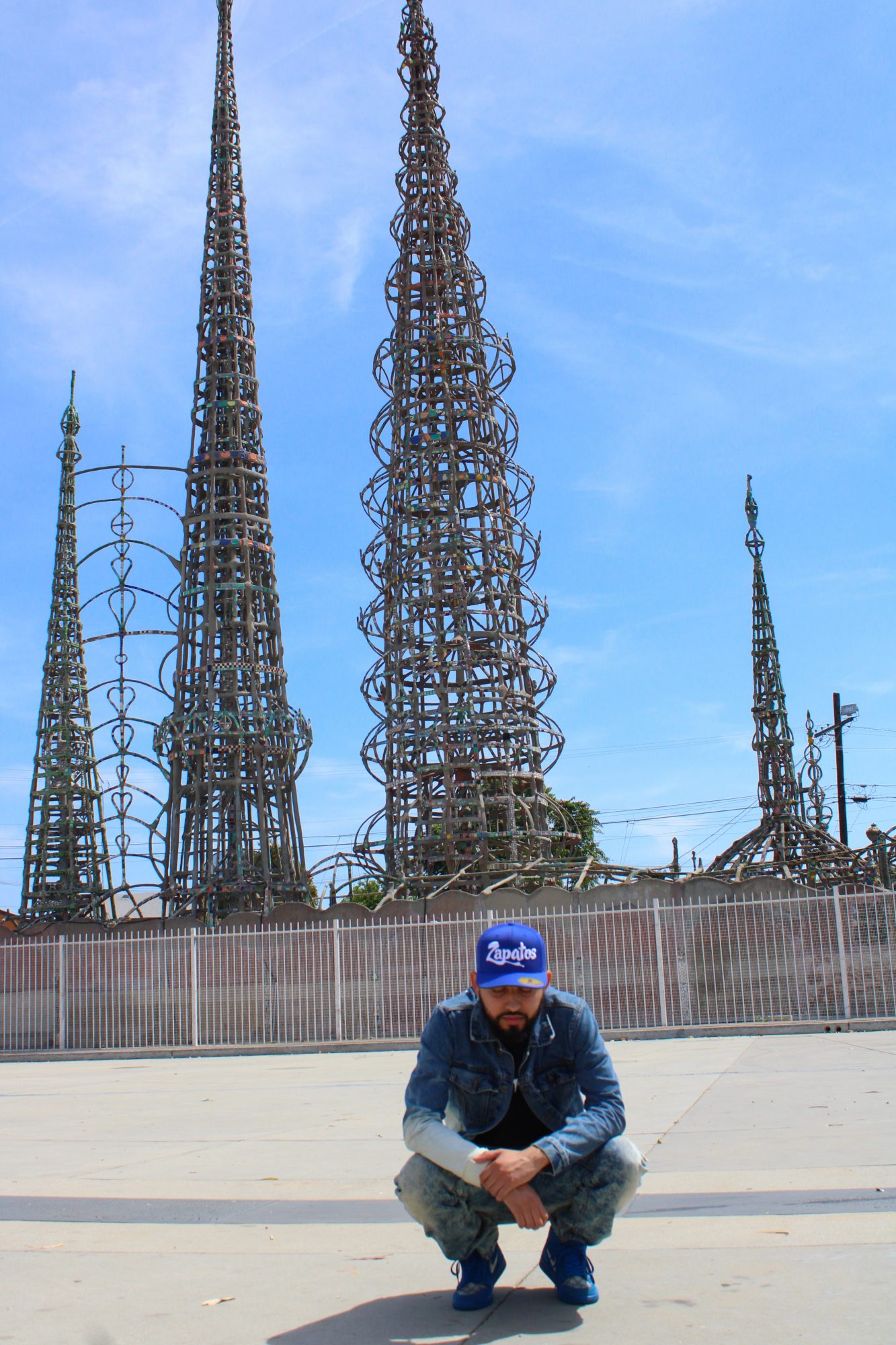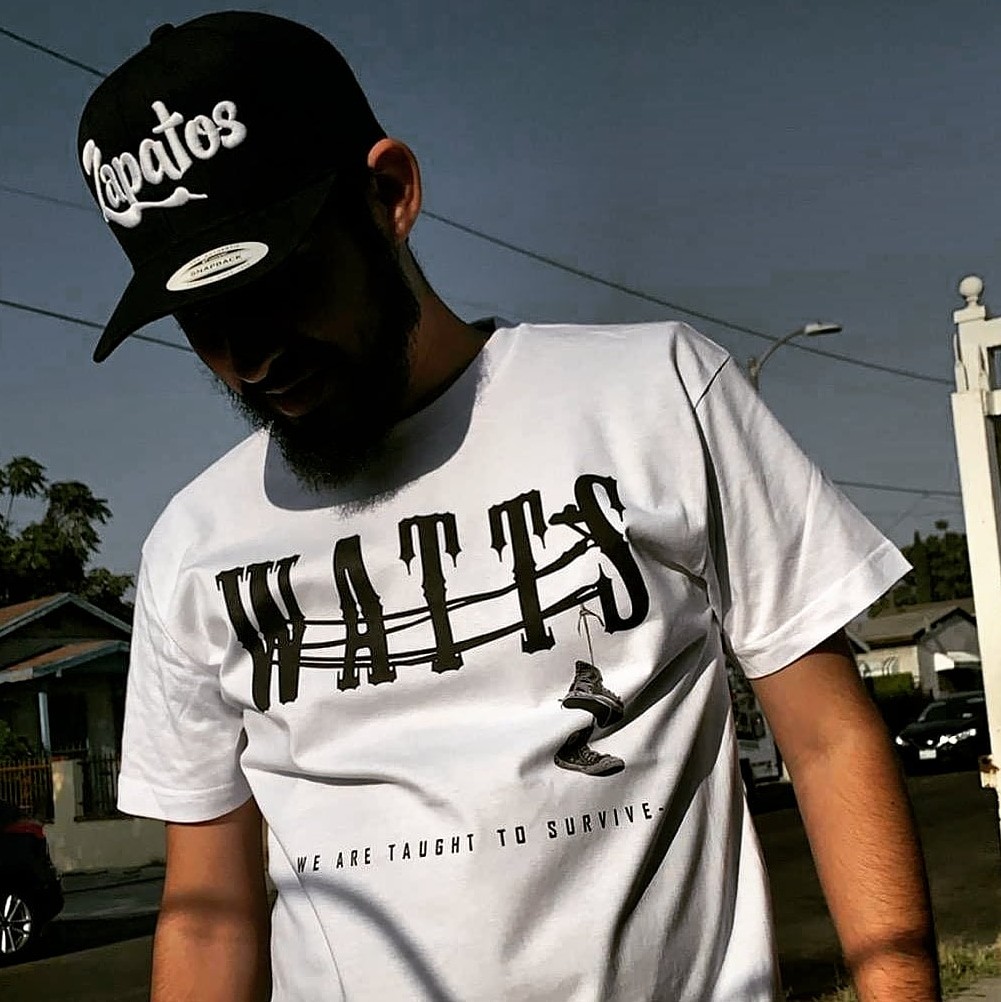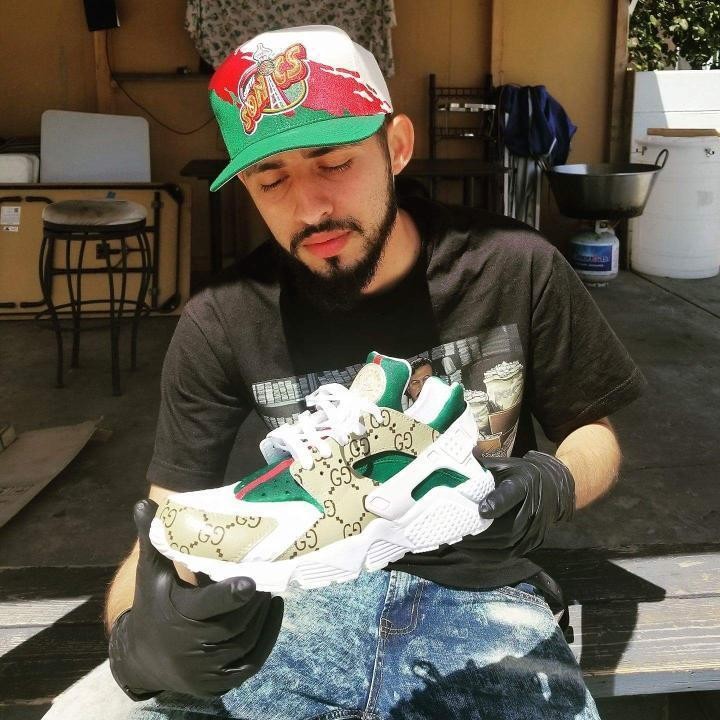 Image Credits:
Gilberto Tapia
Suggest a Story:
 VoyageLA is built on recommendations from the community; it's how we uncover hidden gems, so if you or someone you know deserves recognition please let us know 
here.