Today we'd like to introduce you to Erin Quiles.
Hi Erin, we're thrilled to have a chance to learn your story today. So, before we get into specifics, maybe you can briefly walk us through how you got to where you are today?
I am a Floral Designer with my business Figs & Flowers, based in Los Angeles, CA. I didn't always know this is where I'd be today, but looking back, there were many signs that I am in the right place.
I am a born and raised Jersey girl that has always had a particular love for nature and creating things with my own two hands. I grew up running barefoot through grass and dirt with my cousins, making mud pies adorned with pretty flower-like weeds, and then eventually growing older with my friends, barefoot in the sands of Jersey Shore beaches, permanently crusted with sea salt all summer long. I used to spend hours and hours crafting anything and everything with my Aunt Jenny, one-day dream catchers and the next our own edible arrangements. I loved spending hours and hours creating school projects with my mom, asking my dad to help build my contraptions, or helping plan and create for our families next get-together.
As I grew older, these passions stayed with me but grew into a more career-like direction. While in college at Temple University in Philadelphia, I interned for the Pennsylvania Horticultural Society and worked the well-known Philadelphia Flower Show. I think this is when flowers first became more than something I just thought was pretty and something I began to develop a passion for. The Philadelphia Flower Show is the nation's largest horticultural event where the world's best floral and landscape designers come together to create massive and stunning displays using all kinds of floral and plant varieties. To say the least, I was in complete awe. I couldn't believe the one-of-a-kind displays and the most unique flowers, most I had never even heard of. The Flower Show gave me the opportunity to begin to learn the names of these new flowers, peaked my interest in design, and even held flower arranging shows that I'd watch for hours. It was still some time after this until I really started my floral career, but my time with the horticultural society allowed me to see how impactful flowers could be to me.
Fast forward a few years, I had just moved to Los Angeles and I was working as a production assistant on a film set that was being designed by a very popular floral designer. Being there, I had the same feeling the first time I saw the breathtaking displays at the Flower Show. I was in awe, and it was like I was meant to be there. I worked alongside the florists and I asked them everything I could about everything they knew about the industry. I began freelancing for different floral designers that taught me the tricks of the trade and have helped me grow into the business that I have created. It was a winding road to get here but worth the wait.
We all face challenges, but looking back would you describe it as a relatively smooth road?
The road to creating Figs & Flowers wasn't the most smoothly paved, but I think the bumps in the road that affected me most are bumps that every florist deals with, even at the highest levels. There is a pretty common misconception that the flower industry is made up of florists "playing with flowers" all day, and in my mind I can see all my fellow florist friends cringing at the phrase. We love what we do and yes, we are consistently surrounded by some of Mother Nature's most beautiful creations, but I think it's important to let others and our clients know what a day in the life of a florist is really like. Early mornings at the flower market, late nights on our feet in the studio, hours of correspondence and creating proposals, days spent cleaning buckets and preparing candles (yes, your florist is responsible for all candles at the event!), collecting, purchasing and borrowing the most perfect vessels for your special day, travel, travel, travel, tired legs and thorn pricked hands – and on top of all of that and more, trying to keep up with a personal life. When I first started my floral career, I put my everything into it and eventually, I felt my body and my mind start to give. I quickly realized I needed to prioritize myself along with my work. I needed to do things that would make my work better instead of suffer from a lack of physical or mental strength.
These weren't and aren't bumps just for beginners but obstacles our industries face on a daily basis. To overcome them, I try to do things like go to workout classes a few times a week to keep my body strong and help carry those heavy flower buckets, put my laptop away at night to get a good night's rest and make sure I block out time to relax and enjoy family and friends. I still struggle with this, as many florists do, but I think it's important to continue to bring light to these bumps in the road florists face every day while trying to run their business. What is most important to note though, is that despite the bumps and challenges, florists are some of the most strong, resilient, intelligent, and kind group of people I have ever come across. I've never met a community more than willing to help one another each and every step of the way.
Can you tell our readers more about what you do and what you think sets you apart from others?
Figs & Flowers is a floral design business that creates personal and unique floral creations for your special events, such as weddings, corporate sponsor events, product launches, styled shoots and more! We create arrangements and centerpieces, floral arches and chuppahs, and scale even larger to hanging floral installations, floral backdrops and so on. You name it, and we can flower it.
My favorite things to create are custom installations because I get the opportunity to think outside of the box and build something original while bringing my client's vision to life. Fun fact, my business is named after my beloved dog, Figs, ergo Figs & Flowers, my two loves in life. My dog Figs is spunky, one of a kind and truly stands out with two different colored eyes. I like to bring her energy and spunk into my creations. This sets me aside from others because I am not scared to create something funky and different or use uncommon or vividly colored floral ingredients. I want my work to stand out and I want it to always look one of a kind – I like to get Figgy with it!
What do you like best about our city? What do you like least?
There is so much to love about Los Angeles, it is hard to pin down a few things. From a nature lover such as myself, my favorite thing is being surrounded by such a bountiful variety of flowers, plants, and landscapes. Whether I am walking through a park, down a sandy beach, or through a hiking trail in the mountains, I am consistently inspired by the flowers, the grasses, the trees and the land. It's very refreshing to always be in nature and even more so when it is so diverse.
Another thing I love is the opportunity. It's obvious to say there is boundless opportunity here, but I truly mean it. I didn't know half of the careers that exist here even existed at all. I've met so many people that tell me what they do for a living and I am so impressed by how many times I had never heard of such a thing, but am so intrigued and want to learn more. What makes it even better is despite how many different career options there are, they can all be intertwined at some point, so the ability to network and work together is endless. And with a variety of careers comes the variety of people, no two are alike and every day is a new adventure.
What I like least about Los Angeles? Maybe the need to keep going and going, whether that be with work or your social life. Since I've moved here, I have consistently been on the go and I actually love that because I am not a fan of idle hands, but I think since there is so much opportunity, so much to do and a variety of places to go, we forget to stop, enjoy and appreciate where we are and how far we've come and restore our bodies to keep going. I remember this most when I am sitting in LA's finest traffic, which honestly was my first thought when asked what I like least about LA. Don't get me wrong, it still isn't making my favorite list, but I do appreciate the moments to myself where I have no option but to slow down, reflect on my day or my thoughts, and take in the beauty that is California (if you look up past the red brake lights).
Contact Info:
Instagram: @figsnflowersco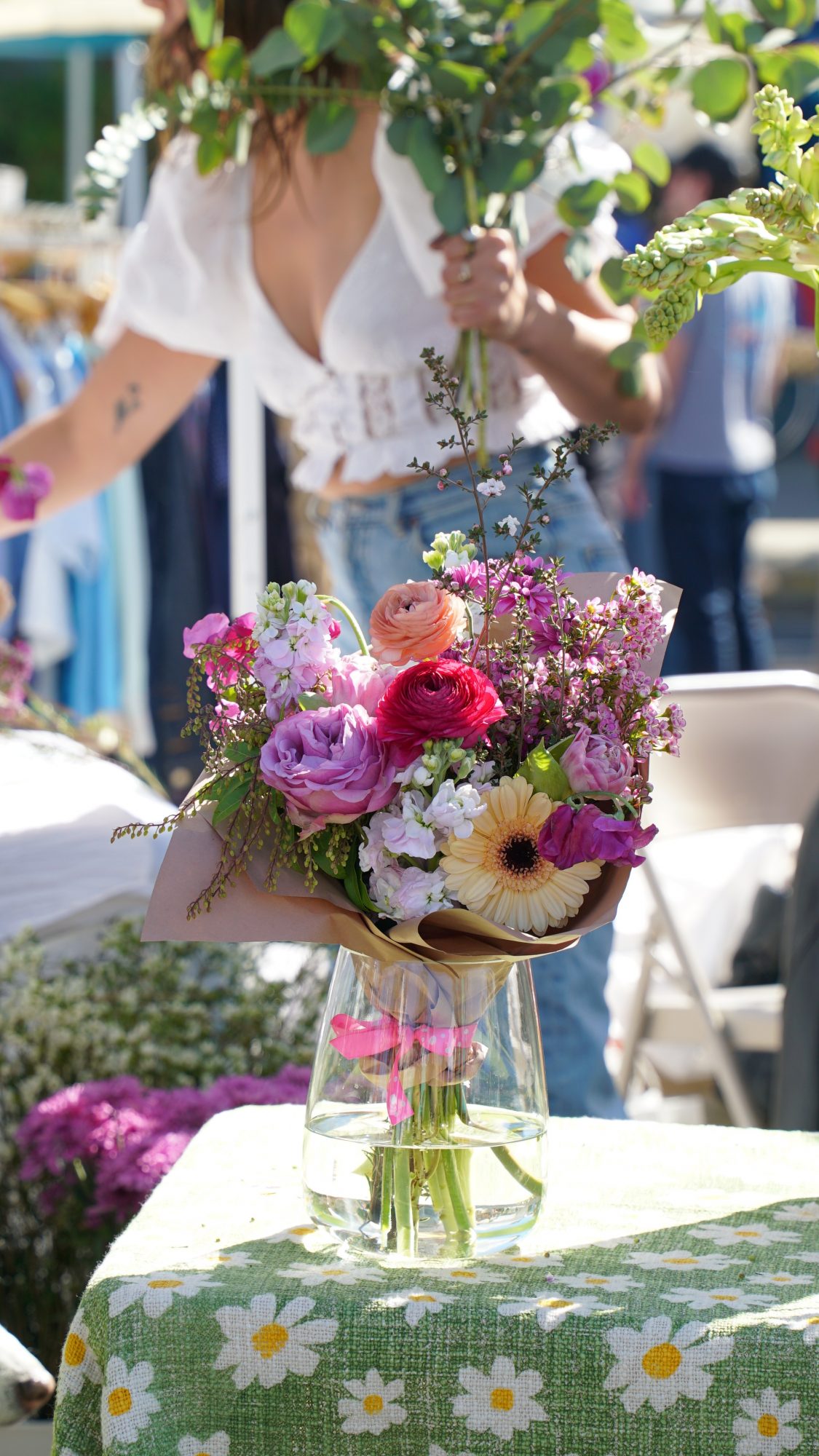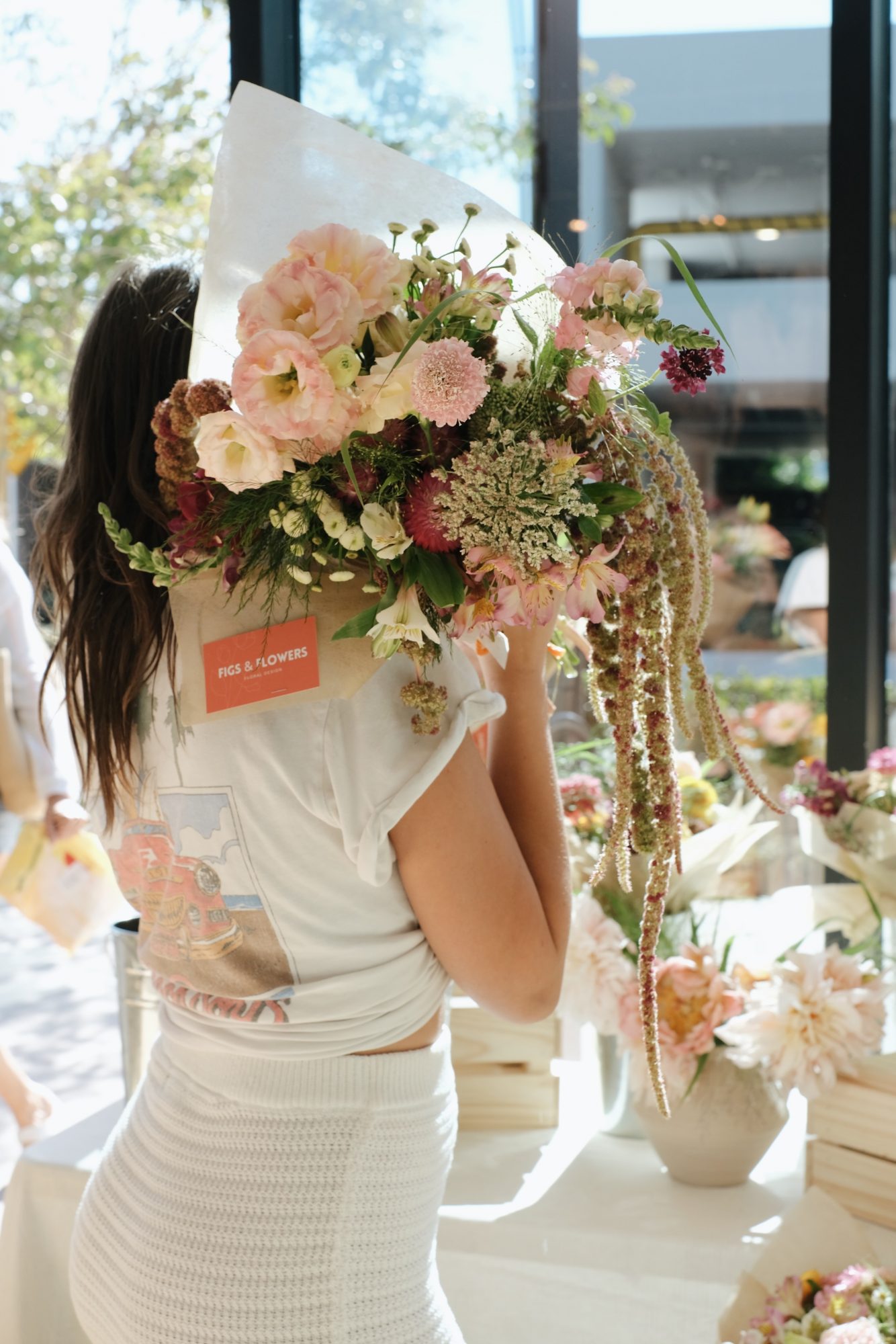 Image Credits
Elizabeth Kaminski, Vincent Ignatowicz
Suggest a Story:
 VoyageLA is built on recommendations from the community; it's how we uncover hidden gems, so if you or someone you know deserves recognition please let us know 
here.