Today we'd like to introduce you to Dr. Lulu.
Hi Dr. Lulu, thanks for sharing your story with us. To start, maybe you can tell our readers some of your backstory.
My name is Uchenna Lizmay Umeh, but my pronouns are She/Her/Hers. I like to always begin with the fact that I was born "bread", buttered and slightly burned in Nigeria one of the homophobic countries in the world as well as one, if not the most "religious".
I am the first of 6 children, and I am blessed to still have both parents and all my siblings and their children still alive and in great health. A true blessing from above.
My earliest memories of my childhood were me playing in the yard with my immediate sibling brother and just having fun. Sometimes we would spend holidays back in our hometown, Amesi in Aguata local government area, in Anambra state of Nigeria. It is located in the eastern part of the country, but I grew up in the northern part of the country.
My father was a career Air Force man and retired as a 2-star general, so that means we moved around a lot! And as a lover of all things linguistics, I learned how to speak the three major languages in Nigeria, and then some. Today, I am a proud polyglot and speak upwards of eight languages fluently.
My elementary school days were overall amazing, I excelled in my studies and had a blast doing it! But the good memories are somewhat stained by memories of getting bullied on the bus, and getting in trouble a lot for talking too much! Imagine that?! Because today, I am a two-time TEDx speaker, going for a total of five, and I own four podcasts and one radio show! Talk about being #EXTRA! Imagine if I had allowed them to silence me in grade school? He he he…
High school was an all girls' affair. It was also a boarding school. That is where I flourished in athletics, drama, debate, girls guide (scouts), and discovered that I have a nice smooth alto singing voice! I also discovered that I was attracted to girls as well as boys!
I wanted to become a lawyer while in high school, but then my love for old buildings and design swayed me towards architecture, however, on a dare from my father, I went to medical school and discovered my extreme love for children! So, becoming a pediatrician was a natural path for me.
After medical school, I came to America literally to attend Howard University Hospital for my residency training. I had envisioned it and manifested the heck out of it from my father's house in Lagos, Nigeria! America as a single 24-yr-old woman was extremely challenging. I missed my home and my family like crazy. I documented the experience in a brief memoir in my 4th book called "The Warrior Women Project, A Sisterhood of Immigrant Women". An anthology of immigrant stories by 22 immigrant women from 13 different countries.
While in residency, I realized that I had to adjust to living in a different world thousands of miles away from my home. I had to get used to the food, the weather, the language, the various accents, style of clothing, way of life and even how people go shopping… All of those were new to me! But, I survived it and even ended up making friends and meeting my now ex-husband, and having my children!
I started my pediatric practice soon after residency, right after having my eldest child, then I had a brother and another brother before I decided that I was done, birthing babies…
I loooooved having my own business and my own private pediatric practice in slightly rural South Carolina! I was able to run the show, meet my patients both in the office and outside, and model my practice the way I wanted.
I was able to take care of all kinds of cases including cancer patients, sexually assaulted kids, and such, but that was also when I first encountered a patient's suicide. Little did I know my life was going to end up being dedicated to its prevention in the not-too-distant future.
My practice grew from 1 patient to over 6K, from one office to 2 locations, and from 1 employee to 13 employees and three providers! By the time I sold the practice in 2012, we were the largest minority-owned pediatric practice in Lancaster, SC.
After my divorce from my ex-husband, I joined the United States Air Force as a Lt. Col and commander. This required me to make the mind-shift of all mind-shifts! But I did it, and I excelled at it! While I was in the Air Force as a pediatrician, I noticed that I was beginning to see more and more depressed and suicidal kids. And following a bankruptcy stemming from my divorce, I also experienced severe depression and suicidal ideation.
Once I finished my contract time with the military, I decided to work in the private sector, but that quickly fizzled out as I realized that I wanted to do something different. At one point, someone suggested a TEDx talk, and I was hooked! I started watching as many of them as I could in preparation for mine, and when the lockdown hit us in 2020, I was ready to find a TEDx talk and make it what I called my "Lockdown Legacy".
My first talk was on childhood trauma recorded in September 2020. My second one is coming up later this year in October 2022. In addition to the TEDx talk, I also became certified as a life coach during the lockdown. I did that in preparation for my life after retirement from medicine. A dream that came true in July of 2021 on my 30th birthday as a physician.
The most significant thing that happened during the lockdown though, was my eldest child who was assigned male at birth shared that her gender was non-binary and that opened the flood gates of emotions that finally led me to become a parent coach. Today, she identifies as transgender, and living in Texas, I had to have a few more mind-shift changes in order to come out swinging at all the current anti-LGBTQ+ legislature!
Today, as a life coach, I focus my work on parents of LGBTQ+ children who are struggling with their journey of acceptance and support for their kids. I also facilitate workshops and speak at events as well as moderate panels, etc which are centered around diversity, equity, and inclusion work.
I am proud to say that I have been featured on numerous online and in-person appearances: CBS This Morning, SA Live, Kens5, KevinMD blog, uncountable podcasts including the syndicated SurfaceLevel podcast, and working on manifesting my own television show!
Alright, so let's dig a little deeper into the story – has it been an easy path overall and if not, what were the challenges you've had to overcome?
FEAR and SELF DOUBT have been my most frequent companions and my worst adversaries along the way. They have caused me to re-evaluate my why, experience the worst case of impostor syndrome, and still stay the course on my way to the top!
Becoming a single mom, selling my practice, filing bankruptcy, struggling with depression and suicidal ideations, recently going through my second divorce, retiring from medicine, writing six books, and pursuing a career in public speaking, and advocacy work have all contributed to immense growth and immense self-doubt!
Thanks – so what else should our readers know about your work and what you're currently focused on?
On July 5th 2021, I retired from what I call "active duty medicine" after 30 years of practice. That was first of all, because I had promised myself I was going to do it, and also because I wanted to focus more on my advocacy work!
After obtaining my life coaching certification, I first worked with at-risk youth in my practice, but had to close it down due to the pandemic lockdown. However, not before I learned that many of my patients identified in the LGBTQ+ community, and struggled with minority stress from family rejection.
That was when I realized that parents are the most influential persons in their kids' lives. Studies upon studies show that parental/familial rejection plays a critical role in the development of mental health struggles like depression, anxiety, self-harm and suicidal behavior.
Many of the people I work with in the LGBTQ+ community admit that they either remained "closeted" or refused to disclose their true gender identity with close family members or at work for fear of ostracism/rejection/violence/or even homicide, particularly the transgender or gender non-conforming persons.
My current book is titled "Invited In", How to Become the Parent Your LGBTQ+ Child needs as a result of the need I saw out there for parents to learn and hopefully understand what is actually going on with their kiddos.
I am currently also working on my second TEDx talk that compares the old way "Coming Out" with the new way "Inviting In" of disclosing one's sexual or gender identity with the world because of the change in perspective and power that the latter brings to the table.
Last.y, I am currently in the middle of preparing a FREE webinar specifically designed for parents of queer kids as a funnel for my upcoming online course also designed to help parents along their journey towards supporting their LGBTQ+ children.
I started a Facebook community of parents of out or questioning LGBTQ+ youth a few months ago after my second divorce, and I am proud to say, we currently boast 2500+ members.
I am happy to be doing this advocacy (agitating) work in the state of Texas, one of the leading states in anti-LGBTQ+ legislation. In March of this year, the San Antonio LGBT chamber of commerce awarded me the Advocate of the Year award, and I am so proud of myself for that.
I am currently working on getting a television show to add to my 4 podcasts and one radio show in existence! So, you asked, and I answered…yay!
If we knew you growing up, how would we have described you?
Ooooh, growing up, I was all my teachers' worst nightmare! I was loud (still am), noisy, obnoxious, and in your face! Then again, I was kind and compassionate and always rooting for the underdog. I joined the girl scouts as a reason because I always want to help people. These days, when I reflect back, I often wonder if it was all love or did it have a bit of "people pleasing" as well.
You see, I always wanted my mom to see me, like actually SEE me, and I think I never felt like she did. So, I think I made up for that need by helping others even to my own detriment sometimes.
Overall, I was smart intuitive, funny, and even cunning. I never like cheating, but I was also easily coerced to do something not so good if only my friends would like me. Luckily, I never got in any serious trouble back then.
My siblings and I loved to hang out with our aunts and uncles as children, and they raised me as much as my parents did. I learned a lot of valuable lessons from kindness to compassion from one of my very favorite aunties. Sadly, we have been estranged since I shared my sexuality with her 🙁
I discovered my love for the arts and creativity from very early in my childhood. I love creating! Whether it's sewing, knitting, making dolls out of leftover sewing materials, or writing and reading poetry, karaoking or writing a book, blog or anything else in that realm, that is my joint!
I fell in love with public speaking from debate club in high school, and I now realize that I am doing EXACTLY what I was put on this earth to do, SPEAK! RIGHT WRONGS and HELP END YOUTH SUICIDE!
Pricing:
Keynote Speaking begins at $35K
DEI Workshops $50K
Virtual Speaking/Panels/Moderating $15K
Author Guest Appearance $10K plus sale of books
Appearance on Dr. Lulu's Radio Show "The Parent Hour" donations start at $1K
Contact Info: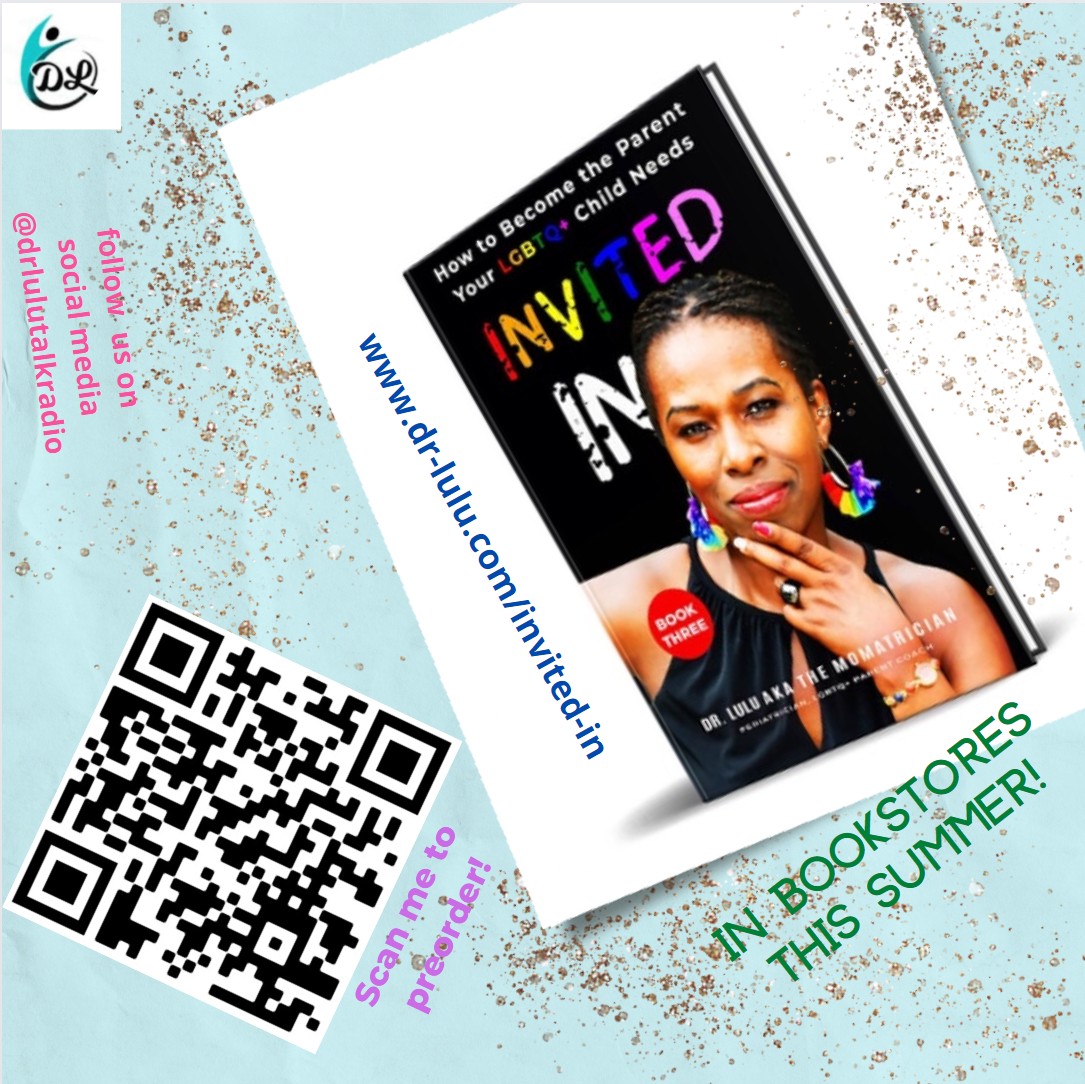 Suggest a Story:
 VoyageLA is built on recommendations from the community; it's how we uncover hidden gems, so if you or someone you know deserves recognition please let us know 
here.