Today we'd like to introduce you to Clare O'Connor.
Hi Clare, please kick things off for us with an introduction to yourself and your story.
I was (and still am!) lucky to have cool parents who surrounded me with art from the time I was very little. Dance, music, visual art – these were all things that I can't remember ever "starting" since I truly grew up doing them. I also went to a very artsy school in Seattle, where we learned everything from beeswax modeling to knitting to verses of Shakespeare. Extracurricularly, I did everything from hula, to piano, to Irish Step Dancing, to choir, but once I discovered ballet, that became my primary focus for 10+ years. I trained very seriously, performed in the Nutcracker every year, did national and international summer training intensives–you get the picture.
When I moved to Chicago, my focus shifted from dance to writing and acting, and I discovered that I really loved improvisation and sketch comedy. I took some workshops with wonderful improvisation teachers like Gary Austin and David Razowsky and also did The Second City's Conservatory program. Around the same time, I stumbled into my first on-camera acting class, taught by director/teacher Matthew Miller, who became a mentor and friend. From there, I got an agent and started auditioning for film and TV projects. I also had some wonderful writing teachers in Chicago. And, my godfather, Sandy, who's a real aficionado of all the arts, also lives there. I was so fortunate that he took me to see tons of different art exhibits and performances–operas, musicals, plays, etc. He really helped shape my taste and expand my world in terms of the arts.
I had a fairly consistent visual art business going at this point, mainly drawing graphite portraits of client's pets. I also had a bajillion side jobs like dog-walking, nannying, performing as various characters for a children's party company, copywriting, and pumpkin painting (long story)–to name a few! I'm lucky that for the most part, I enjoyed all of these. I started to book some film and tv work here and there as well, joined SAG-AFTRA, and got to act in some cool indie projects, some commercials, and a few TV shows.
In 2018, I booked a series regular role on a FOX pilot called PROVEN INNOCENT that was picked up to series. It ended up having only one season, but that momentum fueled my move to LA in 2019. And here we are! My focus these days is acting, and my main side hustle is visual art. I still do a lot of graphite pet portraits and now also paint portraits (in color) of client's houses. I also take old paintings that I find at antique and thrift stores, and I paint in giant capybaras. I call this ever-growing series "Capybaras Among Us," and it's probably my truest calling. I guess you could say my artistic upbringing and entire life have led me to this moment – painting giant capybaras into old paintings.
Would you say it's been a smooth road, and if not what are some of the biggest challenges you've faced along the way?
I wouldn't say it's been a smooth road, and it hasn't been linear, but I definitely feel very lucky that I have a solid support system for the bumpy parts. There's a Tina Fey quote that I really like: "I want to thank my parents for somehow raising me to have confidence that is disproportionate with my looks and abilities." It's so true! My parents and my extended family have always been my cheerleaders, and I've also had really great friends and teachers who have made the difficult times a lot more manageable. My mom, to this day, spends hours running lines with me on the phone before every audition I have. She's my secret weapon!
I think for me the biggest struggle generally has been dealing with anxiety. Especially with how unpredictable the arts are, and most recently with how unstable the acting industry can be. I think my nervous system is wired to thrive on consistency and routine (is everyone's nervous system wired that way?), and with a career in the arts, especially acting, that's virtually impossible. I think another aspect of this ironically stems from the fact that I had such broad exposure to art from a young age. I saw a lot of incredible art and learned to be very discerning about it as a result. So, whenever I make my own work, in whatever medium–and especially in areas that I'm less experienced in–my skill level is inevitably lower than my taste level, so I feel like, "this sucks!" and it's hard to keep going. This isn't my original thought, by the way. I think I first heard it talked about by Ira Glass. But it really resonates for me that as long as there's a gap between my ability and my taste, there's going to be some tension. Which can be motivating on a good day but demoralizing on a bad one. So yeah, I'd say anxiety has been and continues to be the biggest challenge for me, day-to-day. I've made some incremental progress with this in the last few years, though, with meditation, Buddhism, and therapy. Keeping a sense of humor about everything has been another saving grace. Also, just keeping in mind that everything is changing every second. Which, on the one hand is like, "ugh, everything is changing every second," but at the same time is like, "OH MY! Everything is changing every single second! YESSS!" Know what I mean?
Appreciate you sharing that. What else should we know about what you do?
Acting-wise, I've done a little theatre but mostly focus on film and TV. The network shows I've been cast in, including the regular role on PROVEN INNOCENT, have all been dramas, which is funny since most of my training and background is in comedy. The films and shorts I've been in are more of a mix of genres, and I collaborated on a few comedic shorts in the past couple of years with my boyfriend and some friends–where I got to act, co-write, and co-direct–which was fun. They're scrappy and zero-budget projects, but they're some of the work I'm most proud of.
In terms of visual art, I would say my graphite pet portraits are my longest-running "signature style." I draw them on commission, using reference photos from the client. They're photo-realism-ish, but with a stylized twist. The house portraits I paint are unique in that I tend to amp up the colors and go all-out with detail in terms of foliage and plants so they have a fun, magical quality that pops off the page. I experimented with making some print and card series this year out of pieces that started as personal projects, and they ended up selling out, which I'm so grateful for! Finally, and probably most importantly: the capybara paintings. I explained them a bit more above, but yeah–I'd say those are the epitome of my current style (and sense of humor/artistic aesthetic/personality/reason for being).
What are your plans for the future?
Looking ahead, I'm excited for whatever comes my way next in terms of acting–you just never know! I would like to continue to expand my visual art business, to make more of my own work in the writing/filmmaking realm, to keep meditating, and to get a rescue dog who I will name George.
Contact Info: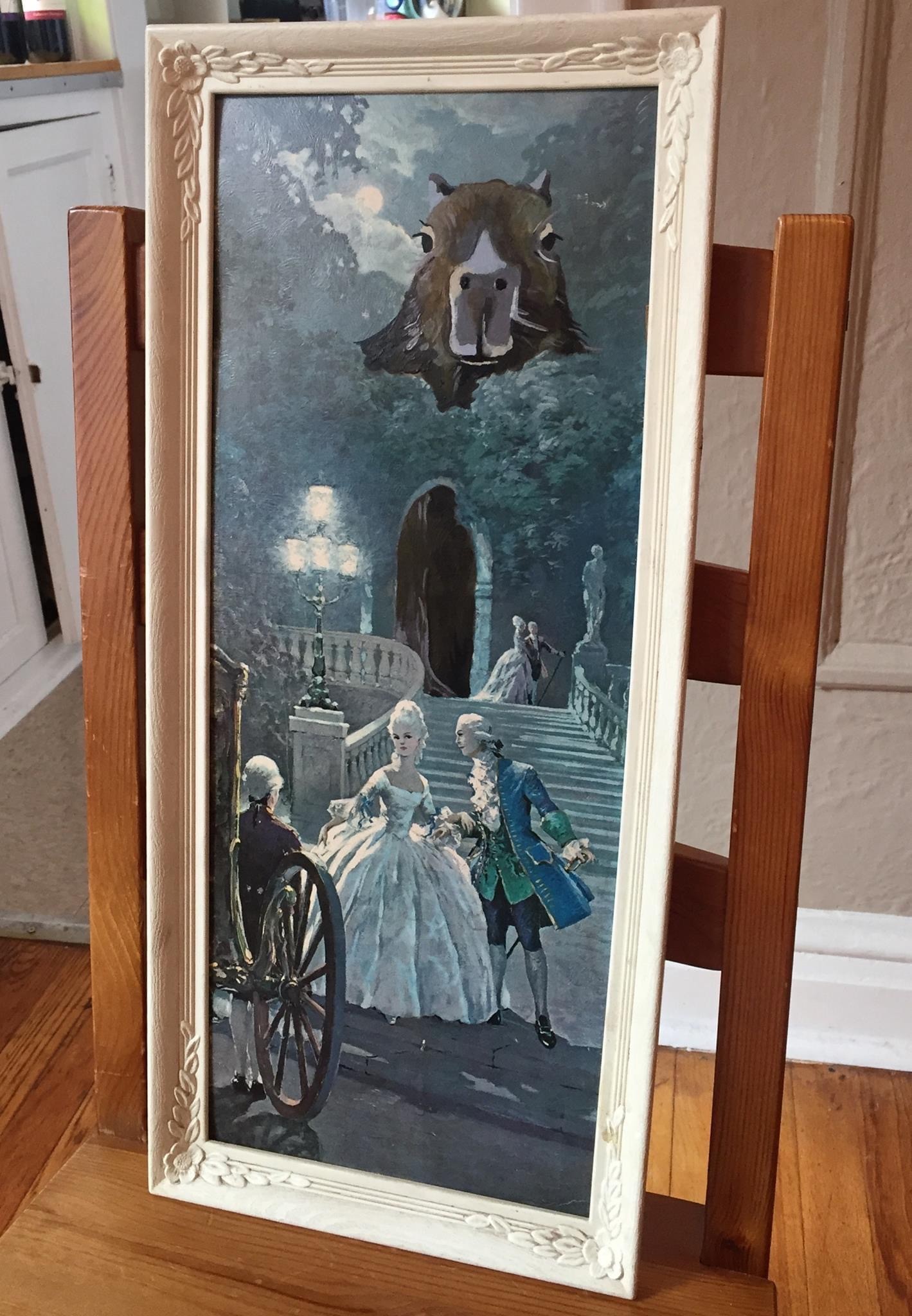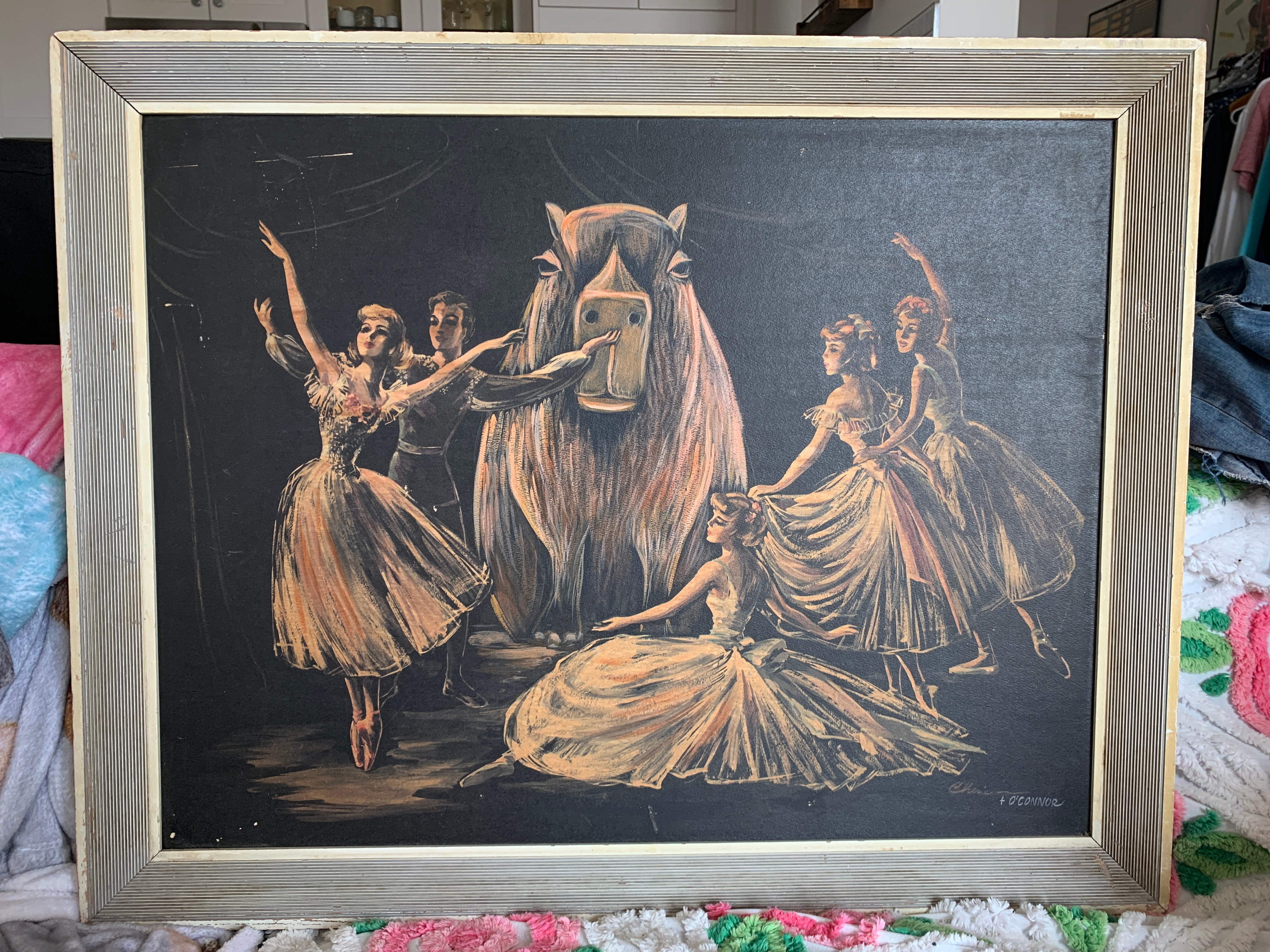 Image Credits
Geoffrey Prather & Molly Hickey
Suggest a Story:
 VoyageLA is built on recommendations from the community; it's how we uncover hidden gems, so if you or someone you know deserves recognition please let us know 
here.