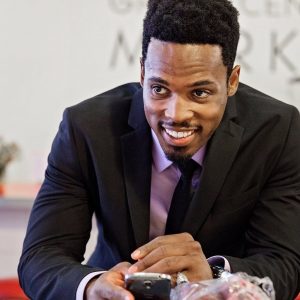 Today we'd like to introduce you to Adrian Rashad Driscoll.
Hi Adrian Rashad, so excited to have you with us today. What can you tell us about your story?
I grew up in a really small desert town on the way to Vegas called Barstow. It's hot and there's not a lot to do so to keep me safe (and saved) my MamaDorsie (grandmother) kept me in the church. I was one of those kids who spent probably five days a week doing some church activity or another.
At six years old, I was given a one liner in the church Christmas play. They gave us a month and a half to rehearse and learn our lines. I had mine memorized by the end of the day. I loved the idea of telling a story through characters and visuals. It excited me. From there, I found every acting opportunity I could. I was doing school plays, community theater, and singing. When my mother wasn't looking, I would literally walk up to people at Wal-Mart and sing Whitney Houston's "I Will Always Love You" as payment they would offer to buy me Legos, my mother rarely accepted this offer, however. I was hooked. When I wasn't acting, I was writing small stories of my favorite shows (Family Matter's, Martin, Fresh Prince, etc.). I, of course didn't know anything about scripting or format, but the effort was definitely there. Fast forward to fourth grade, I was diagnosed with a rare blood condition called Idiopathic Thrombocypenia. It basically means your body doesn't produce enough platelets, so if you get cut you can bleed to death, similar to a hemophiliac. I was in and out of the hospital for a year getting platelet transfusions and when I returned to school, they treated me like I belonged in a bubble. I just wanted to play sports and after constant attempts to convince my family and doctors that basketball wasn't a contact sport, their answers were always a hard NO. With sports out the window, my extra-curricular activities were limited, so I got more involved in acting. I did dozens of plays and starred in leading roles. All through middle school, high school, and college I was known as Adrian the Actor.
In 2010, I decided to finally take my talents to LA where I could shine. I took my tax return check ($1400) and an air mattress and moved to West Covina with two friends from the city. I submitted to countless auditions and took thousands of modeling photos and the responses were all the same, "This is Hollywood, nobody cares that you were in a play." I needed film experience but to get film experience, you need to get auditions and film roles. Horrendous catch 22. So, I had my mom sponsor me a DSLR and I started shooting my own content. I would write, act, direct, edit, do sound, literally everything myself. I would write roles that I thought would fit me and rehearse as if it were a big-budget picture. To pay the bills, I did background acting work and promotional modeling. The PAs would always say "Don't talk to the director" or "Don't bother the talent" but I of course didn't listen. I would often ask questions about the shot or the camera movements. I would then take this knowledge and try to apply it to my own pictures. This got me noticed by casting directors. I started getting auditions and eventually roles. But it also got me noticed by fellow actors who wanted to get content for themselves but didn't want to do the groundwork behind the camera. This birthed Driscoll Entertainment.
After a few years, I realized that I made a lot more money behind the camera than in front of it, so I focused on directing and producing. I was still getting small roles here and there, but the small pay and long hours were of no interest to me. I needed the big paychecks and the major opportunities. Then I found VR. I was doing promo modeling for Oculus and saw what VR could do. I was hooked all over again. This was a whole new way to tell a story, and nobody knew what they were doing. After two years, Oculus started a specialist program that flew us around the world to let people experience VR. The basic rule was don't network just work. This wasn't set by Oculus but rather by the agency that hired me. Of course, I didn't listen and I leveraged my knowledge to engage in conversations with thousands of people, thusly creating thousands of opportunities. Now I'm one of the top XR experts in the world and I have the privilege of teaching immersive media across the country. Best of all, I still produce content but at a much larger scale. I now have contacts at all of the major studios and the opportunities are substantially larger. My current focus is Collimation an immersive production company that I co-founded with Young Guru. We are creating incredible artist-fan experiences across all mediums. We give the energy of a super concert with the intimacy of an MTV unplugged. I'm also working on a few things that I can't talk about just yet, but stay tuned.
I'm sure you wouldn't say it's been obstacle free, but so far would you say the journey have been a fairly smooth road?
Ha! Smooth wouldn't be the way to describe it at all. In 2015, I was living on Skid Row. I was actually making $25 an hour at this time but the company that I was contracted with was paying NET-90. By the time I would actually get paid, I would instantly be broke again and the interest (and overdraft fees) piled up, as a result I lost my home. This actually gave me a lot of insight though. I had to be "home" to the shelter by midnight or I would lose my living quarters. But I couldn't stop working or creating opportunities, so oftentimes I found myself walking down Skid Row at 1150pm in a 3-piece suit. You stop being afraid of a lot of things once you survive that. It was character building to say the least.
I won't at all say I wasn't at fault for this as well. I made the costly mistake of doing busy work in my "free" time. When you create tasks to make yourself feel like you're being productive, you usually aren't.
Thanks – so what else should our readers know about your work and what you're currently focused on?
My main specialty is filmmaking, primarily writing and directing. I found a niche market in the immersive media space and ran with it. Most people in this space were either from the traditional film side and had no idea how to properly use immersive media, or from the tech side and had no idea about how a picture should look. As an immersive media expert with a filmmaking background, I found the happy medium.
I'm grateful for all of it, in 2018 I helped fight homelessness with the United way through VR. The same year I was taken through a program with NBC and USC. I have taught at schools and spoken at conferences across the world. I even produced a worldwide tour for a Christian VR piece that takes the users through the life of Christ. But my favorite part of all of it is the people I've met and the connections I've made. I've had the opportunity to work with some of the smartest, most talented people in the world and although the trophies are nice, the relationships are indescribable.
Alright, so to wrap up, is there anything else you'd like to share with us?
Avoid rocking horses. I think the biggest mistake that I've made is mistaking motion for progress. I think I got really caught up on some of the things that Hollywood convinces you are important (money, fame, having a great body). None of it matters honestly. Eat well, spend more time with people you care about, and find passion in your work. The rest is filler.
Contact Info:

Image Credits:
Gervel Samson Photography, Lien Driscoll, & Others
Suggest a Story:
 VoyageLA is built on recommendations from the community; it's how we uncover hidden gems, so if you or someone you know deserves recognition please let us know 
here.