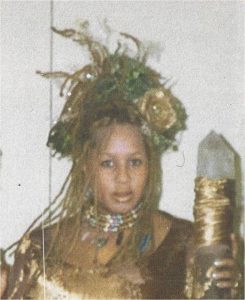 Today we'd like to introduce you to Tuesday Conner.
International Award-Winning Filmmaker| Writer| Producer and once Costume Designer to the Stars Tuesday Conner has been having a passionate love affair with her career for over four decades. From the start of an idea through the final creation and production her work is dedicated to enhancing the quality of an actor's performance, providing believability to the actor and audience for the most enjoyable entertaining experience.
Tuesday is a freelance multimedia powerhouse producer with a comprehensive background in Live Stage and Short Film Productions. A natural, hands-on leader with strong creative vision and a long track record of successfully guiding a wide variety of projects from development to completion. Inner City Cultural Center was the guiding light that allowed Tuesday to Costume Hollywood, Broadway and tour the world. She remembers sewing at the age of two. By the time she was eleven, her mom started passing her clients on to Tuesday. Tuesday worked in her mother's sewing factory, Doris was gifted the factory through Operation Bootstrap. Doris taught the community how to sew. Shindana Toys was the first multicultural doll company in America and Tuesday's mother got the contract to create the Redd Foxx, Flip Wilson, Rodney Allen Rippy and J.J. pull-string dolls. At the age of six, Tuesday was working in the factory making dolls and their clothes. Lost LA: When Tuesday was sixteen she was blessed to be accepted into Inner City Cultural Center. The first multicultural performing arts institute in the country. Home to Glynn Turman, Ernie Hudson, Ted Lange, Denzel Washington, Janet Jackson, Marla Gibbs, Malcolm Jamal-Warner and George C. Wolfe…just to name a few. The movie "Fame" was based on ICCC and Tuesday is a proud prodigy of the C.E.T.A. program that allowed her to be paid to learn how to sing and dance. When the program was over, she knew what she was good at. Tuesday became a Fashion Designer to the Stars when Woodie King allowed her to costume Jennifer Holliday in "The Gospel Truth". Tuesday's teacher Cliff Roquemore invited her on his set as a $15 a day extra.
On day two Tuesday and her sister Lynne were $100 a day-players. Seeing that Mr. T's pants were held up by a safety pin, Lynne suggested they make him an outfit. Overnight Tuesday, Lynne and their mother Doris created an outfit for Mr. T that made the cover of People Magazine. They also created themselves matching outfits and presented it all to the producer Jamaa Fanaka. This began Tuesday's fabulous career in Hollywood. For the past twenty years, Tuesday has produced the ICCC Reunion and Award Show. This year's show was hosted by "Ma' Rainey's Black Bottom" actor Glynn Turman. Tuesday got tired of being hired as the assistant and returned to school at the age of 27, she attended F.I.D.M. and finished at the top of her class with the Manufacturing & Management Achievement Award. It was an easy two years and she decided to go for her bachelor's degree at the American College of Applied Arts She studied fashion design because university theatre departments couldn't provide her the construction techniques she desired. Her last summer of school, she landed her first Touring gig. Upon graduation, she was offered a job in New York, she was working for Bob Mackie Blouse Division in the day and for the Lincoln Center on weekends costuming shows for The Little Orchestra Society. Tuesday spent five years on the road touring, living on airplanes, tour buses and hotels. When Tuesday got tired of the road, she moved back to Los Angeles and focused on creating designs for the curvy woman to assure they felt feminine and sexy. Tuesday is a pioneer who fought for years to have plus-size models on the stage.
From Mo'nique to Rosanne Barr, to Kym E. Whiley and Sherrie Shepherd have been seen in a Tuesday Conner Design. Before she became a Fashion Designer to the 10-time Grammy Award winner, Chaka Khan Tuesday Produced one of the hottest Comedy Clubs in The Valley and CBS said her baby, Poets Jazz House, was one of the coolest Poetry Lounges in the country. The people who walked through the doors of Poets Jazz House called it Home and Church. They'll tell you stories of how it changed their life, they'll tell you stories of how it saved their life. Poets Jazz House is just somewhere to go in the midst of searching your soul and it's mandatory to get in the door. Tuesday noticed after fourteen weeks of opening her lounge the same people kept coming back week after week and never got on stage. She realized there was something in their heart they wanted to say; but didn't know how to say it. She also realized the stage wasn't for everybody. Tuesday started putting a homework assignment in the weekly program. You only had to complete one of three thoughts. You could get on stage and recite it yourself; you could turn it in and it be ready anonymously or you could be acknowledged. But, not doing your homework was not an option. After the show one night, Tuesday overheard the tail end of a conversation. Derek said… how would she know something like that at that age. The next day Tuesday pulled out her homework assignment and number one was "When I was Young & Naive…" Tuesday wrote a poem so powerful the first time she read it, the audience and host froze in time. She had to reel them back in and realized she had to tone it down a bit. It became a commanded piece at parties and at church. Whenever Tuesday read her poem called "Robin" in public people of all ages, races and genders thanked her. People were able to talk about the abuse for the first time in years or ever.
Tuesday realized hearts were being healed and she had to go global. Tuesday's film "Young & Na!ve" is an apology to every child ever sexually molested. It's a film that should be seen by everyone ever born". It is Tuesday's intention to get her film into colleges, universities, crisis centers, foster care centers, group homes and military bases worldwide. One too many times, Tuesday said I'm a Designer by Trade but a Writer at heart; so, she traded in her sewing machine for a computer. Tuesday's nonprofit performing arts and education organization Inner City Cultural Center II, Inc. and her eclectic group of artists, teachers, entrepreneurs and businesswomen "Royal Queens United" Spread Wisdom, Inner Healing & Mentoring through Music, Poetry & Art to Bring Love, Harmony & Prosperity to the Community. The Royal Queens welcome Sisters of all ages and races to Come Express her Heart through Art and a Sister Circle Open Forum Discussion on How to Live a Happy Life. They provide the community with Arts, Crafts, Computer and Business classes to train others how to use their hands to make money. They help women align their vision to move with vision to become self-sustainable and uplift the community. They also provide a venue where women can come express her heart and sell her art.
Can you talk to us a bit about the challenges and lessons you've learned along the way. Looking back would you say it's been easy or smooth in retrospect?
No road is completely smooth, but how you handle the twist, turns and bumps in the road determines your happiness or sorrow. It's been a beautiful journey. You have to make use of what's in front of you. I would have loved to work more in feature films but I was given the opportunity to design clothes for celebrities in between gigs. I had to make my own niche and if you're good at what you do, you don't have to worry about jobs, word of mouth always got me the next gig. Now, I write and produce my own shows, I no longer have to wait to get a film job, I sit at my computer, manifest my concepts and call my crew…then we shoot. I have an amazing team, we stick together and accomplish whatever our hearts desire. I never quit, I never gave up and when I got tired of chasing dollars the dollars started chasing me. It's sweet to turn jobs down because you're too busy.
Thanks – so what else should our readers know about your work and what you're currently focused on?
I started my career in theatre as a costumier, worked my way up to Head Designer. I became very proficient in Period pieces. In between gigs, I designed clothes for plus-sized women to assure they felt feminine and sexy because designers were taking a size six design and making it into a 16. You can't do that, the design must be modified to accommodate a fuller figure and the patterns designers were using for plus size women was hideous. Just because she's a plus-size doesn't mean she can't have pretty patterns and colored bras. I'm was most proud to see my design on Chaka Khan as she sung "To Sir With Love" to Quincy Jones on the United Negro College Fund Parade of Stars Telethon produced by Lou Rawls. Another of my proudest moments is being the first Black Head Designer for the Little Orchestra Society. We performed at the Lincoln Center, The French Institute and The Jewish Repertory Theatre. As a filmmaker, I am most proud to have won fifteen awards from Russia, India, Canada and New York for my first film. What sets me apart from others is my true concern for my art, my designs and the authenticity of my craft.
We'd be interested to hear your thoughts on luck and what role, if any, you feel it's played for you?
Luck is the same as Blessings to me. I have good days and I have lesson days. I learn from every experience good or bad. I choose to live a happy life. Yes, it's a choice. A business partner I once had said Tuesday, me and we don't have any problems; we have solutions. That's one of the most profound things I've ever heard. We are no longer business partners but I kept his philosophy. I don't have any problems, I only have solutions.
Pricing:
Greeting Cards: $20 for a box of 5
Book: Stress Less by Tuesday, 1st Edition Autographed Copy $30
Contact Info:

Image Credits
Tuesday Conner, Luis Louro, Chaka Khan, Glynn Turman, Ernest D. Dillihay, James V. Burks, Jair, Dana Snow, Spencer Allen, YahYah, Mel Hampton, Shay Fresh, David Johnson, Dana Snow, Marcy Sproull, Linda Strong, Ursaline Bryant, Izak, Yawo Watts, Lisa Holly, Linda Dalzie
Suggest a Story:
 VoyageLA is built on recommendations from the community; it's how we uncover hidden gems, so if you or someone you know deserves recognition please let us know 
here.