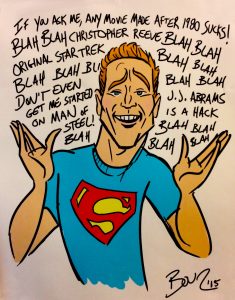 Today we'd like to introduce you to Robb Pratt.
Alright, so thank you so much for sharing your story and insight with our readers. To kick things off, can you tell us a bit about how you got started?
For as long as I can remember, I've always wanted to be an animator! Growing up in poverty, raised by a single mother that suffered from mental illness, cartoons were my favorite escape! I spent hours upon hours, every day, watching the classics – 'Looney Tunes', the Fleischer 'Popeye' shorts, and of course, Walt Disney animated features.

What really inspired me was that it wasn't simply drawing – it was story, color, voice acting, performance, BG art, music, sound effects, timing – it was all of these methods combined that made it super compelling. With limited resources, a great college wasn't possible, but I was fortunate enough to grow up in North Hollywood, close to the Cartoonists Union Headquarters. At night, I took classes there, made connections, and learned from pros that were working at the Studios during the day, hearing about how they went about hiring and what I needed to do to prepare. After Disney's string of massive hits – 'Beauty and the Beast', 'Aladdin', and 'The Lion King', the Studio was ramping up production and looking for new artists. I took a test and got hired as an inbetweener on 'Pocahontas'. Growing up poor was difficult, but it gave me a fierce work ethic and I learned to never take anything for granted.

Once I was employed at Disney, I worked as hard as I could, completing my expected work during the day, then worked all night, every night on personal animation tests, getting advice from these brilliant animators that I were now becoming my friends. After a couple of years, I worked my way up to Animator and had the dream job of my life, animating on several Disney Traditionally Animated Features – 'Hercules', 'Tarzan', and 'Atlantis: The Lost Empire' to name a few. I found that even when you achieve your dream job, your career will throw you curveballs, and that dream abruptly was taken from me and hundreds of my co-workers almost immediately following the success of 'Toy Story', as the industry shifted to CGI. Now, ten years older, I had to re-invent myself as a story artist. I shifted to TV with the idea that'd I have more job opportunities, being able to take jobs in either production pipelines. It was a challenging transition and a huge emotional blow, but I did my best to stay positive, keep working hard, and remain passionate – never taking anything for granted. I have now worked my way up to where I am a Supervising Director at Disney Television Animation – I've been with the Studio for almost 27 years! There have been ups and downs throughout, and I suspect that there will be more coming – I guess that keeps things interesting!
Can you talk to us a bit about the challenges and lessons you've learned along the way. Looking back would you say it's been easy or smooth in retrospect?
There have been several struggles. The BIG one, as I mentioned, was having to transition from the hand drawn world to CGI and moving over from animation to story. What I've learned is that you never stop learning – and that's great! Learning is fun! Learning is empowering! Learning keeps you engaged! Winning is fun, and it feels good, but you aren't really learning when you're winning. No one likes to struggle! It's difficult, it's humbling, it isn't comfortable – but that's usually when you are learning. This is an extremely important thing to understand. Already, in my career, I've seen the production of animation change, and I've had to change along with it – so I'm guessing that as time goes by, there will always be changes, and animation will be produced differently in the future, so it's important to know that you should always be willing to learn, adapt and change. Be humble, stay passionate because that is what inspires, and be kind to others, always.
As you know, we're big fans of you and your work. For our readers who might not be as familiar what can you tell them about what you do?
Currently, I'm a Supervising Director, which puts me in a Leadership role, guiding my whole crew and reporting to the Executive Producer, the creator of the show. I LOVE this medium, and my current role is a product of getting to know each phase of production and understanding, intimately, how it all works together. I've been a cel painter, an inbetweener, an animator, a story artist, and a director on my way here, and all of that experience allows me to give clear direction and even jump in and handle tasks if they somehow don't come together. Collaborating with a team is absolutely rewarding! Each artist brings things to the table that I cannot, but then collaborating can be frustrating, as well – it means not always getting your way. It means sometimes disagreeing – so it's important for me to take all that knowledge and pour it into personal work, as well. It's given me the greatest balance – I understand that what I do during the day is to bring to life someone else's vision – in my case – the Disney brand, which I enjoy doing immensely, but then I feel it's important as an artist to be able to express myself, and doing that at night not only eases any daily frustrations but helps me to continue to grow as an artist. I made a fan film – 'Superman Classic' several years ago, and it opened my world to a host of opportunities! And I've been working on my own character – 'CARMAN: The Road Rage Anti-Hero'! These and more are on my YouTube Channel – robbpratt – Where 2d Animation is NOT Dead! Please check it out!
Any advice for finding a mentor or networking in general?
I found my mentors by being passionate and respectful. Passion is what inspires others! And nowadays, there are so many ways to contact someone that you admire – Instagram, Facebook, LinkedIn and others. If I was looking for a mentor in this day and age, I'd politely write someone whose work I admire and express how it's been inspiring to me. Some may get back to you, and some won't, but it helps to be sincere – don't ask for a job straight away! I've had some strangers contact me and immediately hound me for favors, and that's not how anyone wants to be treated – use common sense. Be kind, be patient in talking to someone that you don't know. Share a sample of your work, and see if they want to offer advice, but don't do it with any expectations. I've found that people, in general react positively with others that share their same interests, but remember – this animation thing takes A LOT of work! If someone can't get back to you, don't take it personally – stay positive and friendly and give space. Someone's time and effort should be appreciated but not expected. If you get a job, always treat those above you with respect, and work hard for them, and they'll usually repay that with advice and help. I've always been friendly with my co-workers, and now I have a list of treasured friends that have mentored me and helped me on my journey.
Contact Info:
Suggest a Story:
 VoyageLA is built on recommendations from the community; it's how we uncover hidden gems, so if you or someone you know deserves recognition please let us know 
here.