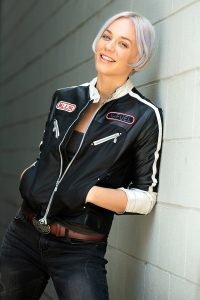 Today we'd like to introduce you to Tonya Kay.
Tonya, please share your story with us. How did you get to where you are today?
You know, I graduated Valedictorian, but it was never the intellectual pursuits that excited me. Don't get me wrong, I thank my brain every day for making life a lot easier to navigate, but what interests me now and even then, was an adventure. Especially if it was beautiful and risky. Creating, creating, creating … creating movies, creating performances, creating adventures of all types and inviting people along on them since I was a kid. And it's so easy to find the people who want to come along on your adventures, you know? It's like they are raising their hands, "I'm down to get weird!"
I grew up in a farm town, and fortunately, my parents were super supportive – heck, they are a lot of the reason I am the way I am! They acted in musical theatre with me. They enrolled me in dance classes. They did everything they could to get me touching and trying it all to see what I liked. I don't have children, but I just imagine if I did, I'd want to let them build shelves AND sew costumes AND paint paintings AND play basketball. Cause what if my child had the ability to bake world-class deserts? What if he is a star dancer? What if she can frame a shot like nobody's business, but she never got to put her hands on a camera? Coming from a farm town, I recognize what extra effort it was for my family to offer all the opportunities for me to experiment like they did. All of it was … an adventure! I discovered I am really great with high-level math and performance of all kinds! And I could care less if I ever did a back walkover again. Haha.
But really, growing up in a farm town, with my penchant for risk-taking adventure had drawbacks. The possibility for a professional career in performing arts and entertainment wasn't represented locally. And there were some personalities in the community that flat out discouraged big dreams. At 16 yrs old, no matter how confident you are, you question yourself. I graduated Valedictorian, knew I didn't want to continue with traditional education and had a short period of life where I worked in factories. I was bored out of my mind! I started making trouble to fulfill my risk/adventure quota and ended up getting arrested for it. Which, strangely, ended up being a real kick in the ass towards my future. You see, I was having a lot of trouble trying to fit into the mainstream GED ticket-to-work/work-to-retire formula. I thought I was a loser. But really, I was an artist. Getting arrested woke me up – I am bad at 9-5 and great at creating and entertaining! I moved to my first big city, Chicago, and have been a full-time performing artist since. With the exception of missing my family constantly, I've never looked back.
Now, I've live and entertained in Chicago, New York City and Los Angeles. I've toured a cumulative five years of my career. I've created full-length stage productions, produced live entertainment aplenty and acted in blockbusters and on network tv. Now, thank goodness for the #MeToo movement, I'm seeing real changes in the industry opening up opportunities for women where there may not have been any before, and this time it's my turn to raise my hand and say, "I'm down to get weird!". In addition to acting, I've moved solidly into producing and directing film and television now too. And I'm never bored. It's all part of the big, beautiful, risky adventure!
Overall, has it been relatively smooth? If not, what were some of the struggles along the way?
Well, when you're down for the adventure, I don't think you expect any road to be smooth. And when you are blindly passionate about what you do, you lay a stick of dynamite under those roadblocks and see what you can build from the splinters. A creator is a creator, and nothing is gonna stop us. If we have a pickle and sandpaper, we'll make art. Nothing stops a creative and nothing can stop you.
On a serious note, though, I would like to speak to the safety of fellow women not only in the entertainment industry but in society et al. While we continue to break down these antiquated barriers in gender equality, there are simple things we can do to protect ourselves. This article is/may be available to be reprinted here, but in case it's not, please link to it http://www.pyragraph.com/2014/04/burning-questions-tonya-kay/. Let my experiences save you some grief. I'm happy to have done the R&D for others.
What should we know about your business? What do you guys do best? What sets you apart from the competition?
I am a brutally elegant actress, and yes, I mostly play villains. It's society, not me, I tell ya! http://imdb.me/tonyakay
I am a burlesque headliner and have toured the world from Madison Square Garden to the Moulin Rouge to every sticky, smelly dive bar in Hollywood – woohoo? http://themostdangerouswomaninhollywood.com
I created Tonya Kay's Pinup Pole Show http://pinuppoleshow.com and through that Kustom kulture brand, throw classic car shows, art shows, created a 75 min on-going sell-out stage production, put together elaborate magazine photoshoots and write a weekly column for RacingJunk.com https://www.racingjunk.com/news/author/tonya-kay/. PS – my classic hot rod is a little bit famous herself http://grapespacecoaster.com
And most recently, I've added some spectacular notoriety to my directing career, and I hope you'll check me out as one of Festigious "30 Female Directors You Should Know" http://www.festigious.com/single-post/30fd, one of StudioDaily's "Exceptional Women in Production and Post-Production" http://www.studiodaily.com/event/exceptional-women-in-production-post-2018/0/ and my award-winning film, The Ascension of Ava Delaine http://avadelaine.com which has won Best Experimental, Best Original Concept and Best Drone Film at international and domestic festivals. Let's do this.
For a good reason, society often focuses more on the problems rather than the opportunities that exist, because the problems need to be solved. However, we'd probably also benefit from looking for and recognizing the opportunities that women are better positioned to capitalize on. Have you discovered such opportunities?
I see opportunities all over the place, especially in the film/tv department head positions. Hey, I'm directing my first tv segment as we speak! But it's important to keep the focus on all areas of entertainment, cause the writers affect the actresses opportunities and the producers affect the art department opportunities, and the DP affects the camera department opportunities and so on. But yes, I see opportunities opening up all over the place, and I can't help but think to myself, "Anyone who can't take direction from a woman is going to get left behind."
Contact Info:

Image Credit:
Melissa Schwartz
Vitamin D Photography
Mitzi & Co
Bjoern Kommerell
Juan Hernandez Jr.
Melissa Schwartz photography wearing PACT Organic apparel.
Getting in touch: VoyageLA is built on recommendations from the community; it's how we uncover hidden gems, so if you know someone who deserves recognition please let us know here.