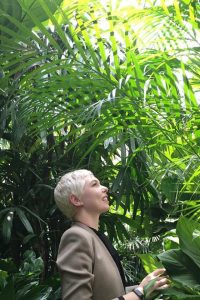 Today we'd like to introduce you to Timony Siobhan.
Timony, please share your story with us. How did you get to where you are today?
My name is Timony. I was born in YOLO County, California and lived there until I was about five. We moved around a lot, and my parents divorced when I was about six. My mother moved with my little brother and me to Colorado, where I lived until I was 21. My father moved around a lot, and we would spend the summers with him all over the country. I used to draw every single day, ever since I was little. Art was my passion, and very much a part of my personal identity. I studied art in college (figure drawing, watercolors, and ink) but did some fine art photography as well. I used to sit in book stores for hours, looking at the beautiful glossy spreads in fashion magazines, but I never thought that photography could be a realistic career.
I ended up moving to LA when I was 21, for my now husband, Carlos Ramos. That's a long story, but I'll try and summarize it. He is a show creator, but among other things he is also a painter. He was featured in Juxtapoz magazine and we connected on Facebook. We were internet friends for a few years, talking about art, dogs, and life in general. Years later we were both single at the same time for the first time since we had met and he finally asked me for my phone number. As soon as we started talking to each other we couldn't stop. We were obsessed! I came out to LA the day before New Year's Eve, and on New Year's Eve we were engaged. He came back with me to Colorado where I quit my job, packed up my apartment, and drove out to LA with everything I could fit in my little white rabbit VW.
I wanted to show in galleries here in LA, but a friend of mine told me "you know how to use a camera, people will pay you to take pictures!" She referred me to these amazing girls who were starting their own vintage clothing company called Tunnel Vision. They were my first fashion client here in LA and I shot for them for about three years. Through them, and the work I did for them, my photography career began. I got my first in-house studio job shortly after, shooting sneakers and snapbacks for an urban streetwear brand. I went on to continue shooting for bigger and better companies. It is crazy to think how far I've come since then!
We're always bombarded by how great it is to pursue your passion, etc – but we've spoken with enough people to know that it's not always easy. Overall, would you say things have been easy for you?
It has NOT been smooth, though I do think I have been pretty lucky in the opportunities that have presented themselves to me. There are definitely some things I wish I could go back and tell my younger self, though! First off, the invaluable lesson of learning to say NO. It is so hard, but if I said yes to every opportunity or job that was presented to me I would have no time or energy to pursue the things that are important to me. Sadly, this means I have to turn down a lot of work and even say no to a lot of my friends, but by doing so I can afford to focus my energies on executing projects well and pursuing projects that are more in line with my long term goals.
I would also love to tell myself to value my work more. I spent many years making far less than I deserved, far less than my male counterparts. It isn't a comfortable topic, but I have gained some invaluable insight by talking to other photographers. Don't ever be afraid to ask questions!
I am also very bad at balancing my work/home life. I am a bit of a workaholic and have trouble turning my brain off. Working very hard, long hours has helped me get to where I am today, but I need to get better at prioritizing myself so I don't burn out. I've found a lot of emotional release in gardening. Tending for plants gives me something else to turn my attentions and mind to. I'm also working hard on improving my diet and work out regime. It may sound silly, but you can accomplish so much more if you care for yourself.
So let's switch gears a bit and go into your business story. Tell us more about the business.
I take on some select freelance clients, but I have consistently been an in-house photographer since I started shooting here in LA. I don't honestly know anyone else who has done that, since most of the photographers I know only work freelance. My skills and contributions extend vastly beyond the title of "photographer" though. My experience has mainly been with startups or companies looking to rebrand. None of the companies I have worked for have ever had an in-house photographer before.
Because most of these brands are startups, I'm pretty scrappy and very familiar wearing a variety of hats. I do social media, content creation, branding, photo/video production, creative team building, digital merchandising, styling, project management, art direction, creative direction, and of course photography and retouching. Which of those I focus on more depends on the brand I'm working with. I really love being fully immersed in a brand, especially when I find something of myself in it.
I very much enjoyed my time working for Kerisma, a knitwear fashion brand designed here in LA. When I started, the creative team consisted of three people (the Creative Director/Co-owner, Designer, and myself). The brand was strictly wholesale, but over the course of my two years there I helped them create and establish a solid ecom store. I helped hire and manage the rest of the creative team, including a graphic designer, additional fashion designers, an ecom/marketing manager, production assistants, copywriter, and even additional sales team help. I single handedly reshot and edited their entire catalog of clothing (we're talking hundreds, if not thousands of skus) to create images that were more visually appropriate for the digital flagship we were building.
I'm currently working for a fun cosmetics company called Lime Crime. Lime Crime is a vibrant, digitally native, vegan friendly brand who pioneered lipsticks in colorful opaque hues and the liquid lip that dries matte. The company is turning 10 this year, but when I started it was still very much a startup. Lime Crime has since been acquired and is growing and evolving rapidly. I am currently running their photo studio, producing their product images, stylized branded content, campaigns, and recently their video content. When people ask me what I do for them I usually summarize it by saying "I make cute pictures happen."
Do you have any advice for finding a mentor or networking in general? What has worked well for you?
Find people who inspire you and surround yourself with them! Social media has made people much more accessible. If there is someone you respect or would like to meet then reach out! I'll admit, living in LA makes it much easier. I wouldn't be able to do what I do or meet the people I've met if I still live in Colorado, but social media is ending the location barrier. I've had friends I've known online for years that I've only recently met in person. I feel like the connection to other people isn't limited to your relative location anymore. That being said, I recently met a girlfriend for an early morning coffee before work (I am not generally a morning person) and it was so invigorating to talk to a likeminded, strong, independent woman face to face before I began my day.
I think one of the most important things about networking and learning is listening. I'm not very good at it, and I often catch myself just waiting to speak. I'll just think of something I want to say and hold onto it without taking in what the other person is saying. I feel you have so much more to gain from listening than you ever will from speaking.
Contact Info:

Image Credit:
timony_bts.jpg – photographed by my amazing assistant Salvador Ceja Garcia @salvador_ceja_garcia
Kacie_marie_web.jpg – Model: Kacie Marie @miss_kaciemarie
Josephine_1.jpg – Model: Josephine Lee @princessgollum, Makeup: Maddie North @maddienorthmakeup, Hair: Sully Layo @sullylayo
Getting in touch: VoyageLA is built on recommendations from the community; it's how we uncover hidden gems, so if you know someone who deserves recognition please let us know here.