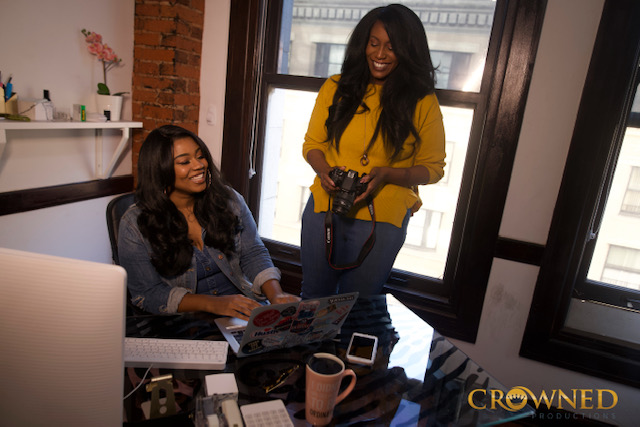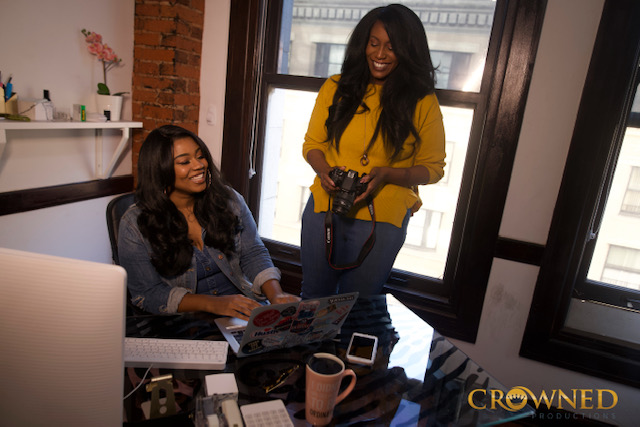 Today we'd like to introduce you to Sharice Bryant and Bri Noreen.
Crowned Productions is an independent L.A. based production house, specializing in creating media fit for royalty. Our goal is to tell stories from a perspective that is often overlooked and collaborate with fellow creatives of color.
Crowned Productions is comprised of indie filmmakers, Sharice Bryant and Bri Noreen, who have a passion for film, television and other visual media, and a burning desire to tell stories of today. As visionaries, we believe it's up to our generation to create the magic that we wish to see.
We're dedicated to producing engaging visuals of the highest quality and collaborating with other visionaries to help bring their visions to life.
Sharice was born and raised in Ann Arbor, Michigan, while Bri was born in Detroit, Michigan. Bri's family eventually moved to Ann Arbor when she was in middle school. Sharice and Bri met in high school thanks to Bri being best friends with Sharice's older sister, Lucky.
Both women were always reading the latest urban fiction books and writing their own novels in their free time, not knowing that they had a lot in common. Over the years, Sharice's sister and Bri remained in contact, but Sharice and Bri didn't connect again until Sharice was attending film school in 2012 in Los Angeles. Lucky had mentioned to Sharice that Bri was working on a web series back in Michigan and suggested that the two connect, being that both filmmakers had a desire for screenwriting and directing.
In 2014, Bri took a leap of faith and moved to Los Angeles, joining Sharice and her sister Lucky in the journey to pursuing artistic dreams. Shortly after moving to L.A, Bri got signed to Jessica Watkins Publishing (JWP). Since becoming an author, Bri has a total of ten published works under the JWP brand. One day while Bri and Sharice were having yet another conversation about the many ideas they had for novels, film and television, Sharice had mentioned that she was having trouble working on a novel that told the story of a wealthy, cookie-cutter family with a dangerous secret that could threaten their comfortable livelihood. Intrigued by Sharice's pitch, Bri offered to help with the book series, thus, The Royal Family book series was born. Sharice was also signed to JWP in 2016, and she and Bri released the first installment of The Royal Family series. Since its release, The Royal Family has become a JWP staple that readers still enjoy to this day.
In 2017, after the second installment of the book series released (third installment debuts in 2020), Sharice and Bri continued to share screenplays they've written with one another, and converse about how they both wanted to open a production company that caters to people of color and collaborates with creatives of color. With the knowledge that two heads are better than one, and rather than wait for mainstream Hollywood to give them permission, Sharice and Bri began working on the business plan for their production company.
On February 14th, 2018, Crowned Productions became official. At least six months leading up to the company's debut, Sharice and Bri were in pre-production for the Friendzoned web series. In the fall of 2017, the dynamic duo wrote, and locked the scripts for all twelve episodes in season one, completed casting, and hired the crew. By the time Crowned Productions made its debut, Sharice and Bri were already on set for Friendzoned, where Bri directed and Sharice produced the series.
In October 2018, Friendzoned season one was complete and airing via the Crowned Productions YouTube channel. Since completing Friendzoned, Crowned Productions has continued to develop original stories that are scheduled to go into production in 2020 and has accumulated its first client, Foodie & The Beast (IG: @foodieandtheebeast), a traveling food show hosted by Comedian Coop City.
Keep your eyes and ears open for the amazing things Crowned Productions has under their… crowns.
"Media fit for royalty."
We're always bombarded by how great it is to pursue your passion, etc. – but we've spoken with enough people to know that it's not always easy. Overall, would you say things have been easy for you?
It hasn't been a smooth road at all, but it has definitely been worth it.
One of our struggles along the way have been finances, especially when it came to producing our first original web series, Friendzoned (IG: @friendzonedshow). At the time of pre-production, we were both working 9-5 jobs, so a great majority of the funding for Friendzoned, outside of crowdfunding, came from our own pockets. With the grace of God, we were able to successfully execute the first season of the series, and we couldn't be more proud of the work we've done.
Another struggle we've faced and still face is getting recognized and respected as two individual filmmakers, and getting the Crowned Productions name the support it needs to eventually become a household name. Being two women in a male-dominated industry, striving to get our projects off the ground is already a task. Add in being African-American, and we've got double jeopardy against us. Until more female filmmakers are acknowledged in the industry and get a seat at these tables, it will always be a struggle, but we never grow weary, for we know that there's a reason we were both called to express ourselves through the treasured art that is filmmaking.
Our advice for young women starting their journey is to always bet on yourself no matter what. If you don't believe in yourself, no one else will, and that's the double truth… RUTH. We have both had to learn along the way to not be afraid to put ourselves and our work out there and to remain true to the messages we wish to convey in our art. We hope any young woman reading this soon understands that it's not about how many likes your Instagram profile gets, or the number of people that support you in the beginning stages. The journey is all about you and how you persevere through the obstacles.
So let's switch gears a bit and go into Crowned Productions story. Tell us more about the business.
Sharice specializes in screenwriting, directing, producing, and videography. Bri specializes in screenwriting, directing, and writing novels.
Sharice is known for her screenwriting, directing and producing. Aside from being a published author, Sharice has had her writing works featured on Blavity.com and MyBrownBox.com. Sharice's thesis film, My Brother's Keeper, that she wrote, directed and produced in 2014 has been screened at the Cannes Film Festival's short film corner, The 2016 Oakland Film Festival, and Indie Night in L.A., in 2015. Sharice is currently writing an animated film series, The Legend of Roo, in collaboration with Julian Montogomery, film composer and founder of Sync Point Entertainment. Sharice is also in pre-production as the line producer for an independent thriller feature film that will migrate to the production phase in 2020, and a documentary that focuses on mental health in the black community.
Bri is known for her impeccable writing under the JWP brand as the company's most read and celebrated author. With ten published books in counting, Bri is also known for her directing (Friendzoned 2018) and screenwriting. Bri is currently working on a romance short film that will be housed under the Crowned Productions name.
We are most proud of the growth that we've made as CEOs and Founders of a company. Crowned Productions is moving in a different direction that we are confident will be the catalyst to having the world see our works. What sets us apart from others is that we are two black women that desire to tell stories that are often times overlooked. Since the entertainment industry is an "every man/woman for his/herself" environment, we believe that our determination and gall is what makes us different from other creatives who are more focused on working with mainstream names. We believe every creative has something to share with the world, and we'd love to be a part of as many artistic, and innovative processes as possible.
Which women have inspired you in your life? Why?
Sharice: Wow, there's so many! But if I had to narrow it down, I'd say that my mother has inspired me in my life. My mother always has been and still is the backbone of our family. Watching her sacrifice so much to do what she has for me and my sister, especially after my father passed away in 2003, has made me appreciate her immensely, and has forced me to desire giving her a better life one day. My mother always says "haste makes waste", which resonates with me a lot when it comes to my work, or any aspect in life. She has taught me that trying to rush every aspect of life will only produce subpar results. Because of her, I've learned to be silent with my moves and to debut my art when it's at its best.
Bri: Of course, I'm going to have to go with my mother. she went back to school after she had two kids and still managed to work a full-time job in the midst of that. I never felt like she was missing or that her presence was lacking from my life, so I am forever in awe of her and inspired by her tenacity and drive.
Contact Info:
Website: www.crownedproductionsent.com
Email: info@crownedproductionsent.com
Instagram: @getcrowned_ENT
Facebook: Crowned Productions
Twitter: @getcrowned_ENT

Image Credit:
Captivating Pix, Kendra McDonald
Suggest a story: VoyageLA is built on recommendations from the community; it's how we uncover hidden gems, so if you or someone you know deserves recognition please let us know here.