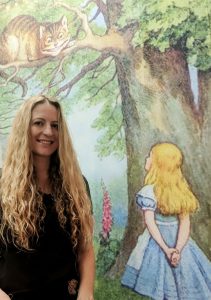 Today we'd like to introduce you to Diana Lawson D.C.
Diana, please share your story with us. How did you get to where you are today?
Healing is a gift I've had from a young age. At age seven, I was already using my hands to heal my loved ones. As a child of nature, I spent much of my youth playing and foraging in the mountains, woods, and streams. It was there that I discovered the life energy that flows through everything in existence. My connection to the natural world remains a large part of who I am today and is a primary focus of my work. This magnificent and intelligent force animates us. It's rather amazing. Think about it. On a physical level, we are basically earth and gasses (carbon, hydrogen, oxygen, nitrogen, sulfur and trace minerals). However, we are so much more than the sum of these elements. We think, feel, love, hope, dream and can create new life. We remove the blockages impeding the flow of this life force. When it flows properly, people fully express themselves physically, emotionally, mentally and even spiritually. This is the magic of chiropractic.
Health struggles lead me to my current style of practice. I had family members with serious illnesses and I myself had terrible, lingering pain from old injuries. Relentlessly over the years, we learned everything we could about health and healing. In addition to the research, we tried many kinds of therapies and supplements of which I integrated the best of what worked for us to help others.
We're always bombarded by how great it is to pursue your passion, etc. – but we've spoken with enough people to know that it's not always easy. Overall, would you say things have been easy for you?
A chiropractic degree requires at least eight years of intense college studies and then boards you must pass before you can practice. It was hard work for a long time, but completely worth it. I was blessed that incredibly gifted chiropractors came into my life at the right times to mentor and guide me. I have them to thank for helping me develop my chiropractic skill set.
As a chiropractor, I often help people in miraculous ways. Chiropractors lessen suffering and uplift humanity and it is a joy and honor to serve in such a profound way. At times, I may tire physically, but I never tire of chiropractic. Chiropractic is my calling and I urge young women to discover what they love and answer their callings. Satisfaction and meaning are important in your chosen career path. Set a plan, work the plan and adjust the plan when necessary. Find mentors to teach you the ropes. Learn the basics of what you want to do and then put your own spin on it. Take calculated risks. Success is not a smooth road and you will have setbacks and failures. Learn from your mistakes and don't beat yourself up over them. They are lessons and they will MAKE YOU STRONGER. Keep moving forward and ALWAYS KEEP LEARNING. You are always where you need to be. Sometimes you don't know why until later in life. Don't forget to take some time to enjoy life, it passes quicker the older you become.
Please tell us more about what you do, what you are currently focused on and most proud of.
I've worked in high volume practices personally adjusting over one hundred people per day. There's not a lot of time you can give a person in that environment. Even with a great adjustment, I still felt like there was so much more I could do for a person and it's hard for me not to give my best. In my current practice, I only see 5 to 10 people a day because I take my time being thorough. Everything in the body is interconnected which is why I look at the entire frame. If the feet are misaligned, it will travel up the body throwing off the entire biomechanics. If work is done on one part of the body and there is still tension in the other areas, I feel those other areas will pull and re-misalign what was just corrected. My patients often report they feel their treatments are more comprehensive and last longer symptom wise than other types of care they have received in the past.
There is a certain way I like the entire body to feel. I'm looking to replace rigidity with peace. I want unrestricted motion in the joints and for the muscles to be soft and elongated. A patient once told me my concept sounded similar to Tom Brady's Supple Muscle Theory, which is in part what he attributes his long athletic career. I don't know how he goes about accomplishing it, but I achieve this state by removing stress from the body first with a head to toe chiropractic adjustment and then adding a system of bodywork I created called The Total Bliss. It includes hot rocks, crystals, massage, cupping, and energy work.
In addition to the Comprehensive Adjustment and Total Bliss, I want to go beyond just the physical and provide healing on deeper levels. Everyone is carrying so much stress these days, and if not managed correctly, the effects can be devastating on health and relationships. Using an elaborate combination of visual effects, music, nature sounds and aromatherapy, I've created a healing sanctuary where one can leave the world behind and "unplug." Not everyone loves going to the doctor, but they do love going on vacation and adventures. I've designed my treatments to be playful, whimsical experiences because I believe healing can be imaginative and fun. My treatments follow themes. Destination treatments can include beaches, the rainforest, camping in the mountains, Valentine's in Paris, and California. Seasonal treatments celebrate the pleasures of Summer, Fall, and Winter. Patients walk out leaving refreshed like they just returned from a great vacation or waking from a delightful dream. They face the world renewed in mind, body, and spirit.
I'm always searching for new ways to "over the top" spoil my patients. Recently I released the first three treatments in my Pure Decadence line of treatments. Mermaid, Fairy, and Chocolate Pure Decadence, these treatments include the healing modalities from the Total Bliss treatment but with more hydration, GLITTER and SHIMMER. It is pretty hilarious, patients emerge glowing with sparkles, wearing big smiles and giggling. For some chiropractors, a new laser or decompression table is the next step in their careers. Mine was glitter and lots of [laughs].
As you can see, it's a very different experience from the usual visit to the chiropractor.
Do you have a lesson or advice you'd like to share with young women just starting out?
Step forward with tenacity and confidence. Keep going and find a way to make your dreams come true.
Contact Info:
Image Credit:
Diana Lawson
Getting in touch: VoyageLA is built on recommendations from the community; it's how we uncover hidden gems, so if you know someone who deserves recognition please let us know here.