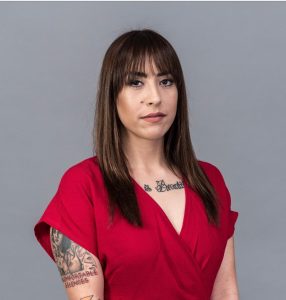 Today we'd like to introduce you to Erycka Ferreti.
Hi Erycka, thanks for sharing your story with us. To start, maybe you can tell our readers some of your backstory.
My mom's hair is where it all started, I remember being a little kid and just staring in disbelief at her beautiful natural red hair full of bouncy curls. I wondered what I could do to my hair to make it like hers….. kids in school bullied me and would tell me I was adopted because my hair wasn't like my mom's. You know how mean kids can be in school… so I did everything in the book to make my hair red and one day it worked! I enjoyed the process so much, I started doing everyone's hair just outta pure passion for the trade, never thinking I could one day make it my profession. Born in the US and raised in Mexico mostly, I returned to California at the age of 15, always obsessed with hair and changing my own hair every 5 mins, I decided hmmm maybe I can do this for a living. I always loved the atmosphere and energy a salon had, and the connection hairstylist had with their clients, and that final look on the client's hair where they're totally in love with their hair is what made say I want to do that for people. I delighted in seeing that person's eyes light up with the spark of confidence and joy. It just clicked like that. I wanted the rest of my life to full of making people feel good about themselves.

So as soon as I graduated high school, I enrolled in beauty school…. but shortly after I was kicked out… for reasons that will remain unknown. So yes, I was a beauty school dropout for a while. I did not know how serious and difficult it was to actually do hair and all the hard work and dedication it took to be committed to the trade. Took a year break and decided to give it another shot and guess what, this time it worked! I returned to it with one mission and goal, to be a successful hairdresser and work at the best salon in LA. After graduating beauty school, I was rejected by many many salons because I had too many tattoos, my hair was different colors, I didn't dress fancy enough. I was told once by a hairdresser that people that looked like me would never be doing hair in a high-end place running with the big dogs, but I didn't care my mission was now to prove to anyone who thought like that, they wore wrong. I left my resume all over LA salons and one day a friend who had a job as an assistant at my dream salon (ramireztran salon) said they needed assistant asap, like that day on the spot, so I said yes! I'm there! Showed up and it was everything I wanted and more, I was thrown in on one of their busiest days, I was the only assistant working for over 30 reputable bad ass hairdressers, and I kicked so much ass that they called me and hired me. I assisted for two years as a salon assistant, helping anyone who needed it.
This is how it worked in the hair game, you assist, work hard, crazy long days and learn as much as possible. I was incredibly fortunate to have had the amazing opportunity to assist celebrity hairdresser Mat Rez for three years who taught me everything I know today. I learned sooo much, not just about hair, but business, professionalism, determination, wellness and art. After finishing my intensive training, my mentor vouched for me to the owners of the salon and said I was ready to take on clients and have my own chair, they believed in so much that they gave me the greatest opportunity ever. They accepted me for who I was and didn't care about my tattoos or what color my hair was, what matters to them was my skill and my passion for hair. I've been doing hair for 11 years now. Ramirez Tran Salon helped me make my dreams come true. I am an established full-time hair colorist, I am my own boss, own my business and make people smile for a living, I get to connect with my clients on so many levels, grateful to hear so many inspirational stories from all different walks of life.
Would you say it's been a smooth road, and if not what are some of the biggest challenges you've faced along the way?
Not at all, it was extremely difficult. I was rejected many times by salons because of the way I looked, for being too young, inexperienced for having too many tattoos or liking the music I do. Punk Rock rules!!! Btw haha So meshing my world and the new world I was entering was hard. Becoming more sophisticated but still keeping the punk girl inside was important to me. Staying authentic was vital for my journey. It's a very cutthroat industry, it's easy to lose yourself and conform to society or someone else's ideals of who you should be or shouldn't be. So many people become divas and success gets to their head, and become superficial, cookie cutters and it all starts becoming more about who you know, how many followers you have, caring too much on keeping an image that is not real. Staying true, humble and authentic to my beliefs was my main goal. Our industry suffered majorly. A lot of us lost our jobs due to the pandemic. So that was a big punch to my business, but I had to get creative and find ways to make it work and staying calm and knowing we would survive was key. I invested my time during the pandemic in how I could grow my business and took business courses to teach me tools on how to come back from a rough time. Giving you're all to clients, but knowing when to stand your ground and self-care was extremely hard at first. Reading inspirational books helped me a lot during my assisting years.
Thanks – so what else should our readers know about your work and what you're currently focused on?
I am a hairdresser at ramireztran salon, I am a color specialist. So I geek out on the chemistry behind hair coloring and why chemicals react the way they do. I get to work on blank canvas and make something new from scratch as well as deconstructing previously touched canvas and revive, correct and make it my own. I love the duality of my work when it comes to creating. I specialize in natural, low maintenance, sunkissed – lived in beachy hair of all hair colors, types and textures. I am known for my color correction transformations, damn those are so intense, lots of work, patience, and time goes into them but they are so rewarding. Completely changing the way someone looks with their hair is so thrilling and rewarding. I do it all, from booking clients, being in charge of my social media, taking pictures while at the same time juggling a wide assortment of daily curveballs thrown our way.
It involves a whirlwind of multitasking. It's a one woman's show. I am the most proud of making my clients feel like a total new person, happy and confident and ready to take on the world as well as my communication skills with clients to ensure the process goes smoothly and we have the same vision is important. I think my eye to detail, my relentless drive to make it perfect in every way, my professionalism, my ethical approach to situations and my forever priority to make my clients have the best experience while being on my chair and my humble aspect on life is something that sets me apart. My mission when taking pictures of my final creations was to capture women and men from all backgrounds, ages and walks of life and not only post photoshopped models who looked fake but to capture the untouched natural beauty of all my clients is something that I take pride in and sets me apart as well.
Do you have any advice for those just starting out?
Sounds cheesy but don't give up, aim high and believe in yourself. Don't change who you are just become a more refined version of who you are. Stay humble!!!!!! Stay grateful, trust the process. Work really hard but work smart too and if you don't give it your all, then you're not doing it right. Wear comfortable shoes, haha your back will thank you later. Learn from your mess ups, don't ever stop growing, and learn to save money, learn the aspects of owning a business, take classes! all kinds of classes, business, photography, hair education, social marketing. They will all reflect on your work and performance and perfect it even more, don't lose your head in the game. Choose the right mentor as you'll become an extension of who they are. You are what you think, so think big. Stopping to consider my own advice of turning challenges into opportunities is what allowed me to move forward.
Contact Info:
Email: erycka2624@gmail.com
Website: ramireztran.com
Instagram: @eryckaferreti

Image Credits:
Keary Bladel
Suggest a Story:
 VoyageLA is built on recommendations from the community; it's how we uncover hidden gems, so if you or someone you know deserves recognition please let us know 
here.