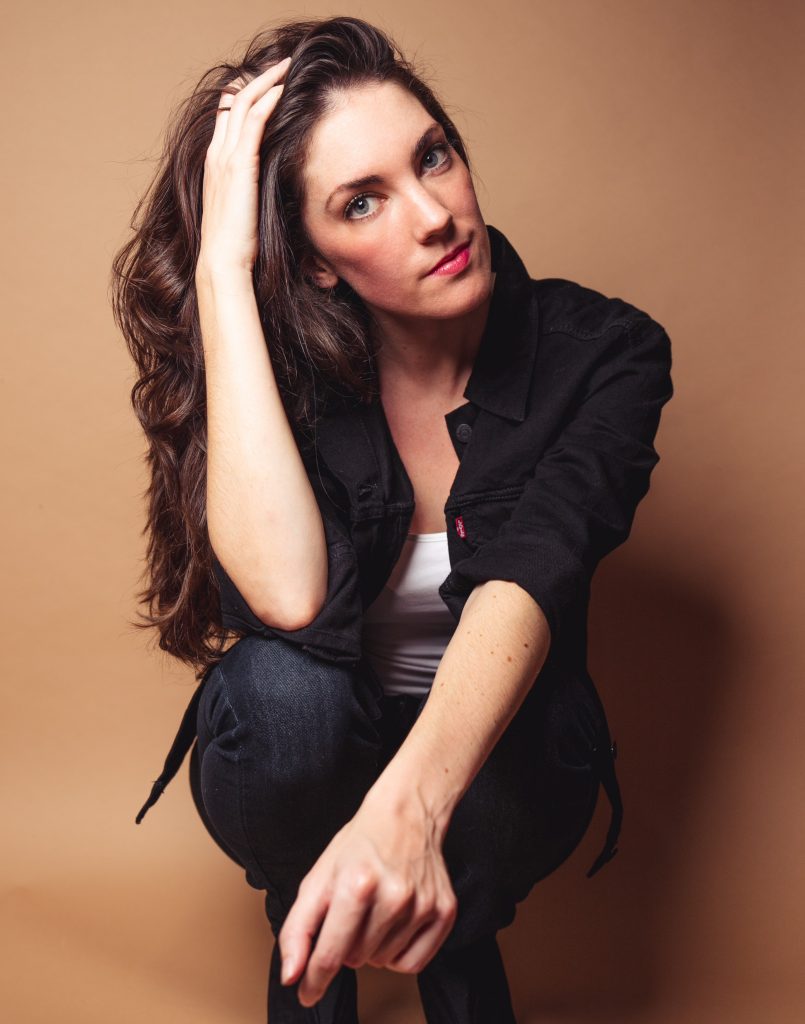 Today we'd like to introduce you to Clare Cooney.  
Hi Clare, we're thrilled to have a chance to learn your story  today. So, before we get into specifics, maybe you can briefly  walk us through how you got to where you are today?
In short, I do a little of everything — I'm an actor, director,  editor, writer, casting director, and programmer. I trained  and worked in Chicago for seven years and then moved to  Los Angeles shortly before the pandemic hit. 
I was born and raised in a Detroit suburb and fell in love  with performing in the school plays and musicals. I never  even got cast in a lead role, I just enjoyed being involved in  the productions, even in small roles. I didn't think I'd  pursue acting or the arts after high school, but on a whim I  auditioned for a play my freshman year at the University of  Notre Dame and was truly shocked to get cast. I kept  auditioning and kept surprisingly being offered lead roles  in the plays and musicals. I also directed a musical and a  few scenes for classes and found that I really enjoyed  directing as well. I graduated with honors as a double major  in Psychology and Film, Television, & Theater. I then  moved to Chicago to pursue acting after I graduated from  college, always with the notion of "trying it for just a couple  of years." We know how that goes. My first year in Chicago,  I auditioned for School at Steppenwolf, a really fantastic actors training program, and I was surprised and honored  to be accepted. After that, I started expanding my interests  in the artistic community to include more than acting —  while I continued to perform in plays and was thrilled to  land small roles in film and television productions, I also  worked a bit at a casting office called Paskal Rudnicke  Casting and became the casting director at an equity  theater called Theater Wit. Those years in casting allowed  me to work with actors and continue to develop my skills  and instincts as a director.  
After a few years of getting to know the independent film  scene in Chicago, I wrote and directed my first short film,  RUNNER, a thriller about a woman who witnesses a violent  incident. I pulled together a few very talented friends, and  with two shoot days, very little money, and the support of  many generous people, the film was made. With my  producer's Premiere software and some basic pointers, I  taught myself how to edit and cut the film myself. RUNNER  ending up playing at over 15 film festivals and winning six  awards, and I received a "Filmmaker to Watch" nomination  from the Academy-Qualifying Atlanta Film Festival.  RUNNER has now accumulated 750K views online on the  short film channel Omeleto. After RUNNER, I directed two  other projects, a series called DAD MAN WALKING by John  T O'Brien and a short film called GO AHEAD, GRAB TIME  BY THE THROAT by Abby Pierce. I also edited both those  projects, in addition to editing a web series, four other shorts, two music videos and over one hundred actor reels. I  also started working with Elevated Films Chicago, a non profit that hosts screenings of independent films on  rooftops and other unique spaces around Chicago. I made  Newcity Magazine's Film 50 list in 2019 and 2020 for being  one of the "50 screen gems who shape Chicago's film  scene."  
As I was growing my experience as a filmmaker in Chicago,  I was also building my work as a film actor and had been  cast in the Steve McQueen feature WIDOWS, NBC's  CHICAGO PD, Pop TV's HOT DATE, and several  independent features and shorts. After seven years in  Chicago, I felt the itch to continue my acting and  filmmaking career in a larger market, so in late 2019 I  moved to Los Angeles! Obviously, the industry took a pretty  long pause shortly after I arrived, but a few months ago I  started working as a short film programmer for Omeleto  (the same folks who programmed RUNNER two years ago!).  They're YouTube's top showcase of award-winning short  films, with over 3 million subscribers, and it's been  incredible getting to watch and program short films from  all over the world. Right now, I'm in post-production for a  short film I wrote. We filmed during Covid with a cast  and crew of just four people. Once again, I'm directing,  editing, producing, and acting in it. One day I'll have an  actual budget and won't have to wear five different hats on a project, but until then I'm really enjoying getting to do a  bit of everything!  
Can you talk to us a bit about the challenges and lessons  you've learned along the way. Looking back would you say it's  been easy or smooth in retrospect?
It definitely has not been a smooth road, nor has it been a  straight one. As you could probably glean from my  description of how I got here, it has been filled with twists  and turns that involved me going down a bunch of different  paths, some of which intersected in unexpected ways.  When it comes to the struggles of pursuing acting, I always  knew it would be difficult, but honestly it has been more  difficult than I could have imagined. Because trying to  make a living as an actor is a bit crazy. It honestly feels like  gambling most of the time. Because, unless you were born  into wealth or have incredible connections or your uncle is  Tom Hanks or something, then you've also got to be really,  really lucky (obviously you have to be talented and  ambitious and hard-working, too… but that goes without  saying).
While I'm very proud of my acting career thus far and feel  thankful for the roles I've gotten to play, it is still incredibly  hard to get an audition as an "unknown" and that can be  painful. Because of my experience as a filmmaker and casting director, when I'm lucky enough to actually GET an  audition, I usually know how to deliver a great audition  and my callback rate is pretty high. But I simply do not have  the opportunity audition much (particularly not THIS year),  and at times that has been really discouraging. Another  struggle when it comes to acting, is that I'm usually too tall  for roles (I'm 6 feet tall) — particularly for stagework, but  for film/tv work as well. Once when I was leaving a callback,  the casting director called after me:
"How tall are you again, Clare?"  
"6 feet, I replied."  
"6 feet with shoes on, or 6 feet with no shoes?" she asked  coyly.  
"6 feet in bare feet," I answered.  
She smiled a little sadly and marked it down, and I walked  away knowing I wasn't going to get cast — sure enough, the  "star" who was playing the boyfriend role was only 5'8."  There have been several experiences like that, and it's  definitely frustrating at times. That was part of why I made  RUNNER — I wanted to give myself the opportunity to play  a role that I likely would never be asked to audition for. It is  a role that deals with the experience of an ordinary woman  — her looks and her height have nothing to do with the  story. 
As a filmmaker, the struggle has always been a financial  one — again, those with money and connections are  obviously able to flourish in the film industry much more  quickly than those without, and that's just the reality of  this industry (and life!). I paid for RUNNER out of pocket  and I paid for my most recent short film, PICK UP, out  of pocket, and while it can be a really rewarding challenge  to make miracles happen with very little money (necessity  is the mother of invention!), I'm really hoping that there  will be more financial and/or institutional support for my  work in the future.
Finally, I can't talk about struggles in this career without  mentioning that I've had a speech impediment since I was  four years old. After many years of speech therapy, I'm very  adept at controlling and/or hiding my stutter. It doesn't  interfere with my acting work, and most people in my life  don't even know that I stutter until I tell them. However, it  is certainly a constant struggle in a career that focuses so  much on public speaking. It's never been easy, but I'm  proud that I've never given up and am constantly growing.  
Any big plans?
As I mentioned, I'm in post-production for a short film  called PICK UP that will be released online any day  now! Extremely proud of this script. I have another short  film in development that will hopefully shoot in April/May,  and I'm playing a lead role in RELATIVE, by Michael Smith,  a feature film shooting in Chicago. In addition, I've just  signed on to direct my first feature film — nothing is  announced yet so I can't say more than that, but I'm hoping  the project gets the funding and support it needs and that  the country is safe/healthy enough that we're able to  proceed this summer. Aside from that, I'll be auditioning,  writing, and continuing to program for Omeleto.
Pricing:
Avg price for actor/director reel: $200
Avg editing rate: $45/hr
Contact Info:

Image Credits:
Matthew Fischer; Sally Blood; Jason Chiu
Suggest a Story:
 VoyageLA is built on recommendations from the community; it's how we uncover hidden gems, so if you or someone you know deserves recognition please let us know 
here.
What to check out next:
Aleasha Bahr is a sales & marketing strategist known for showing introverts and ambiverts the Secret Art of Subtle Selling.  She personally sold millions in revenue while discovering introverts are usually top sales people – as soon as they stop trying to act like extroverts.  We've partnered with her to produce Introverted Entrepreneur Success Stories. Check out episode 1 below: