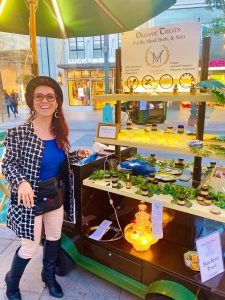 Today we'd like to introduce you to Violet Mileva.
Hi Violet, so excited to have you on the platform. So before we get into questions about your work-life, maybe you can bring our readers up to speed on your story and how you got to where you are today?
I am the epitome of the American dream. Let me tell you why. I was an immigrant to this beautiful country with my family when we all moved from a small rural town in Bulgaria. I have been in America for 15 years but have never forgotten my roots in Bulgaria. Botany, harvesting and nature's resources are incorporated in every aspect of our lives. My Bulgarian background has given me access to exotic resins, roots and botanicals. Being a beauty professional by trade and passion, I got fulfillment to make people feel beautiful about themselves. My Master's Degree in Human Science has made me an expert in this field (1st generation to graduate from a US university). My diploma in Organic Skincare Formulation has ensured we use the highest ingredients in nutritional value. My passion for people feeling good about themselves has led me to the creation of the Skin Saver and the Panacea Potion, my top sellers. When I moved to America, I had to start over. I was bullied for being different and I never felt like I truly fit in. Then throughout high school, I was the makeup artist for prom night, I thrived on making others feel their own true power.
While I was volunteering at 'Give Kids the World' foundation, I was giving makeovers to terminally ill kids at the beauty parlor. I was tired of seeing kids that were sick, using products that could potentially make them sicker. I noticed the makeup that was provided to me had harmful ingredients that are banned in many countries, which are out of alignment with my core beliefs. So I asked myself, as I looked in this child's eyes, "how can I put something on them that might hurt them even more?" Like an explosion in my heart, the idea for my company, Champïone was born. I wanted to create something that was safe, effective, science-based and carried on my Bulgarian heritage. The connection to my roots of Bulgaria comes in the form of many ingredients, however the Tree Resins in particular. I started my company. What always stuck with me from childhood was my grandma always fixed my cuts and bruises with tree resin. Something my grandma and others in Eastern European cultures were already using for ages. Fun fact is that Western medicine is just discovering the power of Tree Resins and that numerous scientific and medical journals such as PubMed are backing up these findings. People from my country and other parts of the world have been using it for centuries! Champïone is the first company to bring tree resins and their powerful benefits to the American consumer and beyond. Resins are nature's healing mechanism for the tree. That is why it works so well to help people's skin. If you think about it, the different layers of our skin and a tree are very similar. We have devoted a full page on this, on our website championebymileva.com/tree-resin/. It was always my dream to come to California.
I left my career in luxury consulting to continue the growth of my business and fulfill my dream in California. I moved cross-country with everything I owned and all my inventory from Florida to Santa Monica back in 2019. Just as things looked they were taking off and all my dreams were going to come true, COVID hit and I immediately had to shut down my shop. If I told you the last year running my business has been easy, I'd be lying. It's probably one of the hardest things I ever had to do in life. I had to start over from scratch once again. I had to transition to 100% online marketing. And learn how to express the sensory experience online. When I was little, my grandfather was always making me race the neighborhood kids. And after losing so many times, the day came where I finally crossed the finish line first. And I'll never forget how my grandfather was yelling so loud that the next town can hear "CHAMPÏONE! CHAMPÏONE!" We have all experienced a year we will never forget. But what I want others to know is that now is the time more than ever to stick together, to support our communities and help each other thrive. Just like what Champïone's motto is: "The trees' roots are what bind us in the core after all" We are all connected. Mind, Body, Skin, Spirit connection. Connected with nature and connected to each other. That is what we do. All of our products and services are geared toward longevity of the Mind, Body, and Skin. We help people with anti-aging, overcoming skin challenges, self-image, and confidence.
Can you talk to us a bit about the challenges and lessons you've learned along the way. Looking back would you say it's been easy or smooth in retrospect?
I had to start from scratch a few times. First when I moved to America, had to make new friends and was not raised around family. Then I came during my teenage years, where I was outcasted for being different, dressing different, Then COVID was another major obstacle. I was running a very successful business, with crazy amounts of sales and lots of returning customers. Then COVID hit and I was devastated. I was then forced to change my business plan. I was in a conundrum, I had local customers wanted to pick up products at a physical location and did not want to pay shipping. Thank goodness I had my original loyal customer's email addresses and decided to start growing my online presence. Like many small businesses, Champïone was not fully established online. And so, I started to expand my network and have my products displayed in as many local stores as possible… Because the botanical cosmetic business is heavily reliant on the sensory experience, the online sales process seemed challenging. I felt like I came to a dead-end, not knowing how to reach my customers and the bills kept piling up. All I knew about traditional face to face retailing was over… So I began gathering experienced people around me and started strategizing on expansion in the online marketplace. Now things are starting to pivot.
As you know, we're big fans of Champïone by Mileva. For our readers who might not be as familiar what can you tell them about the brand?
Research began back in 2012 and we are still improving ourselves every single day. Back in university, I was able to use the lab space in my university to start and had assistance from my professors and other students. We were able to test and do case studies. Ultimately to see the results of my hard work pay off was, and still is, an extremely satisfying feeling. Champïone is the first company to bring tree resins and their powerful benefits to the American consumer and beyond. Resins are nature's healing mechanism for the tree. That is why it works so well to help people's skin. If you think about it, the different layers of our skin and a tree are very similar. We have devoted a full page on this, on our website championebymileva.com/tree-resin/. Products out there just use the same ingredients that provide the same average results.
So I wanted to do something different, something unique, and use some of the most powerful resins and ingredients that are underutilized in the market to make people happier with greater results. There are 400 billion trees on earth, have you ever stopped and ask yourself, how can these trees benefit us? Other than being a fundamental source of our breath, which equals life, they also are revolutionary for our health. The health of our organs, such as our largest organ: the skin. But how do they help us you may ask? Trees are one of the most resilient creations on earth. They have been around since the beginning of time. They can be injured, struck by lightning, go through the worst weather conditions, yet still have the power to heal themselves. The powerful Tree Resins and Tree Sap ingredients are sourced from countries such as USA, Siberia, Russia and Bulgaria. Our ingredients are cold-pressed, vegan, plant-based, synthetic free, backed by science, charged with the Schumann Resonance and use planetary alignment to make the results that much more powerful! Through each of our processes, we use Good Manufacturing Practices (GMP), we are sustainable and eco-friendly.
More about how we support sustainable practices can be found at championebymileva.com/discover/sustainability/. For every ten products sold, we plant a cedar tree. We have products formulated specifically for longevity of the Mind, Body, and Skin. We help people with anti-aging (sun spots, fine lines, sunburns, scars), overcoming skin challenges (eczema, psoriasis, breakouts), self-image, and confidence. I'm most proud of discovering the power of the trees and sharing it with everyone that crosses paths with Champïone. Adding abundance and increase into their lives.
Where do you see things going in the next 5-10 years?
I was never prepared to be full-time online. How could I? I was used to traditional brick and mortar type retail shopping. There are big shifts coming for everyone in this technology-focused era we are entering. Finding micro-influencers, TikTok, minimal face interaction is the newest reality for the youth generation. Regardless, partnerships are everything in business and beyond. Trust is at the foundation. Learning SEO was very important in our growth as well as learning Facebook ad optimization. We also learned how important a metric of measurement was, as well as A/B testing which helped us learn what works and what does not. In a busy online marketplace, people's attention span is constantly stimulated everywhere they look. Standing out is important. We are proud to say that implementing all of these strategies, we have seen 86% increase in website visitors, sales, and visibility. Getting discovered and gaining trust from online consumers was the hardest to overcome.
Pricing:
Skin Saver 59 and Micro size 20
Panacea Youth Serum 99 and Micro size 20
Salve it all Big size 99 and Micro size 20
Contact Info:

Image Credits:
Stefan de Brandt Violet Mileva Mickey Primmer David Sepulveda Christina Todd
Suggest a Story:
 VoyageLA is built on recommendations from the community; it's how we uncover hidden gems, so if you or someone you know deserves recognition please let us know 
here.
What to check out next:
Aleasha Bahr is a sales & marketing strategist known for showing introverts and ambiverts the Secret Art of Subtle Selling.  She personally sold millions in revenue while discovering introverts are usually top sales people – as soon as they stop trying to act like extroverts.  We've partnered with her to produce Introverted Entrepreneur Success Stories. Check out episode 1 below: