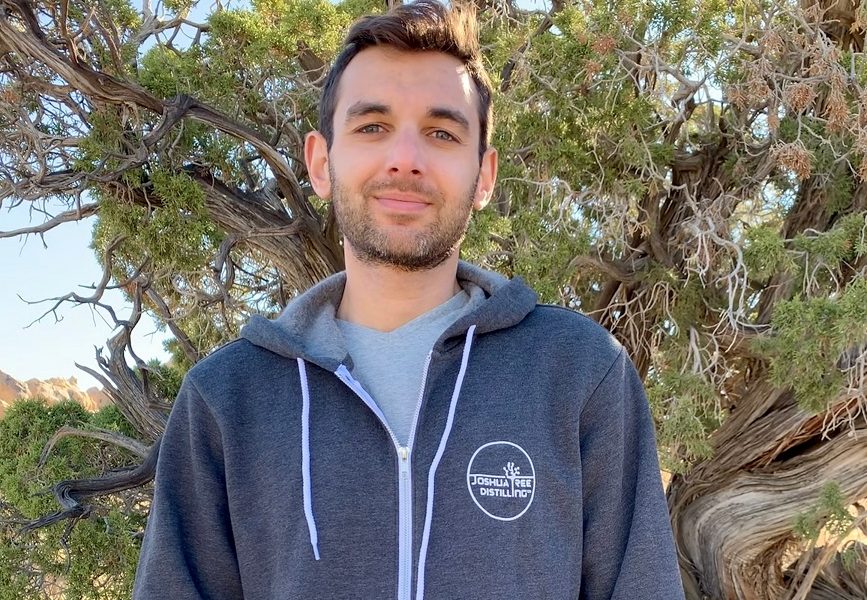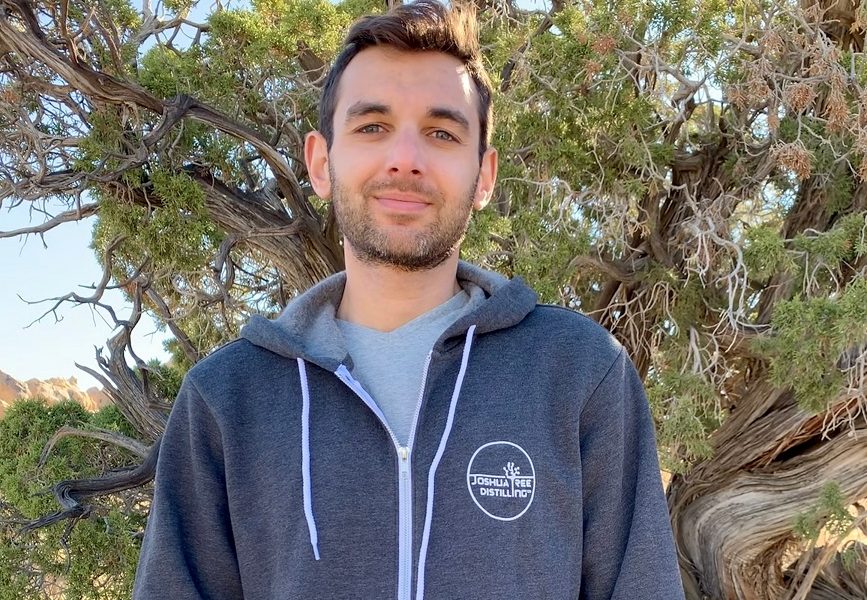 Today we'd like to introduce you to Paul Chakalian.
Hi Paul, so excited to have you on the platform. So before we get into questions about your work-life, maybe you can bring our readers up to speed on your story and how you got to where you are today?
The idea for a craft distillery in Joshua Tree actually came about from a hike through the park. I had been a craft spirits enthusiast and distilling hobbyist for a few years and had roots in the Morongo Basin—the location of Joshua Tree, CA—since I was young. Hiking through the park one day, I noticed for the first time the abundance of juniper berries that were growing all over the valley. I wanted to take some home to make some gin for myself but knew I couldn't since they were in the protected national park. But that gave me the idea: this would be a perfect place to start a craft distillery. It has the connection to gin botanicals, it has a booming tourism industry, and there's no competition for miles. A couple of years later, the pieces fell into place to start working in earnest on the idea. I spent a couple of months doing in depth market research for a business plan, researched all the necessary legal and regulatory requirements, made financial projections going out a few years under various plausible sales scenarios, and started to get really excited by the potential of the business. Shortly after that, I got a team together and raised some funding and we started registering LLC's, buying domain names and property, and doing all the things that needed to be done to start the business. That was February 2020, then the pandemic happened, and that, of course, changed things a bit. We were fortunate in some ways because we were already planning to be working off of startup funding, so we didn't need or expect to have any sales. But of course, the entire global supply chain was disrupted, folks were working from home, banks were overwhelmed by federal loan requests. It was a difficult time to try and get things done quickly.
That said, we were able to take advantage of the situation a bit and started producing had sanitizer months before we planned on having any products for sale at all. The sanitizer has been a huge success, it connected us directly with other local businesses all over the high desert and even down into the low valley in places like Palm Springs, CA. Plus, it was nice to have a little (a very little) cash coming in. Winding through the regulatory process for something like this can be grueling. To be honest, I thought about walking away on more than one occasion. But, you learn patience, you get used to the bureaucracy, and you start to adjust your expectations. A lot of it is just waiting, waiting for permit applications to be reviewed, or get lost, then found, then reviewed, or get denied without explanation, then re-reviewed, then accepted. You get told to fill out certain forms, only later to be told that you needed to fill out different ones. You get things notarized, then get told they weren't done right. But eventually, things do get done. The week we got our California Department of Alcoholic Beverage Control license, I was walking on air. We had received our US Alcohol and Tobacco Tax and Trade Bureau Distilled Spirits Plant permit the week prior, and we were finally officially a licensed distillery. That was in October 2020, about nine months after we really hit the ground running with this.
Since then, we've been working double time to get our facilities all ready for production. There are a lot of i's to dot and t's to cross to make production happen. We had to compare different vendors for lots of raw materials and equipment manufacturers: from things like glass bottles and labels to organic cane sugar and juniper berries to stainless steel tables and pallet rack shelving. Then once everything was ordered, we had to handle all of the logistics, shipping and receiving freight and setting up brand new warehousing and inventory systems all while still designing our actual production plan. What will get stored where? What do we do first? What tasks do we batch together? which do we separate? Always lots of decisions to make. While things were getting set up, we were able to find time to do more promotional work, both with our hand sanitizer and other sideline items, mostly apparel and accessories, sporting both our brand and also general Joshua Tree National Park items. These were actually great tools to help build our social media presence (follow us on Instagram!) and connect not only with other local businesses but also with many of the hundreds of Airbnb's near the park, several of which provide their guests with our products. We were on track to have our first alcoholic beverages ready for sale by Christmas 2020, but unfortunately, the Town of Yucca Valley had other plans.
Despite our best attempts to communicate with their building and safety department, they had been making it difficult for us to apply for the building permits we needed for months. It actually got pretty ugly, they tried to block our access to our workplace despite the fact that we had filled out all the required forms and permit requests and were just waiting on them for final approval. We had to get lawyers involved, it wasn't fun. Things are moving along now though, and we hope to have our Black Hole Vodka and Dark Sky Gin officially available starting April 2021. We've also begun research and development of several non-alcoholic beverages. We're marketing them both as possible mixers and also as, frankly, delicious standalone soft drinks. Right now, we're making a spicy ginger ale and a prickly pear soda. Prickly pear is the fruit of the nopales cactus, which is local to this area. They taste vaguely cranberry or pomegranate like and have a similar purple color. We sweeten our soft drinks with a mix of organic cane sugar and organic agave syrup, and we try not to make them too sweet. I think they are superbly refreshing. We hope to have those ready for sale by the summer.
I'm sure you wouldn't say it's been obstacle free, but so far would you say the journey have been a fairly smooth road?
Attaining all the required regulatory permits, licenses, and accounts needed to run any new business really, but especially a craft distillery, can be incredibly onerous. From simple things like setting up a sales tax account with the California Department of Tax and Fee Administration (bet you've never heard of them before!) to getting workers compensation insurance or getting building permits, the road isn't always very clearly laid out for you. Just figuring out what dozen entities you need to work with is half the battle because there isn't any one place or one organization that you work with, there's no regulatory clearinghouse—though I really wish there was. Instead, you have to just kind of poke around in the dark until you trip and fall and find the next agency you need to work with. Some of them are obvious, like Alcohol Control, but others you've probably never heard of or thought about in your life. Once you've determined all the agencies you need to work with, then you still have a lot of work to do to find out what, exactly, you need to apply for and how. Which again, isn't typically very clearly laid out or explained. The most obvious example of this ongoing challenge, and definitely the biggest obstacle we've faced so far, has actually been working with our local city officials. Which is really disappointing, because we've been working really hard to make this a community business, hiring local workers for everything we're doing, hiring local employees, working with other local business and event organizers.
We've been on great terms with everyone in town but somehow, we ended up on really truly very poor terms with the city. We were talking to them for months about what we were planning on doing, asking them to give us whatever we needed to apply for from them, and they just didn't. They didn't cooperate, they didn't communicate. We would call and there'd be no answer or no callback. You couldn't find anyone's personal phone or email to get in touch with. There was a total information black hole. Then all of a sudden, the city threw a fit when we started getting set up — they were mad that we didn't get the proper approvals from them, but we had been trying! for months. That was truly frustrating. On the bright side, thanks in no small part to Jim Schooler on the town council, the city's building and safety department finally started communicating with us, giving us the forms we needed, and we started filling them out immediately. We got everything turned-in in under a week. Now, we're stuck waiting for their review. Meanwhile, it's another month or two where we don't have any sales revenue, and it often doesn't seem like the city cares. It's really too bad because we're in a rural area and new jobs are hard to come by right now, and the Town of Yucca Valley is not making it easy for us to grow this business and hire folks and add to the local economy, in fact they've been our biggest challenge.
Thanks for sharing that. So, maybe next you can tell us a bit more about your business?
Joshua Tree Distilling Company is a new craft distillery located in Joshua Tree, CA near the main entrance to the Joshua Tree National Park. We're focused on creating premium craft spirits that incorporate novel flavors and processes and perhaps most importantly, on being an uplifting part of our local community. We're really excited to be building our brand here and are looking forward to being involved in all that Joshua Tree has to offer, from sponsoring local events to supplying local retailers and providing locals and guests with a fun and interesting place to visit.
Currently, we're operating out of a small space in a light industrial complex off of Yucca Trail on the border of Yucca Valley and Joshua Tree, CA. We're in the process of building a very small tasting and retail area here in addition to our production space. We also own property along Highway 62 about half a mile west of Park Blvd in downtown Joshua Tree, where we would like to construct a new building that can house our production and also accommodate a restaurant, bar, and entertainment space. We're currently working on raising funding for that project. In the meantime, we'll be operating out of our Yucca Valley space offering our products directly to consumers and also distributing them through regional beverage wholesalers.
Are there any apps, books, podcasts, blogs or other resources that help you do your best in life (at work or otherwise)?
To be honest, I do most productivity items in a pretty improvised way. I use the built-in iOS notes app as a to-do list. I leave emails unread until I've addressed them, same with texts. I write things down on scratch pieces of paper, the backs of envelopes, whiteboards, or "Document 38". I'm not a luddite, I'm actually a bit of a futurists, I built a profitable Ethereum mining rig in 2017 and was an early user of virtual reality. But, I have pretty bad ADD, diagnosed several times as a kid, and lots of outlining and planning can be a real distraction for me. So, when I'm motivated, I just do what needs to be done, however is fastest and simplest with the least amount of needing to learn new systems or invest in lots of overhead. That's not to say I never learn new things or try new tools, but if and when I do, there is a compelling reason where I know for certain that learning this new tool is the best way to accomplish my goals now and moving forward. Google Sheets and Microsoft Excel were like that. It took me a while, but eventually, there was enough of a compelling reason to use spreadsheets instead of word documents and scratch paper that I learned, and I'm actually quite proficient now.
Contact Info:

Image Credits:
Paul Chakalian
Suggest a Story:
 VoyageLA is built on recommendations from the community; it's how we uncover hidden gems, so if you or someone you know deserves recognition please let us know 
here.