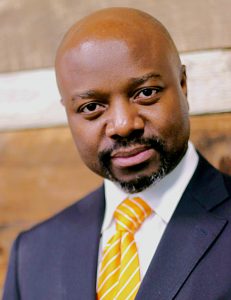 Today we'd like to introduce you to L. Christian Amougou.
Hi L. Christian, we're thrilled to have a chance to learn your story today. So, before we get into specifics, maybe you can briefly walk us through how you got to where you are today?
Though my story is different, it is by no means unique. I do have to say that the early days of my life – like most people, I guess – shaped my personality and my perception of things and situations. I was born in Cameroon, Africa, where I grew up in the jungle with my grandparents, my older brother, Serge and sister, Marie in a little village with about 80 people in it. And when I say jungle, I mean deep, deep jungle. We lived in a mud house, had no electricity, no running water, no hospital or infirmary of any kind. We had to walk for miles to get anywhere: church, market, plantation. Life was pretty rough as we spent time dodging dangerous snakes, fighting off mosquitoes and other blood-sucking insects or having to chase our diner (chicken, pig or goat) around the village for an hour or two only to emerge with multiple cuts and bruises on our bodies. And yes, you guessed it, those suckers tasted a lot better once they were cooked and spiced up, making up for the bruising couple of hours they put us through.
So, that's where and how my life began. Somehow even in the middle of that primitive living, I always felt like I was destined for more but didn't quite know how that would happen. One day, in 1983, my father – whom I didn't know at the time – came to our village from France where he and my mother had been living to take us back with him to Paris. I was eight years old. And the transition from the jungle to Paris almost shut my little brain down. Everything was different. There were far too many people everywhere and most of them were white. We had only seen one white person before. It was a French missionary who had come to our village. Everything moved way too fast and was way too bright. I mean, "the white people's village" as we call it in my language was shaping up to be a different animal for us (no pun intended). We adapted fairly quickly. We learned French and life became easier for us as we learn the ways of living in this new "village". In the process, I discovered television, which became my favorite thing in the world. On TV, I discovered America through incredibly entertaining series like "Starsky & Hutch" "Matt Houston" "Buck Rogers" "Dallas" "Dynasty" "Tom Sawyer" and countless others. And at age 9, I made a pledge to myself that one day, I will go to America to pursue my American dream, even though at the time I hadn't quite grasped the concept of what the American dream was all about…but I soon would. After my grandfather – the one who raised us – passed away, my father decided it was time for us to go back to Cameroon. This time to live in the city instead of the village. We had to adapt to yet a new type of living, this time in an Africa city, which was no cakewalk either. My brother Serge, sister Marie and I managed to fit in and thrived. I graduated from high school, went to university but almost two years in, my dreams and grand vision for my life was beginning to suffocate. I felt miserable. That could not stand. So I did something about it. On November 16, 1994 at exactly 8:23 pm, I slipped out of the house in the middle of the night while my parents were out of town. All my dreams were stuffed into a medium-sized black bag that had all the belongings in the world I believed I would need on my long journey to America. The problem was three massive layers deep: – I didn't have any money. – I didn't speak English. – I didn't know anyone in America and certainly didn't even know how to get there. I just had to go. These gigantic issues would be a deterrent for most people, just not for someone like me who was willing to put it all on the line – including my life – to achieve my goal. Win or lose, it had to be on my terms. And I was willing to die to get to America.
After almost ten years and having been homeless for months at a time in multiple African countries; after almost dying multiple times; after having to go hungry for 5 to 10 days at a time on many occasions; after becoming a television star hosting a show I had created six days from being homeless; after having had almost $15,000 dollars stolen out of my suitcase just five days after I landed in South Africa; after having been thrown in a disgusting jail in Zimbabwe; after spending months at a time without speaking to another human being; after being left for dead; after teaching myself English from a little dictionary I brought with me; after being stranded in Zambia for almost one year from a trip that was supposed to take only two weeks; after winning a brand new BMW from entering a random competition in Johannesburg, South Africa… I finally made it to America! Since then, I've lived in Los Angeles, the place I always wanted to be – the city I gambled my life to be in. Since living in L.A, I have created businesses, most of them in the entertainment industry. I founded two production companies, wrote multiple screenplays and television shows but none of them went anywhere. In 2007, I came close to a TV deal, produced 4 TV pilots and spent the considerable amount of money I had earned working in a fancy restaurants in Beverly Hills. Unfortunately the writer's strike of 2007 in Hollywood completely sunk my chances at a deal. A lot of production companies shut down around that period. Studios and networks canceled a bunch of term deals, which meant that smaller and unknown producers like me had zero chances at a deal. I went back into the entertainment business in 2015 when I created an online TV station. For two years, I worked on it in conjunction with South African producers. Unfortunately, lack of vision and commitment from those partners doomed that project, too. Disillusioned, I put a pause on that endeavor. While traveling back and forth from LA to South Africa, I came up with an idea for another business in the final days of that TV show project. The drama and headaches of travel fed me a great concept for a new business, which was to create a clothing rental network for business travelers. I immediately started working on it.
In 2017, I assembled a team of software designers and we started developing the concept and an app. All of it was funded from the money I was making working in a restaurant in Beverly Hills. Things were going great, progress was being made. And the plan was to launch in May or June of 2019 after two solid years of hard work on this concept. But then… covid hit! Travel was no longer happening. I believed no one would want to wear clothing that was already worn by other people no matter how cleaned and sanitized they would be. It was a psychological stigma I knew would take a while to undo. So, I paused on that business, too. Five days after shutting down that business and after getting laid off from my restaurant job, I decided to activate Surprise Me Kitchen – a concept I had created 4 or 5 years prior working in restaurant in Beverly Hills. I had come up with a way to create a wonderful dining experience for my guests when they weren't sure about what to have for dinner. In order to relieve them of the burden of decision-making, I would ask them three simple questions: Do you have any food allergies? Do you have any dietary restrictions? What are you in the mood for today? With their answers, I would create a 3 to 4 course dinner with the help of the chef. With every dish that hit the table, I would explain the dish in detail. My guests left extremely happy every time I did that. As time went by, I saw a potential business model. The arrival of covid-19 forced me to dust off that concept I had been sitting on for years and recalibrate it into a covid-friendly business, which meant starting with pickup and delivery first. We create personalized gourmet meals for our guests based on their food allergies, dietary restrictions and what they're in the mood for. I have developed and tested this concept from May 2020 to the end of November and launched in December 2020. Having worked in very prestigious and fancy restaurants in Beverly Hills for over 15 years, this service is absolutely in my lane. Creating memorable dining experiences has been in my wheelhouse for years. It is that experience that allows me know what to do, when to do it and why it needs to be done. And that's what shapes my vision for this unique concept.
Can you talk to us a bit about the challenges and lessons you've learned along the way. Looking back would you say it's been easy or smooth in retrospect?
It has not been an easy ride so far. As most small businesses, I struggled with funding. Starting a business is not easy and if on top of that, you don't have an investment, it makes it that much more complicated. I have a simple philosophy in life when I encounter a problem – any problem, really – and that is to always start from where I am. Since I can't change the past, I know I have the ability to influence what happens in the next seconds, minutes, hours, days and weeks. So, that's where I always have to start from. In the case of starting this business, I tapped into my savings, maxed out credit cards and most of the money I received from unemployment due to covid went to building Surprise Me Kitchen. I would spend two, sometimes three days without sleep. I would steal half-hour naps here and there. Locked indoors because of mandatory stay-at-home orders, I delved into deep research as I developed the concept. I enlisted neighbors in my building to be the first "beta tasters" as I called them. After collecting the forms I had distributed for them to fill out their allergies, I ran across the street to the supermarket, bought all the ingredients I needed and cooked for 12 straight hours. I packed food in flimsy to-go boxes and used shopping bags from Vons and Wholefoods supermarkets to bag the food and dropped it off in front of their doors. The only thing I asked them in return was honest feedback. Surely enough, the next day, I emailed them a long survey with all the questions I needed answered to. And so it began. The following six months were quite brutal on my body and mind as I tried to fine-tune a concept to which I had pledged everything: my time, my grey matter, my energy, and my very last dollars.
Alright, so let's switch gears a bit and talk business. What should we know?
Surprise Me Kitchen is a unique concept where we create art that feeds people by crafting gourmet meals for our guests based on three simple elements: their food allergies, dietary restrictions and their food preferences. Menus are so 2020! So, we've decided to do away with them. And that is, well… our secret sauce. We keep it simple. We keep it moving as we take our guests on a culinary adventure that is poised to keep them excited with anticipation like a kid on Christmas morning who's beyond excited to open his gifts. We believe Surprise Me Kitchen is the next frontier in the dining experience, where we eliminate the notion of a menu. We put the guest in charge of their dining experience and let them guide us toward what they need instead of us telling them what we think they want. A menu by definition offers a limiting number of options from which to select. But We do things differently here. This concept is built on two solid principles: trust and freedom. We're asking our guests to trust us with their dining experience by volunteering three pieces of information. And we create freedom for them by removing the burden of decision-making when it comes to deciding on what to eat. And freedom for our chefs who now have the ability to unleash their imaginations to their full potential. Having worked in some of the most prestigious restaurants in Beverly Hills, I have been trained to create great experiences for my guests. But I believe that a dining experience goes beyond just the generic knowledge of hospitality. It's about genuine care. It's about anticipation of your guests' needs. It's about the details. It's about doing something different that stands out and can linger in a guest's mind for a long time. That is what I believe Surprise Me Kitchen is. Our goal is to take our "no-menu" dining experience mainstream in months and years to come because, let's face it, enjoying a wonderful meal shouldn't require anyone to get into a stressful and burdensome decision-making process. I get that. So, I did something about it.
Where we are in life is often partly because of others. Who/what else deserves credit for how your story turned out?
The first person I would give credit to is my older brother, Serge S. Amougou for being my most fervent supporter and my closest advisor. He always gives it to me straight, tells me when my ideas are great and when they're not. And he would detail the reasons for his analysis without sugar-coating anything. The first time I told him about Surprise Me Kitchen he said "This is probably your most brilliant idea yet and one with the best chance to succeed". He's always the first person I call when I have an idea because I know he'll be able to tell me whether it's viable or not in an open and honest way. The second person I would give credit to is Michael Burnett who was one of the first people to hire me in Beverly Hills as a server. Mike, as I call him, has always believed in me and has gracefully helped me in tough situations without ever expecting anything in return. He's like a brother to me and has been a close friend and mentor to me for almost 20 years.

Recently, when I was no longer able afford to rent a commercial kitchen for my operation, Mike offered to share his with me (for free), which is located inside a shopping mall's food court where he runs his Jamaican Jerk chicken restaurant. Without his help, I would have had to shut my business down. Has he has done throughout the years, Mike has been there for me financially, professionally, morally, and mentally. On my list of people to credit for helping my new business stay afloat is Johnny Chen who came to my rescue unprompted. He called me one day just to check up on me, I gave him the short version of the situation I was in, which was void of many bleak details about what I was going through. He has known me for a while and he remembered that I'm not one to ask for help. He pressed a bit more but I wouldn't give him any more than that. Days after our conversation, he sent me a $200 food card in the mail for groceries so I could feed myself. My unemployment insurance money I was using to fund my business had run out and I had to make some tough decisions. That food card helped a lot. A few weeks later, Johnny also contributed $1000 to the Indiegogo campaign I had launched to raise a little bit of money for my new business. He didn't have to do that but he did. Johnny's generosity definitely helped me stay afloat…
Pricing:
$45 for a 3 course Surprise MEal per person
$98 Surprise Group Meal for 2 people
$208 Surprise Group Meal for 3-4 people
$330 Surprise Group Meal for 5-6 people
$464 Surprise Group Meal for 7-8 people
Contact Info:

Image Credits:
Lesly Hall
Suggest a Story:
 VoyageLA is built on recommendations from the community; it's how we uncover hidden gems, so if you or someone you know deserves recognition please let us know 
here.