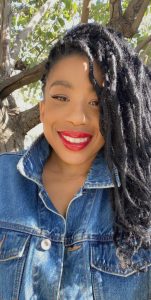 Today we'd like to introduce you to Inga Grimmett.
Hi Inga, so excited to have you with us today. What can you tell us about your story?
First, I am a proud Los Angeles native. My mother was born and raised in Watts, CA. My father is from Kansas City, Mo. My parents (whom are still married) met each other on a random evening in LA. They were 21 and 22 years old. They were married six months later. I was born three years later in Inglewood, CA. During my formative years, I lived in Inglewood, Ca. and attended a private school in Gardena. During junior high school and high school, I lived in the Inland Empire. Its been quite the experience watching LA grow and evolve over the years and I am proud to truly call this city my first home.
I graduated from Cal State Los Angeles University with a degree in television and film production. During my last year in college, I moved to New York City to fulfill my internship requirements. I lived in Brooklyn and worked in Manhattan. It was probably one of the most fulfilling, hardworking, fun and most tired parts of my life. I had two internships (at the same time) and a part-time job. The first internship was with CBS Television Studios and the second was with Rainbow Television the producer for Ultra HD Television. My part-time job was with Crate And Barrel in stock working overnight. When I had received the call for the internship for CBS Television (I was still in Los Angeles at the time), they told me I had only three weeks to prepare and be in New York. I said yes because I knew I would figure it out along the way. I arrived in New York, bright eyed and bushy tailed – green as hell and ready to take on the world and it was truly amazing. I felt like I was breathing for the first time. At CBS Television, I worked for Inside Edition. I was given the opportunity to find stories, interview people and work with editors to create the stories into real-time. I networked and received a mentor (an amazing black woman) who was a Managing Editor of the station. I worked at the station 3x a week. I wanted to fill the other two days so I hustled and found another internship with Rainbow Networks where I was able to work as an intern production assistant on a show.
CBS Television was such a great foundation – more than I realized at the time. Right before my internship was due to end, I introduced myself to the executive producers of a now canceled show 106th & Park. Bet Networks (and apart of the Viacom Family) who produced the show was on the first floor. I remember being so nervous to ask for a job. I had walked back and forth in front of the window on 57th street, trying to figure out what I was going to say. Finally, I told myself "F-it" and went in side and walked towards the producer's offices. I went to the first EP I saw sitting in her office. I literally just picked someone. I didn't know them or cared, I just wanted a job. I approached and gave her my 30 second pitch of why they needed to hire me. She laughed and said, I saw you outside and was wondering what you were doing. I'm glad to know that you intern upstairs." She said, "I tell you what. I don't have anything here and now but have you heard of the CBS Page program?" I had not. The CBS Page Production program is a paid production assistant (entry-level) that gives people the opportunity to work in various departments and shows within CBS Television and Viacom. She took me that moment upstairs to introduce me to the hiring manager for that program. I was interviewed and offered a position in that department as soon as the next opening was available. That was one of the best things that had happened to me. I did not know anybody getting into the entertainment business. I had no family or family friends who had ever worked in the industry but I knew that if I could get an internship somewhere, then I can work my magic by working extremely hard and networking (which I was already scared to do but I had to eat and pay bills so I had to learn how to speak up).
The page program in NY ended up sending me to the page program in Los Angeles at the CBS Television Studios on Fairfax and Beverly. I worked as a page for two years. After the program ended, I immediately was hired on as staff with CBS Television and was there twelve years. I worked on soap operas, game shows and late night evening programs. In between seasons, I started working on short films. During my tenure with CBS Television I began working in the wardrobe department. I developed relationships and worked on old school shows like the Tyra Banks talk show which coincidentally landed me a producing associate job on America's Next Top Model. I worked as an on set costumer for CBS Television and a wardrobe supervisor for FOX for several years.
At that point, I knew that I wanted to do both fashion and film. Every since I was a little girl, I had been in love with fashion. I used to draw paper dolls and create paper clothes for them. I was always drawing and painting. During some downtime in between seasons and jobs, I started my first production company in 2005. I had absolutely no idea what I was doing but I knew what I wanted it to look like. I remembered being in New York and watching fashion television. In fact, I had watched it growing up from time to time and was always mesmerized with the runway shows. I decided to create a production company focusing on backstage interviews, runway shows, parties and highlights. The last year of Mercedes Benz Fashion Week here in Los Angeles (when they were still partnered) was my 'company debut'. I interviewed designers and models. I asked my friends from film school to run camera for me as well as be my editors. It was an exciting time and lasted for a few years. As the years and time grew, I continued to practice and grow in my craft in wardrobe but I knew I wanted something more.
I had worked on shows and short films. I produced for other people in the fashion television world. I had also started producing live entertainment (live music shows on a monthly basis for several years). I had also taken time off and worked outside of television and filmed entertainment and moved completely in the fashion world. I was an assistant to a lifestyle designer which gave me the opportunity to work and travel the world (which became an addiction as I LOVE to travel). Afterwards, I became a producer and production manager for large scale photoshoots for department stores and designer labels (both up and coming and established). This was exciting and really grew my skills as a producer because I had to produce and manage 10-12 shoots monthly for several years including manage large budgets, hire crew, work with financing, marketing and graphic departments as well as buyers and creative directors to make sure that the story they wanted to tell would translate into sales. It was an excruciatingly tired time but so needed because it grew me in ways that I never expected. By this time, I had been working in entertainment and fashion for almost twenty years. Time has really gone by quickly.
In 2019/2020, right at the very beginning of Covid (before it became a worldwide known pandemic), I knew I wanted to create and shoot documentaries as well as start a fashion media companies. I started writing a documentary series on black winemakers and sommeliers. I started shooting in South Africa. It was truly AMAZING. To be in a country with some of the most beautiful wineries in the world interviewing winemakers who have made the study of grapes and creation of wine their life's passion was truly remarkable. However, my trip and documentary shooting was cut short because the pandemic had grown to a severe outbreak. Flights were being canceled and borders were closing including the original flight/airline that I had booked to fly home. With prayer, I was able to get another flight with another airline was able to get home to the states before the borders closed three days later. I truly believe that prayer has guided me.
Six months later, unexpectedly I found out that I had to have heart surgery. That changed everything for me. I never really took anything for granted because I literally had worked my ass off for almost everything that I had received. But having told that you could die if you don't have this particular surgery done (and the doctors being surprised that nothing hadn't happened to me earlier) sends a new type of shockwave where it makes you really consider – am I truly doing everything I want in my life? I always thought I had but even then I still had always did the safe route. Although I loved having my career in tv, film and fashion – I still only chose jobs that I knew would pay me well. Growing up, I was always moving because of my dad's job so I was always living with or without enough money to pay bills. As an adult, I let my childhood experience dictate and drive my adult choices as far as work (and I'm sure personally as well). However, now I knew I wanted to make a permanent change for the better. After my surgery, I started planning and getting into action.
I've been traveling so much the last year that I feel like a nomad even living back in the states. I've also created my first clothing line. It's a vegan clothing line featuring loungewear, travel gear and comfortable oversized hoodies, crewnecks and bottoms. It's completely vegan with the highest quality sourced cotton materials. The clothing line and store is named Oceans And Roads (oceansandroads.com). Subsequently, I have launched an accompanying fashion media production company of the same name. I've created and shot a show called Life. By Design. My focus is to highlight designers, artists, dancers, filmmakers, architects, media and tech artists, etc. that are making an impact on this world and whom would not normally be given a platform to show their contributions to the world. These individuals are from various parts of the world and are some of the most beautiful individuals you would ever meet. There are several shows that I have written and I am excited about producing later. I'm also in the midst of creating an online store that will welcome designers from all over the world and deliver some beautiful products that are hard to find stateside. The purpose is to celebrate different cultures and to highlight our humanity – because we're all in this thing together, right?
Of course, I have other goals – some that are tremendous and will take the Lord to help me manifest out into our physical world but it's exciting to watch it grow from seed to seeing it out there in the world. The most important is that I am healthy, happy and truly living an amazing life. In a way, I am grateful for that heart surgery. Although I always had perspective, I think it gave me the push in my rear end about time. Time is so valuable because once it's spent, we can never get it back. Time is everything. So in my time here, I want to touch this world in such a valuable way – by giving as much as I can back to people even if in my own way it's highlighting what someone else is doing to make our communities a better place.
We all face challenges, but looking back would you describe it as a relatively smooth road?
It definitely has not been a smooth road. I had to learn how to navigate being extremely shy and speaking up at the same time. Although I have worked in the entertainment and fashion industries for a very long time, I didn't know anyone (AT ALL) when I first started working in them. I knew that I had to go to college to get an internship to meet people. For me – that was my only way. College was networking – that's all I thought of it. I knew that it would teach me some fundamentals but the only way to truly learn was to work. I've also been humiliated on set for making mistakes, have been fired from jobs and had to basically starve from time to time, sleep in my car while still working on jobs because I didn't have enough gas money to travel back and forth but it was all worth it. I grew in ways that I never expected. I also had to humble myself and get work outside of entertainment when I needed it because I had to pay bills. It's not always easy but if you trust yourself then you can't give up. You may also have to work full time and do your passion part-time but don't stop. It may take YEARS for a break but it will come if you don't give up. You can even stop and rest but DON"T quit.
Great, so let's talk business. Can you tell our readers more about what you do and what you think sets you apart from others?
My company has several businesses associated with it or I am creating it to be. Currently, I am building my fashion media company. It has three focuses. The first focus is fashion and lifestyle media (television and film programming). I create and produce shows (as well as partner with other production companies, writers, producers, etc.) that focuses on fashion, lifestyle, hospitality and art programming. These shows are documentaries, docuseries, short films as well as magazine media and podcasts. The second focus is on photoshoot production for designers and fashion houses. This also includes runway show production. The third focus is an online store that partners and sale fashion and lifestyle brands from all over the world. These partnerships all work together to create, promote and highlight content and products worldwide.
Contact Info:
Email: info@grimmettmiller.com
Website: oceansandroads.com
Instagram:  @oceansandroads and @grimmettmiller
Suggest a Story:
 VoyageLA is built on recommendations from the community; it's how we uncover hidden gems, so if you or someone you know deserves recognition please let us know 
here.