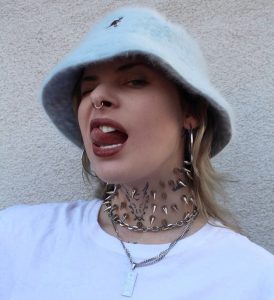 Today we'd like to introduce you to SIIRENS.
SIIRENS, we'd love to hear your story and how you got to where you are today both personally and as an artist.
I've always been into creating. Whether that be music, fashion, acting, drawing, modeling, photography, whatever. I loved it all and was always very intrigued by anything art related. I briefly participated in a couple of other random activities when I was younger like Kung Fu and softball, but never really stuck with them. I was always pretty tomboyish, so I also spent a lot of time skateboarding in my neighborhood and collecting bugs at recess to put in my empty Tupperware from lunch. When I was 10, I actually wanted to join a football team but my mom wouldn't let me lol. The one thing that was truly consistent, though, was music. That was the one thing that actually made any sense.
When I was 7, I started writing songs about fake breakups I would fantasize about or other fictitious topics that I thought seemed cool at the time. I kept all my songs and lyrics written in this pink floral notebook that is still at my mom's house somewhere (to this day no one is allowed to read any of it, it says "TATIANA'S SONG BOOK KEEP OUT!"). It was around that same time that I started acting and singing in church plays and musicals (which I was insanely competitive about), but honestly, since I was a literal fetus, I have always craved performing. It's an obsession with that anxious rush you get before walking onto a stage to do something solo, with all eyes on you.
I did theater in middle school, picked up cheerleading at 11 (once again, a form of performing for crowds) and ended up doing that for 7 years. I realized throughout high school that I was the "weird one" on the team and never really fit in. People say that all the time, but damn, I really didn't. I ended up hating it. Struggling with major depression, anxiety, and OCD, I was in a downward spiral and felt like I had zero purpose. The one thing that made me feel genuinely better was to sing, as lame as it sounds.
After I graduated high school, I dropped out of college and decided to pursue music seriously. I found a producer to work with, started taking vocal lessons, and went for it even though everyone thought it was a terrible idea and some of them still do think that! But the negative opinions were a major transformative factor in the development of SIIRENS.
We'd love to hear more about your art. What do you do and why and what do you hope others will take away from your work?
SIIRENS is what I go by for my artistic persona. She doesn't give a fuck and does exactly what she wants. Music is my main thing, as I'm a singer/songwriter, but I also sort of make/design clothes. I take old clothes from thrift stores or things that nobody wants and upcycle/reconstruct them to make unique 1 of 1 garments. I actually wore mostly all of my own clothes in the music video I just released for my track 'BLOODSTONE.' I'm constantly thinking of crazy ideas for clothes, but I'm a much better designer than I am seamstress haha.
For music, I work with only one other person, Joey Peloso. It's nice because our taste in music is essentially identical, and we have a very similar vision of how we want things to sound and feel, so we sort of feed off each other. We don't necessarily have one exact method when it comes to our process. Our schedules are really hectic so it's hard to find time when we're actually both in the same room working on a song together all the time. It's either like I have some demo idea that I created in ableton and wrote a snippet to, or he comes up with a dope beat, I start writing to it, then we gradually build the production and vocals to create the final product.
The lyrical aspect of songwriting is very important to me, so I take full control over that. Everything else is usually a team effort though. Sometimes I'll come to him with a whole song written, melodies, lyrics, everything and we just record a song right then and there. Other times, we'll sit there for hours and freestyle a bunch of melodies until we're both like "ok yes, this is it." I'm reaaaaaaally particular, so it can take a ton of tries for me to get it right. A lot of music we make will never be released either. Not everything is magic. I had to learn that.
Every artist gives off a specific aura and has a particular message they're demonstrating through themselves and their work. I guess mine would be that no matter how shitty you feel, a lot of people are feeling similar things. Emotions are so fleeting and things don't always feel so bad if you're making something you're proud of. It doesn't matter if anyone likes you, but if you like you, you're good. That alone will take you places.
Artists face many challenges, but what do you feel is the most pressing among them?
All of us out here are struggling so much. The internet supposedly makes it easier, but does it? Everything is so saturated that it's hard to get anyone to even listen. I think most people give up too soon. It's hard. Working full-time jobs and having all your money go to paying rent and all other stupid adult bills can feel really impossible, especially when you're doing it all to fund your art. It's the only reason we're doing any of this, otherwise what's the point?
It's tireless nonstop work all day, every day that you can't stop because that's the only way to get there. It's a lot of self-doubt, lonely nights and vulnerability. This sounds negative, but I don't mean it to be. If you look at it right, it's inspiring and shapes you into an interesting person; somebody people want to get to know. I will say, a good product will speak for itself. You just have to keep persisting and the success will reveal itself eventually. I think all of us who really go through this shit will get there someday. Or we won't and we'll die lol. Either way, you'll leave your mark and find your people. That's one of the things that's actually incredible about the internet with music, you can be "unknown" but still be on paid tours doing your thing. That's fucking cool.
Do you have any events or exhibitions coming up? Where would one go to see more of your work? How can people support you and your artwork?
I WILL start playing shows in the time and will announce them on platforms when I get there but until then: SoundCloud, YouTube, Spotify, Instagram, Facebook, blah blah, you can find me there. @SIIRENSMUSIC for all of it. Right now, my clothing brand is only on Instagram; you can find it at @PISS.CLOTHING. My goal is to put out sonic and visual content consistently. It makes me feel good.
Contact Info:

Image Credit:
@kendall.walters
@fairypunx
Suggest a story:VoyageLA is built on recommendations from the community; it's how we uncover hidden gems, so if you or someone you know deserves recognition please let us know here.