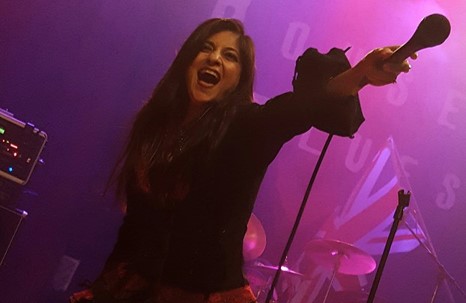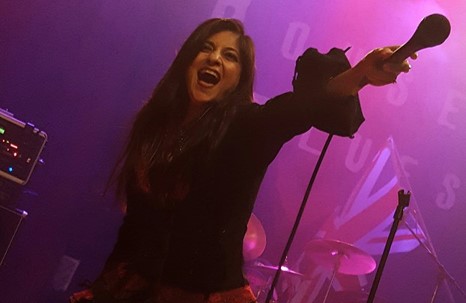 Today we'd like to introduce you to Shamini Jain.
Shamini, we'd love to hear your story and how you got to where you are today both personally and as an artist.
The theme of my artistic life seems to be one of "don't judge a book by its cover". No matter where I go, people seem shocked when I sing – because they can't believe a "little Indian woman" or "scientist" or "doctor" wails like I do. My story reminds people that what you see is not necessarily what you get. We all make judgments based on appearances before getting to know a person.
I have loved to sing since I can remember, singing whatever I heard around the house. I grew up in South Carolina as a tiny East Indian kid surrounded by my Baptist Christian friends. I soon learned the power of devotional singing but really first in the Christian tradition. It was fun to compare that kind of singing with the mantras that I also learned as child. I learned about the power of vibration from that devotional sound-making and that ultimately it was that power of vibration and creative energy in my body through singing and chanting, that influenced me to study energy healing as a researcher in psychoneuroimmunology and as a clinical psychologist.
In 9th grade, I showed up for choir practice but no one else did. My choir director rolled her eyes and said we'd go over the songs anyway. Once I sang, she seemed shocked by my voice for some reason. She started handing me songs and then asked me to audition for South Pacific as Bloody Mary. The song was no problem. While the audience seemed shocked that a tiny person like me could carry off Bloody Mary, I felt totally at home. I enjoyed training in Western classical music after that as a coloratura soprano, doing musical theater and light opera productions in South Carolina and later, in New York.
But rock and blues was always my heart. I grew up listening to wailers like Janis Joplin, Robert Plant, and Axl Rose and felt their vocal style in me the most. Later in life, I got turned onto singers like Jeff Buckley and Joni Mitchell who also influenced me greatly with their storytelling abilities and vocal fluidity.
In San Diego, I realized that while I had always wanted to pursue a rock band, I never had done it. So I just went for it. I had no idea what I was doing but put together a GnR cover band with people I'd never met before. I somehow downloaded the name and concept, "Nuns n Moses" for it. The musical theater influence in me convinced the band to let me come dressed as Moses and the dudes dressed as nuns for part of the show. I would belt songs like "You Could Be Mine" from Moses' perspective. It was just for fun but all of a sudden we were gigging everywhere in San Diego. I had no idea at the time how serious and active the San Diego tribute scene was! The band was a blast (although my then seven years old daughter would cry every time she saw me as Moses! She could never get used to that)!
Later, I was asked to front an Iron Maiden tribute band called "Up the Irons" in San Diego, I thought, why not. I had never listened to Maiden before but I learned quickly how epic the songs were – and what an honor it was to emulate Bruce Dickinson's energy and vocal style. The band, which was stellar, also gave me carte blanche to express myself in the way I wanted on stage, which meant wearing masks, giant wings, and other theatrics – which gave life to Dickinson's vision of Maiden as "a theater of the mind".
While this band developed a huge following quickly, it was always fun to go into a new venue when Up the Irons played. I would see frowns and arms crossed by metalheads who were already sizing me up when I stepped on the stage. I could hear their thoughts – "This little Indian girl is going to sing Dickinson"? It wasn't even that I was a woman, which was one strike against me – I wasn't white, and I was small too. How could I possibly pull this off?
What was great was how within one song in, the audience would totally transform – every time. They heard my passion, power, and joy in the music and the shred of our band, and within minutes they were singing along with us. They forgot who I was, they forgot who they were – we were all just one, grooving to the music. Those are the moments that I still live for today.
Best yet, when our metalhead community found out about my "day job" – which is forwarding the science and practice of healing – they were all in! I've heard so many awesome healing stories from folks in our music scene and they are totally into the cutting edge research that our nonprofit, the Consciousness and Healing Initiative, is engaged in. Being heavy into the San Diego music scene was just another opportunity to unite the diverse scientific, artistic and healer communities which I've been privileged to be part of.
We'd love to hear more about your art. What do you do and why and what do you hope others will take away from your work?
I sing for life, and I teach others to sing to better know and express themselves. Throughout my life, I've had the privilege to sing and perform for others in many different genres and styles – including classical, folk, jazz, rock, improv and avante-garde – for small and large audiences.
The message from my art and teaching is just to be yourself, and don't afraid to be bold. Don't worry about what people think of you or what box they want to put you in – even in a tribute situation. Just give in to the creative feminine force that is Shakti, let it run through you – the rest is not about you.
Do current events, local or global, affect your work and what you are focused on?
Given the onslaught of negativity that is thrust upon us by the sociopolitical machine and the mainstream media, it's absolutely vital that we artists and teachers do our part to ignite the creative force in everyone. Everyone needs to see that they are an artist at some level and not be afraid to tap into their creative abilities, own them and express them.
Creativity and inspiration are the keys to fostering the world that we want to see today, and they are everyone's birthright. The more we align with our art and celebrate each others' art, the more we see the true unity between us – and not buy into the lies and dogmas of separation that are nearly forced upon us today. In my view, there has never been a more important time than now for artists to be out front with what they do and share it with others.
At our nonprofit, the Consciousness and Healing Initiative, we foster collaborations between artists, scientists, technologists, educators, and healers – because we know when we unite and share our perspectives and efforts – we ignite the creative alchemical process that creates new possibilities and fosters necessary societal transformation.
Do you have any events or exhibitions coming up? Where would one go to see more of your work? How can people support you and your artwork?
As a way of celebrating the divine creative feminine force as a way of fostering change, we started an all-female tribute to legends of rock in San Diego, which we hold every year as a way to raise funds for awesome local nonprofits.
This year, our benefit will be held Saturday, July 13th at San Diego's mainstay rock venue, Brick by Brick – and all proceeds benefit Voices of our City Choir – which transforms the experience of homelessness through vocal empowerment and art.
The event features myself, Roni Lee, Jaime Shadowlight, Francesca Valle, Michele Whitlow, Bahar Shahidi, Colette Lopiccolo, Jules Whelpton, Laura Vreeland, Mandi Jo, Brends Kashmir. Paige Miller and Simona Bressi. We tribute rock's biggest female influences from the 60s to the present day – it's a raucous musical celebration of female rock legends!
Would love for folks to learn about this event and get tickets here: www.chi.is/rock
For those who are interested in the teaching I do related to reconnecting with the divine creative force, I'm teaching a few workshops at 1440 Multiversity in Santa Cruz and Kripalu Yoga Center in Massachusetts this August, September, and November. Info on those events can be found here: https://www.chi.is/free-your-energy/
Contact Info:

Image Credit:
JacKar Photography, Frank Rodrick Photography, John Hancock Photography, Namuun Bat Photography, Maurice Nunez
Getting in touch: VoyageLA is built on recommendations from the community; it's how we uncover hidden gems, so if you know someone who deserves recognition please let us know here.