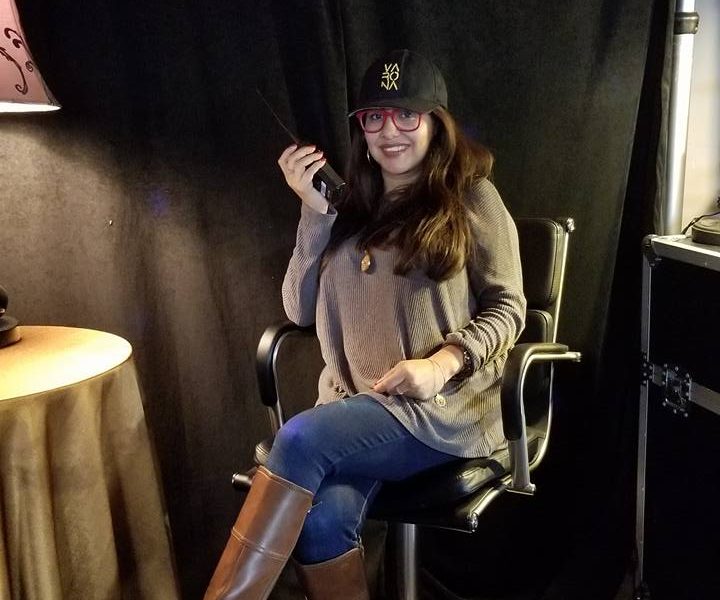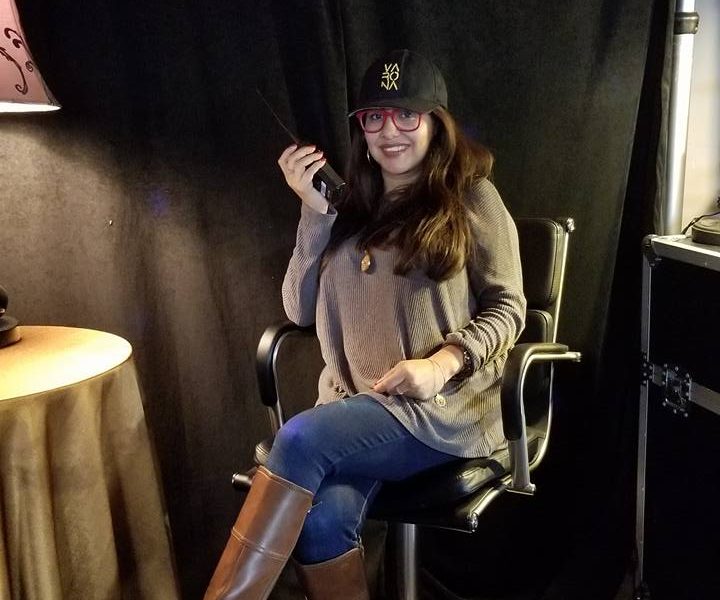 Today we'd like to introduce you to Sandra Varona.
Sandra, we'd love to hear your story and how you got to where you are today both personally and as an artist.
I am Mexican American, born in Mexico City and came to the US at the age of four. Didn't become a citizen until the age of 18 while pregnant with my first child.
I have always wanted to be part of the entertainment industry since I can remember. Bought my first camera at a yard sale at the age of 12, it was a VHS camera. In Junior High School, I took a media class that confirmed my affinity for production. After High School I attended the Art Institute for video production while pregnant with my first child but couldn't finish because of the challenges of being a single mom and also financially, it just wasn't doable. When my daughter was about six months old, I attended Los Angeles City College for Film Production where I shot and edited on 8mm, which I absolutely loved. While at LACC, I started a film club called VFTA to provide film students with Hollywood opportunities outside of the school and was able to set up tours for students at Hollywood's biggest camera house, Panavision. At the same time, I was working as a security guard at Universal Studios and Dreamworks. I was simply fascinated with the industry and wanted to get in the door anyway that I could. I was able to meet Steven Spielberg and ask him for filmmaking advice as well as to watch Mel Gibson direct.
Furthermore, I had the chance to see some movie explosions on huge production sets and observed how these studio sets were run. My main post was on the set of Desperate Housewives where I friended a grip which later became my first DP on a couple of music projects. This taught me the significance of networking and the start of it. However, being a security guard was not really where I wanted to stay so I left to pursue my dreams and was lucky enough to have my mom who unknowingly supported my job transitions. My first goal was to produce music videos since I loved music and production so much, I think I wanted to merge those two. I had always been in awe of all of the music videos from the early 2000s, the MTV days. I looked up to directors like Hype Williams and Benny Boom, just to name a few. And I was determined to create music videos myself so I started my own production company, Varona Productions at the age of 22 and began to produce music videos a couple of years later.
I had my second child around that time, a beautiful boy who was born with Down Syndrome. This unexpected circumstance took me off the grid for a few years to figure out my new life as a mother of a child with special needs and to focus on his needs. Upon returning, no one would hire me to produce with no prior producing experience nor connections in the industry. So I decided to make it happen for myself. I attended A LOT of networking events so I thought, if I could convince a manager of an up-and-coming artist to let me produce their video, I could start that way. And that's how it happened. I told this particular manager that he wouldn't have to pay for ANYTHING. I gathered a crew, applied to the Panavision Filmmakers Grant, which loaned us a 16mm film camera, and we shot it at no cost to the label. We shot in several locations throughout Whittier and Hollywood. Looking back, I am not sure how I got away with it with no permits and so many hours of production. I didn't really know what I was doing and our day was about 18-20 hours long. I learned a lot from that experience and used that music video to book other videos that actually had a budget.
After several music videos, I had a body of work to show and that helped me get into Project Involved, a program through Film Independent. It was this program that first allowed me to meet like-minded creatives and learn a lot about the film industry by attending many workshops and by creating two short films the program funded. After a year long program, I was back to struggling to find work and kept producing music videos but not very much money was made. I did get to produce a music video for John Legend's brother under his label Homeschool Records, so that was pretty awesome. Soon after, I interviewed for the Unit Production Manager position of the feature film Filly Brown and got the job. But before I got the job, I was turned down, someone else with more experience was hired. I was extremely sadden but a couple of weeks after, I was called in and given the job since the UPM they initially hired pulled out last minute. Working on Filly Brown taught me a lot about producing features and gave me a new set of tools and expertise. The film premiered at Sundance in 2012 which opened up my world to more of the industry.
That year, I worked on a few productions as a Production Assistant but honestly was still struggling. 4-5 months after I got hired for a full-time job as a Production Coordinator for Maker Studios, the first and biggest digital platform in the world for YouTubers. About a year later, I moved up to be the Production & Crew Manager of the studio. That meant I managed all of the in-house studio operations, including the three stages and solely crewing up between 100-150 productions for the entire studio. I was also producing content for them, which had my plate more than full but I loved it, even if producing wasn't technically part of my job. It was a great experience but as the only Latina in production, there were a lot of challenges that pushed me to want more for my career. In 2015, I was presented with the opportunity to be part of a feature film titled SHINE that was already in pre-production and about to shoot in New York City. I had a couple of hours to decide if I wanted to take it on since the project needed a last minute Line Producer. It was a difficult decision because my job at Maker was how I sustained my kids, but after speaking to my parents and being encouraged by them to accept, I did.
The next morning I cleared my desk and quit my job, it was less than 24 hours from the offer and was getting on a plane that same night. I had about seven days before filming to put everything together and ended up becoming a producer as well as the UPM. Funny story, my job said I could come back after filming the movie which left me puzzled but I was indeed thankful. SHINE got theatrical distribution in 2018, screening in over 600 theaters nationwide (which is currently on Amazon Prime). Shortly after returning from the production of SHINE in 2015, I was back at Maker but was soon after, was offered the Production Manager position at PopSugar, the company's neighbor and competitor. I was not there very long and a year after I was offered another Production Manager position at Revolt TV where I was also the only Latina in production once again. I got to manage and produce on several music shows and fly all over the country to different Pop Culture events and conferences. During and in between all of these jobs, I have continued to produce short films, music videos, webisodes, branded content, including my second feature film, Flavor of Life shot in the Fall of 2016.
Currently, I am focused on developing a couple of features, growing my production company, Varona Productions and working on a couple of television/digital pilots. In addition, this year I officially launched Film Gals, a film group I created about five years ago, to support and showcase women in the industry working behind the camera. Through Film Gals, I have curated panels for the Panamanian Film Festival in Los Angeles for the past two years. The goal with Film Gals is to create work and sponsorship opportunities for women Cinematographers. Presently, I am in the process of creating a contest to award a team of women with a full cinema camera package so they can shoot a film of their choice.
We'd love to hear more about your work and what you are currently focused on. What else should we know?
I produce movies/digital content under my production company, Varona Productions and by bringing people together to tell a story. I truly love connecting with people and helping bring their vision to life. It's sorta like a puzzle for me, finding the right people for each project. I believe each project has a unique vibe that might not be fitting for everyone. That is why I take pride and joy in identifying each crew member in every department, not just above the line but also below the line. I greatly strive to set an affirmative workflow on all of my projects and a sense of community between everyone. It's highly important for me to keep a good vibe on set among all crew members and even during the pre-production phase. And of course, I have to also align with the script before I take a project on.
In addition to producing, I started directing for some clients and writing. I am hoping to expand on those skills and create my own original content for the digital and film space.
The inspiration for me I think is the satisfaction I feel when 1) we are on set and I get to see everyone working together in unison, watching the process, the cameras, and the actors creating their magic 2) when the film finally premieres and I get to see it on the big screen along with my whole team or in front of an audience. 3) knowing that I get to be part of projects that tackle social issues in which I feel strongly about.
What I hope people take away from what I do is that I am actively working on my mission of hiring women and minorities in non-traditional roles by ensuring that all of my sets have diverse talent, not only in front of the camera but mostly behind the camera.
What do you think about conditions for artists today? Has life become easier or harder for artists in recent years? What can cities like ours do to encourage and help art and artists thrive?
Since we are in a digital era, I think there are a lot of more opportunities for artist to create and to be seen. The internet is at our fingertips and therefore we can reach a wider audience. There are also a lot of new tools in every sector of the arts, whether that be for filmmakers, photographers, designers, painters, etc. We have so much more and perhaps some traditional outlets are fading away but with social media we can literally showcase anything we want whenever we want. However, by the same token, I think this can cause people to be overwhelmed, so I think it's important to have a clear plan about the direction you want head towards and how you plan to get there.
I think it would be great for our cities to make it easier for artist to showcase their work publicly and not overcharge for permits and to create exhibitions at no cost to underrepresented artist. As a community, we can simply share each others' work on social media and help each other with sources, making intro's with other creatives, etc.
Do you have any events or exhibitions coming up? Where would one go to see more of your work? How can people support you and your artwork?
www.sandravarona.com
They can support my work by watching my films and recommending to others if they enjoy them.
SHINE – on Amazon Prime
https://www.amazon.com/gp/video/detail/B085R9V8GV/ref=atv_dp_share_cu_r
Flavor of Life – on Amazon Prime
https://www.amazon.com/gp/video/detail/B07FYSD25X/ref=atv_dp_share_cu_r
Contact Info:
Image Credit:
Sandra Varona, Emmanuel Perez, Michelle Mitchell, Official Latino Short Film Festival
Suggest a story: VoyageLA is built on recommendations from the community; it's how we uncover hidden gems, so if you or someone you know deserves recognition please let us know here.