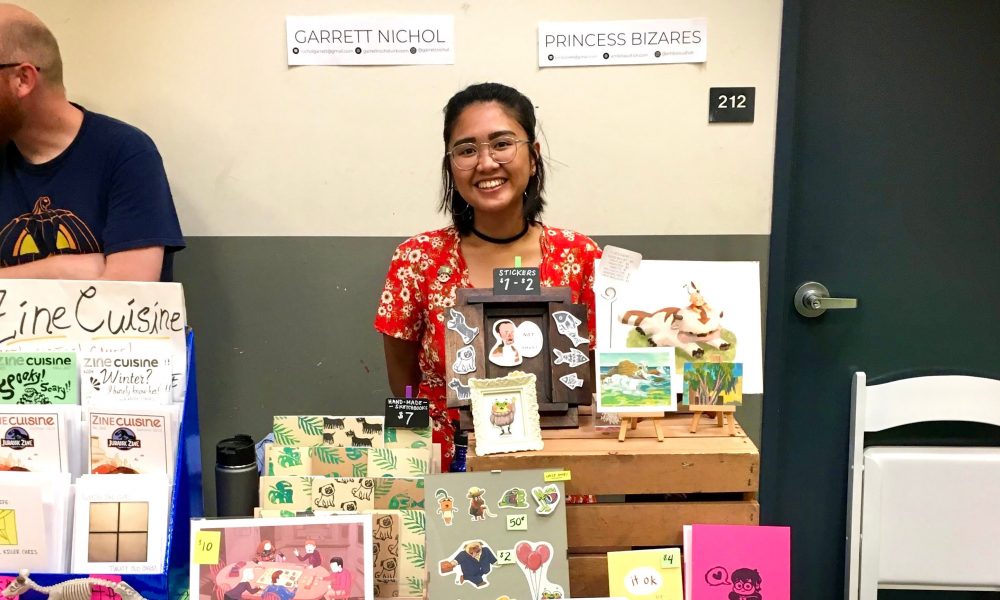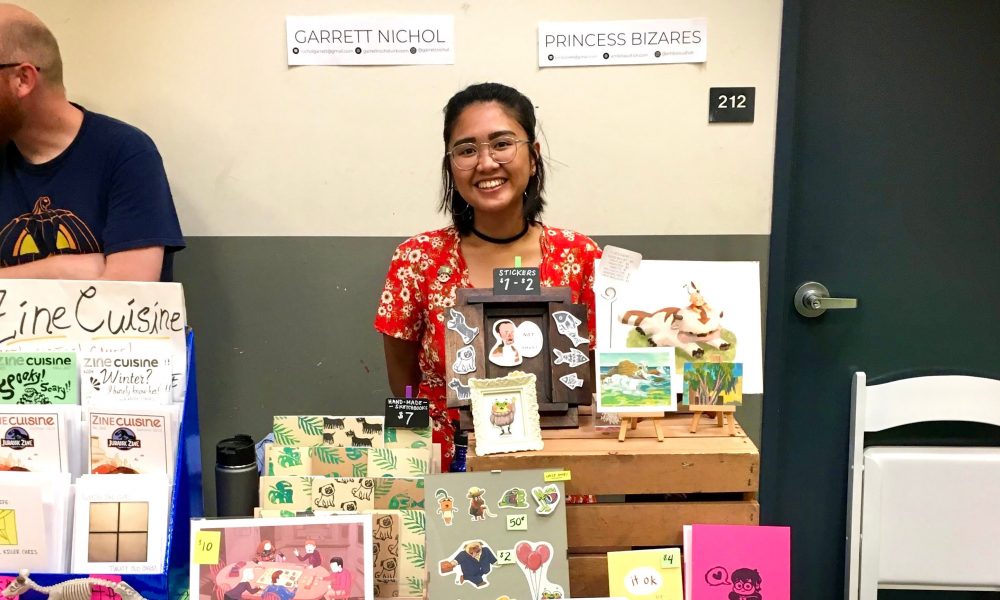 Today we'd like to introduce you to Princess Bizares.
Hi Princess, please kick things off for us with an introduction to yourself and your story.
When I was six years old, I distinctly remember this moment I was asked what I wanted to be when I grew up. With all the unbridled and unashamed gusto of a first-grader, I replied that I wanted to be an ARTIST. But life happens and flash forward to high school, I didn't want to admit that to myself anymore, especially growing up as a Filipino-American with immigrant parents that kind of really, not-so-subtly, wanted me to be a registered nurse. I was impressionable and insecure, and in general kept pretty quiet while I immersed myself in academia. I eventually graduated high school thinking that I wanted to pursue architecture at Cal Poly Pomona because it seemed like a good balance between something more "practical" yet artistic. Right before the fall semester started, I took an art class just for fun, and that's when I realized I wanted to get into animation instead. Architecture, who? When I was waitlisted for dorm placement at Cal Poly, I took it as a sign and made the sudden and unexpected decision to withdraw my acceptance and enroll into community college instead, two days before classes started. My parents were surprisingly okay with it!
I spent the next two years taking over 9 hours of figure drawing classes between school and the American Animation Institute in Burbank. Every Friday for the next year and a half, I took a train and two buses to get to my classes in Burbank and in that morning ride, I passed the Nickelodeon Animation building, hoping I would get to work there one day. Eventually, I made my way to Orange County where I studied illustration at Cal State Fullerton and became really involved in this amazing student organization called the Pencil Mileage Club. For the first time, I felt surrounded by people who pushed me to be better, encouraged me to be bolder, and created a safe space for me to grow and make connections with like-minded artists. For such a long time, I drew in a small corner by myself, but now at this school, I could draw in an even bigger corner in the company of my dearest friends! Two years in, I got a chance to interview for a production internship at Nick. Things were happening! Though I was nervous and a little scared, I thought I did really well and connected with everyone in the group who interviewed me—I made them laugh and I felt at ease! The vibe was great. But then…..I got rejected, lol. It happens a lot in the animation industry. But I kept going anyway and eventually landed an internship at Cartoon Network about a year and a half later. The crew was awesome and so kind but I! Was! So! Shy! And! Crippled by imposter syndrome. I tried to finish as strong as I could, however, and thankfully, I'm still in touch with a handful of those lovely crew members.
And then the summer after I graduated came and I landed another internship interview at Nick! Finally!! It was with the same crew two years prior, and I can honestly say that was the best interview I had ever done. I friggin killed it. I was rejected again. BUT! I got hired to work on an upcoming show as a Production Assistant instead, so it all worked out in the end. Two years in and I'm still a PA but have been working aggressively towards becoming a full-time background painter. 2020 has been tough in many ways, but I've been fortunate enough to freelance on a lot of upcoming shows at Nick, Cartoon Network, Warner Brothers, and Bento Box. I'm still taking rejection after rejection, but I'm learning to have thicker skin, to be a faster and cleaner artist, and to just keep moving forward. Hopeful for that full-time paint gig in the near future and manifesting it into the universe.
Would you say it's been a smooth road, and if not what are some of the biggest challenges you've faced along the way?
It definitely has not been a smooth road! In fact, I feel like every year gets a little tougher, but in a different way. Two years ago, my toughest obstacle was my imposter syndrome convincing me that I wasn't good enough to work even as a PA at Nick, but now that I've been pretty settled into my job for a while now, I feel good and confident! At the moment, the obstacle I'm facing is believing I'm good enough to transition into a career as a full-time background painter. I've been offered a handful of wonderful freelance opportunities this past year, but every chance I've gotten to test for a full-time position, unfortunately hasn't worked out. I had one interview and took eight art tests this past summer alone—every single one a rejection. There's been a lot of tears while painting and so much doubt, but I take a breath and keep going.
As you know, we're big fans of you and your work. For our readers who might not be as familiar what can you tell them about what you do?
For work, I do a lot of freelance background painting! I've also done some color designing here and there. For those who aren't familiar with the animation industry— A background painter is a production artist who, you guessed it, paints the backgrounds drawn by the background designer on the show. This includes wide shots, close-ups, color cards, and more! Their goal is to paint in the style and palette of the show while following the color supervisor and art director's notes. A color designer/stylist is a production artist who paints anything that moves in the show, including characters, props, and effects. Their job is super important because they need to make sure the characters are popping off of the backgrounds while staying within the palette of the show. Painting in animation can be demanding, but it's also a lot of fun considering that I'm getting paid to paint!
As for personal work, more recently, I've been painting a lot of pieces reflecting my Filipino culture and depicting different moments I had as a kid growing up in the Philippines. It's been an incredibly rewarding experience to research and sees images that have sparked long-forgotten memories and to talk to family members as they describe the huts and houses they lived in back home. At the moment, my work features everyday scenes in the Philippines. Although some moments might be as mundane and insignificant as an old woman sweeping some leaves in her front yard, I try to express as much emotion and story as I can through color and light. I also insert my own family members in my illustrations as a "thank you" for inspiring me. In fact, my grandparents are pictured in a lot of them. I hope that when people see my work, they're reminded of their own family members, their roots, and home in the Philippines. My dream is that Filipino people and BIPOC in general can see themselves represented in illustrations and in the arts. There is so much pride and inspiration, I feel whenever I see other Filipino creators represent our culture and interpret it in their own artwork. I hope every single person gets to experience that.
Aside from illustration, I also really enjoy plein air painting with oil and gouache, as it combines my love for the outdoors and painting. Though working outdoors can become challenging (when you're chasing the light before it changes and the wind knocks your equipment down, when you get sunburnt because you forget your sunscreen or umbrella, when you get sand and dirt everywhere, and bugs keep bothering you among other things), it is such a FUN and rewarding experience, especially when you're with friends. I remember some moments in my life much more vividly simply because I painted them and struggled, persevered, and then ended up with a painting (even if it might've been a bad one) to remind me of that time.
What has been the most important lesson you've learned along your journey?
The most important lesson I've learned in my journey is to ask for help and to be unafraid about asking. As an introverted and anxious person, I've always had a bit of trouble putting myself out there and asking for advice and direction, but for the past two years, I've found that a lot of opportunities I've been given were a result of me deciding to be brave in spite of my anxieties. I've also learned that you can ask for help from someone more than once and you don't have to feel guilty about it! I've had the great fortune to be mentored by some really great folks in animation.
Miguel Gonzales (@artofmiguel), who is currently art directing on The Casagrandes, is someone who has continually pushed me to be better, is straight-forward and honest with his feedback, and is also generous with his time critiquing my work in spite of all the other 10,000 tasks he's been assigned, all on top of being a dad. Hallie Lal (@hallie.eliz), who is currently background painting at Disney, is also a wonderful mentor and friend! Her encouragement and positivity have been my guiding light, especially when I've gotten lost and overwhelmed (which is kind of often, to be honest). She continues to help and direct me in my painting journey, even when she lives hundreds of miles away. Both artists have helped me grow so much as a painter! But they also helped me realize that there are people out there who are willing to stick with you and help you fulfill your goals and dreams.
Contact Info:
Image Credits
Princess Bizares, A. Bizares, Garrett Nichol, Stephanie Pecina
Suggest a Story:
 VoyageLA is built on recommendations from the community; it's how we uncover hidden gems, so if you or someone you know deserves recognition please let us know 
here.