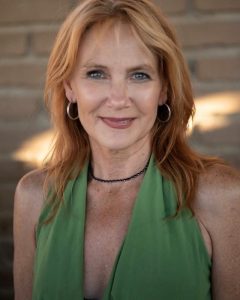 Today we'd like to introduce you to Wendy Adele Evered.
Hi Wendy, so excited to have you with us today. What can you tell us about your story?
To put it simply, I'm a creative unicorn. Music is the fuel that keeps me going. I'm primarily a union actress and I am getting back full-time to my acting career after focusing on kids & the family business (theatre & indie-films). I left my Philly agent and some lovely casting directors there, and I'm back to LA S.A.G. and starting to look for representation in LA again, (Hello, LA, it's been a while!) I, like everyone, have been through incredible changes and I do my best to keep 'the glass half full' and adapt to the changes.
I recently registered as a BMI singer/songwriter. Through the pandemic when I wasn't ZOOM auditioning, I did a deep dive into writing and recording my own music as a singer-songwriter in the realm of Americana-Indie-rock-folk-blues. Even when I am acting, I think musically, so for me it's all connected. (I'm also illustrating a children's book that I wrote for the 2-5 year old crowd. Encouraging literacy for young kids is a passion of mine. It has a Spring 2023 release if not sooner).
I am grateful for all the jobs I have had in my life, and I am excited about what's next. I like to work. The last director I worked with on a film described me as 'a multi-faceted Godsend. A people person'. I'm not sure about the 'god-send' part (ha!) but when I am on board a project, I am in 110% & ready to collaborate. After a couple theatre productions at the Hi- Desert Cultural Center in Joshua Tree, Howard Shangraw – (Director, coach – Los Angeles) said, "Wendy is a force of nature. She inspires everyone who is lucky enough to share the stage with her."
I love what I do and I am over-the-moon when I book a gig. I show up ready to work – to improvise, laugh or cry, and support an environment where everyone can fly their creative flags.
—I'm a versatile (chameleon-like) actress who trained in the theatre and by working with or watching masters of the craft. I have been compared in ways to a younger Joanne Woodward, or Geraldine Page; or Annette O'Toole, Sissy Spacek, Diane Lane even some
Lately I feel like a mix of Ann Margaret, Helen Mirren and Mr. Rodgers! go figure. I love comedy and can find it in the darkest of corners.
As a Vocalist I've been trained by years of singing – in school choirs, singing groups, a rock band and an Americana-Blues duo, and with a few coaches along the way. I was shaped as a serious performer by being a student of Dr. Bruce Rodgers. I showed up at 8am for four years to his Adelphian Concert Choir at the University of Puget Sound. He was a retired Marine and conducted with that same intensity and discipline. He really kicked our butts. You loved and almost feared him, but we created exquisite classical music- we even toured internationally- and learned a lot of life lessons. All of those disciplines carry over into my acting.
Then three years at the Yale School of Drama* collaborating and experimenting continued to show me what works for me in my work. (*YSD is now the David Geffen School of Drama).
I always knew I was supposed to be an actor, but in college we each did everything. I ran the costume shop for work-study, I directed, I designed, and acted in a ton of plays even took Sam Shepard's ANGEL CITY to the John F. Kennedy Center – playing 'Miss Scoons'. When it became time to graduate I did what most actors don't do—I applied to the Yale School of Drama Costume Design Master's Degree program (ha! Whut you ask?!). I didn't think I had to 'be one thing'- and I just wanted to make sure I could afford to pay my rent in NYC and I knew that every show would need a costume designer but wouldn't necessarily need 'a WENDY'-'my type' in their cast.
Plus, I'd be a bad waitress… ( "Are you sure you want to order that? Really? it's so fatty. Oh I see you went to OSU? Did you know Heidi & Jill the twins -who had the red hair?.." etc ha!).
At the YSD, we like to say we endured 'three years with no sleep'. Worked amongst incredible talent, I acted some 'on the side' at the 'Yale Cabaret'. A highlight was performing AGNUS ANGST from Jane Wagner's 'Search for Signs…..in the Universe' … and then meeting Lily Tomlin in Boston. I imitated her EDITH ANN as a kid. Life came full circle with that.. Imitating LILY and then getting her + feedback from the show. Life is so cool like that. There's s even more to THAT story involving my friend, LIZ BORDEN who at the time in the 90's had her punk rock Boston band 'Lizzie and the Axes' & she was thee PUNK that Lily & Jane based Agnus on. Crazy! Welcome to my life! ha!
I learned more life's lessons from my peers and from the professors who were global professionals. I graduated as a union costume designer—United Scenic Artists, Local 829, a member of the AFL- CIO. My first union job out of grad school was on the design team of GOODFELLAS. And that's where my work experiences really started to get interesting! Boy have I got stories! I designed off-off Broadway plays, an Off-Broadway Musical (Billy Boesky's FALLEN ANGEL about his dad, IVAN BOESKY), indie shorts & 2 feature films, and assisted on big Broadway shows, or huge car commercials, and some wonderful indie films with directors like John Styles, Anthony Minghella, and Terry Gilliam.
In between those jobs I'd go act in an off-off B'way play or a tri-state area commercial. I loved playing DARLENE in a non-equity production of IN THE BOOM BOOM ROOM at the Westbeth Theatre Center. I am still friends with Drew Militano -a fine NY Actor who played the Diner waiter who listened to my 20 minute monologue that opened the second act every night. Even then my Design life intertwined with my acting life. I had worked with Will Patton when I designed A PAINT JOB,,, and then he came to see me play DARLENE and we went out and & talked shop after my performance. Life is cool like that. Will was on the rise then and what a fine actor he continues to be.
BUT, one day I had an epiphany–I needed to ASAP to return to ONLY acting. I needed to move to LA – to stop designing and only ACT. I visited actor friends in LA , and I got a quick dog-sitting job covering for a an actress friend* who had a conflict — (*talented actress Zoey Zimmerman -Theatre Faculty at Crossroads School). I dog sat for Mary Vernieu, the casting director. She was an assistant at that time and was casting NIXON. Before I had even moved all my belongings to LA, I had had three auditions for the role of Trisha Nixon and was dancing the famous 'wedding dance' with Oliver Stone in his Santa Monica Office one Sunday Morning. Well, that certainly was unexpected. We had a lovely meeting together w Heidi Levitt, CD, there too of course — in the end, he cast another actress and then they brought me in to read for 'Journalist Leslie Stahl'. They kept trying! I wasn't cast in either role but the point is I knew I should move to LA.
I've been blessed with some really cool jobs working with fascinating fellow creatives, but I worked hard and still do. As they say, "the harder I work, the luckier I get'. I've done plenty of unimaginative bread & butter jobs which I call 'TTMR' jobs: do the work, then 'Take and Money and Run'. You hope that the next project will have a thought-provoking story. STORY is what it's all about. If you have a well-written, powerful story, the rest will fall into place.I believe that.
Then one day I went to Garry Marshall's (then called) The Falcon Theatre to see an array of scenes involving various playwrights and actors that I knew. I I ran into a drama school acquaintance (playwright) Charles Evered). 'To put it short', we got married, had two babies and together we created many projects on both coasts. Collaborators from start to finish on all the projects we did. I had /have an acting role in most of them but it all depended on 1. if we had babysitters or not and 2. if we lived in a motel or a house or were even in the same state.
Side note-fun fact: We had a small dinner with Gena Rowlands before a screening at UCR-Palm Desert. There were 8 of us
there, 2 were my little kids, and 2 were our respective husbands. I asked her advice for making indie-films while you're still parenting little kids. Gena got animated and adamant about the #1 thing to budget for their indie films was BABYSITTERS!!! I loved that! She was very serious about that.
On quite a few of our projects our kids were right there with us— either lugging cables or reading stage directions or in the film as extras. ADOPT A SAILOR (2008) kept me 'busy'. (For such a peripatetic life I was still essentially a stay-at-home mom who was able to simultaneously beef up her IMDB credits.)
Just as I had proofed most of Charles's script I was the first to read the original 20 min play of ADOPT in early 2002. Charles wrote ADOPT as part of the September 11, 2002 BRAVE NEW WORLD , NYC week of performances. I continued with the role of Patricia for many versions and adaptations up through the film we shot in 2007 in both southern California and in NYC on a U.S.N. Naval Carrier. Bebe Neuwirth played her in the film.ADOPT has a powerful story and has been seen all over the world. I am particularly proud of working on ADOPT. My kids are in it. I'm in it. Chuck wrote it. It became part of the fabric of my family's life.
I was grateful to also originate a few other roles in Evered plays (VISITING, TEN) and one specific comic cameo written for me – and added into the film
version of RUNNING FUNNY ( Directed by Anthony Grippa) These roles will always be special to me.
While Charles and I ended our marriage several years ago, those projects live on— some on the screen and some on the stage. I am secretly glad that neither of our kids chose to go into the Entertainment business!! They paid their dues and decided its not for them! It's a hard road to be sure and now we actors have even more challenges.
Before the Pandemic hit I was beginning to work bi-coastally, I had an agent in Philly and great relationships with casting directors. I had been raising kids between NJ and California— singing in a NJ rock cover band & an Americana/folk duo. So, in 2018, I moved back West for good — I am between the Coachella Valley and LA. I am still Mom! always seeking the right balance. I said goodbye to my agent & casting directors in Philadelphia and got back with the L.A. SAG local.
COMING BACK AROUND—2022 is an unpredictable doozy, but I find that in my work as well as in my life daily life, people circle back around and doors open. It's exciting. I love how work relationships are like the gifts that keep giving. I can't stress enough how important it is to always be professional and try to be someone who people look forward to working with. THOSE are the people I always hope to work with.
Alright, so let's dig a little deeper into the story – has it been an easy path overall and if not, what were the challenges you've had to overcome?
No it has not been easy! I can break that down into challenges of MIND, BODY, and SOUL. At the end of the day though, no matter how hard you may be struggling there is always, always a way out. Call that friend.
MIND
Before my feet could touch the pedals of the piano, I had learned to be self- sufficient & a creative thinker. I was a goofy happy kid. I watched all the comedians on TV and probably drove people crazy doing impressions. Then my parents got married and divorced seven times, and apparently, that's not normal….I figured that out eventually. All those changes sobered me right up. I threw myself into creativity-like ya do. I don't talk publicly about my darkest times — but I can say that I can closely identify with the 'Phoenix rising out of the ashes'.
BODY
The biggest challenge of my life was a medical challenge. The most important take-away from it was literally and figuratively, 'Don't Drive Off the Bridge'. Like I said, there is always a way out. Don't drive off the bridge. There is ALWAYS a way out.
I keep things private but I do talk about my medical challenge to inform others. I was a 'medical mystery' for three years before a pelvic floor Physical Therapist correctly diagnosed me in 2011. I'll tell you what she discovered! My obturator internus had a muscle spasm that was impinging on the right branch of my Pudendal Nerve! Not exactly a pulled hamstring!
Being a gymnast for years wreaked havoc later on my neuro- musculoskeletal system. Throw in a few other components and it was all quite devastating and life-changing. I still work every day on my balance and making my musculoskeletal system stronger. I became friends with the pain I've had and have gradually arrived at a good place with that.
And then ANGELA arrived. I was finally able to find positivity in it all by 2014 when I was created a comic character named 'ANGELA'. She's from Long Island and will talk to anyone about 'PFD' which is 'pelvic floor dysfunction'. She's a pretty funny woman and talks all about all things pelvic floor: 'pee, poo, sex, and babies' -topics that women & men & kids can often feel uncomfortable talking about. ANGELA educates people on the importance of the health & strength of your pelvic floor muscles. ANGELA was invited to speak as part of the UC-Riverside- (Palm Desert Campus) '2021 Womens' Health Series' .She was the opening act for speaker – Gynecologist Dr. Mikio Nihira, That was a first for me– 'ANGELA' opening for a Gynecologist!
On Getting Older… I'm no longer 30 years old, and that's cool. I have two kids in their twenties, and like every other actress, I've had to make my own peace with the aging process. I looked about 12 years old for a long time and tried in vain to look older, and now I do! I have laugh lines and crow's feet and like everyone, I shudder when the cellphone captures a closeup of all those chins! (isn't that the worst?!!). Plastic surgery is nuts to me. I understand the pressure though from our industry. I do face yoga and often at red traffic lights so if you catch me just pretend you don't know me. Or join me. I think the older we get, the sexier we become. At a certain age, you don't stand for BS anymore in your work and in your relationships and that is incredibly empowering and freeing – and you start to glow. There are many actresses who are great examples but for me, Helen Mirren and Audrey Hepburn are great role modesl for cultivating your beauty both inside and out. I've become friends with the new lines that emerge! I earned every damn one of them and I defintely want to keep making laugh lines.
So, the bottom line for me is: Hold on to the people who never left you when you struggled— the ones who will do face yoga with you and laugh about it and don't ever drive off the bridge there is always a way out.
SOUL
As you know, we're big fans of you and your work. For our readers who might not be as familiar what can you tell them about what you do?
This week I am zoom auditioning like the rest of us. Today, I got cast in a 2-hander, – its a powerful poignant short film titled, A LIFE UNEXAMINED written by Catherine Stanley. We're shooting it very soon. I didn't even have to audition for it. Thats always cool when that happens. I am crossing my fingers for a nice role in an cool indie feature. I do have a short film, 'You Are Now Beyond Hope, Arizona' collecting awards on the Film Festival circuit. In May, CAA selected it to be one of 12 films in their Moebius Film Festival, It's a powerful film about addiction, forgiving yourself, and redemption written & directed by Nick Dugan.
I am really excited to be preparing to release a bluesy, love song I wrote and perform. It's called TIL TUESDAY. It's about what you do to lovingly prepare to be home with your partner for a long weekend. You definitely don't want to be bothered TIL TUESDAY. I am blessed to know terrific musicians and sound engineers and the universe gave me a big wet kiss and helped me bring TIL TUESDAY to fruition. My website and my instagram bio will have the streaming info.
As I write this, June has come and gone, but every LGBTQ-Pride month I am always glad to share a short film I co-produced called OUT (2014). It's a sweet comedy about a 50 yr old man living with his mother who finally comes out to her as they are being evicted – kicked out of their home. 'OUT' will always be important to me because it's about gay rights and because it was another family project. My former partner wrote it and directed it, and I found the leading lady. I KNEW GLORIA LeROY- (All in the Family) had to play this role. I had acted with her at the Zephyr Theatre in 1996 in the West Coast Premier of Horton Foote's LAURA DENNIS. I got obsessed and found her semi-retired in North Hollywood. She was thrilled to play the part which ended up being the last role she ever played. Again…and speaking of LAURA DENNIS – my cast member Dale Dickey is opening a beautiful film in August 2022 called, A LOVE SONG (Bleeker Street Films). My cast of LAURA DENNIS have all re-united in supporting Dale's new film.Go see it!!. So yes, II ove how work relationships come back around. For a super fun watch, here is the link to the short film to see GLORIA and some hilarious actors in
OUT: https://vimeo.com/82467979
ABOUT BEING BACK IN LA: By the beginning of the pandemic, I had moved back West to live between the desert and L.A. I have memories all over this town and family history too. My grandparents had their first date driving up to Mulholland Drive in 1925!! I wrote a song about it called 'But the Stars are Free'. My dad proposed to my mom on a bench on Glendale Blvd, and despite all their following marriages, it's still a super sweet thing to think about when I drive past that street! I've lived in a few parts of town, and I have auditioned and worked in locations in most parts of town and all times of day & night, and I'm ready to continue this chapter of my life.
The most unique place I lived in LA, was a tiny, rustic (and cheap!) bungalow just down the way from the Hollywood reservoir. I walked laps there often and would always run into some familiar tv or film face. I do love that about LA—not in a star-struck way, but in interacting casually —off the set -human way.
A favourite encounter was talking to Robert DuVall about cheese at the Deli-counter at a Gelsons! Ha that was definitely memorable. He has been an actor whose subtle strength has always inspired me and he was as modest and polite as you might imagine.
My most memorable place was living in a bungalow catty-corner from Bob & Dolores Hope – which meant next door to his hired help! How often do you have Bob Hope ask to hold your baby in your front yard?! or have Dick Van Dyke bump into your baby's stroller in PATY'S diner down the street.
My two babies are almost 'all grown up now' and I am back to auditioning, I still work side-jobs, and when all the stars align, I book a job.
I am enjoying transitioning back into L.A. Sadly some people I used to work with have left the business or even passed away.
Sigh. Life goes on.
In many ways, I feel like I am starting all over as an actress in L.A,. only this time I have years of experience under my belt and different strength and fortitude that being a mom & overcoming a huge medical challenge has given me. I threw myself into raising my kids while running many households and collaborating with my kids' dad. I'm really enjoying this chapter!
I am focusing now more on film and television; however, I LOVE doing
theatre and as I said, I grew up making crowns out of chicken bones in theatre from the East Village, NYC to Burbank to Seattle. I love the mediums and I think I adapt well to each one.
What has been the most important lesson you've learned along your journey?
Celebrate your gifts. Do it and don't be shy about it. They are YOUR UNIQUE skills.
It took me a long time to realize that I have a bit of an unusual 'skill set'. I thought everyone did what I did. It's only in the last couple of years after raising my kids and all that I am finally bringing all my skills together to fine- tune my craft. It's exciting. I can be a wildly creative artist but I also have a practical, down-to-earth work ethic that's crucial especially now that we've all been forced to adapt to so much technically to be able to do our creative work.
I like to think I embody that Gustave Flaubert quote: "Be regular and orderly in your life, so that you may be violent and original in your work…". I aspire to anyway….
Stay the course — and watch & work with the best.
There will always be people who discourage you from going after the career and jobs you want. Ignore them- just pay attention to your goals and the Masters around you. I found that working with older professionals– actors, writers and directors –has been the best education I could get. It definitely keeps you humble to talk shop with an actor with 50 years of experience.
Whatever your passion is, stay the course.
Contact Info: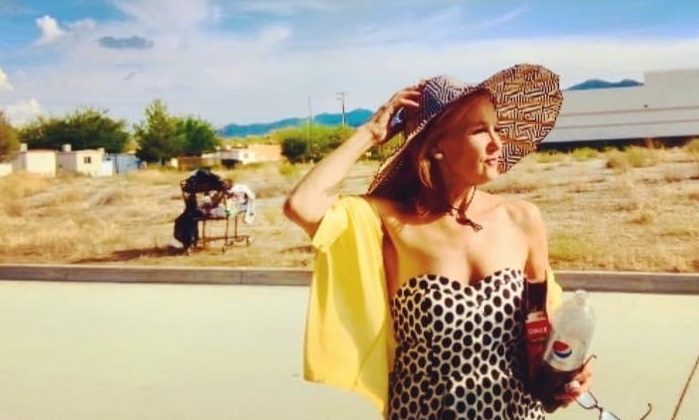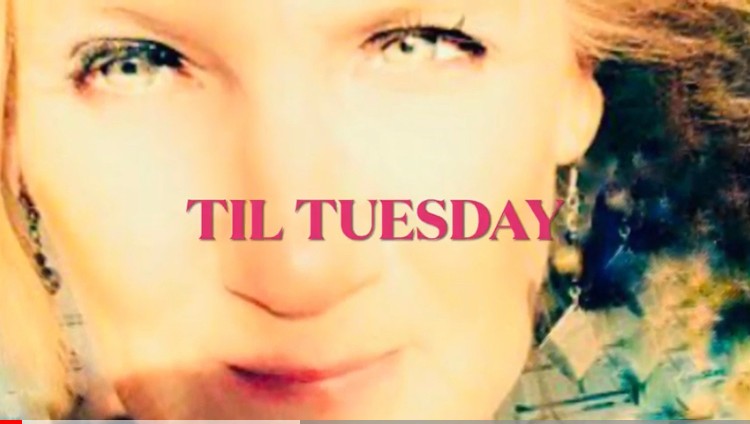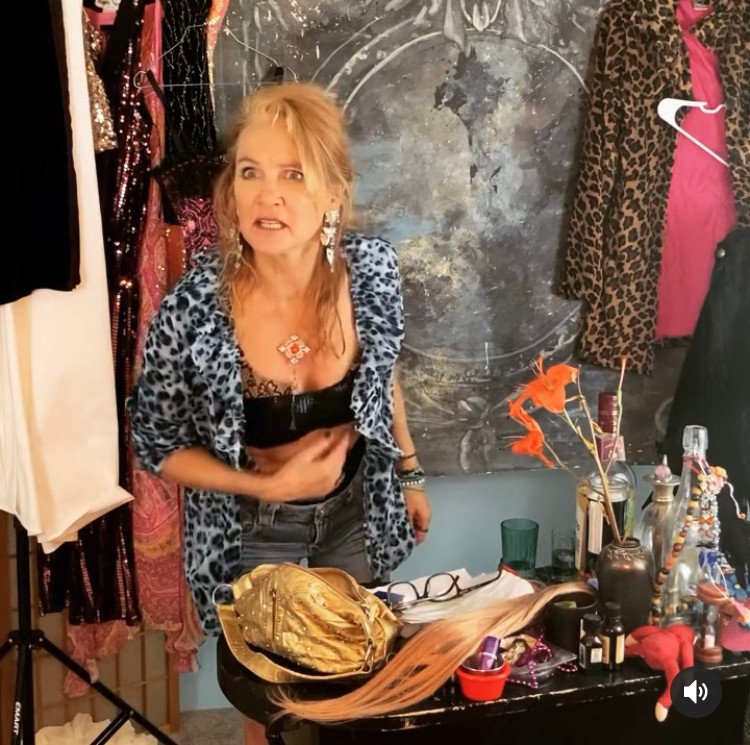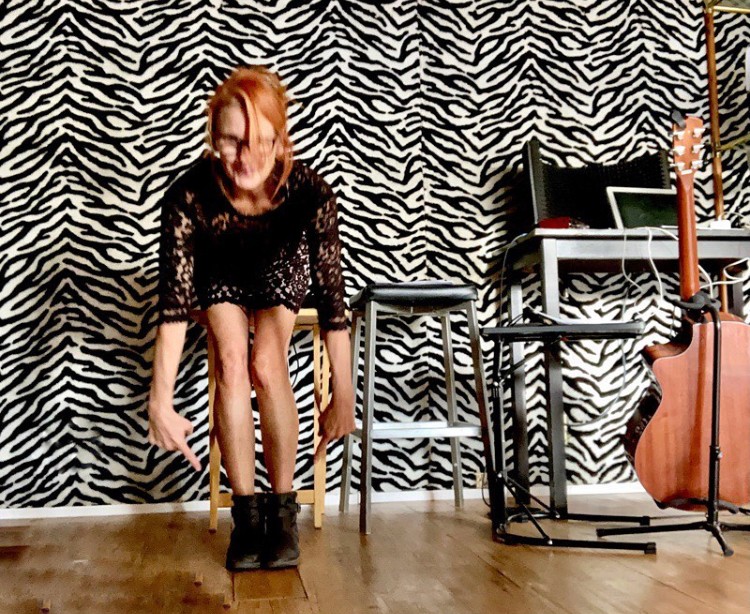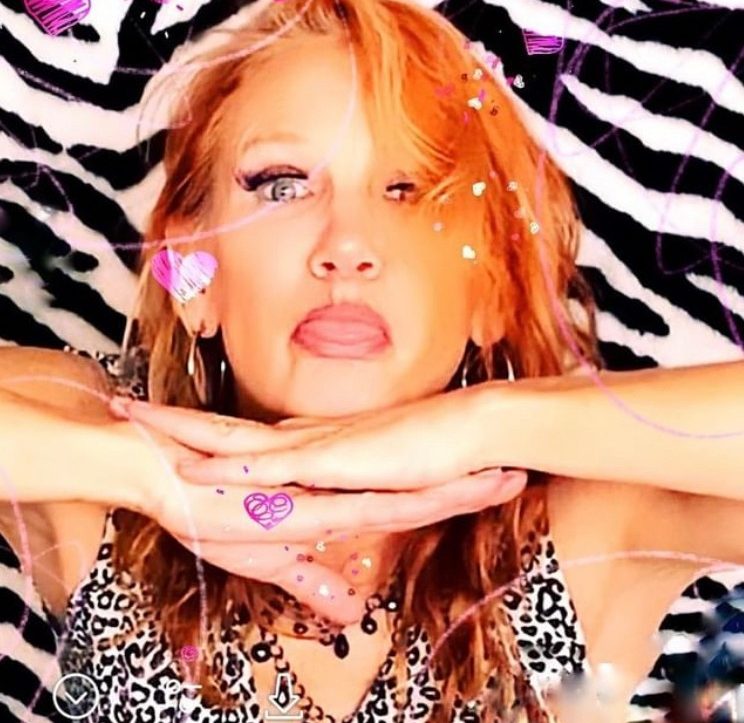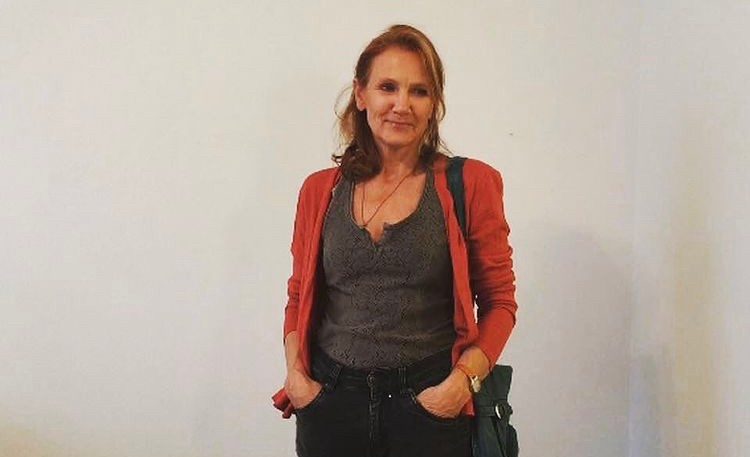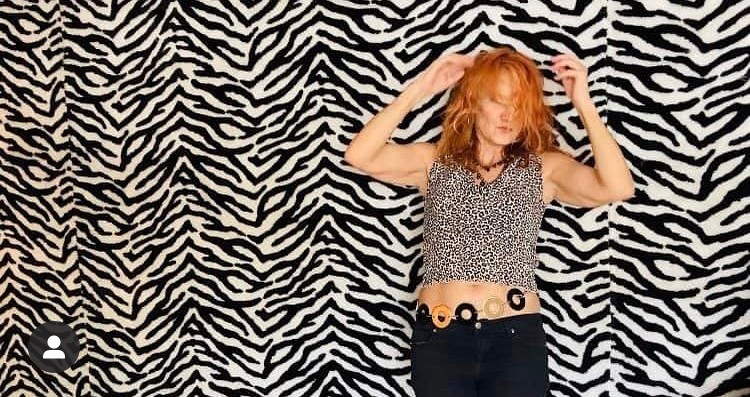 Image Credits
PHOTO CREDITS: Personal photo by @irockphotos Wendy in black dress at tree and 'Wendy Wearing her Guitar' – both by @irockphotos I have clearance for any use. Wake up America — by @Mark Keefer Photography. I have clearance for any use. In Recording Booth. – by @Liz Borden photography. I have clearance for any use. Sitting playing guitar in rust dress photo by @Jeff Taylor ALT-ROOT magazine, I have clearance for any use The rest are tripod screenshots and shots by Me, Wendy Adele Ev.
Suggest a Story:
 VoyageLA is built on recommendations from the community; it's how we uncover hidden gems, so if you or someone you know deserves recognition please let us know 
here.