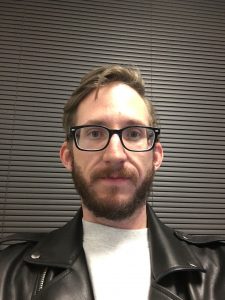 Today we'd like to introduce you to Tom Riffel.
Hi Tom, so excited to have you on the platform. So before we get into questions about your work-life, maybe you can bring our readers up to speed on your story and how you got to where you are today?
I decided to work in animation when I was already in my 20s.
Growing up, I loved cartoons. Like, a lot. Even up through high school, if a show was not animated, I was usually not interested. I also drew a lot. I would draw on anything I could get my hands on. Most of my homework assignments were covered in drawings. One time, I drew on the hallway floor of my high school with a sharpie. I got in trouble for it.
But unlike a lot of people in the animation industry, I did not consider animation as a career when I younger. As a child, I wanted to be a paleontologist or a marine biologist. I wanted to build a robot. I wanted to invent an immortality potion. You know, very grounded and realistic stuff. But animation? No way, that was crazy talk.
I went to college in South Florida but had no idea what to study. I ended up pursuing a degree in film and video studies, and after a year of not doing anything with it, I went back to school (this time in Chicago) to study animation. Years of studying film had made me uptight and pretentious about art, and I swore to never animate using anything but pencil and paper. Shortly after graduating, I got my first job as a Flash animator.
After a few years of working in Chicago, necessity made me move out to Los Angeles, and after a five months of applying to everything I could, I got my first job animating segments for the Nickelodeon game show Brain Surge. It was an amazing first job in LA! Since then, I have worked at studios such as Cartoon Network, Hot House Productions, Shadow Machine, and currently, Bento Box. I have worked as an animator, animation director, storyboard artist, and retake director. I love how it's never just the same old thing, I love how every show, every production is different. It's exciting to learn and adapt to the different nuances of every show.
Can you talk to us a bit about the challenges and lessons you've learned along the way. Looking back would you say it's been easy or smooth in retrospect?
I would say it has been mostly smooth. There have definitely been challenges though. Not really setting my sights on a career in animation until I was in my early 20s definitely made things a little more difficult in the beginning. Though I took art classes all through school, I never focused on anything in particular. I feel like if I had had my goal in mind from an earlier age, I could have curated my education better and honed my skills sooner rather than later. I could have found a community of like-minded people to help grow as an artist.
The first few years of my career were also pretty shaky, as there simply wasn't that much opportunity in Chicago. I got one year of studio experience at a small startup called Digital Funtown, but once that ended, all I could really find was infrequent freelance cleanup work on commercials or personal projects that paid very little. I spent about a year or so doing data entry / QC in addition to any animation work I could dig up. It was tough and ultimately lead me to pack up and move out to Los Angeles. I was hesitant because I loved living in Chicago, but you gotta do what you gotta do.
Moving out here was like starting over. I didn't have much of a network, and I'm pretty shy, so even trying to meet other people in animation was difficult. I spent months just in my apartment applying to anything I could and not getting anything. That Christmas, I booked a one way ticket to Florida. I didn't want to come back to LA. I wanted to give up. It was a low point mentally. But I kept looking and applying and finally got a test that ultimately led to my first LA job!
Since then, there have been challenges for sure, the same challenges we all face in this industry. Rejection, ghosting, burnout. But things are definitely smoother and easier now than they were ten years ago. I am very glad that didn't give up, even though I badly wanted to.
Appreciate you sharing that. What else should we know about what you do?
As mentioned earlier, most of my career has been on the animation side of things. I love that aspect of the process, taking what the board artists, writers, and designers have made and making it move. Currently, I am working as a retake director. It's a really nice mix of many different roles. I get to animate and storyboard, as well as work with designers to create new designs that might be needed. I also get to work closely with the animation supervisor to manage and guide a small team of inhouse animators. Working with inhouse animators is something I value very much, and I am glad to get the opportunity to do so in this role. Everyday is different, and I love that. Also meetings. Call me crazy, but I actually like meetings and I have a ton of them. Especially now during Covid when everyone is working from home, any excuse to jump on a video call is good for me!
Outside of work or school, I have usually done something creative on the side. While I was in college, for example, I did a webcomic. It never really gained traction, but I enjoyed doing it, and I used it as a way of just trying out different ideas. If something piqued my interest, I would try to make a story about it. Looking back now, it's horribly embarrassing but I loved doing it.
In 2012, a few of the artists I was working with and I started a Youtube channel called Toonocracy. It was meant to be an outlet where we could make our own shows and just have fun without having to answer to anyone. I did a show called Sausage School (and a sequel, Super Sausage School), which was about three hot dogs in a frat. I kept it very simple. They didn't have arms or legs and almost always sat around a table. The show is obviously influenced by things like Aqua Teen Hunger Force, where not much is happening, but the dialog is funny. Sausage School was pretty universally hated by the animation connoisseurs in the Youtube comments. That's ok though, I still think it's funny. Fun fact: I ran a very successful Kickstarter campaign for the show where I raised 400% of the initial goal. Sure, that goal was 20 bucks, but hey, 400% is pretty impressive.
It's very important to me that I make the things I want to make for myself. Sure, it might be hot dogs telling dumb jokes but it makes me laugh. Creative fulfillment comes from creating the art that you want to make, not making what other people want you to make.
Currently, I have been working on a pitch with a good friend. We had a few ideas previously but they always seemed to write themselves into a corner. This time around though, the idea is flowing so naturally and organically. It's just so much fun to throw ideas out and have them seemingly come to life on their own. I am very excited about this!
How do you think about luck?
This is a hard question! I feel like the good things that have happened have come from putting the work in and that the bad things that happened have simply been out of my control. I usually don't consider things happening as lucky or unlucky.
*adjusts glasses* I once found an entire set of the Urusei Yatsura manga on Etsy for like 100 bucks. I guess that was pretty lucky.
Contact Info:
Suggest a Story:
 VoyageLA is built on recommendations from the community; it's how we uncover hidden gems, so if you or someone you know deserves recognition please let us know 
here.