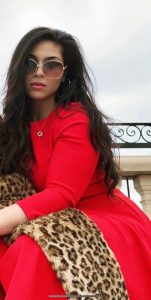 Today we'd like to introduce you to Tara Danielle Dervin.
Hi Tara Danielle, please kick things off for us with an introduction to yourself and your story.
I live by love and for peace. It's my greatest purpose. I use the arts to unite – I view it as divine dance through life as a hopeful romantic…I have sat here for what feels like months…hands glued to keyboard, face illuminated by my computer screen, as my mind, body, and soul ponder how I can possibly answer this pivotal question. Well of course, I can give a brief response wrapped in a nice fluffy pink bow which would fulfill the task at hand…it's just…I cannot help but wonder, can my message here encompass it all? Thank you for this question VoyageLA, because it reminds me of a lifetime of work I must CONTINUE do to tell "my story" through all mediums of art. In short, I am an actress, producer, writer, director, activist, lover, teacher, friend, daughter, sister…..I believe each of us are unlimited in our potential to wear many hats, achieve every goal we have and allow each obstacle in our way to push us further toward helping the world. Most of all, I am a human being who has had ups and downs in this life as perhaps you, reading it right now can connect with. And the trials and triumphs of my experience, the pain and beauty I see in the world, are what inspire me to make movies, plays, and art of every sort which can help promote love and connection in the world. I want to see Hollywood completely change for the better and I want to be a part of it. That's why I keep going in this crazy biz. For positive change. For peace. For love.
Alright, so let's dig a little deeper into the story – has it been an easy path overall and if not, what were the challenges you've had to overcome?
Haha! I did not know this was the next question…but yes if you are still reading along at this point, you know darlings. Listen, life is not without struggle. Any decent storyline has struggled. Even think of the most basic children's book- there is a CONFLICT that the main character must overcome in order to SUCCEED-that is the arc of a story… rising action… climax… falling action… resolution. I suppose in regards to my life, and especially being a part of the entertainment world my greatest struggle is myself. Like many out there, I have dealt with anxiety…I actually thought at one point that I would not be able to graduate USC because I was so overwhelmed. The entertainment world can be inundated with pressures but I want every person reading this to know that if you want something badly enough, you can achieve it. Despite all odds, I graduated USC School of Dramatic Arts and Cinematic Arts with honors in 2019. I think in regards to COVID and many of the major challenges facing our world-struggle is what fuels me and gives me empathy for others. It is why I wish to always be a part of charities, volunteering, and giving back especially to youth and underprivileged communities of society-who deserve care more than anyone. Whatever your challenge is-I believe in you. And God knows your worth. God loves you and will help you get through anything. Drown out all the noise, and trust GOD. Trust. Everything will work out.
As you know, we're big fans of you and your work. For our readers who might not be as familiar what can you tell them about what you do?
I am CEO of Baruch HaShem Productions (BHP for short), check me out of Instagram… but here's the thing-I do it all and so can you! Who are you playing small for? I'm playing small for no one but giving my all for the One Above. I refuse to limit myself to any one title or job in life. That's why I'm an artist-to create my own reality every day. Diversity Diversity Diversity. It's funny I had a professor in college once who DEMANDED I "choose" one area of work…he and I didn't get along so well…because I said, "I refuse to limit myself. I am all of it. We are all of it. I should not have to exclusively be a producer or actress or director etc. etc. it all intertwines with each other-you see I have such a vast appreciation for these art forms that-like with anything we love- I wish to immerse myself in every aspect of it, to study it, to love it, to be a part of the PROCESS of it. I did not realize as a young child how important every role in moviemaking, or television, or theatre is…because I was always exclusively focused on the performing component of it. As I have grown-my specialties have actually grown because I now wish to see it from all angles-to be a part of the action whether I am the one saying "action" or honoring the person who is directing me and listening. Sometimes in life, we speak and other times we listen, it's not that we cannot play both parts-it's just that we must know the time and place to do it all. To that teacher who tried to limit me, I hope you read this article now and never say that to another student. We are all unlimited. Even you reading this right now. I'm known for going against the grain and having a big heart. I want to make content which unites. I love God; I love Peace. I believe we are all more alike than different. Stay tuned.
I am currently producing and directing an original play about self love called "DATING MYSELF" with Colleen Dunn Saftler here in Los Angeles, CA. (If you'd like to help fund it, I will shamelessly plug here please contact me via IG @tara_danielle_dervin) This is what it all comes down to. All the dreams we seek externally start within. And we hope to help heal the entertainment world and beyond promoting emphasis of self growth and confidence from the inside out!
The hardest role to play is ourselves…
We'd be interested to hear your thoughts on luck and what role, if any, you feel it's played for you?
Cue "Luck Be a Lady Tonight" sung smoothly by Sinatra. ֿOh my…what role does luck play in life? It's a gamble really…..HA. So I never liked casinos. I mean sure, I went through my phase of liking to dress up and sit at the restaurant there and people watch-(I love people watching) but I'll use this area to explain to you why I think Las Vegas Strip is one of the saddest places I've ever seen. "But Tara Las Vegas is a happy place" you may think to yourself! Ah yes, on the surface-the glitz, the glamor, the seductiveness of sin surrounding-but underneath the golden exterior lies a wounded child searching for validation, searching for love, a culture of hope at one strike of good luck to change your life at a slot machine. People will throw away life savings at the mere thought of potential luck. Here's what I think about that. Put in the work, don't bank on luck. There is of course an element of being in the right place at the right time with my biz and all I guess-but I believe more in fate. I believe in God's Plan -so I have seen that when I take initiative and do my part, God comes through and guides me-opportunities come to me and it can be masked as luck but I know that is not it. Opportunity meets preparedness-that's the way I have learned to roll. But I feel like a pretty lucky woman to know great people in life. Just to be alive.
Contact Info:
Instagram: @tara_danielle_dervin
Suggest a Story:
 VoyageLA is built on recommendations from the community; it's how we uncover hidden gems, so if you or someone you know deserves recognition please let us know 
here.