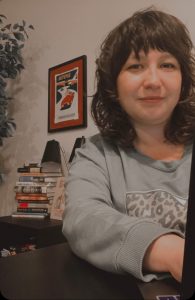 Today we'd like to introduce you to Sydney Smith.
Hi Sydney, so excited to have you on the platform. So before we get into questions about your work-life, maybe you can bring our readers up to speed on your story and how you got to where you are today?
My whole life I felt that a career in television was my calling. I grew up an only child in a chaotic home of adults who ran their own businesses. Some of my fondest memories were of watching TV because it was the only time things slowed down at home. I wanted to make my dad laugh the way he laughed at SNL!
Being a kid from Saskatoon, Saskatchewan, a mid-sized college city in the Canadian prairies, "a career in TV" meant getting a gig on the local news station and that's about it. I always wanted to be creative and tell the stories of my crazy family, but I didn't even know where to begin.
After high school, I took Creative Writing and English Literature in college in Montreal, then I moved back to Saskatoon to help take care of my grandmother. I did everything creative that I could touch and I became a bit of a name around town. I hosted live events, filmed tv commercials and short-form documentaries, produced award shows and conferences, hosted a radio show, and played in a band… and yet, it just wasn't for me. I still wasn't feeling creatively satisfied despite a great career and a multitude of successful projects under my belt.
I had always been obsessed with the comedy scene in Los Angeles; stand-up comedians, improvisors and the people who create TV. Any time I traveled to LA over the years, I attended shows at places like The Satellite and the Upright Citizen's Brigade theater to soak up as much of the scene as possible. Every show I went to I realized more and more… these are my people.
In 2016, I attended a show at Largo in Los Angeles and Bob Odenkirk was there. I ended up speaking to him for about 20 minutes, and the conversation totally changed my life. He was supportive and said something to the effect that I should go for my dreams of moving to LA because I have good comedic timing. This could be something he says to all his fans, but for whatever reason, it was what I needed to hear to pick up and leave my old life behind.
When I moved to LA in 2019, I attended the Screenwriting: Film and TV Comprehensive at UCLA Extension. While in school I also went to comedy shows where I met other comics and started going to open mics and getting billed on shows. After I got a bit more comfortable on stage and managed to get through sets without puking, I started to attend improv classes and participating in open jams at UCB.
Then the pandemic hit. This new life I was building got completely uprooted, and this time not by choice! I couldn't do stand-up or improv, in person classes, or go see my grandma in Canada.
But it ended up being the best thing that ever happened to me, as I finally had time to write without all the distractions. If I wouldn't have taken the time to work on my craft, I would not have had scripts that were strong enough to use as samples to get signed and to get work.
Since Hollywood was shut down when I finished my certificate and I couldn't get an on-set job, I started my own business creating pitch decks and doing script consultation. It turns out my experience doing freelance writing and graphic design in Canada came in very handy. My clients are a diverse group of creators and I've consulted on all types of projects, from sci-fi dramas to horror features, sitcoms, docs, podcasts and unscripted TV. It has been a phenomenal way to meet fellow creators and help them get their project from concept to fully-realized.
Alright, so let's dig a little deeper into the story – has it been an easy path overall and if not, what were the challenges you've had to overcome?
The toughest thing for me when I moved was being away from my grandma. Not only did I help care for her and advocate on her behalf, but we were also very close friends. It was hard enough to move away with plans to visit frequently, but I never would have imagined a global pandemic would keep us from seeing each other for two years.
I'm currently working on pitching a series about her life in the 1970s when she was running a groundbreaking new discotheque in the middle of Canada called "Fast Freddie's."
I was finally able to reunite with my grandma this holiday season, and it was magical! At 94, she still tells lively and animated stories about her disco days and beyond.
Going back to school and starting anew as someone who no longer has the energy of being in my 20s was a challenge, but I never looked back on walking away from my established career to live in the city where I was meant to be.
I've learned that previous experience matters, but you have to take the time to learn the craft and understand that the way it's done in LA is different than anywhere else. You have to take time to get to know the culture and the pace of the industry. This city provides you with the chance to learn about yourself too, so you have to be open to feedback, but also to stay true to yourself and listen to your gut. It's a tough balance.
Also, real talk: one of the hardest obstacles for me to overcome was the fact even though I'm outwardly outgoing, deep down I'm extremely shy. I've found so far that the best way to overcome the nervousness/shyness is to tap into my people-pleasing roots. If I need to do something for someone else, I can suddenly muster up the courage. For example, with stand up, I think: "this audience needs to laugh, I can't leave them bored"; with producing; "the talent needs to feel comfortable so they can focus on performing;" with improv: "I can't leave my scene partner hanging so I have to deliver," it was the same when I hosted events or spoke at conferences: "The organizer has asked me to speak at this, so I can't let them down."
Once I finally did make it into the writer's room, I was of course intimidated and terrified, but it was in an exciting way. Everyone was really supportive and encouraging… way more than I ever would have imagined! While I haven't gone full crystal-powered west coast flake just yet, I truly believe that the energy you put out there is what will come back to you. In LA, it seems there's a congregation of like-minded people. People who put their heads down and work hard to achieve their goals. Is it a coincidence that the vast majority of the people I see eye to eye with live in the valley? I don't think so.
Thanks – so what else should our readers know about your work and what you're currently focused on?
I am a writer/producer. I'm working on developing two TV series, Fast Freddie's, the comedy series about my grandma's disco of the same name, as well as a workplace sitcom about a re-entry program and a true crime podcast.
When I returned to Canada to see my grandmother for the holidays, I was a guest on CBC Radio (Canada's NPR) to discuss my disco series, which resulted in several people who had worked or performed at the original reaching out to share memories, artifacts and memorabilia. It's been an amazing experience! When this happened, my grandmother suggested that we put together a website for people to share their memories of Fast Freddie's, which we are now actively working on and so far, it's been extremely popular. It's also proof that you can take on a new career whenever you want. My grandmother retired in her late 80s and always felt it was too soon. Now at 94, she's eager to come out of retirement so she can start developing a tv series.
I also work on the game show You Bet Your Life with Jay Leno. I adore working in live TV. Although it was the first TV show I have worked on in LA, I found the transition to be fairly smooth based on having a background writing speeches, producing live events like award shows and conferences and shoots like commercials and documentaries. This experience helped me get the feel of live TV. Working with talent is strikingly similar to working with politicians and CEOs, it's just the duties are much more fun.
Who else deserves credit in your story?
The head of development at the production company where I interned, then later worked at, was extremely helpful to me. She knew I wanted to be a writer and producer, so she introduced me to a colleague of hers who is a writer and producer on multiple comedy and dramatic sci-fi and horror series and features. When I first spoke with her on the phone, I was nervous because I didn't think I had much to offer. But she coached me on how to present myself and offered to read my work. She saw the most raw versions of my projects and put in a lot of effort to make them better! In addition to being a close and dear friend, she has been the greatest mentor I could ask for. We have similar sensibilities and I trust her advice. I feel I'm able to learn from her just through regular conversations and she's supported and guided me through situations that were tough. Her advice that has stuck with me the most is to keep your eye on the prize.
America is known as the land of opportunity for a reason; if people like you, opportunity will come. But you have to train yourself to stay focused on your goals. Doing stand-up and improv were lots of fun and I developed skills and friendships, but they weren't getting me writing and producing work on a TV show, which is what I always wanted. So I had to pivot a few times to get there. And after I got there, I realized it was totally worth it to keep my eye on the prize.
I was very fortunate to meet many wonderful people at UCLA extension, from up and comers to established industry folks, people were very supportive and encouraging and I've made many friendships with people not just from LA but from all over the world.
When I started my business, I posted on a Facebook screenwriting group to introduce myself and my pitch deck and script consulting services. A producer from one of today's most popular comedy TV shows replied and we became friends. He has been instrumental in my development since he even introduced me to his manager and now I do pitch deck work for several of her clients.
When it came time for me to get signed, I reached out to that manager to get her to read my script first, as I already knew and really liked her, and we had already established an excellent working relationship. Even though I had been in touch with some bigger literary agencies, I chose hers because I trust her, and their whole team is amazing; the agency focuses on diversity and equity in who they represent, which is important to me and they work hard to make sure you don't just feel like a number.
I feel like it's fate that I ended up working on You Bet Your Life. Growing up, my favorite show was The Larry Sanders show. I loved The Tonight Show and I was simply fascinated by learning about how a tv show was made. I was also a big game show fan, and since You Bet Your Life is a reboot of a 1950s Groucho Marx show but it's hosted by Jay Leno, the staff is a great blend of game show and late night veterans. They have all been incredibly supportive and kind to me; getting the opportunity to learn alongside them has already been beyond my wildest expectations for moving to Los Angeles.
I cannot express enough the value of following your dreams. The worst that happens is it doesn't work out, but you'll learn so much about yourself and the world along the way.
Contact Info:
Suggest a Story:
 VoyageLA is built on recommendations from the community; it's how we uncover hidden gems, so if you or someone you know deserves recognition please let us know 
here.