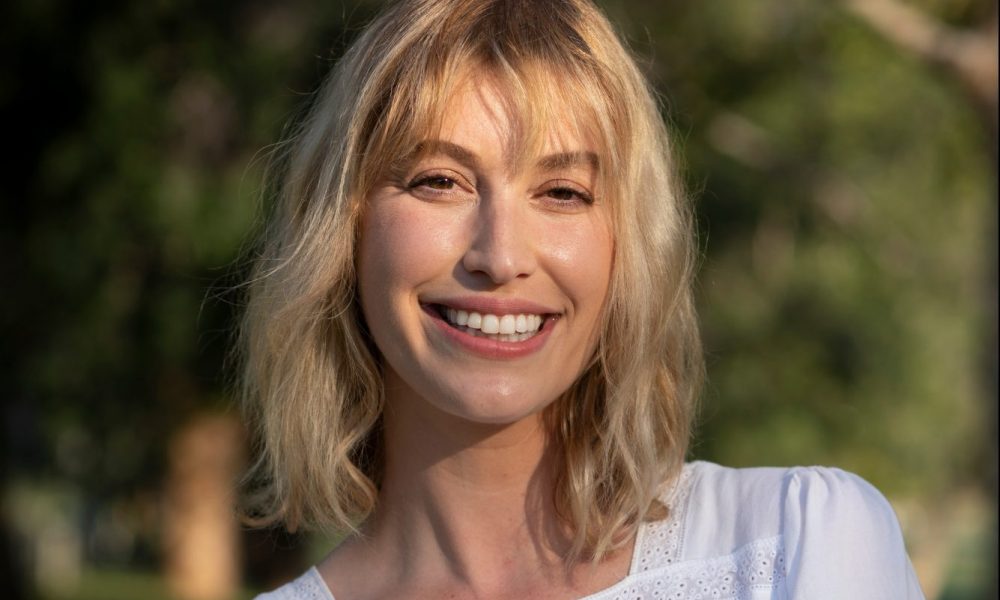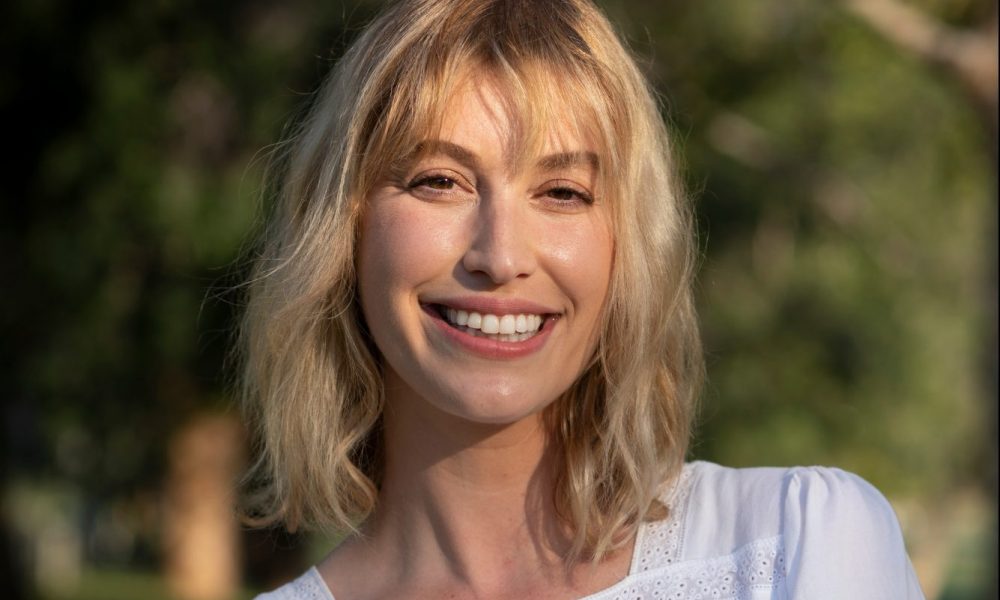 Today we'd like to introduce you to Sarah Uslan.
Sarah, we appreciate you taking the time to share your story with us today. Where does your story begin?
Growing up, I was always interested in Fashion and would plead with my parents for Fashion magazines and books and would especially covet the thick international magazines that would highlight couture runway shows of that year or season. I remember staring at every detail of the makeup from the shows & editorials and looking for the Makeup Artist's credit to see who was the master behind the images. I was absorbing it all and so inspired by what I was looking at. From Francois Nars, Dick Page, Kevyn Aucoin, Mary Greenwell to Pat McGrath and Val Garland, I just soaked in all of that creative genius.
Throughout my high school years at boarding school, we would play dress up and I would plead with my friends to let me do their makeup. I relied heavily on a mix of drug store's best and my prized possession…. A Trish McEvoy binder-style makeup kit where I could create personalized palettes of eye shadows.
It seemed like all my friends were going to University for serious careers like Law, Chemistry, or Business, and so as much as I loved Art and Fashion, it wasn't until my final year at NYU that I actually considered having a career in Makeup. At the time, I was interning for my now dear friend, Rob Younkers, who was designing for a contemporary brand. His then-boyfriend, designer, Alby Riganello was designing for "THE" pants designer of the early 2000s, Alvin Valley. They had a Lookbook shoot scheduled and encouraged me to do the makeup for it. It was on that shoot where I realized….this could really be MY thing.
Soon after, I had the opportunity to meet Bobbi Brown and she invited me to watch her global artists do makeup for her yearly "Boot Camp". I watched in fascination and it also reinforced my confidence that I really did have an eye for Makeup and I could actually follow this passion into a career. I signed up as a freelance artist for the brand and at my first event with the Brand, Bobbi was there and met the customers while critiquing the makeup artist's work. I was completely nervous as she approached and she was extremely complimentary. It was at that moment, I knew that this was it and that I was going to follow this artist's path. A few weeks later, I received a call to assist her and the rest is history.
16 years later, I can reflect over my path, and I have had my fair share of "pinch me" moments where I look around and realize how thrilling and bizarre and fun this all is. From the beginning, working as Bobbi Brown's assistant was an immediate "pinch me" moment and at every phase of my career since, I have continued to have them.
Signing with my agent…
Working with the beyond talented photographers, hair stylists and stylists that have inspired me.
Getting to travel around the world and stay at stunning hotels and eat delicious new foods around the globe…
Having the incredible opportunity of watching clients grow and succeed like Tori Kelly who I have worked with for 10 years and have loved being a witness to her journey.
And Olivia Colman who I first did makeup for ten years ago in my small Hollywood Hills apartment and then years later getting her ready for the Oscars Red Carpet where she won best female actor ….
Getting the chance to work with icons like Beyonce….
Shooting my first cover…. And really every cover since…
Meeting and connecting with strong female clients like Michelle Monaghan, who has become my role model by inspiring me that as a woman, you really can take on so many roles… mother, career woman, entrepreneur, activist… but still maintain inner peace and exemplify gratitude and kindness.
Every client, every shoot, every obstacle and success has gotten me to where I am today.
Would you say it's been a smooth road, and if not what are some of the biggest challenges you've faced along the way?
I have learned SO much that it is hard to say which one is the biggest. These past four years have been the best education on what to do and what NOT to do.
I also learned that hiring the right team is EVERYTHING. From Product Development to Product Management, it is incredibly important to do your due diligence in vetting the key players who will be entrusted with developing your products with you. Also, make sure to protect yourself especially as an artist, because our art and ip is more valuable than we know.
From a development perspective, NEVER SETTLE. It may seem like the process is going too long and submission after submission is not 100% what you're dreaming of….it can get there!… Don't say yes when your gut is saying no. It may annoy people, be time-consuming and costly but at the end of the day, this is a representation of YOU so never settle.
Launching a product line during a pandemic is not ideal for so many reasons…. No in person meetings or events, everything taking longer on the production side, it can all feel quite isolating… However, I tried to focus on the upside. Having that year of not being on set or with clients (I was pregnant so extremely cautious) gave me the opportunity to solely focus on launching LULA. Now that I am back to makeup work, I am reminded of how hard it is to wear all the hats and stay in the loop on emails, calls and meetings while also being on set. One amazing upside that I think much of the world experience is that we realized you don't necessarily have to have a team based in the same location. My team is split up between LA, NY and Santa Barbara & yet we are all able to stay just as productive.
Now that we are through the toughest part of the pandemic, I am faced with new challenges of fundraising during a tough climate with the current hits to the Stock market, but I maintain my passion and my drive to see this through since I know how beautiful and effective these products are and determined to fight for a female-founded small brand to succeed despite the beauty industry being run by men and big business.
Alright, so let's switch gears a bit and talk business. What should we know about your work?
From the very beginning of my career, through my initial education with Bobbi Brown, skin was always the most important aspect of a makeup application. Matching skin tone by carefully observing undertones….feeling the skin texture and deciding the right direction of pre-makeup skincare prep and foundation based on if it was oily dry, dehydrated, acneic or a combination.
It was always very important to me personally as well to feel confident in how my skin appeared. I felt my most beautiful when I didn't need to apply too much makeup to cover or hide but rather got my skin to a healthy place through care and nutrition. It was always a priority to make my client feel the same. I think that helped me unknowingly create my signature style of artistry and approach to Makeup. I always assess skin first before makeup and think about what it really needs. Would manipulation help it plump? Are there areas of dryness? Are there beautifully clear parts that could be left foundation free? If there are little spots but texture is good other places where I could just spot correct vs using a full coverage foundation?
Once I roadmap my client's skin, I then go in layers rather than piling it all on in one go. I like to thin out spots using my fingers or a blending sponge.
I have always taken the approach to makeup that less is more. If your skin looks good than you need less makeup… hands down…always. Of course, I could play up eyes and enhance skin… but my preference is to work with a client on getting their skin to a healthy place so that I need to use less foundation and concealer. I have often sent clients to estheticians who could work in conjunction with me as well.
Deciding to launch skincare before makeup was not a conscientious move, but rather a natural inclination to create something beneficial to the skin so that I may be able to add goodness to a client, customer, model's beauty routine. When we say that LULA is a "makeup artistry-inspired skincare brand", it is not about creating skincare that could be used for makeup prep… instead, it's more about my motivation to get skin glowing and moisturized so that it can be a feature of focus and not a feature to cover up.
Any big plans?
I hope that in five years from now LULA is a thriving and growing business. I hope that we continue to develop a loyal customer base and that both our wholesale business and D to C is successful. I hope that people continue to love our line including the next lineup of SKUS that we are currently working on. My vision is that LULA will be coveted for quality, individuality and overall love of the products. By then, our philanthropic component will be a pillar of our brand and I hope that we will be able to give back in a major way.
Pricing:
Potion Serum $125
Beyond Balm $75
Hand & Body Lotion $58
Contact Info:
Website: www.wearelula.com
Instagram: @Sarahuslan @wearelula
Facebook: @shopwearelula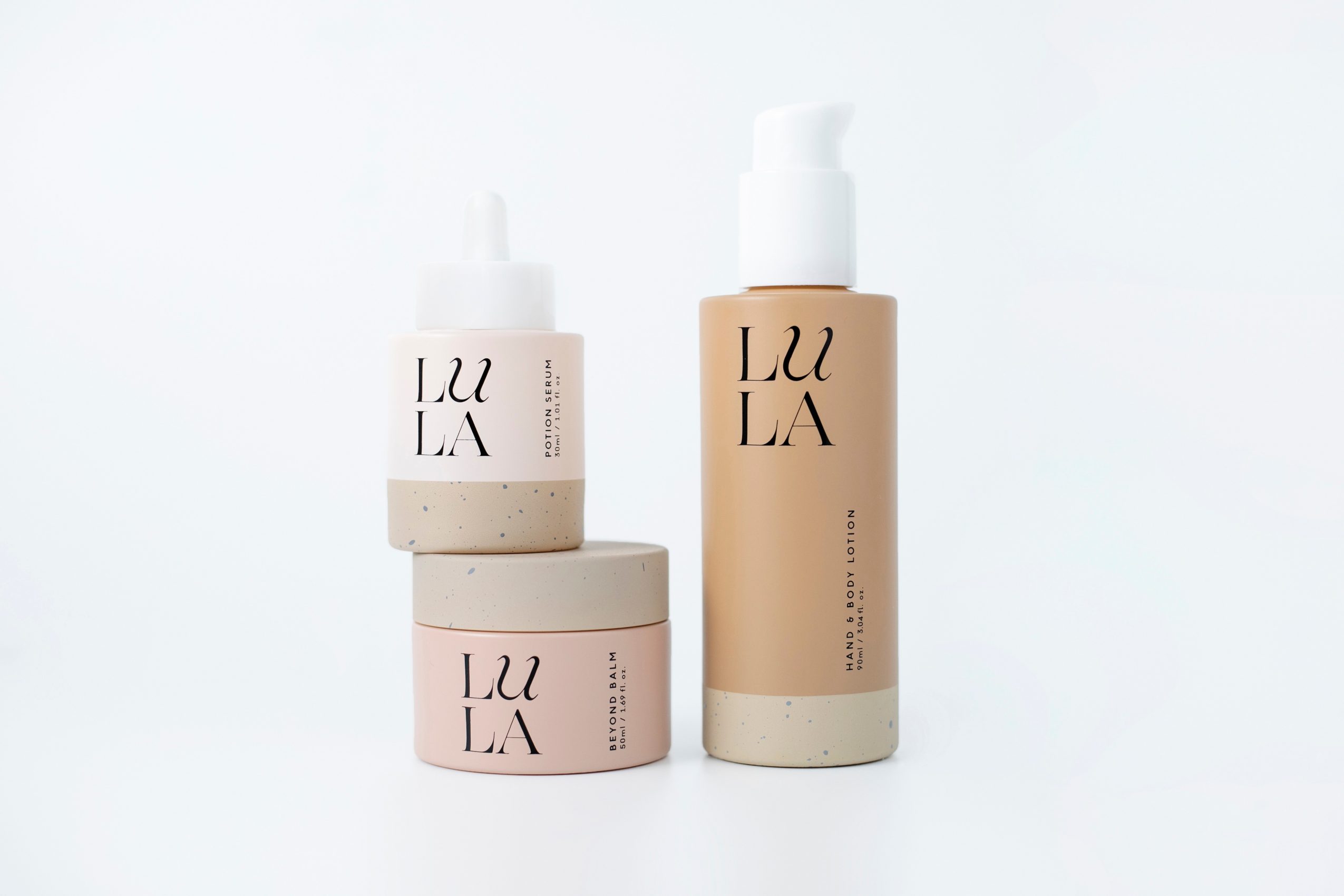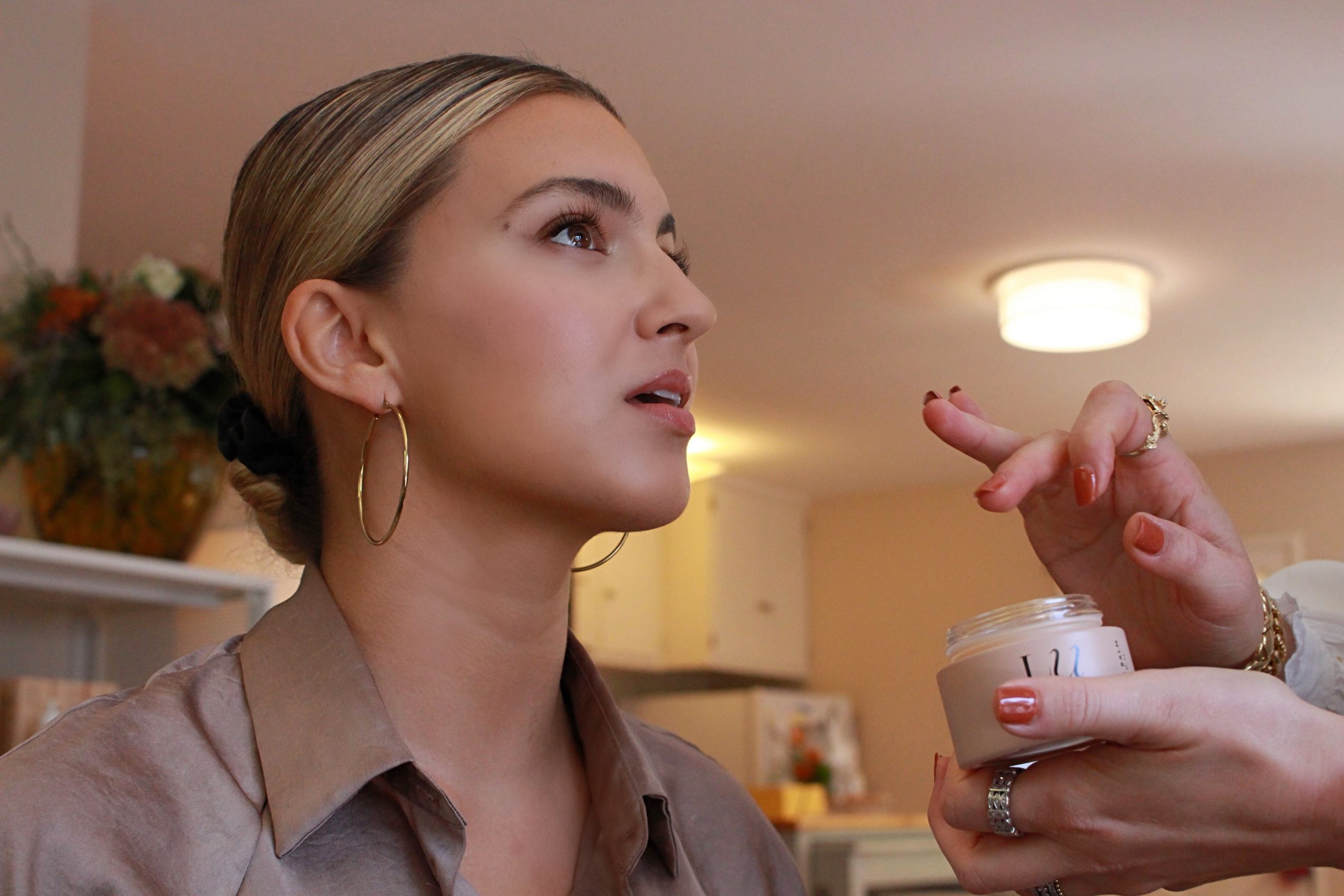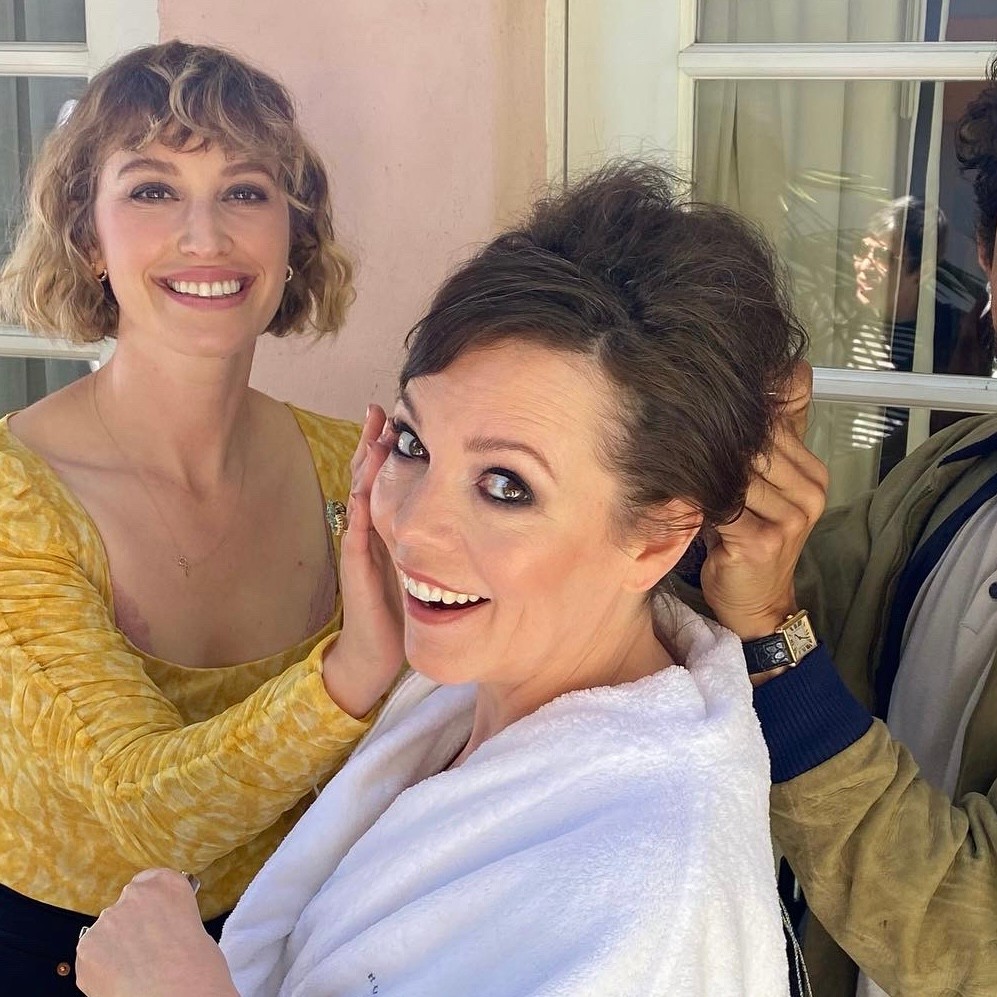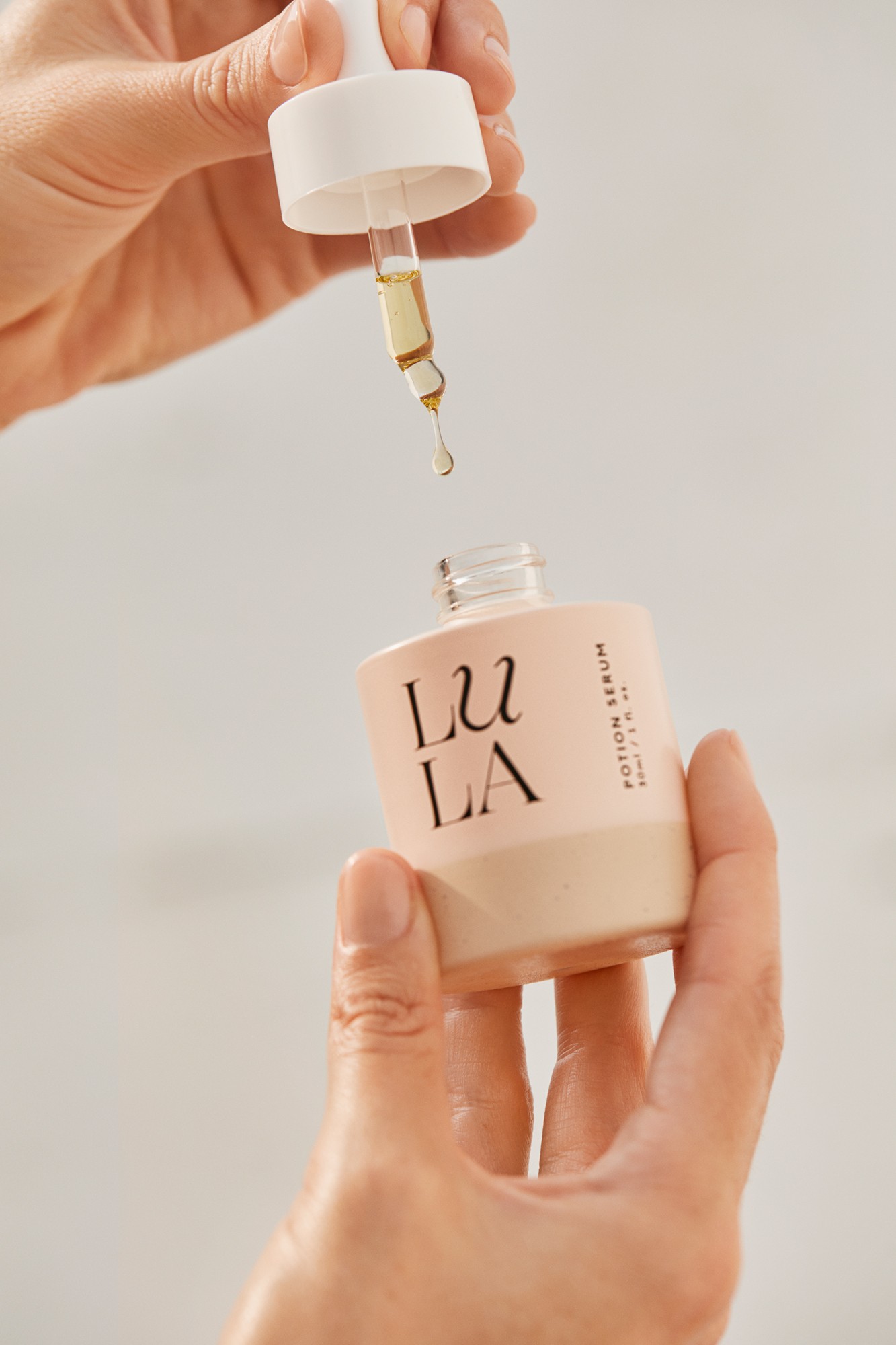 Image Credits
Bio pic & with Daughter, Tallulah- Photographer Vicky Mathew @vicky_mathew Products piled up- Zach & But @zachandbuj Products on sink- Cole Morrall @Cole_morrall Products with Models (hands and faces). Benjo Arwas @benjoarwas
Suggest a Story:
 VoyageLA is built on recommendations from the community; it's how we uncover hidden gems, so if you or someone you know deserves recognition please let us know 
here.