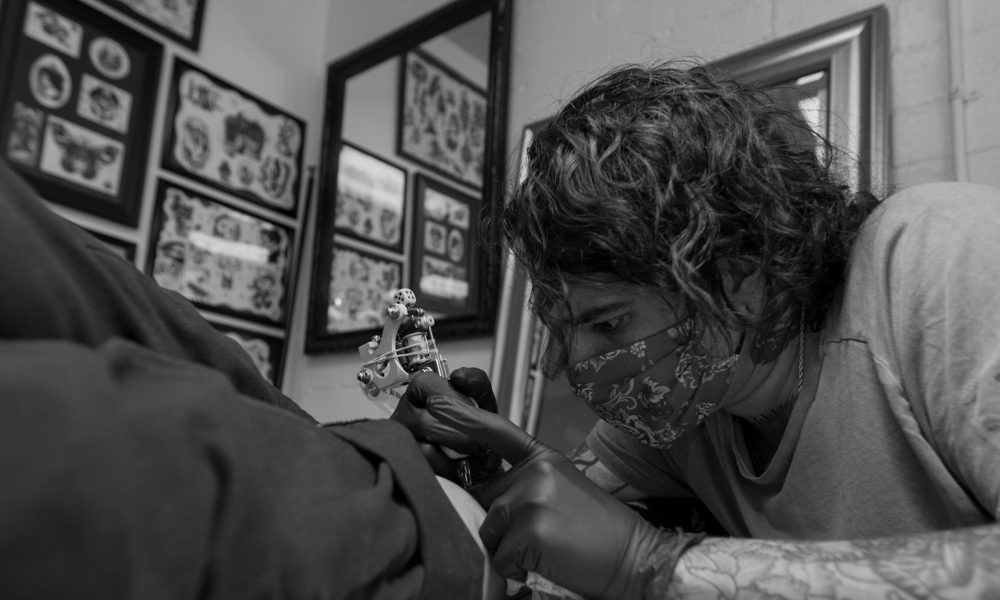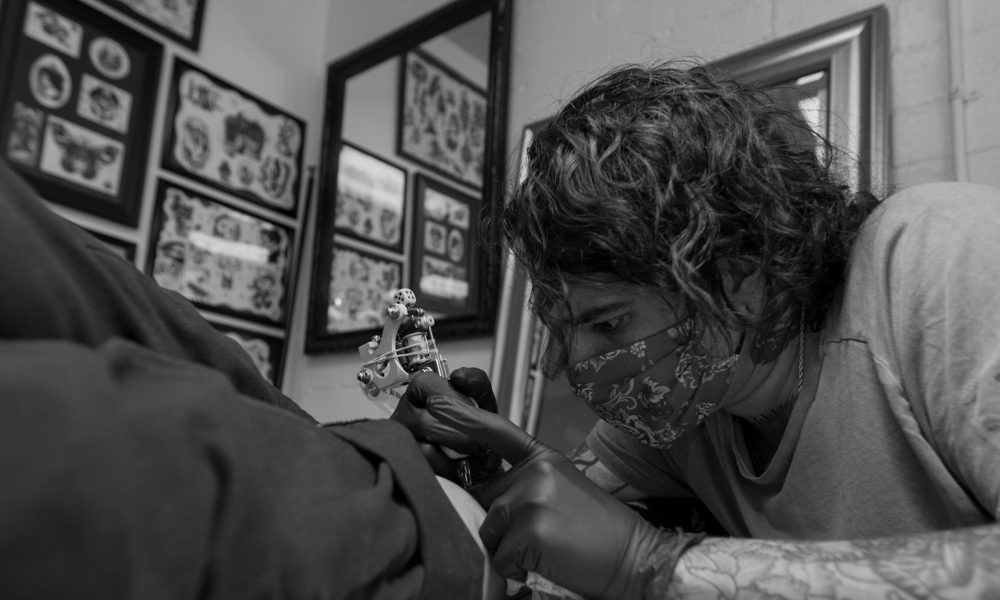 Today we'd like to introduce you to Nick Galaura.
Nick, we appreciate you taking the time to share your story with us today. Where does your story begin?
I lost my office job at the start of the first lockdown in March of 2020 and started painting while I tried to figure out what I was going to do when the world opened up again. I had owned and operated a small coffee company, BlackCat Motorcycles & Coffee, with my best friend but with our shop being entirely build out of a food truck, combined with the lockdown, we had no idea when the next event would be.
I've always loved the history and all of the old references of traditional American and Japanese imagery, so that's what I mostly focused on learning; Really, I just wanted something to do with myself and I thought this would be a great outlet since it was already something I thought was special.
But I was terrible and I had no idea what I was doing at all.
I have always been into drawing and growing up, comic books were everything to me, but things like watercolor and using water to shade and create real depth that way was an entirely different world. So I just bothered my friends. I called people that I just ended up knowing through getting tattooed and just asked. I had no real intention of trying to tattoo. Like, at all. I really just wanted to learn. And with everything being indefinitely closed, it couldn't have been more impossible to find an apprenticeship.
Sterling Barck, who tattoos at Old Rose in Temecula and Taylor Crawford, who tattoos at Torch in Anaheim are really the ones who helped me understand what it is to really paint and to do it correctly – and this is all via Instagram messages and videos through text; none of us were really leaving the house.
And that's what I did. Every day. For like, 8 hours a day. For months – I tried to treat it like it was my job. I'd wake up and work next to my girlfriend, who still had a 9-5 working from home. We had to build like, a dual workstation in our living room to kind of make it all work. I just posted all of my work. Paintings, drawings, digital stuff, I just tried to figure out what I was doing and what I really wanted out of what I had just spent months working on. And that was kind of it for a while: painting, posting and finding other artists and circles I could glean information from. I wanted to find all of the history behind all of these designs that anyone would consider "classics" and when I would find some of it on Instagram, I would share it on my story. I just figured, even if you weren't super into tattoo history, history itself is just super interesting. And then I started getting a lot of encouragement to tattoo.
By this time, California was in that confusing time where things were open, but not really, but kind of and I went to a lot of shops and understandably, no one really had space for me. No one really knew what was going to happen with anything.
So when California started opening back up for events, my coffee shop got a call from our friends @CashandCarryMakersMarket to bring our truck and vend coffee in November of 2020. It was the first event we had done since January and I had a stack of paintings from being home literally all the time, so I figured I would bring them, just in case anyone just wanted one. People are buying coffee and checking the paintings out and I sold like, one painting. To Aaron Mason, who owns Old Rose (Which is so nice- thank you again Aaron), and by "sold" I told Aaron he could just have it and then he wouldn't let me not take any money.
And this guy just comes up and asks, "Oh, you painted these? Do you tattoo?" and I realize this is a tattooer I had met when I was working the coffee truck a year ago at a wedding; Little C, owner of Little C's Tattoo. He was tattooing at the wedding, we kicked it, and after that gig, I literally never saw him again until today. So I tell him I've been painting for the past however many months and that I've gone to all of these shops where I live, in Westminster, and hadn't had any luck.
So he told me to come visit his shop in Fallbrook just to talk and I said I would let him know.
I didn't even know that Fallbrook was a city until I got there-It's about an hour and 40 away from my house. I get to the shop, and C shows me a station and explains that if I want it, it can be my station. I made my first official tattoo as an apprentice on December 21st, 2020. It was a terrifying and also the best day. I've been at Little C's Tattoo, making tattoos every week since then.
An hour and change is a drive. Somehow, that kind of always comes up whenever I meet a new client. But I mean, this was very much a "Get in where you fit in" kind of situation. I don't know if I would be doing this if I wasn't willing to just make the trek. So the drive is kind of just part of the territory right now. But I'd love to travel and tattoo all over as soon as I can. It's all super exciting and I am so grateful for the opportunity.
Alright, so let's dig a little deeper into the story – has it been an easy path overall and if not, what were the challenges you've had to overcome?
I think the biggest struggle for me is figuring out where to start. I think, like with anything, starting something new is super scary and you don't know if you got the right thing or you're doing it the right way and failing is part of the process. Being terrible is part of the process and sometimes I forget about that and just want to be good at something right out of the gate.
I guess what I think I'm saying is that the biggest struggle is being happy with where you are at right this second and at the same time knowing that you're doing what you can to get to where you want to be.
Can you tell our readers more about what you do and what you think sets you apart from others?
I'm a Tattoo Artist. I primarily focus on traditional American and Japanese styles of tattooing. I really like tattooing frogs, plants, and lately, I've been digging deep into sacred imagery and Edo Period art as a reference for the pieces I've been making. I like using pink.
It's hard to answer a "What are you most proud of?" question when it comes to something you make because I find myself always looking over things I've done and realizing I could have done 46 other things that could have made it cooler or something. So I think that the thing I'm most proud of when it comes to me being a tattooer is that I think I provide a safe space for my clients…I think that's super important. Being an introvert myself, getting tattooed is a super intimate experience, you're kind of super vulnerable. There's a ton of trust there. I'm just always trying to make sure I uphold that.
How can people work with you, collaborate with you or support you?
You can find me on Instagram. My handle is @nickgalaura for pretty much everything. Instagram, Tiktok, Venmo, Cashapp…
I am always super stoked to work with people and other artists, not just for tattoo stuff. Sending me a DM through social media or an email to niko.galaura@gmail.com always works. I try to stay on top of all of that.
Contact Info:

Image Credits:
Photographers: – Jesse Contreras @RambleOnJesse – Estevan Ferigoso @Efregoso_Photo
Suggest a Story:
 VoyageLA is built on recommendations from the community; it's how we uncover hidden gems, so if you or someone you know deserves recognition please let us know 
here.