Today we'd like to introduce you to Matthew Koman.
Hi Matthew, thanks for joining us today. We'd love for you to start by introducing yourself.
Life for me truly began when I entered my path of self-discovery a few years ago. This is in credit to all of my life experiences prior which led me to my path. My family life growing up was a traditional midwestern suburb upbringing. What does "traditional" even mean? Well, for much of my family who came to America from combinations of Poland, Czechoslovakia, Austria, and a couple of other mysteries… what that meant was to settle into a house, find a partner, start a family, play sports, go to school, go to college, graduate with a degree, get a job that can support your needs, go to church, do it all over again… stay in line with those general things and the tradition would continue. There are a lot of honorable and respectable features to staying within the tradition, many of which are rooted in human basic needs for survival that have withstood the test of time for centuries. I can recognize those things now, but when I was younger and growing up in Cincinnati, Ohio I always had this innate sense of pushing the boundaries. That meant I was breaking a lot of rules and getting into trouble because I always felt there was more out there to life. My wandering sense of wonder (you read that right) pushed me outside of many of the norms of the traditions that several generations of my family had set before me. All that to say that sports were a massive part of my childhood and adolescence and were one of my few outlets to express (or suppress) my emotions. Growing up how I did, emotional health was virtually non-existent. There were expectations of living within the traditions that were set, and expressing feelings was not a skill that was emphasized. As a matter of fact, it was often times the opposite, "suck it up" "be tough" was sort of the mantra of my childhood growing up in the blue-collar type of environment I was in. I express this now, not as a complaint but simply as truth. There are pros and cons to everything.
With all of that being said, my identity continually became more validated by my success in sports. The failures and losses were not acceptable. They were hard truths to face, and showing or sharing emotion about them was non-existent, you could argue the losses were never actually faced. So I learned how to bottle up my emotions and move forward. This is not something I advise humans I interact with today. I have so much experience to thank in understand effective and ineffective ways to handle a large amount of life situations, all of which are accompanied by emotions. Whether in sport or outside of sport and in life, there are parallels. When I left the house at age 18 to go play College Football for the University of Charleston, I was naive to how little I knew. I thought that my competitive drive and athletic ability would carry me to the places I dreamed of going in life. I was so wrong. I got to college and my eyes were opened up by how little I knew about how human beings from all around the world operated. People who didn't share the same type of traditional upbringing I did still shared in so many common bonds. These bonds turn out to be the fundamental threads and commonalities that most human beings share. I was kind of raised to "out" people who come from different backgrounds, ethnicities, and traditions then my own.
I found myself my freshman year (2007-2008) being more fascinated in learning about people from everywhere else then focusing on what my narrow-minded mission was entering college. My whole world changed. Some of the friends I made then I will be friends with forever, and even attended my wedding in 2019. Most importantly, they are the people that helped me open up my mind to a world of possibilities. My downfalls in that freshman year were my inability to handle authority. I tended to wear this tough guy mask, or in other words, I blamed my coaches, or teachers, for responsibilities I did not handle that were my own. I ended up transferring to Northern Kentucky University (2008), where again, my open mind to people led to some extraordinary life-long relationships and also learnings that continued to nourish my endless sense of wander. My problem with communication, and specifically communication tough emotions, continued to be a roadblock for me with my coaching staff. I also had some other lessons come my way that year to the extent of being robbed at gunpoint and watching one of my friends get brutally assaulted- while visiting my former girlfriend and some friends at The Ohio State University. This led to a pretty dark phase of my life and I was not ready to handle all of the emotions that come alongside a trauma like that.
I ended up running away again, that' is what I knew how to do best– this time to California, to return to college football. Feather River College (Quincy, CA) (2009). I became the starting quarterback and ended up breaking my leg about 1/4 of the way through the season. I turned to suppressing my emotions, masking myself and my emotions, usually with alcohol/substances. 2010 I somehow landed a job with responsibilities. Circling back to 07-08, I worked in the offseason with a company called Ignition APG in Cincinnati, Ohio. They saw some value in me exchanging training with them as athletes for also being utilized as a young understudy. Luckily for me, it was in the field of Sports Performance, and anything with Sports included were about the only thing I was actually good at. Back to 2010, I became a Director at the YMCA in Camarillo, California. The amount of responsibilities that I was trusted to handle must have been a direct reflection into how I could speak the language of sport. As I reflect back on this time period now in 2022, I was nowhere near equipped with the skills required to run the sports programs at the highest level. However, one thing is for certain, I knew how to operate in sports. So I took it and ran with it and turns out I had some skills in being adaptable, which I credit to my different college experiences and meeting different types of people, my ability to lead people, which I credit some to how I was raised because there was always a sense of confidence that was instilled in me.
This experience opened my eyes to the service world and how fulfilling it was for me to be of service to others- especially in sport. It came natural. 2011 I had healed my broken leg, and my coach from 2009, Steve Mooshagian, had taken the job at Ventura College which was close to where I was living. He asked me to come give football another shot. So I did. We ended up going 7-4 and won a Beach Bowl Championship in my only full year of college athletics where I started every game and ended up being named to the SCFA Northern Conference all-conference team as a Wide Receiver. A position in which I had never played before. After the season, I had no idea how to self-diagnose depression or even anxiety for that matter. So much of my identity to that point had been solely created through being an athlete. I got a small chance to showcase my talents a few times and even had a short glimmer of hope from a CFL organization, the then Edmonton Eskimos. It never came to fruition, as the team ended utilizing a contract for Chad Ocho-Cinco instead. This is a fun story to tell often times going back in the memory bank it feels like an entirely different lifetime.
Back to the depression, I was fortunate enough to be trusted by my coach at Ventura College to become the Strength and Conditioning Coach for the program as well as helping throughout the next four years with QB's and WR's. I channeled everything I knew myself to be into those athletes. I gave that program everything I had. While in the meantime, started my own company called Attack the Competition, partnering with another coach on the Ventura College staff- Tyson Butler. We utilized our company and leverage as the performance team from Ventura College to build relationships and contracts with many of the local high schools. Throughout all of those years, my identity was still as an athlete, and I now understand that is large reason why most of the younger athletes I got to coach and work with respected me enough to for the most part, listen to my requests and adhere to my sometimes wildly energetic demands. They were coming from a place of love, however at the same time, my coaching style was rooted in not understanding how athletics didn't work for me. So I worked tirelessly to ensure my service to everybody else would not end up in the same type of way that my athletic career did. This approach definitely served hundreds of young people. However, to all of the people that I was coaching in those years, I hope this article finds you well and also urges you to contact me now as you read further. If you asked me then if I was depressed, I would've said "hell no." But, what I was never taking into consideration was my own health, mentally, emotionally, or spiritually (what was that). Physically, I always looked the part, but I spent 15 hours a day running around doing athletic things– so it was a given that I physically looked the part.
All of this competitiveness, and leadership, and coaching experience, led me into some cool endeavors in the years 2016-2019, including working in physical therapy clinics, evolving into families as a trusted member within homes to provide life and physical coaching and advice… and eventually also landing at opportunity to take a role at Sports Academy in Thousand Oaks as a Sports Performance Coach. This building is still the "mecca" of what a sports performance facility "should" look like. I evolved into a Director of Football role as I was doing my best to build and invite the community I had built over the years into the 100,000 sq ft space.
The company partnered with the late Kobe Bryant and became Mamba Sports Academy, and myself and my football staff were some of the first people to reveal to the world at a massive football exhibition in Orlando, Florida, The MAMBA M logo. That was a true honor. I have such fond memories of that December 2018 experience and embodying to the best of our ability what it meant to have the "Mamba Mentality" and teaching kids from all over the country the importance of the mindset that Kobe Byrant lived by in such a legendary way. Overall, being on a staff with high performers across the Sports Performance and Sports industry in the years 2017-2019 opened my eyes to so many things. I ran facefirst into the "demons" that seemingly for my young career, I was always able to narrowly escape. The demons I am referring to come in the realms of serving everybody else before yourself. In my case, I ran myself into the ground, learned through a rough time what adrenal fatigue actually is, and finally started to open my eyes that at some point, I needed to come face to face with reality.
On May 4th, 2019 I got married to my wife Kristen. This was a reality check that enabled me to begin my dissembling process, only to learn what it meant to re-assemble. Career-wise, I began doing some consulting work with Jumpman LA downtown as an Athletic Engineer. I also decided to insert my energy into a school project in Orange County which was originally named Elite Athlete Middle School. I partnered with Devin Quinn.
In between working and serving others, I finally started to lean on mentors and the people who supported me and get over my complex of not being an athlete, as well as understanding what it truly meant to embody the world holistic. At the beginning of this journey, is when I was blessed with the opportunity to join Team USA handball. August 2019. The irony in it is so pure and beautiful.
The original intention of taking on the school project was so that I could get home to serve myself and fulfill my duties as a husband. This was quite the contrast to the years 2012-earlier 2019 where I often times found myself going from 3-4AM – 9-10PM or later. Nonstop.
As the school year went, we slowly transitioned into what is now known as The Togethership, and for myself, I slowly started to creep back into my old ways of being. Serving everybody else. It was challenging because I simultaneously was learning and taking courses to be able to create new lifestyle habits and patterns that would serve me being healthy. A message from many great mentors I have had over the years is simply, "How could you ever serve others if your own cup is empty? Fill up your cup, and give others from the abundant overflow" Well, easier said than done when you spent almost a decade doing things one way and building the mind-muscle to repeatedly act harmfully (not taking care of myself)
For me, when Covid hit, as I make up for many others, it served as a time of deep internal reflection. We kept the school going online, but it was shortened days. Which therefore left me a lot of free time. I spent a good amount of that educating myself through online courses, podcasts, and reading. This also became the time period of implementing small changes in my life in the light of sleeping sufficiently, eating organic from-the-earth nutrition, meditating, and more things that I had not ever implemented-maybe just suggested others do.
Short side story, semi-name drop- but not really because I know in my soul that my life beautifully shaped and directed me to everywhere that I have gone, and I keep my deep faith in that, anyways a short story: (preface) In coordination with operating the school, we also worked in conjunction with Jordan Palmer's Quarterback Draft training process. It was quite cool to see how a professional operates a business that is based in relationships and even cooler to allow our middle school-aged athletes to run around and catch football's from the likes of Josh Allen, Kyle Allen, Sam Darnold, Joe Burrow and the list goes on.
It was Friday, March 13th, 2020… Our kids were not required to come to school (state mandate) nine of them showed up anyways. Same kind of vibe happened for the Pro Quarterback group, except Joe Burrow still showed up that day. Learning that his pro-day was canceled at LSU, we ran through his pro-day script that day and Joe's pass catchers were our middle school athletes. What a cool story they'll get to tell their hopeful children and grandchildren one day.
In my mind's attempt to give the cliffnoted version of my story, I am fulfilled by the sense of truth that I get to share in this article. I hope that there are things that can resonate with anybody reading. To continue, as my lifestyle became more and more holistic throughout 2020, this took some extreme sacrifice and courage to dissemble and reassemble my life, learn how to deal with my emotions, build a new type of mental courage, and embody them consistently was some of the toughest, yet also most rewarding times of my life. I hope somebody can relate to what all the time the pandemic provided and allowed for introspection and the building of skills you may have never had before.
I kept learning, kept building, kept breaking down, kept growing through those breakdowns. Eventually, I got to the place where I knew I needed to change my everyday role at The Togethership. It was a tough decision because I knew that as I was evolving, the kids in the school were getting the best of me. However, what it came down to was this loud revelation and understanding that happened inside of me every time I looked in the mirror. For the first time in my life, I deserved to put me and my health first. I knew I would get back to serving others. I had to start truly over. I had to become somebody that TRULY practiced what it is. I then foresaw myself being able to preach. This was January 2021.
As I write this, a lot of emotions come up. This is still fresh. I am still learning. I will always be learning.
In the start of 2021, it was very difficult for me. My ego, and competitiveness, and everything that I was for 30plus years of my life were screaming at me (metaphorpically) every day to go get back out there. "You've been a college strength coach, you've worked with Kobe, You've worked with Jumpman, You've helped start a middle school, You helped create a pro-day experience for Joe-Burrow" Learning how to tame this has been the skill that I may be the most proud of. Learning how to tame it came before learning how to channel it. Now channeling my competitiveness continually becomes a refinement process. Some of the competitiveness I can let out still roots all the way back to my childhood, and I have learned how to be proud of that.
2021 was a year that I learned how to forgive myself. The tone of this whole article may seem as if I am being critical of myself, and if that is how it feels, well that is okay. Because if you cannot be critical of yourself, then who can? I now am at the beginning of understanding how truly powerful I am as a soul inside of my human body. I have developed and practiced my faith and turned it into a sense of spirituality. My spiritual health, or my connection to center, was virtually unconscious for most of my young career. When I learned about how important it is, arguably the most important thing (to be connected to your own center/identity) is how you can truly connect to the whole (the world/universe)… I also had to learn how to forgive myself for going through so much of my life without this understanding. I had to learn how to forgive people who did their best to teach me and forgive myself for not being able to understand that as Carl Jung says, "Every child is tasked with the unfinished business of their parents."
I could go into a whole thing about my interpretation of this. However, I desire for your takeaway as the reader to be that it is okay to accept yourself for who you are exactly in this moment. Everybody has flaws, everybody was raised differently, and everybody has different traditions…. it is my invitation for everybody to get to the center of who they are and develop values based off of that understanding. It doesn't matter if you're 65 and reading this. There is always learning, there is always ways to grow, and there is always a deeper level of spirituality that you can consciously grow into.
Currently, I am a Holistic Health and Lifestyle Coach, I own a business called OPTI Well-Being Solutions which aims at optimizing the health of the world, one workplace at a time, and I am also a professional Athlete for Team USA beach handball. I spend my time divided amongst equally important things. My health, my relationships (wife, family) my businesses, nutrition & hydration, mental preparation, emotional communication creating intelligence, spiritual practice, my tribes and communities. All of this is centered in my mission of making the world a healthy and peaceful place that operates and relates on love, communication, and harmony.
We all face challenges, but looking back would you describe it as a relatively smooth road?
Ego. Understanding what this even meant. To live for most of my life allowing my ego to dominate my choices and actions. That didn't necessarily mean that I was abrasive and aggressive which I think is a common misconception for being egotistical. I wasn't able to consciously recognize that there were other driving factors in my choices aside from ego. When I reflect back on all of my experiences, I can now utilize my understanding as I move forward in life. Masculinity. Being in the sports world, it is often times (more often than not) unacceptable to show your emotions if they are not conducive to the masculine/aggressive/ego-driven and dominated sports world. There is always a fear of being labeled as "soft" or much worse, but I will keep it PG for this article.
Injuries. A whole slew of them. Feet, Toes, Hip, Leg (Tib/Fib), Severed Nerve (Brachial Plexus), Hand, Fingers. Shoulder dislocations/Tears. They've all given me opportunities to learn how to heal.
Can you tell our readers more about what you do and what you think sets you apart from others?
I have my own coaching business. I get to utilize the skills that I have built for myself and now have worked with many other types of clients including my family, long-time clients, and also getting involved with sports teams and schools has been particularly rewarding. My philosophy OHIU is an acronym that stands for O-Open up to yourself and your truth | H- Honestly evaluate where you're at and what areas are strengths and weaknesses | I-Intentionalize your actions based on who you are and what your values are. | U-Unify yourself with the world around you. I am very proud of how this foundation has served others over the past couple of years. It is equally rewarding for me to see somebody create a new skill around a sleep habit or taking a conscious breath in tough times to be able to process their emotions than it is for me to see somebody add 2 inches to their vertical jump.
I understand that my philosophy is a framework, and within that framework, it requires an individual who is willing to become their best self on the other side. That is the baseline agreement that I make with my clients. With that agreement in place, I am aware that I may provide a suggestion, or some input that serves as valuable to my clients, however, I am simply there to guide, support, and encourage the growth that all human beings are capable of when they are in a safe space where they can become open and vulnerable to the areas of their life that can be improved upon.
I think what sets me apart now is that I don't think of myself as being better than anybody. I am not comparing my work to the next sports performance trainer or comparing the next client I get. I am not in that world anymore. What I am most proud of is truly the essence of serving others as they become the holistic version of themselves. If I am known for anything, I would like it to be for my sense of creating peace and love within each relationship that I have.
My second business that I would like to talk about has a similar mission to my individual coaching business. It is called: OPTI Well-being Solutions. I have teamed up with a squad of amazing leaders. We have over 40+ years of collective experience and range from Dr's to executive-level coaches. Putting our powers together has been very rewarding as we all embody a holistic lifestyle individually which has enabled an environment and culture of growth and service. Our mission is to optimize the well-being of the world, one workplace at a time. We do this by creating high-impact solutions, customized for each business we serve, that add value to the culture creating an environment of growth all around.
Lastly, I think what is really cool about sharing all of this so openly and honestly with you all (interviewers/readers alike) is that I have been afforded another opportunity to be an athlete in which I eluded to earlier. I get to operate holistically as a human, and also compete on the world stages and build a platform that stands on the pillars of my values and mission as an individual on this earth. I have had the privilege of playing handball in Mexico, Spain, Portugal, Italy, Egypt, and Greece. Wearing the United States of America across my chest is something that I do not take for granted, and I do not take it lightly. Embodying what it means to actually be United feels fitting, given that it is the first word in my country's title. However, I feel that it is taken for granted largely by our population here stateside. What it means to be United to me is the union of mind, body, and spirit. Through sport and competing as an athlete is a slice of how that gets to be portrayed to the world, however it is the interactions with humans from around the world that matter to me. It is finding the common bonds and sharing in the moments of life that bring us together in celebration of life.
Is there anyone you'd like to thank or give credit to?
My wife: Kristen, When we first got together in 2016, I was very much a different person. I was in the mix of the sports performance world, caught in a vicious and unhealthy cycle. She must've seen the potential in who I could be or the traits of service, kindness, passion that I have always had. Throughout our relationship, she has supported me through the roughest moments, moments of complete disparity. She knows my entirely, the good and the ugliest sides of me. Throughout it, all has continued to be willing to love me and grow in our relationship through communicating even when it feels impossible to express certain things. My family: I have had a hard time in my past accepting that my family did their best to raise me in the best way they know how. I now completely accept that as a truth. I used to hold my shortcomings against my family and blame them for me being a certain way. I now accept responsibility for all of my actions. I communicate with them and they have also been there to support me throughout my growth in many ways. It has been cool because throughout it all, both sides have grown in unimaginable ways. I am very proud of that.
My brother (Patrick): Pat has always believed in me. No matter what I was doing. When I was at the top of the sports performance world and hardly communicating with him, and when I was completely re-evaluating my entire existence, he was there to lend a listening ear.
My clients: I have developed relationships with so many people over the years that sometimes I will be back in areas I used to coach in and have a person (a mature grown-up figure) approach me saying, "coach koman!!!" and I have to look twice because they have grown up and gone through adolescence and puberty. Those interactions have been incredible. I also have clients that have become essentially family to me and I can call them in times of need and they have been there to support my new business ventures, or join my team, or trust my new coaching program. I also have to thank my former clients that I fell out of touch with, if you're reading this and wondering where I went, I hope this article can provide some clarity. I needed to focus on me, and that is no love lost for anybody.
My best friends: The importance of having support through times of change and challenge is vital to growth. I have Brian, Ben, Josh, Chad, Bobo, Monte, Whitey, Clayton (Brother in law).
A special shoutout to my boy Alvey: whom of which I credit for being a support to me unlike any other, the space that he has held for me has allowed so much of my growth to occur. I actually don't know if I could type out this article or would have this opportunity if it wasn't for the support you've provided me with specifically the past few years.
Former colleagues: Man, I have learned and taken something valuable from so many people in the sports industry and I am forever grateful for all of those experiences.
Mentors:
Paul Chek
Aubrey Marcus
Carl Jung
Dr. Andrew Huberman
Alex Hormozi
Weston A Price
Chervin Jafarieh
Dr. Paul Saladino
Joe Dispenza
Lewis Howes
Sadhguru
Lao Tzu
Rudolf Steiner
Kyle Kingsbury
Peter Crone
Dr. Nathan Riley
Rumi
Luke Storey
Tom Bilyeu
Mike Michalowicz
Ben Greenfield
Dr. Kelly Brogan
Holistic Hilda
Aaron Alexander
Desmond Morris
Theodore Roosevelt
Nate Ebner
Dare I say Joe Rogan
So many more… Podcast list is wild, The Library is even more extensive.
My current TEAM USA teammates: Ebiye, Charlie, Alex, Andres, Gabe, Loc, Jacobo, Bryan (B-Money), Mo, J-Mo, Willard, Maverick, Cody, Jason, Drew, Raj, Aaron, Chalmers, Bob, Jacob, Ian, Tanner, Robbie, Yan, ALL OF THE WOMEN'S side, the list continues: Dr. Michael Hinson (Coach) Jamil (Coach) Antonio (Coach), Julio (Data) SOOO much gratitude and love for this community that continues to grow!
Shoutout to the global handball community. ALL my new friends from Spain, Portugal, Italy, Greece, Egypt, Brazil, Croatia, Uruguay, New Zealand, Canada, Argentina, MEXICO (LOVE THE HOMIES), Puerto Rico… and many more.
Contact Info:
Website: www.matthewmichaelkoman.com
Instagram: @matthewoodavisko
Facebook: Matthew Davis Koman
Other: Podcast- The Scent of a Hummingbird (Apple/Spotify)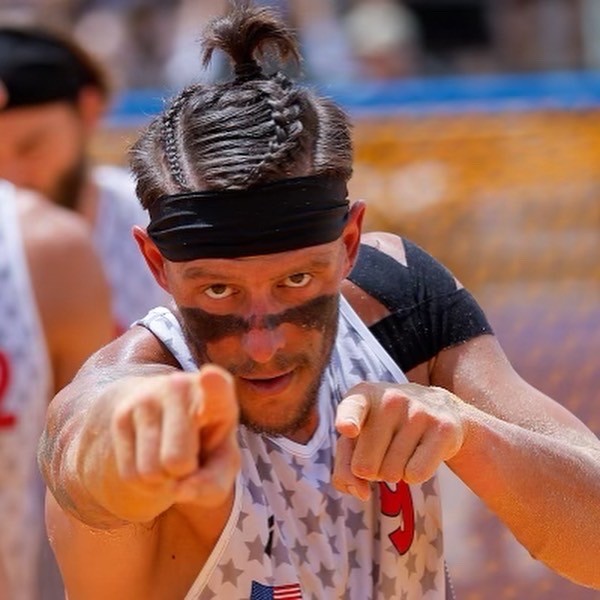 Image Credits
Kolektiff Images Maria Boldina Alex Browne
Suggest a Story:
 VoyageLA is built on recommendations from the community; it's how we uncover hidden gems, so if you or someone you know deserves recognition please let us know 
here.