Today we'd like to introduce you to Matt Ciancimino.
Hi Matt, can you start by introducing yourself? We'd love to learn more about how you got to where you are today?
Since before I can remember music always pulled at me like a magnet. I tried to play in bands but never wanted to put the time in to actually be great. One of my high school teachers noticed this (shoutout Mr. Cundari) and said, "Hey, why don't you go to school for music business?" – a little bit of direction goes a long way- I started there and by the time I was out of college I was eager to try to make something shake with music but, normal life and mediocrity began to run its course. I got a job as a pharmaceutical rep and was making a nice salary (more than most kids in their 20's) and all my music endeavors were pretty much a hobby. One day, while talking about life with a good friend, he said, "I didn't know you aspired to be the world's best pharmaceutical rep". I was so mad and argued with him about how great my life was going and how I was making more money than most people my age, but he planted a seed that reminded me how much I'd strayed from my passion, music. So, it got me thinking. I had been working really hard in the pharmaceutical field, managed to save some money and decided to open a small recording studio in north NJ. After trying to balance a full-time job and a business, I was faced with a choice -bet on myself and go all in with the studio or stay comfortable and get one foot in/one foot out results. I decided to bet on myself. With the studio to call home, I quickly began asserting myself in the local scene and began to build my business by word of mouth. I began working with RetcH (@RetcH07Bix), an extremely talented rapper from New Jersey and things began to move quickly. I was learning on the fly and putting all my efforts into providing value to what he had going on, as well as learning the business.
With that acquired knowledge and experience, I started managing some other clients in NJ, an extremely talented engineer/mixer/producer named Pat Rosario (@mixedbythebest) and his production partner Shiv (@isthisshiv), they make up The Loud Pack (@theloudpackmusic), as well as a singer/songwriter/producer Esai Antigua (@esaiszn). Once I took the gamble, everything fell into place and it seemed like the universe rewarded me almost instantaneously. Long story short, I ended up meeting my now mentor and partner Dave Waltzer through some of those endeavors so as much of a struggle as it was, it led me straight to the promised land per say. Working with DW has been such a rewarding experience. I work a few of his artists on a day to day level and they are some of the most talented people I have ever met. Artists such as Buddy (@buddy) & Kent Jamz (@kentjamz), and producer/chef/Jah Mama hot sauce (@jahmamasauce) founder Roofeeo (@roofeeo). I find myself doing things that my younger self dreamed about and working with people whose talent exceeds any I have ever come in touch with, so work for me at the end of the day isn't really work, I love this shit.
Would you say it's been a smooth road, and if not what are some of the biggest challenges you've faced along the way?
Smooth seas never made a skilled sailor (this is one of my favorite quotes). I feel like anyone who has really set out to try to build something for themselves rather than for someone else goes through some shit. I'd actually bet >50% of successful people have had a rough path. Success is earned and not given so if you're not working hard, the challenge will almost seem impossible sometimes. I'm a black belt in jiu jitsu, which took me ten years to achieve. If that taught me anything, it's that you just gotta show up and try every day regardless of how the day before went. A black belt is just a white belt that never quit and that applies to life as well.
Can you tell our readers more about what you do and what you think sets you apart from others?
I work as an artist/producer manager (mostly, ha!) but I really consider myself a utility player and someone that you can rely on to get things done. I specialize in artist relations and being out in the field with my clients, who are more like family to me. Establishing a solid relationship where trust can be built is crucial, without trust it's hard to build with anyone, especially in such an exploitive industry where people are used to being taken advantage of. I do my best to just be myself at all times because a lot of what I see is over promise under deliver. With me, I try to do the opposite, manage realistic expectations and over-deliver.
Do you have any advice for those just starting out?
I think the best advice I can pass on to anyone is work hard and be impeccable with your word. Stay flexible, be water (like bruce lee says), and never say no. Unapologetically go after what you want. If you set a goal, make it happen with no excuses. I feel like everyone wants to cheat the work but you can't skip any steps, no matter how bad you want it. You can't go from the first rung of a ladder to the last, that's just not how it works, so take it one step at a time, let your consistency and hard work compound itself over time and watch the results. When you take away the dollar a lot of people's "why" goes away. Be the person who is willing to outwork everyone, the janitor to the CEO. Success takes time and can't be rushed. Nothing that's worthwhile comes easy and nothing that comes easy is worthwhile.
Contact Info: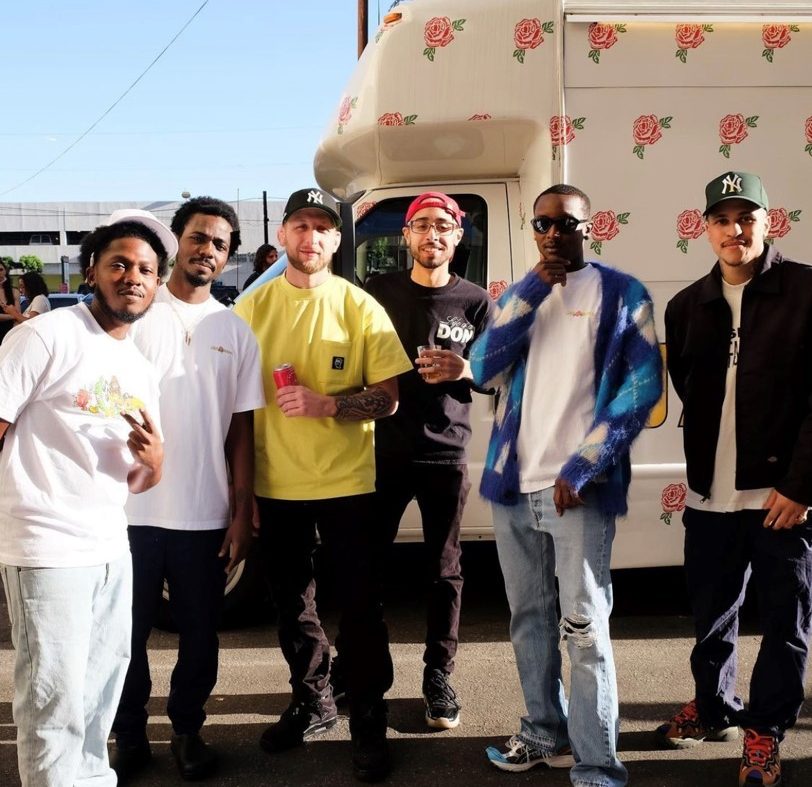 Suggest a Story:
 VoyageLA is built on recommendations from the community; it's how we uncover hidden gems, so if you or someone you know deserves recognition please let us know 
here.