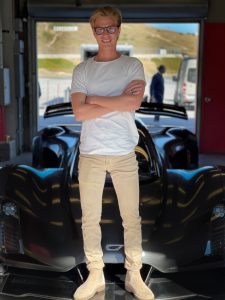 Today we'd like to introduce you to Lukas Czinger.
Hi Lukas, so excited to have you on the platform. So before we get into questions about your work-life, maybe you can bring our readers up to speed on your story and how you got to where you are today?
I lead Operations at Divergent3D and Czinger Vehicles. How I got here, that is a good question.
I was born in London to a German mother and an American father, was raised across America, and now call Los Angeles home. I have lived on the east coast, west coast, and the mid-west as we followed my dad's career. My father grew up working class in Parma, Ohio and is a genius-level self-made serial entrepreneur; my mother is German royalty dating back to field marshal von Bluchers defeat of Napoleon at the battle of Waterloo. It is fair to say I am a mix of the two.
As a child, I loved the outdoors, sports, teaching myself new skills, and creating/building things. These passions have led me on many adventures, teaching me lessons and creating skillsets that I continuously draw on today. Throughout my life, there has also been a theme of persistence. The things I wanted to do, the things I ended up doing, did not always come easily. I have also frequently surprised both myself and others by unexpectedly changing my direction.
Case in point: my decision to study engineering, despite a questionable history with math. My sophomore year of high school, I transferred from a large public high school in Greenwich, CT to Harvard Westlake, a private school in Los Angeles. Having switched schools almost every three years, my mathematics education suffered numerous gaps and I opted out of taking math my last two years of Highschool. Yet three years later, having gotten into Yale University, I declared myself an electrical engineering major—a declaration that would have undoubtedly shocked my high school teachers and which directed me away from the history, English, environmental, and economics classes in which I naturally excelled. Still, I was committed to this decision. I had talked with my father about creating the next frontier of products and engineering seemed the way to do this; further, I was ambitious about maximizing my learning experience and this would certainly serve that purpose. My freshman year, I started in the lowest math class Yale offered (most engineers were already 2-3 levels ahead), in which I struggled, by the time I was a junior I was earnings A's in Yales hardest classes – learning curve accomplished.
Meanwhile, while my decision to play soccer in college was less surprising—I had been playing virtually since I could stand—my experience nonetheless drew a similar progression. As a freshman, I joined the varsity soccer team as a "recruited walk on", meaning I knew I had a spot on the team when I was accepted but did not receive a full recruit slot and the associated admissions aid. My freshman year, I hardly saw the field. I remember well coming home from away games (~5hrs on the road) which I did not play in so frustrated and driven I would lift into the early morning hours. Despite all this extra effort, at the end of the year, my coach advised me that I may want to reconsider my spot on the team if game time was my objective. My sophomore year, I earned the award for the most improvement over the course of one session. Subsequently, that summer, I put myself through a seven days a week training program in which I did not miss a day despite my finance internship. My junior year, I was the starting right back on the team. Then, during what should have been a rewarding senior year, I ended my season in the first game with a terrible head-to-head collision that led to a multi-year concussion recovery. Life tends to hit you when you are least expecting it; always keep your vision wide.
As for my career, for a long time I thought I was heading down one path, only to get a lay of the land and turn in a different direction. Along with training in the summers, I worked mainly in finance at the likes of Williams Trading, Northwoods Capital, and Centerview Partners. These jobs taught me the fundamentals of company valuation and financial instruments — taking away any of the mystery associated with the financial side of the world. By the time I graduated, I had a mix of experiences and plenty of challenges that gave me a broad differentiated perspective and confidence in my capability. I fully expected to take a job in the financial sector, only to abandon the idea when an unexpected opportunity came along.
A year prior to my graduation, my father, Kevin, had founded a startup Divergent3D. Surprisingly, it touched on many of my interests – building a digital production system for complex structures would require integrating software, hardware, AI, materials, operational finance, management operations, and product design. Furthermore, the initial target market was automotive, and I had a passion for cars – my first car was an Evo 8 which I put most of my money into performance upgrades, and to this day I have a large Paul Walker painting hanging in my home. Despite my job at Centerview Partners I wanted in, spoke with my father and he agreed.
Conscious of the optics and carrying the chip on my shoulder of being the founder's son, I came in at the most junior level and at the lowest salary across the company by some margin. At the time, we were a Series A company with ~30 people, today we are well over 120 and raising our Series C. I jumped right in helping our CFO build engineering cost models and revenue models to support the Series B raise. After successfully raising our B round, I reevaluated my position and looked for the area in which I could have the greatest positive impact. Our production system has three pillars (1) design software (2) additive manufacturing + materials and (3) automated assembly. We had a good start on design and AM but had yet to address assembly. I joined the nearly non-existent Automation Team under our VP of Manufacturing and alongside a new intern. Initially, my focus was on quickly educating myself to have the largest value add. I attended Kuka robot classes, took simulation and CAD software training and built skills on the job.
A couple of months later, I began having ideas about fixtureless assembly – removing all design-specific tools from the assembly process so that the assembly machine would be as flexible as the 3d printer and our digital production system would be unconstrained. With these early ideas of using accuracy instead of repeatability and using external systems to improve robot, I spent a few months proving out the feasibility of the process. After presenting the concept and results to our executive team, I was given the green light to build a team around myself to deliver this system – an unparalleled opportunity. Over the course of several months, I recruited a world-class team from all over the US and Europe. Together and under my leadership, we spent the next two years creating this system – in Q4 2020, we demonstrated the flawless automated assembly of a vehicle frame. Years of development fully showcased in only a few minutes.
Throughout that time, my title and responsibility increased from Automation Engineer to Lead Automation Engineer to Director of Automation to Sr. Director of Automation and Manufacturing to VP of Automation and Manufacturing to VP of Operations, Automation and Manufacturing. I also became one of the companies lead inventors with over 37 patent filings.
After our successful system demonstration, my focus broadened to operations overall across Divergent and Czinger Vehicles. I carry the direct engineering reports from the automation and manufacturing team and manage the race technician team. On the operations side, I work closely with my father, our head of finance, and our chief engineer. My days include engineering meetings, management meetings, investor meetings, and some time for individual engineering thought, innovation, and development planning. In hindsight, you never know how and when opportunities will present themselves or what doors they are concealed behind—all you can do is meet them will all the dedication, drive, and talent you can muster. Commit yourself to delivering the result and hold on. Divergent and Czinger Vehicles continue to be the opportunity of a lifetime.
Would you say it's been a smooth road, and if not what are some of the biggest challenges you've faced along the way?
Life is linear for no one, whether you are expecting it or not does not matter, life will hit you with changes of course and challenges – and you only get hit harder the larger your dreams.
We have all had our share of challenges – I have had mine inside and outside of work. At Divergent, we are creating something fundamentally disruptive and novel. We are taking on the most ambitious project I know of. In the early days, there were multiple "gating, go/no-go" challenges that the entire system depended on. By that, I mean there were pieces of the puzzle that had yet to be solved and solving them required breakthrough inventions. In hindsight, it is sometimes hard to believe that we created all these pieces. When you are working on one of these challenges, it can be near all-consuming – stressful, frustrating, and long nights become the norm. However, you also begin to believe in the process and have faith that you will get the result. To achieve truly disruptive innovation, you must be willing to push through your own doubts and the inherent uncertainty along the way.
Outside of work, my concussion and the recovery process also taught me the difference between self-constructed challenges and uncontrollable challenges. I will spare you the details but significant daily pain over multiple years will bring a certain perspective, empathy, gratitude, and strength that, although I would not wish it on anyone, I believe is extremely valuable.
Can you tell our readers more about what you do and what you think sets you apart from others?
Divergent as a company that is revolutionizing industrial manufacturing. The Divergent Adaptive Production System (DAPS™) radically transforms manufacturing economics and environmental impact using a software-driven approach for designing and building structures. To make the complex simple, it is a complete modular digital factory for complex structures. Given a set of digital requirements as input, the machine automatically computationally engineers, additively manufactures and assembles any complex structure. This in⁠-⁠house invented system integrates automated design and optimization software, patented additive manufacturing-driven processes, high accuracy automated assembly, and novel performance materials. The system is able to move seamlessly between manufacturing different structures, for example, vehicle models. Over the long term, this production system is capable of democratizing the means of production and radically reducing environmental impact.
Czinger is a vehicle company that uses an in-house invented Human-AI production system (DAPS) to build state-of-the-art high-performance vehicles. The Czinger 21C is the first model in a series of exclusive performance vehicles and expresses the apex of Human-AI creativity. The hypercar is designed, built, and manufactured in Los Angeles using cutting-edge technology tools that are integrated into a patented production system. Computationally engineered, printed and assembled, each component is at the frontier of theoretical performance. This revolutionary technology enables Czinger's design and engineering team to unlock performance and styling not before seen in the automotive industry. The Czinger 21C recently set the world production record for the fastest lap time at Laguna Seca, dethroning the McLaren Senna.
Is there something surprising that you feel even people who know you might not know about?
– Me and my father still get along – Outside of work, I enjoy painting and creating art – you can see some of my work in IG @czingart.
– I used to work in factory in Harbin, China.
– My sister edits all my papers.
Contact Info:
Suggest a Story:
 VoyageLA is built on recommendations from the community; it's how we uncover hidden gems, so if you or someone you know deserves recognition please let us know 
here.