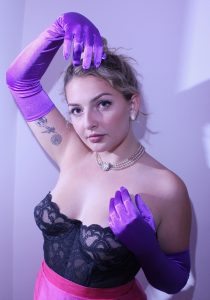 Today we'd like to introduce you to Julia Rome.
Hi Julia, please kick things off for us with an introduction to yourself and your story.
I currently live in Los Angeles and am one of the few people in the room who answers "here" when asked where I was born. Growing up in LA was both very fun and very strange. I literally grew up on Beachwood Canyon, so when I saw the Hollywood sign on TV as a toddler I would say "Look! It's home!" which always blew both of my out-of-state-born parents' minds.
My mom and dad both grew up in small towns in central Wisconsin and Ohio. My mother grew up on a farm in Wisconsin with nine other siblings, all older than she was, and my dad was born into a small Jewish family in Ohio. Both parents moved to Los Angeles in pursuit of the entertainment industry and both have stable and successful careers. I truly could not have pursued my own dreams without their full support.
Although growing up, I was constantly surrounded by rich families with producer, director, and even actor parents, I was never jealous of their wealth and connections simply because my family was so incredibly encouraging and loving. And – in my opinion – still incredibly hardworking and successful. I'm truly proud of my parents every day and very much credit them with my love for/obsession with all things film. They were the people who encouraged me to follow my dream of going to film school, and I was luckily able to take out loans and get a few scholarships in order to attend my first choice school, Syracuse University.
There I studied the art of filmmaking in Syracuse's Visual and Performing Arts College, where I got an incredible amount of hands-on experience and truly dove into my own passions. The teachers in that program prioritized each student's personal style, voice, and story. Although the program is severely underfunded, I worked with some of the most talented people I had ever met and made amazing life-long connections, both professionally and personally.
After moving back to Los Angeles, I have been lucky enough to find lots of work as an art director and/or stylist for music videos, commercials, and independent projects, as well as countless opportunities as an assistant and coordinator. I've also recently begun to form an acting portfolio and have already been able to get some voice work.
Would you say it's been a smooth road, and if not what are some of the biggest challenges you've faced along the way?
Unless you were born into a famous family, working in the entertainment industry will likely never be a smooth road, especially for a queer woman. I constantly struggle to feel more than just a cog in the wheel and often work with white non-queer men who tend to wash out the voices and needs of all others.
Also, for anyone of any social identity, assistant work can be extremely taxing mentally and physically. Despite the efforts of many workers – especially recently – assistants are often taken advantage of and forced to work completely unfair hours every single day. This has become an accepted "hardship" of pursuing this type of work, despite the fact that no one should have to face such an extreme imbalance of life, health, and career.
However, I have been lucky enough to find work that I enjoy for the most part, and am slowly reaching a point in my career where I have the privilege to say "no" to opportunities I know I won't enjoy at all. This is largely because I was able to begin work as a production assistant before I even graduated due to the network in Los Angeles I grew up with, and have been able to sustain freelance work leading the art department because I had the privilege of making connections through the experience of college. This is not to say I don't deserve these opportunities, but the truth is that there are many talented people in pursuit of goals like mine whose talent goes unrecognized. I truly hope that by the time I'm a well-seasoned member of the industry, there will be enough systemic change that allows more people to be included in this amazing world of TV and film. I plan to take part in that change as much as I can.
Thanks for sharing that. So, maybe next you can tell us a bit more about your work?
When people ask me what I do, I like to joke around by saying "too much" in an exhausted voice. The truth is that I truly love so many different creative things and tend to always be working multiple projects at once.
If you ask my former classmates or most of the younger people I've worked with on projects in LA, they will tell you I'm a talented art director, stylist, and prop-maker. My close friends know me as extremely crafty and "DIY," and I honestly take pride in those descriptions! I've always been great at making things. As a kid, I looked forward to every single art class or project in school that involved paint, clay, drawing, beads, etc., and currently have at least three cabinets/large bins in my home dedicated to crafting. If I don't have any props or costumes to work on for a shoot, I'll stay up until 3am making jewelry, clothes, or some piece of décor just for fun. I can point to countless things in my apartment and tell you how I made them.
While jobs in the art department have brought me lots of joy and given me incredible opportunities, acting and directing will always be my final goal. I have been in acting classes since I was a loud, dramatic, hyperactive, and overall "extra" child. My first acting class was probably at five years old, and I continued taking them until I left for college. As a teenager, my acting teachers were always incredibly encouraging of my filmmaking goals and often allowed me to direct scenes in our showcases. Then, because I chose a directing concentration at Syracuse, I was also lucky enough to continue acting classes in college as a requirement for my major.
I would say I am currently most proud of my two final films my junior year – one shot in the Czech Republic while studying abroad in Prague – and my final senior year thesis film. I had such a large part in all three films as writing, directing, and producing, and it was really incredible to see extremely personal ideas come to life. Despite my always-overwhelming workload, I continue to write and create projects whenever I can. I'm currently working on a documentary about my large farmer family in Wisconsin, which I hope to finish sometime early 2022.
Have you learned any interesting or important lessons due to the Covid-19 Crisis?
2020 changed a lot for me. I have always lived a comfortable life. While I couldn't exactly afford luxury vehicles or the newest iPhone, I never worried about not having food, water, or shelter. This is not the case for an unfairly large amount of people. The pandemic brought so many problems to the surface in every industry in America, especially Hollywood. In 2020 I realized my views on who deserved basic human rights, who deserved to be angry, and how people should go about mobilizing were a lot more "extreme" than that of many of the people around me.
I grew up believing that artists will always be one of the major keys of change and that the entertainment industry was a podium for these artists to share their voices. While I understood many of the negative aspects of the industry I wanted to be a part of, the pandemic put a lot of things in perspective as far as who really cares about people and their stories, and who cares more about making money and benefitting off of those who have much less.
Although I will never give up on my goals, I do have a much more realistic view of the issues I will be up against as I dive deeper into the entertainment industry. Instead of deterring from what I've dreamed of since I was a child, the pandemic instead gave me the extra push I needed to fight oppression through storytelling, and made me think a lot about the specific jobs I want to take, the companies I want to work for, the producers/directors I want to work with, and the stories I wish to tell.
Contact Info:
Image Credits
Photo credits: Prince Dudley (@pbcd), Liv Barnett (@livbarn), Oriane Playner (@oripla), Ross Cohen (@rossinvideos)
Suggest a Story:
 VoyageLA is built on recommendations from the community; it's how we uncover hidden gems, so if you or someone you know deserves recognition please let us know 
here.