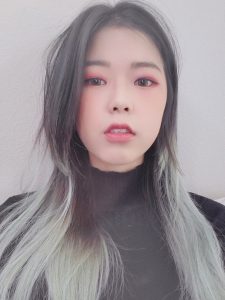 Today we'd like to introduce you to Jenny Kong.
Hi Jenny, please kick things off for us with an introduction to yourself and your story.
I'm Korean-American born and raised in Anchorage, Alaska. Now, 33, married to my amazing husband Yoseb and a proud mom of two beautiful kids Lia and Liahn living in Los Angeles. It's been about 11 years since I moved to California and I've learned to love it here. I've been a hairstylist since 2008. I've been interested in hair, beauty, and fashion since I was like seven years old. My mom was an immigrant from South Korea and always was hardworking for my brother and I. I always looked up to my mom and I feel like I've learned a lot about how to become a hardworking, independent individual from her.
I wanted to be a hairstylist since I was eight years old. It all started when I fell in love with one of the most popular K-pop bands in Korea in 1996. They were known as H.O.T (Highfive-of-Teenagers). BTS, Blackpink, had nothing on them. They we're the Backstreet Boys of Korea. Anyways, I knew when I saw them on T.V. that I needed to work with them. They had the coolest hair and makeup for being a boy band in the 90s. That's where it all started. I wanted to become a hairstylist, so one day I could style for H.O.T, but they disbanded before I entered high school. I was devastated to say the least. But my dreams of becoming a hairstylist didn't go away. I was 14 years old when I first worked as a "Saturday Girl" for a hair school called Academy of Hair Design in Anchorage, Alaska. "Saturday Girl" was basically a part-time helper in the academy who cleaned, ripped foils, did laundry, etc. I got introduced to this small job by my aunt who was attending the school to become a hairstylist. After a couple of months of that, I asked if I could attend the school and they all laughed and told me I couldn't until I was graduated from high school. Time passed, I went to school and helped my mom at her restaurant. Once I was a senior in high school, I asked the academy if I could attend since I was going to be an early graduate from school and they knew who I was and let me start early!
After 1650 hours of school, I passed my boards exam and became a professional hairstylist! I was attending high school, hair school, and working at my mom's restaurant all at the same time! I graduated halfway through senior year and graduated hair school the very next week. I started working at a mall salon, didn't last since I was trying to juggle college and work at the same time. That's when I decided I wanted to just work and save up for college. After a few years of working, I saved up money and figured college wasn't for me and that I wanted to dig deeper into the beauty industry. So, I moved to LA and attended Cinema Makeup School. Silly of me, at the age of 21 I saved up the exact amount for the Master Course and nothing else. I didn't even think about living costs. So… after about a month of schooling, I started a side jobs as a server, cashier, sales associate, many different jobs, I was hustling to make a living for myself. I planned on transferring my hairdresser license from Alaska to California, but that wasn't possible. I had to re-take the exam for the State Board of California, but easy peasy lemon squeezy- I passed in one go!
After I received my license for California, I started to work in a salon in Ktown. It wasn't an easy start though, a little girl from a small town without knowing many people… it was hard to build a clientele. My dreams were to be a stylist for dazzling celebrities but in reality, I had to try to start building my clientele in a salon… I didn't know it was going to be that difficult, I mean… we're in LA! Anyways, I started working in salons and got my foot into working as an assistant hair and makeup artist for commercials being filmed for Korean companies. It was a great experience and the first time I worked near actual Korean Celebrities. But that feeling didn't go on for long. I was being underpaid and unappreciated by the "senior" artist. After a couple of years, I had already built small clientele and thought that I needed to go on my own. I learned that I didn't want to work with people who didn't appreciate me and my work and I no longer wanted to be taken advantage of. I believed in my skill and thought I could do it if I only tried. I've met a ton of people who help me grow during this time. The supportive clients who are still with me now for 5-10 years, photographers, aspiring actors, musicians, models who believe in my work and are now people I can call friends.
I've done photoshoots that have made covers in magazines, music videos, short films, etc. A lot of things that were on my goal list for my career. As a young girl that was a fan of KPOP music… I had the honor to work with a handful of Korean Artists and I still can't believe I worked with them all. Eric Nam. Tiger JK+ Yoon Mirae, Minzy of 2ne1, Hyolyn, Epik High, Mamamoo, just to name a few. Another goal I had was to travel for work and I had the absolute honor to work with Epik High on their North American Tour in 2019 and travel with them all across North America. It was an amazing experience, I'll never forget it. I also had fulfilled my lifelong dream of meeting H.O.T (the reason I became a hairstylist in the first place) well, sort of because I got to meet and work on two music videos for one of the members named Jang Woo Hyuk! With the connections I've made through the years, I was referred to a friend of his and got connected to do hair and make up for his music videos "Stay" and "Weekand". I screamed when I got the job. Little eight years old Jenny was ecstatic. I thought I had no other dreams after that one, that's for sure.
But, besides all the dazzling fun of working with my dream clients; I was continuously working in the salon behind the chair cutting, coloring, perming hair for my amazing clients. I always had a passion for making people feel good about their appearance but also have them enjoy the hours in the chair. I feel that when they come into the salon, it's a time to de-stress and get away from life's worries for a couple of hours. It makes me happy to know that they feel good with their new hairstyle but also that they had a break from their busy lives.
But after covid-19 came around a lot of those exciting celeb jobs kind of…. disappeared and I was back behind the chair only in the salon. On and off because of the covid closures. That's when I realized my bigger passion was to work with everyday people that need a small break from life. I missed chatting it up with my clients and building relationship with them. I've seen my clients get married, have kids, send their loved ones to heaven, have grandchildren, etc. and it's an amazing feeling to be a part of their lives AND making them feel good after a good haircut or color. For a hardworking client a good shampoo massage can make their day and I'm the one to do that. I want my clients to all feel like celebrities. I'm there for my clients and they're there for me. It's a good connection. I'm a pretty positive person and I would like for my clients to live their daily lives with more positivity and I know a good hair appointment can make that happen. Hairdressers aren't just hairdressers. We are artists, counselors, and life friends, I just want everyone to feel good cause being good spreads good and we need more good vibes in the world we're living in. Don't get me wrong, I will still be striving and appreciate working with amazing artists but I also will be there for those who sit in my chair.
I'm sure you wouldn't say it's been obstacle free, but so far would you say the journey have been a fairly smooth road?
I think everything is a challenge when you have goals. Nothing is easy, but it's how you put your mind to it. Like I mentioned working with people that don't support you growing but use you for advantage… that was one of the hardest for me. I worked hard and wasn't shown much appreciation. They say it's because of lack of experience (time) but I don't think that matters much if you have the skill and can get the job done right. It was very intimidating for me because of being Korean-American and raised to be respectful to the higher up… you think you just have to go with the flow. Yes, I think you need to somewhat. Because you learn a lot from that experience but don't let them take advantage of you. You need to be true to yourself and know your worth. Nothing will come to you for free. Nor should you work for free.
It was hard to find a place to work in the beginning, I didn't have a clientele and being from Alaska a lot of salons, we're hesitant to let me work as a stylist from the beginning. They didn't think I was good enough, which was very annoying at the time. I was 21 and kind of had an ego. Just kind of? Haha, I was annoyed they didn't think I was skilled because I didn't attend Vidal Sassoon or had years of assisting experience. So, I took a one week course at Vidal Sassoon and made them think I evolved into a "professional" stylist. Funny isn't it? One name brand turned me into just a girl from Alaska to an employee with good schooling. But I guess that's how life is sometimes. They judge a book by its cover and with a new cover, people are more interested. It's sad, but it's how it is. Don't get me wrong, I had a great time at Vidal Sassoon besides the traffic back and forth from Koreatown to Santa Monica. Hah!
Another struggle was when I had to stop working after being pregnant with my kids. Being a working mom isn't an easy task. Especially if you don't have help from someone to watch the kids to work. That was another hard time because I had to put a pause to my career. Thankfully, my husband was supportive of my work and watched the kids on the weekend so I could go see my clients in the salon and also take gigs when they came in.
Now, I am working and trying to be the best mom my children can have. Which is a continuous struggle. I want to be an awesome mom that is there for every event and teach my kids how to be great human beings- but I also want to be a great person myself and continue doing what I love to do. I don't want to lose myself or my dreams just because I'm a mom. I'm still trying to find my balance between work and family but I will tell you, it ain't easy. But that's why working moms are called "Super Moms".
Alright, so let's switch gears a bit and talk business. What should we know about your work?
Freelance Hairstylist and Makeup Artist. Behind the Chair and Beyond.  
I specialize in most things that do with hair. Precision cuts, Customized colors, Color corrections, Extensions, Hair Straightening, you name it. People ask me if I am a colorist or a stylist but I hate answering that question. I enjoy both. For those who need a precision cut, I am a specialist in that. For those who want to go for a crazy color change, I am a specialist in that. I like whatever gives me a challenge, I am a perfectionist so… my clients like me for that reason. I think I am known for my colors though, Global bleaches and customized color for now. I've been getting many inquires in dramatic changes in hair color and cuts. I love it when my clients trust me and give me creative freedom. I like to work with my client's ideas and add my personal touch. It's a literal "collaboration." haha
What sets me apart from other stylists?
Because I'm 2nd generation Korean-American raised in a small state – moved to a big state worked in salons owned by all different nationalities. I have a very wide range of experiences that can cater to all people. I feel like I'm blessed to be Asian-American because I can help others open their eyes to different cultural styles and I think that is a very big plus for someone who works in a service industry.
I'm proud of where I am now, after 14 years of experience in this industry. You can say I haven't done enough or I've reached all my goals but… I'm proud of how far I've come in my career and in life. When I look back and think of all the amazing people who have sat in my chair and all the talented people I've worked with.. little Jenny Kong has come a long way.
Pricing:
Womens haircut: $80
Mens haircut: $60
Contact Info:
Suggest a Story:
 VoyageLA is built on recommendations from the community; it's how we uncover hidden gems, so if you or someone you know deserves recognition please let us know 
here.