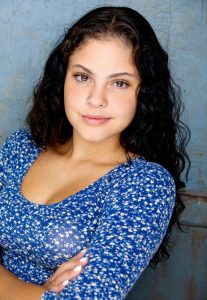 Today we'd like to introduce you to Giselle Diaz.
Hi Giselle, thanks for sharing your story with us. To start, maybe you can tell our readers some of your backstory.
Growing up, I wanted to be so many different things, my dream occupation would change every year. I grew up having so many different passions and wanting to try new things constantly. By the time I was in high school, I was already playing five different sports and multiple instruments. I knew at a young age I was different and this drive I've had all my life was going to take me somewhere although I didn't know exactly where it will take me. I wanted to be an astronaut, a police officer, a Marine in infantry, a pilot, a WNBA player, an artist, a writer and so much more… but it wasn't until I was 17, a junior in high school, that I started to realize that I didn't want to have those exact occupations, but rather I wanted to be the people I saw on television playing those occupational roles.
Once I realized that I was set on wanting to be an actor but I just didn't know where to start. One weekend my parents and I went to the mall near my house in which we came across these recruiters who were looking to sign talent to their schooling/agency; they go by the name Barbizon. Next thing I know we're in Manhattan auditioning for the school, six months later I graduate and my family and I are in debt $20,000 and the only thing I took out of what they taught me was the information I needed to get started in my freelance career path as an aspiring actor. As I went to school Monday-Friday to finish off my senior year of high school, I was in the city Saturdays and Sundays going to this acting school that finessed my family and I out of money that I soon hoped to put back in my parent's pockets. Wanting to give my parents the world one day suddenly put my original hustle mentality into overdrive and in 2019, I was constantly networking while working three jobs and trying to make a name for myself. I eventually landed gigs in music videos with major musical artists, Ali Gatie, Joey Bada$$, Tayla Parx, Lil Tecca and more. I booked a few features on Netflix shows that year as well and worked with Nike a few times, and being around these environments really gave me the extra push I needed.
Summer of 2019 was one of my hardest years, I was broke and lost all my closest friends that summer, not to mention the constant rejections for gigs I would audition for coming in, I felt overworked and underappreciated and I burned myself out. After having the best and worst summer of my life to date, fall came around and at that point, I wanted to give up. I was in college, playing three sports trying to keep my mind off of these constant rejections, until one day I got an email from my first Nike gig that I had applied to that needed last minute former amateur basketball players. At this point, I needed to make the decision, continue playing college ball and work my way up to D3 and eventually chase my dreams of being in the WNBA while majoring in Criminal Justice, or take on this Nike commercial to only get paid a low three figures and lose my eligibility to play NCAA sports leaving me with the decision to go full throttle with my acting career… I ended up traveling last minute to another state and asked my dad to lend me the travel money, knowing I wasn't going to make any profit because I just wanted the gig for my resume and the opportunity to make those connections on set. I was two years into freelancing at this point, a month or two passed by and I get an email from production saying they're bumping my pay from 3 figures to a 5 figure pay, this was my first ever life-changing moment in the industry.
A day later, someone I had met on set loved my energy enough to connect me to the management team I'm currently signed with today and all of this happened within the same time frame, making it all feel like a dream. This sudden weight lifted from my shoulders and I realized that 2019 alone taught me so many lessons that I will take into the rest of my career path. Be kind and treat everyone equally, Show compassion and never settle for less, don't take rejections personally, always practice self-love, internal health is just as important as physical health, people come and go, and keep it pushing while keeping your head high. But most of all, kindness got me this far and kindness is what will get me all the way. It's now the end of 2021 and I've had the pleasure of meeting amazing people in this industry who continuously advise me to stay consistent, and that's exactly what I'm going to do. My journey is just beginning and I can't wait to one day share it with the world.
Can you talk to us a bit about the challenges and lessons you've learned along the way. Looking back would you say it's been easy or smooth in retrospect?
The constant rejections and no's, losing people I thought I was close to, realizing how cruel this industry can be if you don't have the power to stand up for yourself, finding the willpower to keep going, working 3-5 jobs and prioritizing acting, while also keeping up with the talents on my skillset portion of my resume to make sure I'm ready for all my auditions, working so much to invest the money I earn into trainings, coaching and preparing myself for more rejection. It all comes down to finances, willpower, determination and how hungry I am to make a living off of my passions. Because there's a lot of people in this world that want the same things as me and that are putting in the work, but the real question is how bad do I want it?
Thanks for sharing that. So, maybe next you can tell us a bit more about your work?
I'm an actor/athlete/model/content creator/dancer/musician and much more. I've always loved the arts and anything to do with movement of the body and/or brain in every form whether it be through music, athletics, content creation, acting, etc. I've also always loved singing and would one day love to explore that part of my many passions as well in the musical realm of the arts. I would say I'm not known for anything quite specific as of yet but the main things people would know me from is being an athlete with big goals to be someone in the acting and music industry as well. I'm most proud of my hustle and willpower to keep going even through all the rejections and constant investments I've put into my career path thus far. I'm also a candle maker and started my own candle business, my first few launches were pretty successful both selling out and I'm currently working on making my business a seasonal fall/winter thing so I have more time to focus on my acting career. I proud of all the work I've done as a whole since the day I started and the networking and connections I've built as well as the person in becoming in the midst of my evolution as someone in this industry.
What matters most to you?
My internal peace and health matter the most to me. Knowing that everything I do for myself or for others comes from my heart and a good place of self. As I evolve in this industry, I want to evolve in a positive manner as a human being too. There's a lot that I want to eventually do with the money I earn from my passions and they fall between the lines of eventually contributing to making this world a better place by feeding the homeless, standing up for the minorities of this country and for those around the world, giving back to those who need it and much more. Growing up, I would participate in local gardening to improve parks Eco-systems, I would go to homeless shelters on Thanksgiving to feed the homeless, participate in walks like breast cancer walks and Alzheimer's, and I want to continue to do everything I used to do, or do now and bring it to a much larger scale. Hopefully, one day I grow my audience enough to spread this awareness and to positively change other people's lives. Selflessness goes a long way in a world full of negative selfish behavior.
Contact Info:

Image Credits:
Absesay
Suggest a Story:
 VoyageLA is built on recommendations from the community; it's how we uncover hidden gems, so if you or someone you know deserves recognition please let us know 
here.