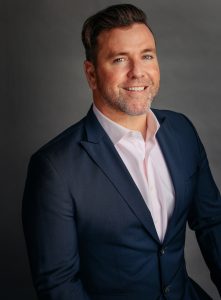 Today we'd like to introduce you to Chris Wagner.
Hi Chris, we'd love for you to start by introducing yourself.
I grew up in a small beach suburb south of Los Angeles, always aware of Hollywood but never interested in it, socially or professionally. I went to Loyola High School and was recruited by colleges around the country for volleyball, and chose to make UC Santa Barbara my destination. My father was in finance, a career I knew early on that I didn't want to pursue.
My grandfather, my idol, was an attorney, so naturally I wanted to follow in his footsteps, majoring in political science and planning a legal and possible political career after college. After four years in Santa Barbara….I scratched all of that. Staying in Santa Barbara and becoming a fireman was my dream. I called my dad that June day, ready to tell him I'm staying up there for the summer. When I called him, it clearly caught him off guard. My neighbor at the time, Bob Bain, had just left FOX and started his own shingle and created a new show called "The Teen Choice Awards". He told my dad to relay to me that I should come work for him for the summer. I thought why not learn about Hollywood before my final year of college.
I became a production assistant the summer of 1999, the inception of The Teen Choice Awards and at the height of the boy band/pop music boom. I got crushed….working 20 hour days, running for coffee, tapes to executives homes, and everything in-between. Armed with only a pager, a Thomas Guide, and no air conditioning, Hollywood captivated me. I loved being a PA. I had the opportunity to see every part of the business, albeit on a minion level, and I loved it.
I finished up my political science degree in 2001 and moved back to LA.
A combination of luck, timing and knowing the right people, my father had a friend at NBC and my mentor was working on a show at NBC. "The Weakest Link" primetime was looking for a production coordinator, and both people sent the EIC my resume. I started weeks later and had a 6-month run. Then the show ended. I was unemployed. Welcome to Hollywood, Chris.
At the end of week 5, my mentor at the time called me. She said "A UK format is coming over. It's a competition show looking to find the next Britney Spears. I think they're going to call it "American Idol: Search for a Superstar". Are you interested in doing it?"
Yes. Yes, I did.
And that started the international phenomenon we all came to know, and still know, as "American Idol". I did five incredible seasons there, watching it start with all of us handing out flyers around LA to get people to audition, to 50,000 people showing up at football stadiums begging to get in.
I left the show, realizing there was no upward mobility and got an offer to go to Mark Burnett. I stayed there for three years, doing shows like "Rockstar: INXS", "Rockstar: Supernova"; "Shark Tank"; "Are You Smarter Than A 5th Grader?", amongst others. Fremantle came knocking and wanted me to be a part of "The X-Factor", Simon's new show at that time, a spin on American Idol. Having had a great experience at MBP and the opportunity to do a variety of genres, I went back to Fremantle.
Freelancing was tough. It was scary. Never knowing where you'd get your next job, multiple people choose the long-lasting gig. I never did. I always believed you had to honor your commitment that you made to a show, but moving around, meeting new people, and having a multitude of genres of television under your belt was the key to upward mobility.
After the first season of The X-Factor, and now having my 3rd baby coming, I realized I didn't want to travel as much anymore, so took the opportunity to run John Steven's and Barry Poznick's company Zoo Productions. Arguably the best time of my life – being able to work with great friends and do every genre of television, I loved the two years I was with them. When ALL3 Media America bought them, the company got sucked up into the mothership, and I went with it. I got to then oversee (6) independent production companies – working for a massive conglomerate while still being able to get my hands dirty in production. At this point in my career, I was now fortunate enough to be getting called directly by networks, giving them assurance the show would be produced to their expectations. At this point in my career, having worked on the biggest shows and some of the smallest, and at some of the biggest companies, and having networks call me directly, I thought there had to be a more efficient and nimble way to get TV done. After the market crashed in 2009, budgets fell. As the market climbed back up, budgets did not and expectations of quality content remained high.
It was around 2015 I started my own production services company. Offering partners such as networks, streamers, independent producers, talent-owned companies, and larger companies without proper infrastructure a turn key solution to get shows produced on time, on budget, with the highest quality and in the most transparent way. Since then, I've produced over 60 shows under my own banner, with revenue over $500M. I've been fortunate to work on every genre of unscripted, across every platform, and am most excited about the recent launch of my recent company I am doing on my own and launched in 2020, White Label Productions and most recently, its sister company, The Post Haus, offering post-production services for my shows as well as other companies projects.
Can you talk to us a bit about the challenges and lessons you've learned along the way. Looking back would you say it's been easy or smooth in retrospect?
Like anything in life, nothing good comes easy. When I first started out, as I mentioned, I was freelance. It was scary to leave a big show, which I've had the fortune to do many of. But, I knew if I wanted to continue to grow my career and move up the ladder, I had to leave and continue to try different genres. So I constantly had to face my fears. I left a stable corporate gig, moved back to my hometown of Manhattan Beach, all right when I had a brand new baby and my wife stopped working. I left it to start my own company, which I knew would be best in the long run. And it has been. I've been super fortunate to have started the business when there was still an old-school vibe – learning from the biggest and best about what to do, and even more important, about what not to do. I've started companies with partners, realizing I needed to follow my heart and my gut and run a company exactly how I want to, on my own. And that is White Label, my current company.
Thanks – so what else should our readers know about your work and what you're currently focused on?
White Label Productions is a brand focused on providing production services and post-production services, for all genres across all platforms, from development through final delivery. White label is a turn-key production company that offers the same high quality that buyers expect and in line with the biggest and best companies out there, confidence from the buyers, at usually 25% less the cost. We do this primarily by keeping overhead low, amongst other things, with a driving purpose to put all the money on screen. I'm most proud of White Label because it represents everything I believe in and try to instill in my personal life on a daily basis – work hard, be honest, and treat everyone fairly and with respect, whether it's the president or the PA.
Risk taking is a topic that people have widely differing views on – we'd love to hear your thoughts.
My dad was a stockbroker and always told me high risk / high reward. I've taken that and put my own filter on it. I believe in calculated risk. I identify risk as something few others will do – I evaluate why nobody else is doing it and the chance of success if I jump into it. I really look into my gut feel and see if it's fear that's driving others, and myself, away from doing something. Recently, if I identify fear as the driving force from stopping me from doing something, I make myself overcome it. It's uncomfortable and it's scary, but it's also growth and following what I believe in. From my start in this business, I left the biggest shows that we're likely to run for a long time to jump into another genre at another company so that I could diversify my experience. The biggest risk I've taken, at the worst possible time to do it, was to go out on starting my own company. I believed, and still believe, that there was a niche to be filled of a nimble production company that could compete with the biggest companies to provide the highest quality content, provide confidence to the buyers, putting all the money on screen while being transparent with partners and buyers. I've followed my gut feel and have never been so happy, so full, so grateful for all I have had the opportunity to do, and have never looked back with any regret.
Contact Info:
Suggest a Story:
 VoyageLA is built on recommendations from the community; it's how we uncover hidden gems, so if you or someone you know deserves recognition please let us know 
here.