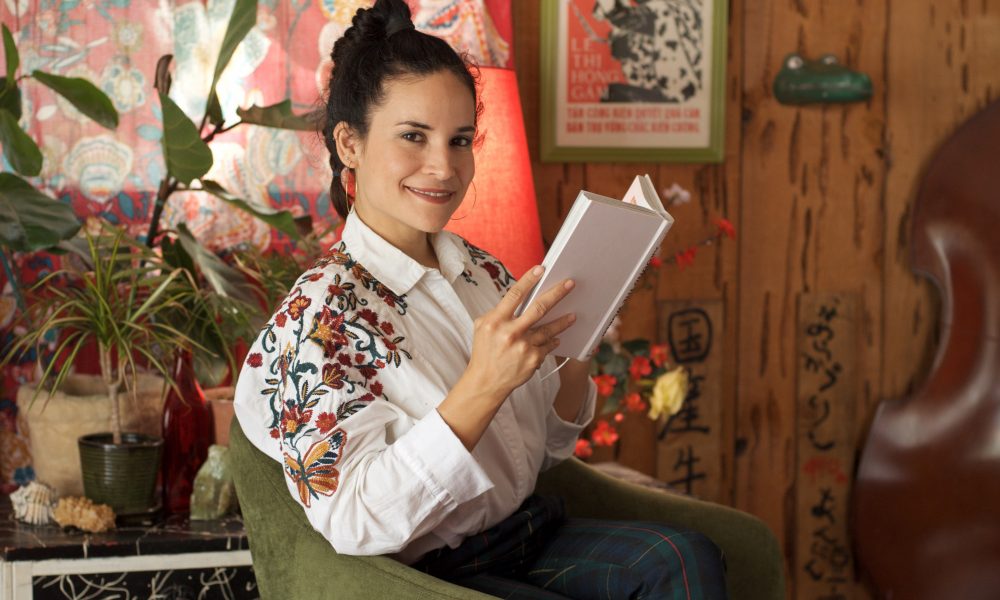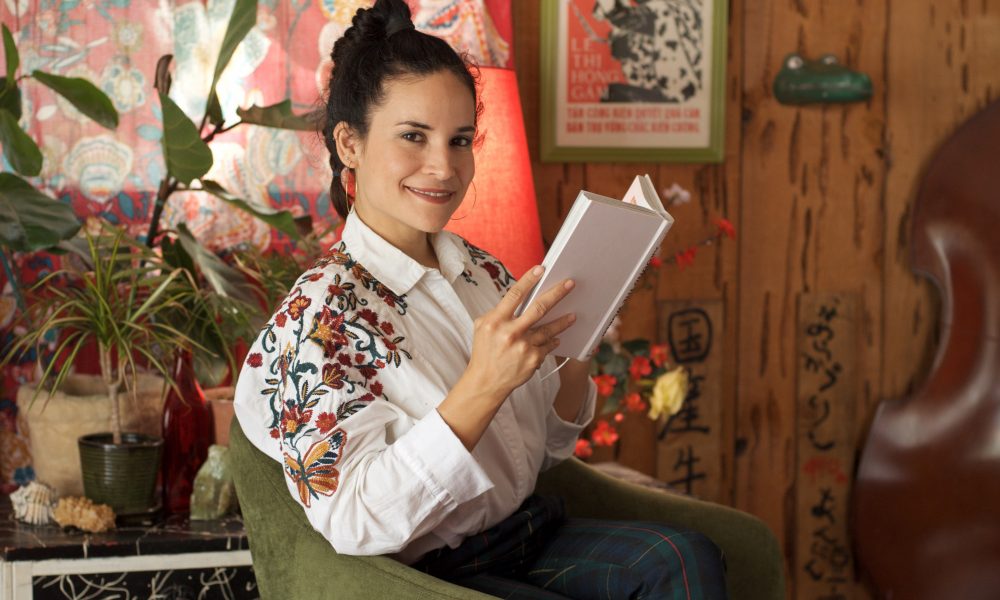 Today we'd like to introduce you to Olivia Sandoval.
Alright, so thank you so much for sharing your story and insight with our readers. To kick things off, can you tell us a bit about how you got started?
My family was living in Chicago when I was born. My two sisters are older than me for ten plus years. By the time I turned three, my parents were already very tired of the inclement midwest weather, so I actually grew up in Guadalajara, México.
My parents had a little piñata and fiesta paraphernalia store in the city's downtown. I spent great part of my childhood there, surrounded by very colorful businesses and stands, like: fruterías, paleterías, dulcerías, and what not.
Since I was a little girl, I was very drawn by the idea of portraying real México in the movies and on TV. I wondered why the people on the screen didn't look like myself or the people around me. I also wondered why México kept copying TV content from the United States and not creating original. There was El Chavo del Ocho, of course, but most of the rest of the programming was bad copies of the shows from up here.
When it was time to study college, I was in between studying marketing or Media Studies. It was always a question of practicality and money versus my passion for a major that didn't have reputable job options.
It was a last minute decision. I remember being already registered to study Marketing when I told enrollment services that I wanted to study Media instead. And I don't regret it. Now… although for many years I kind of did, LOL.
The Media Studies major focused in all mass media types like Journalism, radio, tv and Film. This major was the closest I would get to study film without my parents being scandalized for choosing an expensive and artsy major that wouldn't help me get any jobs.
Close to the end of my studies, I finally got to take the film class. Among all of my classmates, we had to choose one script and shoot it with a very old 16 mm camera. Two classmates and I wrote a script, and it was mine the one that was chosen!
It was a dream come true, I would be the director of this crazy film I wrote called Sánchez. It was about a hairdresser who kills his girlfriend because she reminded him of his mother who slit her wrists when he was a little boy. It was an experimental film about mental illness.
This was the most stressing time I ever lived. Finishing shooting was such an experience. There was not such a thing as a reliable monitor for me to see the frame. Because we were shooting on film, we have something very hard to set up and once set up, you could barely see the image in black and white. Besides that, we forgot to bring sunscreen and towels for the actors who had to swim in a pond, ughh… and so many other issues that now that I've worked on some films in L.A, I realize how unprepared we were.
When we finished shooting, I had to send the film to Mexico City to develop it and telecine it into MiniDV. During that process, I received a call telling me that during the shooting, a piece of debris was projected into my frame, so more than half of the film had the left side corner covered with I-don't-know-what. It was sad. The best they could do was to reframe and even if they did it, the debris would still be seen.
I need it to deliver that film, so after a few sleepless nights trying to come up with a solution, I decided to go super experimental with the editing and make it work somehow.
After I was done with Sánchez, I never wanted to know anything about film, ever again. The reason was not only the shoot being stressful. When that was done, everyone else lost interest on the film and I had to do all the post myself. I felt abandoned. Worst of all, my stubborn mind wouldn't leave me alone. My brain was always was thinking about new stories and how would I shoot them.
After graduating from college, it took me a while to find a job related to my major. I found a job at a bilingual call center and when I wasn't doing that, I worked as a door to door pollster.
A year later, after applying to hundreds of jobs, I finally could see the light. A newspaper had just opened their TV channel and they needed a video editor so they hired me!
It was such an accomplishment. I felt like I belonged to that workplace. The setting, the people and the environment was so different to any place I worked before. I finally was doing what I studied to do. If only the pay was better. I was hired as a freelance, with no benefits whatsoever. If I didn't live with my parents at the moment, I would have struggled big time.
So a year later, I decided to come to Los Angeles. I wanted to be a filmmaker. I was a U.S. citizen and I had a good friend in LA who was telling me I could stay with her while I find my place. It was February 12 of 2012 when I moved here. I had less than 500 dollars total, but I had a lot of faith that everything would work alright.
I prayed every day to find a job. I would walk endless blocks with resumes that my friend printed for me at her office. One of those afternoons I saw a couple of guys shooting a news feature at the gas station close to Alvarado and Sunset. I walked to them and asked them about working at their company and they were kind to me and gave me a business card with the name of the News Vice president and the address to the Estrella TV headquarters in Burbank.
Next day I went there with my resume. Thankfully they called me back for an interview a month later. Before that, I was surviving doing all sorts of odd jobs, like selling shots at Los Globos and editing promos for Mr. Animation. I was hired to be a news editor, and I was very excited to finally have a full-time job. The pay was very low, but I was grateful that I didn't have to worry about not having my basic needs fulfilled.
I started working for the news show with more ratings. This was mostly part because of my boss who was a renowned anchor in the Latinx community. He was famous for making the Chupa Cabras famous and other kinds of alarmist and supernatural stories. He was very demanding and also very explosive. I remember him firing me twice… but then I would come to work next day to realize he already had forgotten.
I worked there for over three years until I got a job as a segment producer for a morning show at another Hispanic TV station. The job offered a decent pay and all the benefits, like 401k. Sadly, three months later, the company closed down all its productions and fired everyone who worked on them. I, like the rest of my team, was jobless.
Joshua Sampson, my boyfriend at the time ( now husband ), was working as an art director on sets. I always wanted to do that kind of work. Being jobless allowed me to take occasional gigs as a set dresser. I felt so cool. Working in film was all I wanted; creating fictional situations, meticulously fixing the set decoration so each frame looks beautiful.
I worked in several videos and films as a set dresser. My mentor and first one to ever hired me was Yong Ok Lee, an AFI alum, now an emerging Production Designer. I told her that what I ultimately wanted to do was to write and direct. She told me that if I kept doing set dresser jobs, people in the film community will see me always as the art department gal.
It wasn't only she saying that. I also knew I needed to do something else if I wanted to get any close to being a film director. At the end, I was just another Mexican in this country who didn't have enough connections, who didn't master the English language, and whose scripts and videos look very amateur.
I decided to apply for grad school. In 2017, I was accepted in the MFA Film program at ArtCenter College of Design in Pasadena. My acceptance letter made me question my whole life. Was I willing to be more than 100k in debt for probably for 20+ years?
Yes. I started my master's and I don't regret it because I learned so many things that otherwise would have never crossed my mind. My work started to look more professional, my stories more engaging. And as for now, I am on the Film director's train and I have no intention to get off.
The whole reason to study my master's degree was to be able to shoot a thesis film. Before getting professional gigs, I would work for free on several thesis films and student projects. Making my own thesis film was my ultimate goal. I worked on my thesis' script with one of my instructors but by the time COVID hit, it was just impossible to make. Then the school canceled all student productions.
I wrote Love and the Deadly Virus. A script about an unusual romance during the pandemic. I thought that since there were only two main characters in a world where the pandemic was present, the school would let me shoot it, unfortunately the new rules were the new rules.
My biggest fear became a reality: Graduating without a thesis film. In December of 2020, I walked through graduation with no film but with a plan.
I had met Cathy Kyritsis doing an internship for a pilot. I knew she was a chingona producer because of Disadvantage, her web series. I talked to her about the project. She contacted me right after reading the script and she told me she'd loved it and was excited to help me produce it.
She and her business partner, Jenn Bertling have a production company called Little Monster Pictures. Their company would take Love and the Deadly Virus and make it into a film, but to do that we need money, so on February 14, 2021 we launched the crowdfunding campaign for the film on Seed&Spark.
If everything comes out ok and we gather all the money we need we will be starting principal photography on the beginning of April.
This would be my first professional short film. And I mean professional because it would be the first one where I would have enough money to pay professionals to work on it and not just do everything myself. This would be the greatest satisfaction because films are meant to be made by a big team, and that's what is so special about it. To have all these people putting their talents and human magic on this unique project that would be recorded forever. It gives me goosebumps only to think about it.
As you know, we're big fans of you and your work. For our readers who might not be as familiar what can you tell them about what you do?
My work is filled with strange characters and well-planned production design. What sets me apart from other directors would be the set, sourcing, building, and design, plus my passion for social issues and the determination to cast more Mexican naturals.
My determination to cast more Mexican naturals in dignifying and unconventional roles
If we knew you growing up, how would we have described you?
When I was a little girl, I was very analytical, anxious and a little temperamental, hah! I grew up to be more chill. When I started high school, I started having more alternative tastes. I remember dressing up with different styles every day; one day I would be a hippie, other day I would paint my lips black. I was finding myself until I turned to be the post-punk androgynous girl in college. I loved Manu Chao at the same time I loved Yo La Tengo and Las Jilguerillas. I was pretty eclectic and appreciative of any kind of art.
On film, I was drawn to movies with fun-weird stories, sets, and soundtracks; like Pulp Fiction, Lovers of the Arctic Circle, Stranger than Paradise, and everything from Wes Anderson.
Contact Info:
Email: olivia@o-sandoval.com
Website: o-sandoval.com
Instagram: @ponysilvestre
Image Credits
Raymond Yen Willie Cero Smith Timothy Huang Erika Rivera
Suggest a Story:
 VoyageLA is built on recommendations from the community; it's how we uncover hidden gems, so if you or someone you know deserves recognition please let us know 
here.