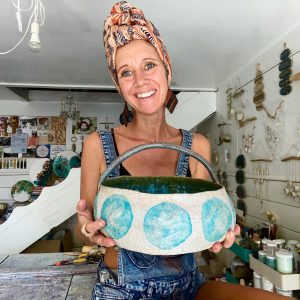 Alright, so thank you so much for sharing your story and insight with our readers. To kick things off, can you tell us a bit about how you got started?
I am an Australian ceramics and mixed media artist, working out of my lovely little backyard studio in Pasadena, CA. These days I work primarily with clay, and I love to teach and help people find their own creative flow. As long as I can remember, I've always been doing something creative.

My mum is an artist also and she indulged all my creative desires as a child, allowing me to mess up the kitchen making candles or get spray paint all over the garage doing large graffiti pieces. My parents also instilled in me a love for travel and adventure as I was born in South Africa and bought up in New Zealand and Australia.

After high school, I moved to London on my own to work and travel around Europe. I think exploring the world, being exposed to many different cultures, and meeting people from so many different walks of life is such a valuable experience as an artist and really helps you learn who you are, how we are different and unique, and also what makes us all so similar. It made me more open-minded and aware that there are so many paths in life, you can do whatever you believe you can achieve, and it's really important to find that thing that you're on this planet to do… and do it… cause that's where you will find your happy place! After a nice little adventure in Europe, I returned to Sydney and completed a Bachelor of Design in Visual Communications. I then dabbled in photography and graphic design but fell in love with motion graphics. A few years later, the motion graphics job I had allowed me an opportunity where I was offered a position in NY, London or Amsterdam. I chose New York! Working in London for a few months first, I met my husband to be on a weekend trip to Paris (at the Peace and Love Hostel no doubt 😉 ) NY was fun, and I enjoyed life as a motion graphics artist, but after working on computers for years, I was learning that I didn't want to work on a screen my whole life, and I was craving a more tactile, handmade process.
After having our first daughter and getting married, we moved to Amsterdam for a change of scenery. There, we had a gorgeous big apartment and studio space, across from a park, and I began doing large ink paintings and selling my work there. Our second daughter was born in Amsterdam in 2012. Then in 2013, we made the move to LA, where my hubby grew up, to be closer to his family. My painting continued and I did some shows and started selling work here. But in 2015 just as I got pregnant with our third kiddo, I did my first ceramics class and fell in love with the medium. I loved the idea that you can make usable, functional works of art. I love the meditative quality of working with clay. I loved the millions of ideas that were swirling around in my head and the thought that I can make pretty much anything! I love that with ceramics there are an endless number of directions to inspire you. You can play with form, glazing, decorating techniques, different clay bodies, carving, wheel throwing, hand-building… to name just a few. The possibilities of combinations of new techniques and experimentation are endless. And my work is definitely a constantly evolving process of experimentation.
As much as possible, I try to live by the idea of consciously choosing my next activity by observing what I feel like doing, and as little as possible doing those things I think I 'should' do. The shoulds generally do end up happening when you really follow this process. And If you stay in that place of conscious intuitive action life is way more fun and things tend to always work out in ways you couldn't have even dreamt up. We moved back to Australia for seven months to have number 3 babe… a little boy! And then on our return bought a lovely house in Pasadena with this amazing studio space in the backyard – my happy place! It was at this point that I really started focusing on clay full time, learning all I could by doing a lot of classes and enjoying the local clay community. Eventually, I decided I wanted more control over the process, an unrestricted production capability, and to start sharing my knowledge so I got a kiln and set up a full ceramics studio in the backyard! We have a lovely little space outside the studio where I can teach workshops and work while the kids play in the yard. I still love to paint but at the moment, I'm really mainly drawn to ceramics – it's all I want to do all day every day, and I know for sure it's my soul purpose in life right now. Knowing that also really inspires me to want to help other people develop their own creative flow, whether it be clay or painting, and watch them discover a love for that meditative, therapeutic vibe you find when you do this type of creative work.
For that reason, I started teaching, and hanging out in the studio sharing my love for this process with a client is one of my favourite things to do! As far as selling my work, it's been a nice organic process and steady pace, and sales are growing quickly lately. I'm balancing work as a full-time mom to 3 kids and full-time artist so that's not always easy, but I always believe it's all working out the way it's supposed to, and I'm excited to see what's to come. I have work in a couple of stores, including Vervor Design Shop down in San Diego and Retreat Lifestyle in South Pasadena. But my main sales are people contacting me through Instagram and people visiting the studio to shop. I have an online store set up on my website which I plan to stock and launch by the end of the year or when I get the time!
Can you talk to us a bit about the challenges and lessons you've learned along the way. Looking back would you say it's been easy or smooth in retrospect?
Hmmm. Struggles! Yes. Of course 🙂 This year has been particularly challenging because I have three little kids at home full time doing distance learning school, and my business has been growing quickly, so finding the balance between those two things is not easy. I'm sure this is the case for a lot of parents this year! I had to bite the bullet and hire a babysitter a couple of mornings a week so I have a little dedicated time. And the rest of the making just has to get done while I'm looking after the kids. I often get up at 4.30am to have a little time in the studio, or to meditate, and have a bit of space before they wake up. But my natural state of 'being' is 'doing' so I've also just had to learn to slow down and at times take a momentary step back from ceramics, so I can be more present with the kids. That one is constant work in progress.
Thanks for sharing that. So, maybe next you can tell us a bit more about your work?
I consider myself a mixed media artist, but currently with a strong focus on ceramics. I try to focus on whatever I enjoy doing the most at the time and for years now its been clay! But, I do work across a large range of mediums, including ceramics, painting, encaustics, weaving and assemblage. I love making unique, one off pieces of functional art, such as bowls, spoons and mugs. But I also really enjoy making wall hangings, baskets and more decorative pieces. My current collection is vibrant in color with of a lot of blues, pinks and ocean vibes, which is just a part of my soul expression. I grew up on the beaches in Sydney and I'm definitely a beach girl at heart so that comes through a lot in my work 🙂
My favourite thing at the moment is experimenting with new combinations of glazes, clay and other materials, and my work is a constantly evolving process of hand-generated processes that build on and feedback into each other. I will often look for inspiration in my past work, be it paintings or clay forms, and I love more than anything to create beautiful unique, one of a kind artworks people can gift themselves or someone they love. I also love to share my knowledge and help people find their own creative expression and the meditative flow that comes with it. It's fun bringing people together for group workshops too and seeing all the very different results people achieve! Opening the kiln after a glaze fire is always the most exciting thing.
We'd love to hear about how you think about risk taking?
As far as risk-taking, I love the quote 'Jump and the net will appear'. My hubby and I both have this philosophy and it's why we've been able to move countries multiple times and both have careers as artists. You have to believe in yourself and know that if you take action based on heart-based intuition, you don't need to work out all the details, just take the plunge, focus on doing the things you love, and events will align themselves the way they are supposed to. Often we tend to overthink everything and you'll always find problems with any idea if you look hard enough. I prefer to allow the solutions to arrive on their own time and not worry too much about the way it will happen.
Contact Info:
Suggest a Story:
 VoyageLA is built on recommendations from the community; it's how we uncover hidden gems, so if you or someone you know deserves recognition please let us know 
here.