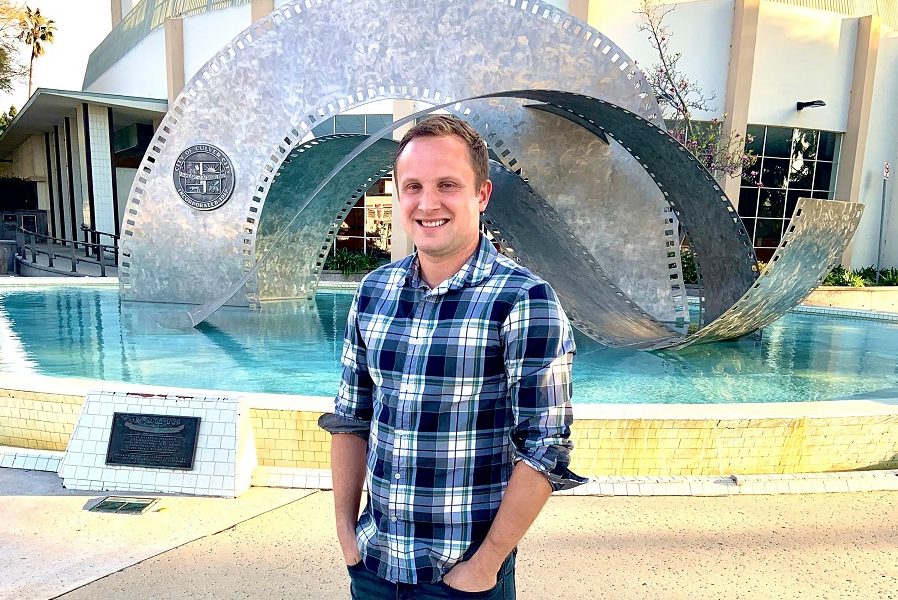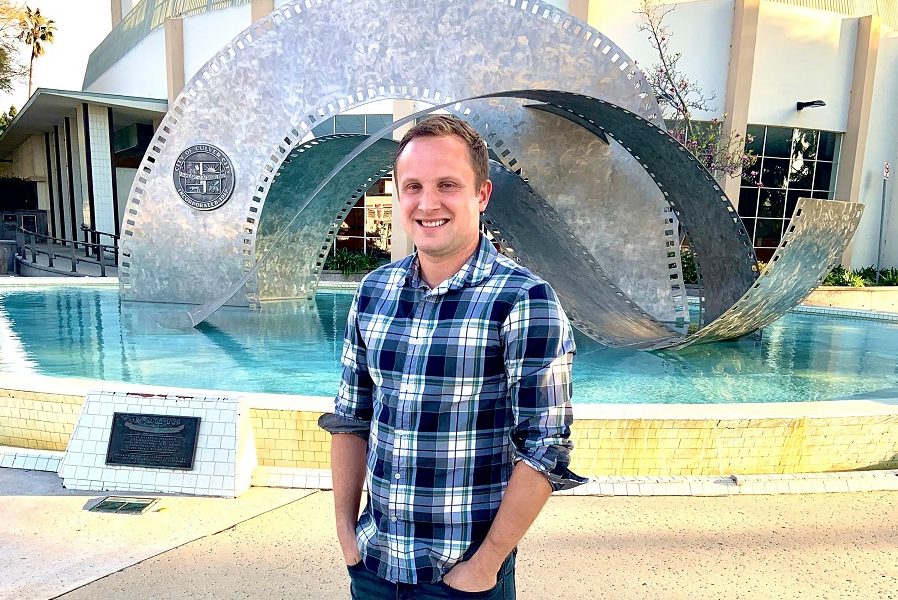 Today we'd like to introduce you to Michael Grimm.
Hi Michael, it's an honor to have you on the platform. Thanks for taking the time to share your story with us – to start maybe you can share some of your backstory with our readers?
I'm a military brat, so we moved around a lot for the first five years of my life before finally settling down in rural Pennsylvania. The first film that really stuck with me was at age six when I saw Home Alone — I never laughed so hard in my life. After watching that movie, I'd set up traps for my action figures throughout my room and have them trigger everyone. During middle school, The Matrix hit theaters and that's when my love for creating films really started. Me and my buddies took our VHS camcorder and made some pretty sweet rip-offs: Matrix Ping Pong, Matrix Tennis, Matrix Unloaded, etc. I loved watching the audience (my parent's) big reaction and how I could create something original that made people feel something. This passion for film continued through college at Penn State, where I double majored in Film and English. I wanted to make the leap right out to LA, but after realizing I had no money, no experience, and no good writing samples, decided to go to grad school and became an English teacher. That didn't last long (thank your teachers), but I then found a full-time job as a small business consultant. That experience would prove invaluable as anyone who works in the industry (even writers) know you're in the business of marketing yourself. This whole time while my vocation paid the bills, I was always working on my screenplays. In 2015, one of my scripts got noticed on a reputable website that gives you feedback from industry readers. All of a sudden, I was getting calls from legitimate Hollywood producers and executives who were interested in my script. However, one of their first questions was "Where do you live?" and Plowville, PA was not the right answer. I always had that itch to come out here and knew I would regret it if I didn't, so I packed up my PT Cruiser and moved to LA. Five years later, I'm working full-time as a Creative Executive and have had numerous successes with my scripts, so I'd say it was worth it.
We all face challenges, but looking back would you describe it as a relatively smooth road?
Most people trying to 'make it' in LA know that this place will test your resilience and patience like no other. My first year out here, I had a mattress on the ground and a 'clothes corner' because I couldn't afford a dresser. I applied to over 200 assistant and development positions, but without the 1-2 years of desk experience, didn't get a single interview. I hustled through and secured positions as both a script reader and an academic tutor. After a year, I found a job outside the industry as a Writing Coach for USC. I'd recommend to anyone who has a passion in making movies (actor, director, writer, etc.) to find a career path that'll pay the bills whether inside the industry or not. Financial stress kills creativity, trust me!
On the writing side, I've had more passes on scripts than I can count. It's part of the process. I had a teen heist movie project set up at Sony that died a horrible death after two long years of rewriting and waiting. This town humbles you, but if you are constantly working on your craft and pursuing your passion, the rejection is just part of the process and you don't take it personally. The hundreds of passes make the wins even sweeter. It's necessary celebrating small wins, even as little as an exec wanting to read your script or hitting FADE OUT on a new draft. It's what'll keep you going. In 2018, I had my first big win when a major studio picked up one of my spec scripts. The fact that I had so many people pass on me before made this one all the more sweeter. Cliche as it is, it's true: you have to experience the rainy days in order to appreciate the sunny ones.
Alright, so let's switch gears a bit and talk business. What should we know about your work?
So for my day job, I work for Wayfarer Studios, a relatively new company to the Hollywood scene championed by Justin Baldoni. My official title is Executive Story Editor, but anyone in the company will tell you that I do a little bit of everything in addition to running the Story Department. My favorite part of the gig is giving notes and having generals with writers — I've been on both sides of the desk so it puts me in a unique position of empathy. I have such an appreciate for the craft and the blood, sweat, and tears that goes into the creation of a screenplay having written about 25 specs myself. It helps with the passes we give to creators — I'm the king of passes so I know they sting but help me deliver them to other creatives in a loving way. This position has given me invaluable insight to the process of filmmaking. It's true what I was told by a friend a few years ago: 'Every movie is a miracle!'
On the writing side, I love writing young adult coming-of-age films. I always pitch myself as a combination of "The Johns" — John Hughes (The Breakfast Club, Ferris Bueller's Day Off) and John Green (Fault in Our Stars, Paper Towns). They both are able to take that quintessential time in one's life, the cusp of adulthood, and find the beauty, tragedy, and humor in it. I can't write anything without levity — it's just in my nature to make people feel good. I'm most proud of a script I wrote called Action, which is currently set up at AGC Studios. The reason I say that is it took three and a half years and 17 drafts to get to the point where the studio picked it up. This industry is about the long game and I'm really proud of myself for never giving up on that (shout out to Lawrence and Mitch, the two execs who saw it through). The other script I'm proud of is one called Wingdaughters. It's a rom-com dealing with the inconsistencies in grief as two estranged daughters 'wing' for their widowed father and help him heal and find love again. It was cool because I got to interview my mom (who is a bereavement counselor) and use her expertise to find the authenticity in those grief counseling scenes. But even in that script revolving around grief, I think it's really funny and a testament to love. Ultimately, it was just really fun to collaborate with my mom for a project.
I think what sets me apart from others is that while I'm a competitive person in board games and dodgeball when it comes to making movies, I'm all about helping others. Filmmaking is such a collaborative process, and I want to see others succeed. I'm obviously not the only one out here who thinks that but I think and hope my humility and kindness (which is grounded in my Catholic Faith) helps me to stand out in what is often perceived as a 'dog eat dog' industry. Also, I drive a PT Cruiser with flames on the side — definitely another differentiator.
Before we go, is there anything else you can share with us?
Do what feeds your soul!!
Contact Info:
Suggest a Story:
 VoyageLA is built on recommendations from the community; it's how we uncover hidden gems, so if you or someone you know deserves recognition please let us know 
here.