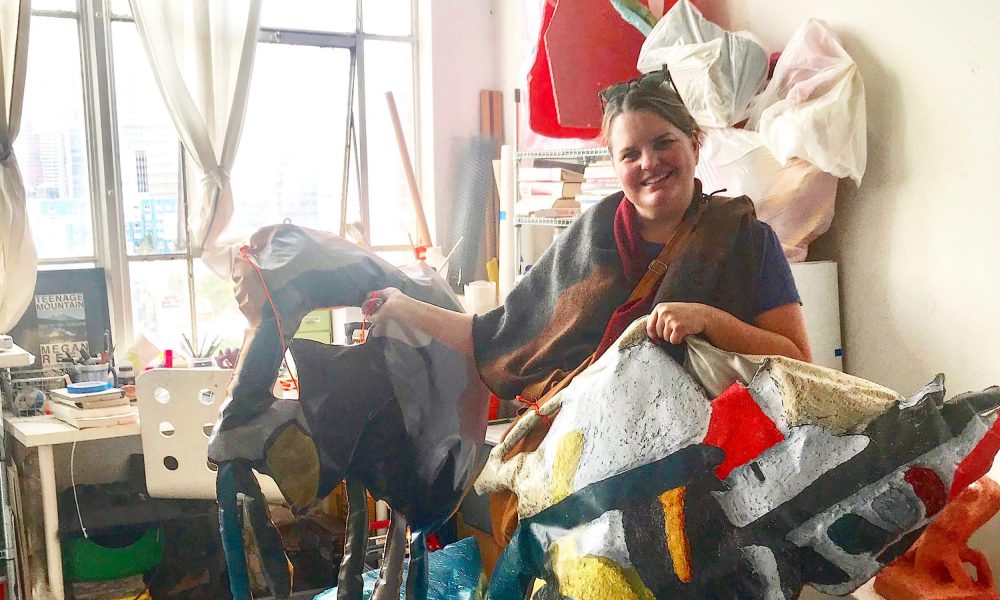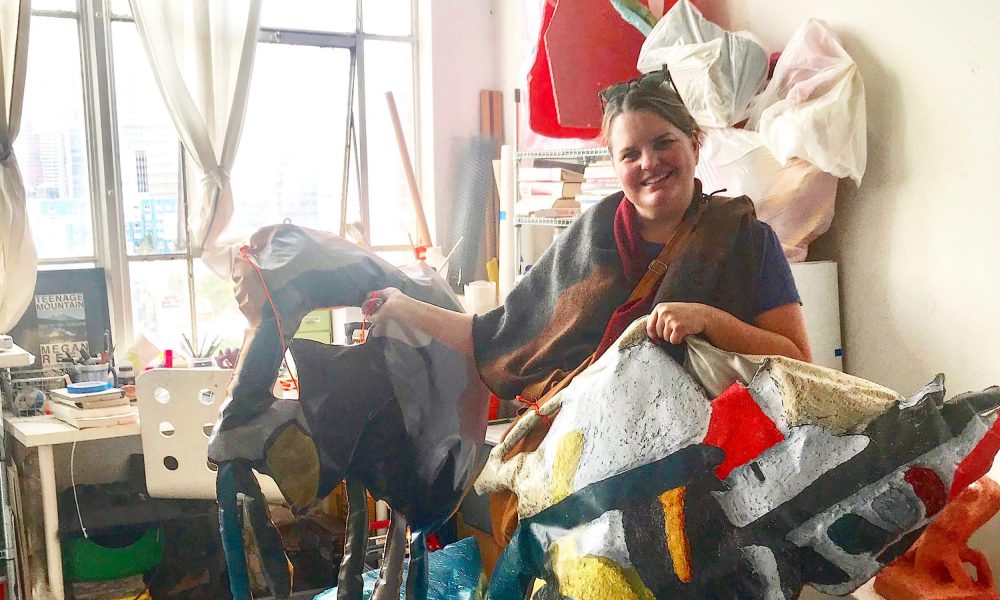 Today we'd like to introduce you to Megan Reed.
Megan, we'd love to hear your story and how you got to where you are today both personally and as an artist.
Since I was a kid, I've dipped into different mediums–I really identify still with the thrill of imaginative play and exploration. I moved to NYC from the Bay Area suburbs for college to attend the theater program at Tisch School of the Arts at NYU. So much of theater I have always loved — the use of language, imagination and the performer-audience relationship to create context, meaning and space — but I simultaneously, and much to my surprise, fell head over heels with painting while exploring the city's museums: the emotive possibilities of color and the really intimate, permanent display of a human mark. So, I started painting, too, often using found materials as surfaces, whatever was at hand, which felt really freeing. What I really liked about painting–and still do–is that I was in control, I could do it any time I wanted and the physical act of making a painting felt physical, performative.
I started pretty quickly to think about ways I could bring that freedom back to theater, to how theater could take place in a way that was more participatory. And at the same time, to how painting could also be dynamic, could live in unusual contexts or displays not only beholden to their status as commodities or precious objects for purchase. Right after college, I earned a master's degree in English during which I continued my studies on Shakespeare; my thesis literally was a blueprint for a multi-media installation of the play Twelfth Night, using painting, video, and performance. My two most recent multi-media installations, Teenage Mountain and Vitamin C, are very much in line with that trajectory, so it's fair to say those initial influences have stuck and remain really central to how I work and what I think about.
We'd love to hear more about your art. What do you do and why and what do you hope others will take away from your work?
Color is central to my work: bold, assertive and unusual combinations are a potent language I use to create space, invite the viewer in (or confront, depending on the viewer) and to speak loudly. I see color as performative: we place arbitrary and often unjust hierarchies and associations on it that inhibit a very innate human impetus to be drawn to color. (I often refer back to David Batchelor's book, Chromophobia, which talks about how there is a long standing bias in western culture against color: it is often relegated to the childlike, the feminine, and the foreign–defined as inferior). In the past few years, I've been making free-standing sculptures that I make out of styrofoam and a material called Sculptamold. Some tower over the viewer, hanging out in groups of three. I'm excited by how they create a call to action, whether it be to play, to touch, to pause, or to smile. I like that for a moment they create little places for community.
Some of my past projects have focused on surreptitious placements of colorful three-dimensional objects staged in public spaces, like store shelves at a CVS or in little sculptural offerings around the city that I leave behind and photograph, as well as in always changing combinations in my studio–almost like stage sets.  My work never feels far from painting; rather I see it as sort of recontextualized painting. A big part of that approach is that I jump back and forth between the 2-D and the 3-D, re-making and re-contextualizing my own work through a steady rotation of collage, painting, and sculpture. I literally follow my own material curiosity, just to see what each medium can do and then bring that back to what I was working on before. Recently, I printed some of my paintings, collages, and sculptures onto vinyl, and then sewed them into pillow-like soft sculptures that I suspended for an exhibition with bungee cord, in front of a projected stop motion video I made of me wearing them and moving around. It was really satisfying to see how people wanted to cuddle with them, hug them, and felt instantly welcomed to participate with them without any prompting from a wall text. I like my work to come alive and to be tangible like that. It feels like I am creating space from the inside out, one perhaps that sets the stage for a collective experience, a more direct interaction between viewer and the artwork. I see this as a performance, one in which, for a minute, everyone in the room is transported to an imaginative, freer world.
The stereotype of a starving artist scares away many potentially talented artists from pursuing art – any advice or thoughts about how to deal with the financial concerns an aspiring artist might be concerned about?
As I am sure everyone knows, there is no tried and true linear path and there are inevitable highs and lows.  There's also certain amount of crazy optimism that has to be maintained as you push through the stress, the doubt, the financial uncertainty. After working in the corporate world for several years, I quit in 2010 to teach community college and to devote more of my daily life to making art. (I also went back and completed an MFA in Painting at California College of the Arts in San Francisco). It's definitely not an easy path, one I've navigated circuitously, veering between stable jobs and more risky freelance ventures to afford more time in the studio. I've been lucky to put my English master's degree to use as a freelance grantwriter for many years now, which has provided a nice balance between work and studio time.  But ultimately, this is the thing that drives me most; that calling to make art pulls me through the low moments, because there's nothing like the magic of being in the studio. I think everyone has to get to a point of clarity that it's this path or nothing; that clarity makes the struggle a bit more worthwhile.
I also think artists forget how immensely useful their skills at making and inventing are. Artists are problem-solvers and that skill set doesn't get enough credit in the job world. Especially in LA, there are makers everywhere finding niches for their skills in ingenious ways. I recently met an art school grad who works at Paramount Studios in costume design; she was literally mixing paint to make a belt look like weathered brown leather. Visiting the set, there were artists making sets out of styrofoam, creating sci-fi effects out of lights that could be any Dan Flavin installation. It was pretty thrilling to witness.
Obviously, community is everything too. A lot of the jobs I get I owe to the help of a friend or colleague–so relying on networks is key. We're all in it together, ultimately, and supporting each other in the highs and lows is crucial and can be really comforting.
Do you have any events or exhibitions coming up? Where would one go to see more of your work? How can people support you and your artwork?
I just had a solo installation at Hausq in Tucson, Arizona and was part of "This Body" at Garis & Hahn Gallery in LA (curated by the NYC-based gallery Victori + Mo). I'll have some small collages in the Other Places Art Fair in San Pedro, March 2-3 with the Barker Hangrrr as well.
Contact Info:

Image Credit:
Facebook installation image courtesy of Facebook
Getting in touch: VoyageLA is built on recommendations from the community; it's how we uncover hidden gems, so if you know someone who deserves recognition please let us know here.