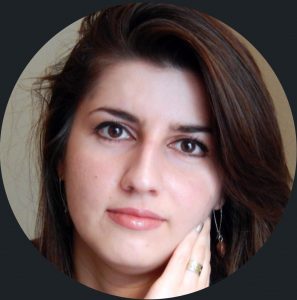 Today we'd like to introduce you to Maryam Aziz.
Hi Maryam, thanks for joining us today. We'd love for you to start by introducing yourself.
My mother used to tell me stories when I was three while I sat on a Kushan rug in our living room in Baghdad. I would follow the patterns along with my fingers in a loop for hours, losing myself in the world of images. To this day, that dive into repeating patterns and lost worlds influence my work in many different ways.
As a child, I lived in the ancient city of Sana in Yemen for almost five years. When you are in the presence of the city, you wonder how it was built with such visible rich history through its old architecture. One of my recent works "City of Dreams" shows buildings were built organically as if no concrete human plan dictated their structure. These Yemeni buildings captured my mind and became my illustrated buildings–odd and mysterious living city, a curving city of entropy.
My first encounter with color is through living in Egypt. Colors cascading over Cairo's ancient architecture, dusk's golden light flowing over the Nile, buildings weaving from blue to green to red, and lastly to yellow. These gradients and mixtures of color haunt me with their harmony. Because of these images, I have an insatiable appetite for color in my patterns. My colors are bold, flat, bright, and strong. I willingly use more than five colors in a pattern to catch these cityscapes of my youth.
My city of origin, Baghdad, a place I no longer can visit, was once a city of limestone and marble palaces that flowed along the Tigris River like pearls in a necklace, a crown beside a crown. The City's jewel Markets lined along the river. Metallic and golden jewels drape the land under green palm trees throughout Baghdad. Baghdad's gold, silver, and jewels with its lush foliage illuminated my craft through beadwork and luminous materials and pigments. In my current installation "Refugee verses Citizen" the dotted framework of beads and stitching with a neon green color pierces warm tones of the cushion. I want the reflection of the beads and glass to glow like the city lit by sunlight across the land. I want the colors to remain in the spectator's mind long after they have seen it, just as Baghdad remains in mine.
As a mother to a young child, our world is full of play and games. When she was an infant, I would play with her by pouring the water over her smooth skin, I would smell her afterword, heaven! On St. Patrick's day, I color milk and eggs green and then turn the furniture upside down. Our home becomes total chaos. When she wakes up, it looks like the leprechauns came for a visit. Having her makes me playful and makes conscious to the importance of using art and design to build a strong bonding between parents. In my recent work "Dream Toys", I designed open-ended toys to enhance the bonding between parents and their offspring. These organic forms made of soft cotton represent the relational love between parents and kids. Saturated colored patterns represent the richness of the endless love between us.
Living in LA, I have seen endless mixing of various cultural traditions with modernity in harmonious ways. This ease with layering diverse histories allows and encourages me to represent old ideas in a new way. Now, I am working at Neiman Marcus to create visual contact, such as patterns and illustrations, in their Windows and inside the store. Being able to represent such a luxurious store in a new take comes from being in Los Angles, its museums, streets and artists' work. Art throughout the city influences me, it could be buildings, drawings, paintings that make me lose myself for hours.
Would you say it's been a smooth road, and if not what are some of the biggest challenges you've faced along the way?
It was over 100 degrees, and the sweat was rolling down my face. There was no electricity. My one-year-old child was crying desperately for cool air. Suddenly, a group of masked men broke into my home, looked for my spouse, and threatened us to embrace their religion or be killed. The extremist Muslims gave us one day to give them our answer. That night, I decided to leave everything and flee with my family. Overnight, I became a refugee instead of citizen. The fear of an ambiguous future that sneaked through my doors stealthily without knocking did not destroy me; instead, it reminded me of an old saying by the Arabic poet Al-Shabi, "whoever shrinks from scaling the mountain lives out his life in potholes." It motivates me to climb the mountain of challenges while courage and determination in meeting difficulties are my virtue that leads me toward success.
Fear from being kidnapped or beheaded was why I fled my war-torn homeland. Knowing that living as a refugee, I would face humiliation and weakness, I felt constrained and unable to progress because I couldn't control my lifestyle. Being a refugee put my life on pause for years because I didn't have the permission to work or study, depending only humanitarian organizations. This experience diminished my power; however, the bravery and determination to overcome this life represent power itself. Indeed, it takes courage to be a refugee. It took courage to leave my country of birth, never abandon myself to despair, and feel no fear. I carried myself with poise and not only looking after my family but trying to reach out and help other refugees. I was powerful because of my determination to wait for three years to reach a safe place where I could start a new life. Patience was my gear to climb the mountain of challenges and reach the USA.
When I arrived in California, despite having no home, no job and no money, I acknowledged my fears but did not give them power. I turned my obstacles into fuel to climb another mountain. I supported my husband in his work as an engineer providing national technical support for medical equipment. His job is difficult for us as a family because he must travel and is only home on weekends. Meanwhile, being a mother, I had to commute to school and take care of my daughter, my studies and home. This obstacle made me self-reliant, and it is this self-reliance and patience that helped me to take the necessary steps toward rebuilding my family and myself again. I am sacrificing hours and days from my rest time and weekends, but I am always optimistic and self-confident that climbing challenges will take me toward success.
Thanks – so what else should our readers know about your work and what you're currently focused on?
Making patterns is my passion. I love the process. First, I make the motif and them I have to figure out how I put it in a repeat without creating visual problems. I Like the challenge of that. I studied at Artcenter College of Design and got my bachelor's in illustration/Surface Design. I am more known of making patterns rather than anything else.
I am mostly proud of my family. I am proud of having a great loving and supportive husband, Samer and I am proud of my daughter Rima. I am proud to have her in my life in which she adds that joyful element in the house all the time.
I think what sets me apart from others is my work ethic and my passion towards creating patterns. I literally lose myself for hours when I am making my work which making me work and work and work without feeling tired.
So, before we go, how can our readers or others connect or collaborate with you? How can they support you?
I love to collaborate and work with others regarding making patterns or illustrations. They can follow me on Instagram at Maryam.m.aziz. Also, they can contact me through Linked in https://www.linkedin.com/in/maryam-aziz-96764a51/ or they can send an email to hello@globalhouseofmaryam.com.
Contact Info:
Suggest a Story:
 VoyageLA is built on recommendations from the community; it's how we uncover hidden gems, so if you or someone you know deserves recognition please let us know 
here.