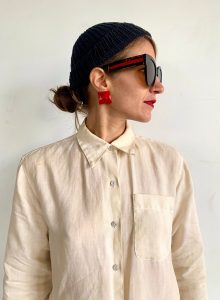 Today we'd like to introduce you to Lorah Stone.
Hi Lorah, thanks for sharing your story with us. To start, maybe you can tell our readers some of your backstory.
For as long as I can remember, I have loved ancient cultures, clothing, pattern, color and expressions of art. I dressed up as a cavewoman for Halloween at age five, made sculptures out of freezing Barbie's into basketball nets instead of traditional little girl play, was on a national dance team and started writing and performing music as a teenager.
I left high school at age 16 and went to college to study philosophy and psychology at the local community college until deciding to go to art school. I experimented in music, dance, art and theater my whole life. Being creative is a way of life for me, I can not create. I can not explore and ask questions. I would wither away otherwise. I try to understand my world and existence and make connections to others through an art practice. I was raised in the rural Midwest, spent my teenage years in Columbus, Ohio and left for New York City after college. Though I love the east coast and the rhythms of having four seasons, I eventually made my way to Southern California almost nine years ago, and it has been my home ever since. Even while moving, of which I have done plenty of in my childhood and adult life, I have found ways to create, ways to create a rhythm to my life through making things. I have always had a home studio for painting, printing and making clothing, recording music and doing performances. Having Los Angeles as my home has given me an amazing community of artists I admire, room to create and explore, nature and culture unlike anywhere I have ever lived at, all at my fingertips. And the weather has allowed me to have an art practice where I can work both indoors and outdoors year-round.
Would you say it's been a smooth road, and if not what are some of the biggest challenges you've faced along the way?
I have had challenges along the way, as so many have had. As an adult, I have not had a penny to my name, not had a steady home, had to change careers and life partners, I have had to rebuild my life multiple times in multiple cities without knowing a soul. I have had to figure out how to provide for myself, heal from the things life seemed to throw my way, and not ever lose who I am. Making art in and through those times always helped me to do that.
Can you tell our readers more about what you do and what you think sets you apart from others?
Right now, I am primarily doing mixed media drawings, hand printing and painted clothing, hand-knitted clothing and large macrame weavings. I do tend to use what's in front of me and let myself change mediums whenever I get inspired to do so. I have a degree in Drawing and Printmaking and have built a long and strong philosophical connection to handwork, so those are skills I always tend to involve in what I make, even in switching and growing and exploring new mediums. In present and past, in ancient cultures, religions and throughout human existence, people have tried to solve problems, envision new worlds, connect to time and space, or just state they are were just actually there in that moment. You see it in the Caves at Lascaux, read it in myths and archetypes throughout the world, in the story of the famous Tower of Babel. You see it in pottery throughout different times and cultures and at the thoughtful construction of ancient ruins. You see it in the kinetic marks of the abstract expressionists, the color field worlds created by Helen Frankenthaler and the colorful Quilts of Gee's Bend. You experience it through shamanistic spoken poetry at a Patti Smith concert, in the narratives in the Hunt of the Unicorn tapestries from the Middle Ages, in the psychedelic spinning of whirling dervishes. Pulling from deep interests in philosophy and time and our connection to the cosmos, with a practice of recording personal dream cycles and utilizing pattern, texture and movement through mark making, I am interested in creating small worlds devoid of existence during a specific period. I mesh patterns and imagery from Greek mythology, Egyptian hieroglyphics, aboriginal symbols and my own dreams. "Like a physical dream recording of something akin to a moment in Alice in Wonderland's other universe."
I am interested in primal, guttural reactions to mystical meditations for communication. I am creating worlds of my own by searching out repetitive, instinctual marks in other cultures I have studied throughout history and combining them with my own patterns and minimal marks often recorded from a dream. "We are all connected, yet surprisingly separate, time is more fluid, the search and journey we all are on to find elevation is more similar and continuous than we can even know. Many people throughout history have tapped into the Ultimate source of all creativity and beauty, and through looking at their creations and marks, I desire to cultivate a practice that creates a world of my own to reach the same source." Everything I create begins with my inspiration by makers and thinkers who have changed our world. By involving them and their works in my process, I draw connecting lines across time and space to something greater. Everything I create is made with love and care and the desire to make myself, the individuals who wear and own my works and this world more thoughtful, more unique, more beautiful and ultimately more connected to what really matters. What you surround yourself with and clothe yourself in matters. The way it's created matters.
Can you talk to us a bit about the role of luck?
Oh man, this is a tough question. I mean, luck is a real thing! I'd like to think you can conjure it up or that there's a special herbal supplement or spell to awaken luck in your life…(I'll never give up searching) but in my experience it truly is chaotic. There are just some lucky people and some not so lucky. I would say, when it comes to my work, I am not always the luckiest. I have to push ahead in spite of many hurdles and obstacles. I have to stay hopeful and positive and inspired. Having an art practice is DEFINITELY an active word for me. So as much as I admire luck and won't give up hope that I'll find a way to conjure it up one day for myself, luck doesn't have much to do with the things I've done or made that have been successful. It's only been showing up for myself and the work that have produced that.
Pricing:
Contact Info:

Image Credits:
Jon Paul Jones for three images , and Pilar Timpane for one , Dakota Lee Stroud for one, other three by me
Suggest a Story:
 VoyageLA is built on recommendations from the community; it's how we uncover hidden gems, so if you or someone you know deserves recognition please let us know 
here.