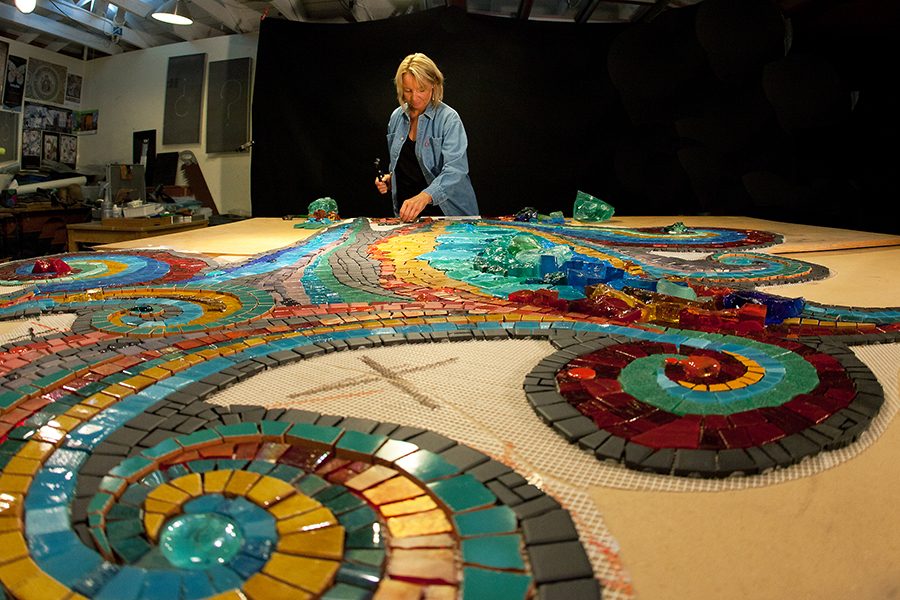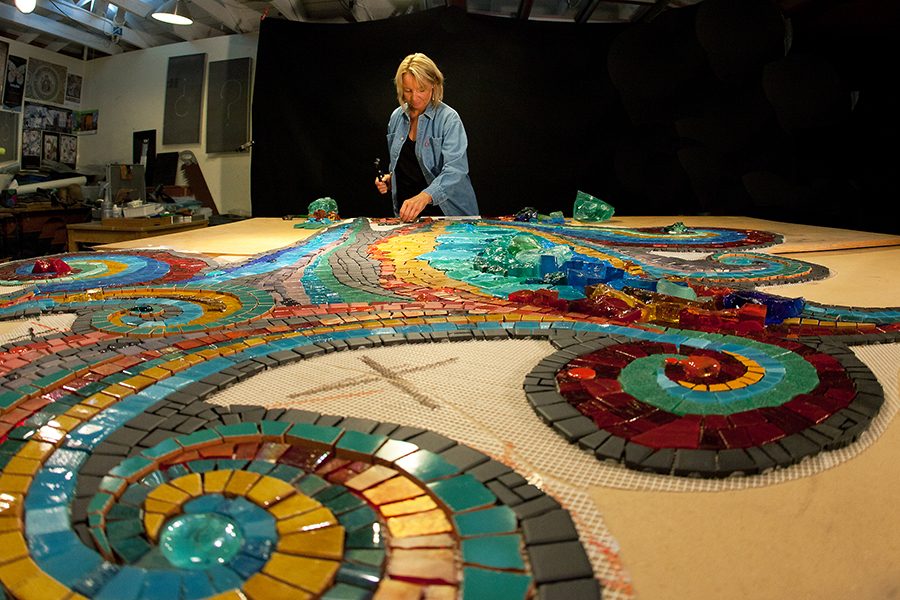 Today we'd like to introduce you to Kim Emerson.
Kim, we'd love to hear your story and how you got to where you are today both personally and as an artist.
I am a San Diego-based artist who has been creating fine art mosaics for public and private spaces since 1991. At a young age, I did not plan on making my living as an artist, but the cliché is true – being an artist chose me. While I do have a background in art history as my undergraduate degree and a master of science in historic preservation of architecture, it was my being a volunteer to build and create mosaics for a little school alongside others in the community of a poor barrio of Tijuana, Baja California, Mexico (just south from where I still live) that opened my way to becoming a mosaic artist. And now after all this time of creating small and large projects in Southern California, throughout the US, in Mexico and Italy, I continue to want to give back to communities, especially those that are in great need of art and beauty.
We'd love to hear more about your art. What do you do and why and what do you hope others will take away from your work?
In my art medium of mosaic language, I tell stories that reflect nature, beauty, and the human connection. My mosaic works can be applied to almost any surface and environment, such as a 3-D sculpture in a hospital, a floor in a commercial lobby, or a small mosaic that hangs on a wall in a private home. Beyond the beautiful materials that the mosaic artist incorporates into their designs, I try to reflect feelings and emotions so that the viewer can connect with the work, thus connect with the offering of some purpose and understanding of the world around us. Of late, I contemplate less about what my mosaic art is made of or what type of substrate the tesserae is adhered to. I'd rather focus on the why I need to tell the story. I often look towards inspiration in an intellectual idea or a universal expression with a positive message, whether the work is abstract or representational. When I am commissioned to create a work of art, whether it is designed for a public or a private space, I always research the place and its culture.
What was the geological history, the culture of the native peoples who first occupied that place, and the recent events? I believe that it is the artist's responsibility and challenge to tell the stories so that they can be remembered, cherished, and to give a sense of place and belonging to those who experience the artwork. When I create a mosaic composition just for myself, I draw upon experiences of my childhood and/or visions around me that I am compelled to convey to the outside world beyond my inner imagination. My personal work tends to be more abstract and emotional, while my public work is more representative of the community it portrays. It is easier to create my own personal work because I am only trying to satisfy myself. It is said that creating public art is not for the light at heart. Public art is an extremely difficult field to work in, and in part, because I believe the public art artist needs to put their ego aside and create only for others, telling the stories of other communities and legends for future generations to behold.
Artists face many challenges, but what do you feel is the most pressing among them?
Today everybody wants to be an artist. And I think, that is wonderful and it is essential for everyone to have some kind of a creative outlet and form of positive expression. But, to really be an artist takes a lot of effort and hard work, way beyond the artistic ability. For the creative person who might be a fabulous painter may not have the endurance to navigate through the business-side of being a professional artist. There is a fine line between spending time in the studio to produce quality work while working the boring office end of it with marketing, emailing, and communications, etc.
One of the greatest opportunities of my career was to be invited to participate in the 3rd annual International Symposium of Contemporary Mosaics on the island of Sardinia, Italy the summer of 2018. I was part of a delegation of nine women mosaic artists from seven different countries. While it was an exciting opportunity to be invited there to work, and they provided all the materials, lodging, food and all the wine we could drink, it was truly hard work! In only 11 days we were each responsible to create our own large mosaic that hangs on the wall (approximately 2' 6" by 2' 6") while working in front of the public who were curious in asking questions, and in really hot weather conditions. Each participating artist in the symposium had to push the extremes of their own boundaries and comfort zone to produce a quality work of art to be exhibited in the August festival for the public museum in the village of Ploaghe. It was that experience that really gave me more of an insight to the powers and the ability that I have as an artist. No matter what, we have to work every day, whether we like it or don't. And, sometimes all that hard work does not pay the bills, but artists must prevail to continue to tell the stories of life. To me, art and the artist, no matter what medium are essential to understanding the world around us.
Do you have any events or exhibitions coming up? Where would one go to see more of your work? How can people support you and your artwork?
Currently, we are working on a public art mosaic project for a new park in East Hollywood called the Madison Avenue Park, now under construction and scheduled to open in Spring 2019. This project is spearheaded and managed by the national agency the Trust for Public Lands (TPL), and the Los Angeles County branch is based in Pasadena. The mission of the TPL is to transform vacant spaces in urban areas into public green parks for members of the community to play, relax, and enjoy being in nature. For the Madison Avenue Park, we have been commissioned to create a donor recognition mosaic that is also an art component incorporated into the overall park design. The theme of this particular park is urban agriculture and our mosaic is made up of a multiple of elements of fruits and vegetables at the sharing table.
Also in the park, there will be 35 garden plots for members of the community to grow their own produce. In January of 2019, we organized a community hands-on art making day where we brought fresh clay and tools for children and adults of East Hollywood to roll-out art tiles in the shapes of fruits and vegetables. We gathered the freshly made clay tiles and brought them back to our studio in San Diego where we will fire them in our kiln, and ultimately incorporate them into the overall mosaic design. The location of this new park is Madison Avenue and East Santa Monica Blvd. Two years ago we installed another mosaic project with TPL for the rebuild of Bicentennial Park in the City of Hawthorne.
Contact Info:
Address: Kim Emerson Mosaics, LLC & the San Diego Mosaic School
San Diego, CA
Website: www.kimemersonmosaics.com
Phone: 619.379.1123
Email: kim@kimemersonmosaics.com
Instagram: Kim Emerson
Facebook: Kim Emerson
Image Credit:
Dennis Reiter
Getting in touch: VoyageLA is built on recommendations from the community; it's how we uncover hidden gems, so if you know someone who deserves recognition please let us know here.