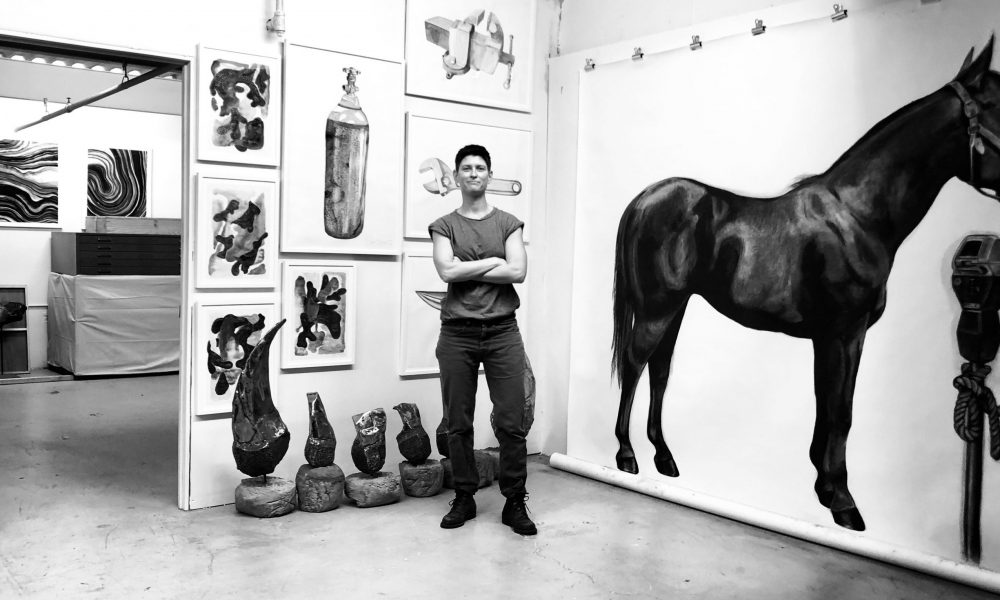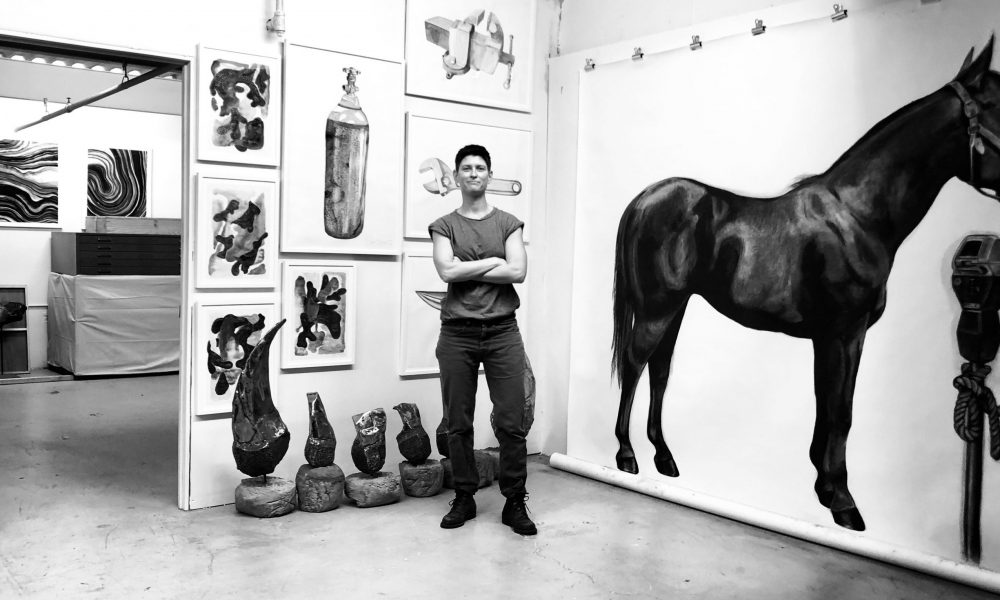 Today we'd like to introduce you to Julia Montgomery.
Julia, we'd love to hear your story and how you got to where you are today both personally and as an artist.
I was born and raised in Los Angeles and currently live in Venice Beach. I have had an art studio at the DTLA Brewery Artist Colony for the past six years. I can't remember a time that I didn't imagine being an artist. My mother was a docent at the J. Paul Getty Villa Museum when I was a young child and growing up visiting the exhibits and fresco paintings in the gardens inspired my early love of art.
Through elementary and high school, I was known as being the artist and was called on to draw school logos and graphics. I went on to study numerous art mediums in junior college which made me certain that I would go to a fine art school for a BFA degree. I decided on Otis College of Art and Design and I still consider my time there to be a highlight in my life. My time at Otis was extremely beneficial and I owe my mentors and fellow students a lot of credit for the support and future art assistant gigs and teaching jobs that it lead to. Soon after I earned my BFA in sculpture, I was asked by Otis' Continuing Education welding instructor and artist, Tom Walker, to take over teaching his welding and metal sculpture course. This put my teaching career in motion and while instructing at Otis also taught welding and sculpture at Molten Metal Works. Along with drawing, painting and mixed media at Brentwood Art Center and wood shop at both Piper Preschool campuses in Santa Monica and Los Angeles.
Teaching turned into an unexpected passion and the positive feedback from my students makes it difficult to pause what has become a successful career. The truth is I always planned on returning to school to earn an MFA in sculpture. I recently applied to grad school and am eagerly awaiting their reply. As I wait, my art practice continues in my studio and I remain focused and disciplined.
We'd love to hear more about your art. What do you do and why and what do you hope others will take away from your work?
My art takes many forms using an array of different mediums. So many that it often appears vastly different and is mistaken for being created by different artists. I make sculptures in metals such as steel, bronze, and aluminum. Recently I've also been working with assorted types of wood from found and reclaimed plywood to beautiful high-end scraps of walnut and ebony. I also create oil paintings that are fairly realistic, watercolor paintings that verge on abstract, and large life-like charcoal drawings on enormous paper. My most recent being a life-size adolescent whale shark. I'm definitely inspired by the materials themselves as well as my innate rebellious nature of not wanting to fit in any one box. I find being well versed in many mediums and techniques to be at the core of my art practice.
I enjoy making things with my hands and I've been called a "Jane of all trades". Working with new materials brings an added sense of joy and overcoming the challenges that come with learning techniques is almost addictive. I don't like seeing materials wasted and if I can help it, I tend to start with found, reclaimed, or materials I've collected and saved. I'm thrifty with my paint and will stretch it to the point that I cut open the tubes and scrape them dry. Some of my paint brushes I've had for 20 years. It's amazing how much money you can save if you take care of your materials, and how much waste you can avoid by being resourceful.
The subject of my artwork varies but typically explores dichotomies that I've personally experienced. For example, masculine vs. feminine, current vs. historical, or organic vs. human-made seem to be reoccurring themes and topics of conversation evident in my artwork. The masculine vs. feminine dichotomy is reflected in my life as a lesbian woman who refuses to fit surrounding stereotypes. I weld and blacksmith heavy steel sculptures that suggest someone larger and stronger must have made them. Yet I also paint and draw delicately with a light hand, often reflecting the opposite of the sculptures. This is made evident in my series of "Tool Still Life" watercolor paintings and charcoal drawings. The current vs. historical dichotomy is portrayed in my sculpture "Prehistoric Grill With Gold Tooth". It was inspired by trips to the La Brea Tarpits and seeing the teeth of prehistoric wolves and sabertooth tigers, combined with the gold and diamond grills worn in today's culture as an expensive accessory over. As for the organic vs man-made dichotomy, this conversation surrounds my sculpture "Lightning strike" in which I've created lighting bolts out of wood that I then burned with electrical currents created from a homemade machine. It's also relevant in my new series of life-size charcoal drawings of animals juxtaposed with modern objects. For example, a 14 hand horse standing at a parking meter that accepts credit cards. Or my more recent whale shark with hidden trompe l'oeil currency coins peppered in place of some of its white spots. Sometimes the dichotomies are subtle, and other times they are intentionally quite obvious.
My hope is that the audience will take away more than they sought out after viewing my work. Primarily that there are two or more sides to the artwork's story. If they pass by quickly and miss reading the titles, or miss the dichotomy reference, then my aim is for them to enjoy the aesthetics and skill that went into creating each piece. For those people who observe the art and spend the time to think about the meaning or their perceived meaning, I hope they appreciate the almost hidden details and see it's depth as a layered conversational artwork.
Have things improved for artists? What should cities do to empower artists?
I think conditions for artists today are really dependent on what kind of art they make, what medium they work in, and what city they're in. I've been a painter working out of my living room before and that was fine, but finding a space to do woodworking or weld is another story. In Los Angeles, rent prices are high. I'm lucky to have found a studio at the Brewery. There are other artist compounds in the area which have changed ownership and the artists previously there were stuck in situations where they either had to pay more than triple the rent or leave.
I think in general, life has become easier for artists because of social media, the many creative jobs, and the fact that artists band together. It's difficult because of the high cost of being an artist and it's typical for artists today to have more than one job outside of their studio.
LA is a mecca for artists. There are tons of galleries, group shows, and other outlets for art to be shown. I think VoyageLA is doing a great service highlighting artists.
Do you have any events or exhibitions coming up? Where would one go to see more of your work? How can people support you and your artwork?
I have an Instagram account @julia_montgomery. My website is www.juliamontgomery.com. My email is juliamontgomery.contact@gmail.com.
People can message me on any of these platforms if they are interested in purchasing original artworks or prints. My prints will be easy to purchase on my website coming this Spring 2020.
I open my art studio twice a year for the DTLA Brewery Artwalk. The next one will be April 4th & 5th, 2020. I will be posting the details on my Instagram closer to the date.
Contact Info:
Suggest a story: VoyageLA is built on recommendations from the community; it's how we uncover hidden gems, so if you or someone you know deserves recognition please let us know here.