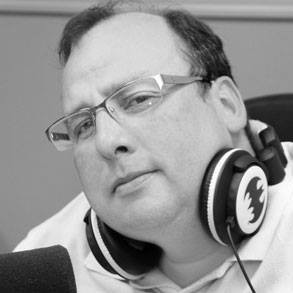 Today we'd like to introduce you to Juan "Spinning Cris" Blasco.
Juan "Spinning Cris", we appreciate you taking the time to share your story with us today. Where does your story begin?
Well, my love of music goes WAAAY back. Born in Gary, Indiana in 1968. The youngest of four kids. I remember going with my sister Adriana to our neighbor's garage with her bestie Deedee. Listening to everything from Funk to Motown.
And then my sister Virginia would be listening to what I call Bubble Gum like artist from The Archies to Donny & Marie. And my brother Francisco would listen to the serious stuff like Neil Diamond to The Star Light Vocal Band. However, I was fascinated that not only music were on records & 8 tracks. Thanks to my Brother-In-Law Julio, he introduced me to Cheech & Chong & George Carlin. This will be crucial later. Growing up in Junior High/Middle School, I was that weird kid that went to the dances but didn't really dance but was watching this DJ do his thing. It amazed me that with one song, he can bring people to the dance floor & with another song make everyone disappear. My Mom & Dad were SUPER supportive on whatever project I jumped into. My dad gave me the "Give It All You Got" attitude and my mom gave me the world of IMAGINATION.
The reality kick I got was a NASTY rude awakening. I was around ten years old, my routine before I went to sleep was listening to the radio. Because of my brother-in-law Julio, I found a show that played all the goofy stuff like Cheech & Chong… Dr.Dimento!! In one of those nights, my mom came into my room and saw me listening to the radio. She came to the side of my bed and sat down as she said to me, "Son, why are you listening to radio? Radio is not for people like us." It all fairness, my mom was a migrant worker from Millet, Texas with an only a 3rd grade education. Nonetheless, I had something inside of me that wanted to prove here wrong. I left Hammond, Indiana in 1991 to get a better start in life. I ended up moving to Laredo, Texas. I was working at a Mom & Pop Hardware store at the time when my cousin Kike told me, "Dude, You NEED to get into RADIO!" I tried out & for the next seven months, I was working full time at the hardware store & part-time at the radio station.
On December 1st, 1992 The hardware store called me into HR's office. They had called me in to discuss my performance in the store. Bottom line, they said it had to be THEM or the radio station but I CAN NOT do both. With a heavy heart, I went to the radio station to tell them I had to quit. As soon as I walked into the station, program Director Michael J. Lang said, "MY MAN!! BUDDY OH BUDDY! How would you like full-time Monday through Friday, plus live broadcast? It's gonna be A LOT more than what you're getting at the hardware store!" I responded, "Yes & I'll be right back. I got to turn in some stuff to a bunch of dream killers!" I got hired full-time with Guerra Communications. There I learned to LOVE what I did for a living. I was living my ultimate dream job. I also learned, like Spiderman, with Great power comes Great responsibility. My crazy antics were my brainchild. I started a rooftop marathon to help a friend of mine who worked at The Laredo Regional Food Bank. He needed 2000lbs. of food to feed people in December and the food bank was tapped out. I (with the help of friends) did a rooftop marathon at Cinemark Movies 12 for 24 hours broadcasting live every hour. We raised 3150lbs. of food and A LOT of toys.
After that, everyone and their mom was doing rooftop marathons. I was beyond Upset but my sat me down and said, "Son, instead of being mad at the world for "Stealing" your idea, be proud. Because of your crazy idea, others are doing the same thing to help others." Radio gave me the life I NEVER could imagine. I met MANY so many people from so many walks of life. I was able to live childhood dream doing what I love. I gave me so many opportunities that I was able to implement everything I had learned. Because of radio, I met the GREATEST love of my life, my wife Jessica. When my son Cristobal was born, there was a live broadcast to let the world know that he was born. I have worked for three different stations, different types of formats & visited many places. It was June 2007 where she said to me as she hugged me, "Oh My Son, I apologize. You were meant to be in radio, never stop chasing your dream." My Mom went to Heaven January 2008. Radio has given me SO much. I am a firm believer that no matter how small you are, no matter how long it takes… Everyone deserves a chance. And tomorrow is NEVER promised. Rest in Heaven Mom – January 2008, My wife Jessica – 2016 and My Dad – 2018.
We all face challenges, but looking back would you describe it as a relatively smooth road?
This road was a long and winding process. In order to stay relevant, I could not label myself to just style of music. I had to learn different styles and learn to keep on open mind. I try to keep with the words of many philosophers in my life. IN the words of Bruce Lee: Fear not the man who does 1000 kicks, Fear the man who knows the one kick 1000 times. I was never the type of person to accept certain limitations. I am the son of a steel mill worker (a mill rat) who grew up in Gary, Indiana. The only Hispanic kid in a radius of 10 city blocks where everyone else was black. I had all kinds of obstacles growing up from gangs to drugs to being alone in my teen years. I have never done drugs, never been in a gang and realized that my parents gave me all the love & strength I needed be a positive force. Mom had a 3rd grade education and yet she learned to read, drive & become a top notch wedding cake baker. My dad was an educated man who served in the U.S. Army and was a driving force in proving to me, "Doing whatever you need to do for your family". I'm proud of that.
Thanks – so what else should our readers know about your work and what you're currently focused on?
If you find yourself hating to go to work, you need to change professions. Working in radio NEVER really felt like work. I was NEVER satisfied to say, "OK, I Know Enough!". I always wanted to learn more, And I'm still not done learning. When I was working overnights, I would get out at 6 AM. At this time, my program director Michael J. Lang would do the morning show. He would show up at 5:52 Am and his 1st break to talk was at 6:05 AM. This was like going to school. He would tell me EVERYTHING I know about radio today. Think about it- Going to class everyday Monday through Friday for three years. Yeah, A lot of learning. It is because of this I was never satisfied with what's in front of me. Always Achieving More. Many people have said to me that I'm the best when it comes to production (radio commercials). I have never considered myself the best at anything.
To be honest, I'm not that arrogant. The person who REALLY kept me grounded was my wife. Every time she felt my head getting a LITTLE to be, she was the one that would make me look in the mirror. I'm proud that people know that they can count on me to get a job done. If you need m to get the job done, the look on their faces when I completed my task is my personal Hi-FIVE. I'm proud to say that when it comes to making commercials, I average a 98% approval rate first time out the gate with the commercials I have created. I'm proud of many things in my life but being part of a station from the ground floor up that has got fire is on top of my list. 22.3 Take Over Vegas Radio had that something that I knew was good but couldn't really explain it.
The crisis has affected us all in different ways. How has it affected you and any important lessons or epiphanies you can share with us?
The FREAK OUT Factor is off the charts. The one thing I learned about Production, Mixes & Life- Problems will always come up, it's how you approach them- Do you do a knee jerk reaction to protect yourself or do you study the situation for a solution? The smart move that worked for me is just to sit, watch, study and make the solution.
Contact Info:

Image Credits:
*22.3TakeOverVegasRadio *Guerra Communication- Big Buck 98.1 *TLM Productions
Suggest a Story:
 VoyageLA is built on recommendations from the community; it's how we uncover hidden gems, so if you or someone you know deserves recognition please let us know 
here.