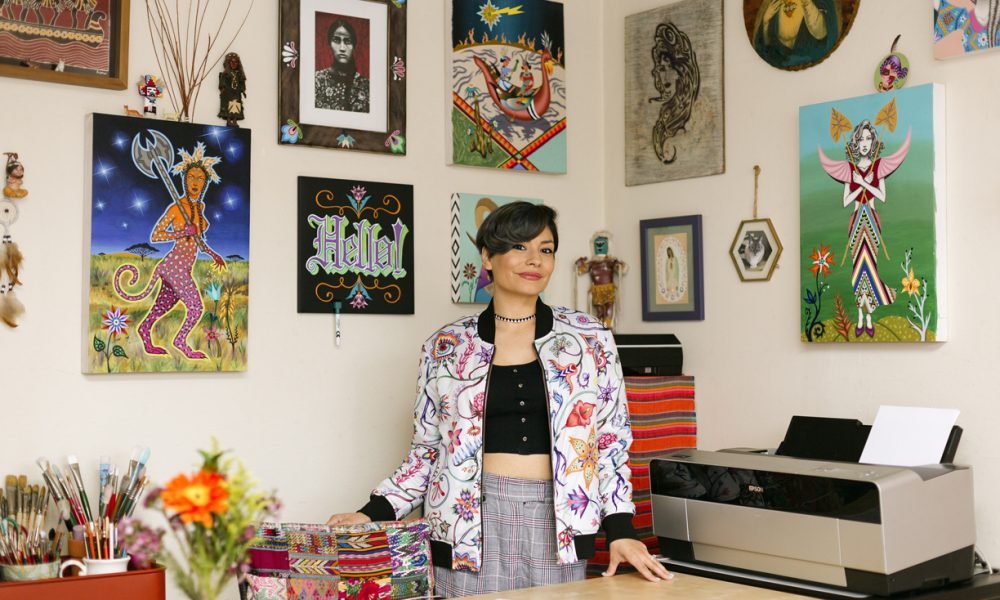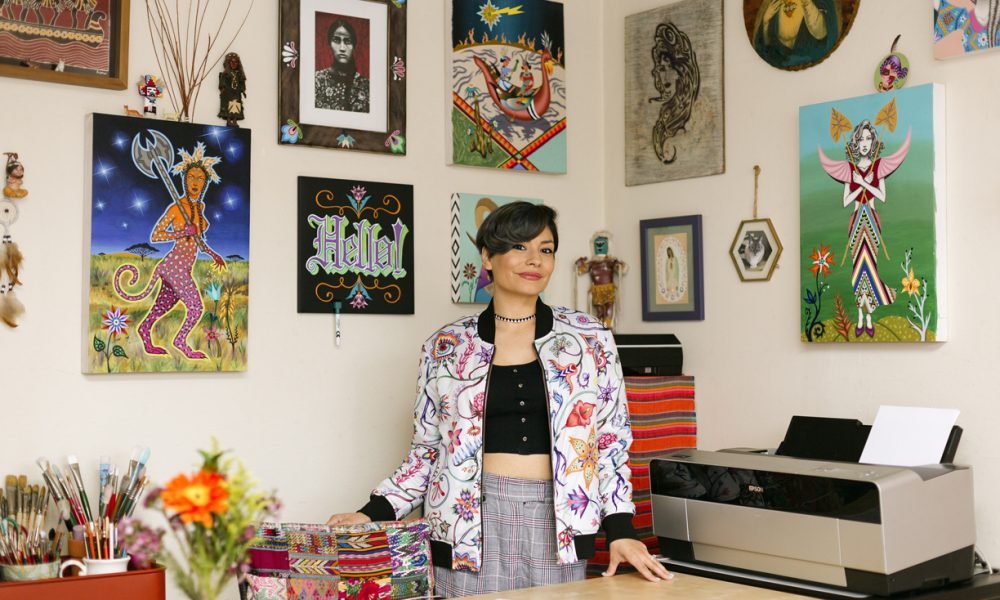 Today we'd like to introduce you to Jeaneen Carlino.
Jeaneen, we'd love to hear your story and how you got to where you are today both personally and as an artist.
I'm a Mexican American Artist-Illustrator, Wife and Mama to my one-year-old Son. I started drawing at a young age and quickly developed a natural talent. Once I decided to take my craft seriously as a young adult, I attended Art Center College of Design in Pasadena, CA. where I graduated in 2007. Here I immersed myself into the art world and focused heavily on my foundation skills and exploring creative concepts. It was also at this time when I began painting strong Women from my childhood that were inspirational to me. I call this period the birth of my Women. While in art school, I started participating in gallery group shows and did so for a few years. Until my intuition led me to take a pause from sharing my work, to figure out why I was creating the Women I was. I had some soul searching to do and life to experience. Once I was ready to re-emerge into the art scene, it wasn't as easy to do as before. What felt effortless to put out there as a "hot new artist", now was a bit more challenging. I started with the group shows once again and did so for another few years.
When I realized that becoming a gallery artist wasn't surfacing for me like I had envisioned, I shifted creative energies into my day job as an artist for Trader Joe's, where I worked at for almost eight years. Here I accumulated many new skills like painting murals, becoming savvy with chalkboard art and hand lettering, playing with paint markers and pastels. I got to learn how to advertise a product well and established great customer service skills. During my time here, I continued to dabble with showing in galleries and create my tribe of Women. At some point, they served more of a purpose to fulfilling my happiness and less for making sales. I resigned to the idea that these women would get the attention they deserved when the Universe was ready for them to. I stopped promoting them and just enjoyed creating them. After I had my child, about a year and a half ago, I made the commitment to ending my time at Trader Joe's and officially starting my own business as a self-employed Artist. As a person that makes decisions based on what feels right, this felt like the time to re-introduce my Women to the world once again. And it has been a joy ride of opportunities ever since! Especially in the era of the Woman. This is my beautifully unconventional story.
We'd love to hear more about your art. What do you do and why and what do you hope others will take away from your work?
I wear a few creative hats, but I'm most known for drawing and painting strong, uplifting women. Whether they be contemporary portraits taken from my childhood, empowered warriors surrounded by their natural habitats, or divinities inspired by Goddess culture, my mission is to depict a diverse feminine tribe that enlightens and inspires humanity through their illustrative narratives. These women exude love, fertility, gratitude, healing, courage, and grace.
My work naturally has an ethnic undertone to it. I draw upon my Chicano heritage and many other indigenous cultures and world religions for inspiration. I admire the cultural traditions, rituals, ceremonies and all of the beautiful art that permeates throughout archaic times. I especially have a deep love for colorful patterns! I like to think I blend cross-cultural imagery together, to create a tribe of spiritual Women with meaningful messages. These messages derive from a journey of self-discovery in pursuit of living a fully realized life. A constant theme thats embedded throughout my work is Self Love. In essence, I dream up each of these women through my own awakenings with aspiring to become my best self. They are a healing, vehicle of strength for me in a decorative kind of way.
I'd say the overall objective with my artwork is to bring awareness to the idea that personal tragedy can turn into triumph. That even the most disruptive life circumstances we face can transcend us into the next level of personal evolution. The power lies in shifting our headspace into a positive one and always remaining grateful, even in the most challenging of moments. These women are an artistic example of beings who are fighting for their emotional and mental wellness!
What do you think it takes to be successful as an artist?
Ah, good question! I define success by living a life of purpose through the service of others and being a grateful and kind human being. With these nuggets of wisdom, you can achieve greatness, I promise! As I have grown into my personal and creative life path, I've learned to appreciate the blessings as well as the hardships that come with my artistic gifts. And to always remain grateful. There's nothing more rewarding than watching your creations unfold in front of you. That's reason enough to wake up and face the day. I feel like any creative will agree that there's a certain pulse within us that demands attention. I don't choose to make art, it comes from within. I don't have a choice in the matter! It's self-serving and as a result, is impactful to others. Also, surrounding myself with other positive and inspirational people on a similar frequency is very important to my wellness. I encourage others to grab onto something that brings you joy so that you can contribute your special uniqueness into this world. Creativity is healing for us all.
Do you have any events or exhibitions coming up? Where would one go to see more of your work? How can people support you and your artwork?
You can view my work and happenings on my website, where I also have an online shop.  I mostly hang out on Instagram, however, I also promote on Facebook and Pinterest.  I sell my Art Prints and Merchandise at the Museum of Latin American Art gift shop in Long Beach.  I also often sell my work at the boutiques Mi Vida and Kaleidoscope Kollective in the Los Angeles area.  I'll be participating in the L.A. Renegade Craft Fair and the Pasadena Jackalope Artisan Fair this Spring.  Feel free to sign up for my Newsletter, so I can keep those interested up to date on my creative journey.
Contact Info:
Image Credit:
My Studio Profile Photo was taken by the photographer: Jeremy Lee Media
Getting in touch: VoyageLA is built on recommendations from the community; it's how we uncover hidden gems, so if you know someone who deserves recognition please let us know here.